Bouchercon: Five Events to See This Week in New Orleans
A preview of the Largest Mystery Fan Convention in the US
Alas, this year we are watching Bouchercon, the largest mystery fan convention in the US, from the sidelines rather than enjoying the ridiculously charming city of New Orleans. If we were packing our parasols and filling our go cups, here are a few panels we'd be checking out between copious Sazaracs and many oyster po' boys.
In keeping with the city's reputation as a music mecca, this year's panels all have song titles or musicians in the titles.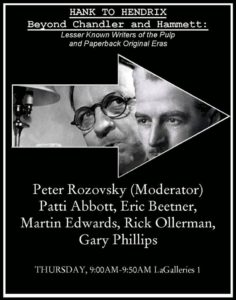 HANK TO HENDRIX
Peter Rozovsky (M), Eric Beetner, Martin Edwards, Rick Ollerman, Gary Phillips
Detectives Without Borders blogger Peter Rozovsky and company promise to take you beyond Chandler and Hammett to explore the lesser known writers of the pulp era (the British side will be amply represented by Edwards, author of last year's acclaimed The Golden Age of Murder).

MAMMA MIA
Sarah Weinman (M), Kate Moretti, Carla Buckley, Karen Katchur, Sharon Potts, Rebecca Drake
Sarah Weinman's panel on domestic suspense is always a must-see.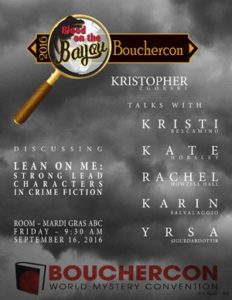 LEAN ON ME
BOLO books blogger Kristopher Zgorski moderates powerhouses Karin Salvalaggio, Rachel Howzell Hall, Kristi Belcamino, and Ysra Sigurdardottir, all of whom write kickass female protagonists in their series.

RELAX
Catriona McPherson (M), Joel Gomez-Dossi, Jessie Chandler, Christa Faust, R. Jean Reid, Stephanie Gayle
McPherson leads a provocative panel of writers in discussion about LGBTQ mysteries.

GOT TO BE THERE
Laura Lippman (M), Greg Herren, Alex Marwood, Lou Berney, Alison Gaylin
I am particularly saddened to be missing this discussion, purported to be about "Real Housewives and Other Dangerous Women." As it's a well-known fact that crime writers (and this critic) have a jones for reality TV, this is a venn diagram of things I love dearly.

IT ONLY TAKES A MINUTE
This is as close as you can get to a guaranteed good time. Some of crime fiction's sharpest minds tackle one of the UK's most popular quiz shows, "Just a Minute." Each panelist has 60 seconds to discuss a topic chosen at random by the moderator without hesitating, repeating, or deviating from the subject, as judged by the audience. Editor/Jill-of-All-Trades Clair Lamb moderates contestants Mark Billingham, John Connolly, Laura Lippman, Alex Marwood, and Martyn Waites.
---