Beyond Mount Everest: Essential Contemporary Writing from Nepal
Manjushree Thapa, Samrat Upadhyay, and More
The small, landlocked South Asian nation of Nepal has a literacy rate of 68 percent (up from 20 percent just two generations ago), and although Nepali is the language of government and education, it's only one of 123 languages spoken across the country. In this context, it shouldn't be a surprise that only a small amount of English-language literature is produced by Nepali writers—most of whom live, or were educated, out of the country—and it isn't very well-known to international Anglophone readers.
But what does exist is rich and goes far beyond Mount Everest as subject matter. In fact, the mountain that provides most foreigners' main point of reference barely features in fiction by Nepalis in English. Other topics—like family relationships, gender roles, Nepal's economic development, work or educational opportunities (or lack thereof)—feature more prominently. They provide would-be visitors (or armchair travelers) with a more rounded snapshot of the country and its social and cultural issues in the modern world than accounts of mountain climbing. Here are several works of literature by Nepali authors that are accessible to Anglophone readers and make good travel companions in the country.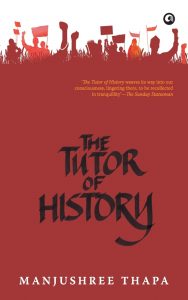 Manjushree Thapa, The Tutor of History
(Rupa Publications)
If you can only read one Nepali author, make it Manjushree Thapa. The Canadian-Nepali writer of novels, short stories, and nonfiction, as well as translator of Nepali fiction into English, has almost three decades of writing to her name, making her the most prolific Nepali writer in English. The Tutor of History was her first novel and published in 2001, right in the middle of Nepal's decade-long civil war from 1996 to 2006. Set in a fictional town in the hills between Kathmandu and Pokhara during an election campaign, it follows the lives of several small-town Nepalis as they juggle life and politics. Echoes of Thapa's background in rural development come through, and we see how rural development is often used as a political football, which is as true in 2020 as it was in 2001. This novel is a good way to get a better understanding of Nepal's complicated political situation without turning to dry political histories.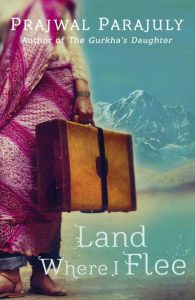 Prajwal Parajuly, Land Where I Flee 
(Quercus)
Indian-Nepali author Prajwal Parajuly represents Nepalis abroad: ethnically and linguistically Nepali, Parajuly grew up in Sikkim, a state of northeastern India that's home to a significant ethnic Nepali population. His 2014 novel Land Where I Flee is largely set in Gangtok, Sikkim, and touches on tried-and-tested motifs of Indian literature in English (displacement, diaspora, family feuds) while giving them a Nepali twist. The story revolves around a geographically spread-out family coming together for their grandma's 84th birthday, a milestone event for Nepalis. Of course, not everyone gets along, providing fodder for Parajuly's witty and irreverent writing.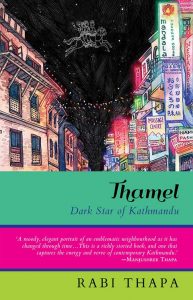 Rabi Thapa, Thamel: Dark Star of Kathmandu
(Speaking Tiger Books)
Most travelers to Kathmandu will spend some time in Thamel: the hotel, tour office, and souvenir shop-crammed tourist quarters that "real" travelers love to dismiss as too touristy. But dismissing Thamel as a tourist ghetto detached from "authentic" Nepal doesn't do it justice; it's an ancient neighborhood with layers of history down the alleyways between nightclubs and Israeli food joints, and young, trendy Nepalis tend to spend a lot of time here. Rabi Thapa explores the history and culture of Thamel in his 2017 book Thamel: Dark Star of Kathmandu. He uses his own experiences, historical research, and conversations with Thamel stalwarts to trace the neighborhood's transformation from the rather seedy hangout of his youth to the multifaceted neighborhood it is now. Thapa is also the editor of Nepal's preeminent English-language literary magazine, La:Lit, which provides more essential reading.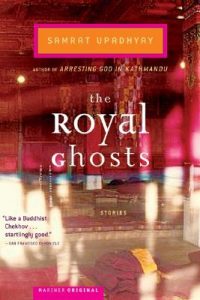 Samrat Upadhyay, The Royal Ghosts
(Mariner Books)
A generational contemporary of Manjushree Thapa, Samrat Upadhyay is a professor of creative writing in Indiana and was the first Nepali author writing in English to be published in the West. Although he moved to the USA as a young adult in the 1980s, his work continues to focus on Nepal, its people, and their concerns. Upadhyay's first collection of stories, Arresting God in Kathmandu, was published just after one of the most pivotal events in Nepal's recent history: the Royal Massacre of June 2001, when it's believed that Crown Prince Dipendra killed his parents, King Birendra and Queen Aishwarya, as well as numerous other members of the extended royal family (and himself). Upadhyay's first collection didn't address the remarkable event and the effects it had on Nepal, mainly due to the timing of its publication, but his second collection of stories, The Royal Ghosts published in 2006, more than nods to the events of 2001. This collection isn't primarily about the Royal Massacre, but the royal ghosts haunt the Kathmandu society of his stories, as they continue to do today.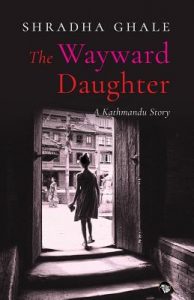 Shrada Ghale, The Wayward Daughter
(Speaking Tiger Books)
One of the newest voices in Nepali literature in English, Shrada Ghale pushes boundaries in more ways than one in her novel The Wayward Daughter. Set in pre-war Kathmandu (late 1980s and early 1990s), before Kathmandu was the over-populated, over-polluted megacity it is today, The Wayward Daughter juggles gender, caste, and class commentary. Ghale's protagonist's family belongs to a Janajati caste—Nepali indigenous groups that tend to be at the bottom of the political and socioeconomic ladder—though she invented their specific caste, called Tamule, allowing for more creative license. This is a novel that is begging for a sequel, as it ends just before the civil war starts in 1996, a decade-long struggle that turned modern Nepali society on its head and further ruptured the gender, class, and caste norms that Ghale observes.
---