Romanticizing Mount Everest Misses the Real Story
"An entire population has been overlooked for decades"
Any and everything Mount Everest-related has been sent my way in the weeks since the publication of my debut, Nima, a novel based on my BBC reporting from Nepal. It feels like perfect timing, in many ways, for a story of life on Everest, but so many things I'm hearing are missing the point. There's such a disproportionate focus on the mountain itself and getting to the top that we can't see the bigger picture; we're overlooking the people who call this complex landscape home.
I didn't climb to the top of the world—in the winter of 2013 I was tasked with surveying the human impact on the mountain, from trash to tech, and to do that I spent a month in Nepal and two weeks trekking to Base Camp, which in the off-season is nothing but a stack of lunar-like rocks at 18,000 feet. Base Camp sits at the foot of the dreaded Khumbu Icefall and at the end of the eponymous glacier is a labyrinth of Chrysler-sized shards of ice. I've since been to the Himalayas three times, tracked snow leopards and brown bears, and seen manmade glaciers; in the process, I've made friends throughout Nepal, India, and the greater range. What I've noticed of late, from riffs by John Oliver to my well-intended neighbors, is how seemingly simple the Everest narrative has become.
Oliver's recent satire was biting, and there was a lot of truth in it. But this is far more than a line at Trader Joe's as he chided. And it's the same story we keep hearing: there are too many people and we're destroying the mountain. Well, what if he's wrong? What if that photo that's gone viral showing the lines to the top—a danger filled with largely deep-pocketed, inexperienced climbers who have no business being at altitude—what if that's only a speck of the larger story?
This is a region facing extreme change and challenges. While we wail about the Arctic melting, no one's talking about the melt of the Himalayan glaciers, which is happening so fast it not only will destroy Everest's climbing culture, it will create a biblical level drought and refugee crisis the likes of which we can't imagine.
Nearly half the world's population resides in China and India, where glacial runoff feeds billions. What happens when we lose the melt of this "Third Pole," the biggest frozen store of water outside the poles?
Being on Everest shatters romantic notions of life at high altitude, life in remote communities without access to things we take for granted in the US.
Many formerly inaccessible places, from the Arctic to the Galapagos, face similar challenges: how do you keep a place clean, beautiful and the way it looks in your imagination if it's also a highly trafficked travel destination? And how do you provide the needed infrastructure for locals and visitors while keeping that place wild and livable for residents? Add selfie culture, untested foreigners, poor local guides, plus climate change in a region where researchers say a third of its glaciers are poised to melt even if the Paris accords are met, and you get a taste of what life is like at altitude.
I fell in love with the otherworldly element of these mega mountains, the nature, people, and cultures that work with this wilderness, not against it. It's a place where reality doesn't match but surpasses the fantasy. It's also a place facing cultural erosion, where tradition is battling modernity, a place battling so much change. Why stay in a village if you can make more money in the city—why practice the old ways and tend a herd when you can live in an apartment with running water?
The complexity of this topic was what drove me to roll the dice and write in the voice of a woman named Nima. Many journalists have asked me why. Why write as a woman, why write fiction at all?
Jill Cowan, who pens the very sharp California Today Newsletter for The New York Times, asked those questions when we met for coffee recently. I told her that I wanted to do something bigger than an article and the most vulnerable person on the mountain is the best character to help represent an overlooked culture and environmental issues.
As journalists we're so trained to cover truth and to keep our work factual. But sometimes the best way to present that truth is by giving it a face and an emotional hook to make people care a world away. The story of Nima and so many others like her is not being told, and as a writer who saw this, I felt it was my responsibility.
I chose to create the character of Nima and give this person the voice of a young woman because in a place where an entire population has been overlooked for decades by the rest of the world—many of us think Sherpas are an adjective instead of a proper noun and ethnic group—Nima embodies that neglect. There was no other perspective. She is on the frontline and this is her story.
Journalism, for all its value, can be limiting when it comes to connecting the real people that will be impacted by such change. We're in a business of big issues and rules of three. A real life Nima wouldn't be newsy enough for the outlets I write for. Her story would be considered advocacy. But for those reasons and many others, I found it imperative to write.
Like Nima, I had little experience climbing, and was both enthralled and scared of these mountains, eager for what lay ahead. Before I wrote the novel, I couldn't find this story in the literary landscape, certainly not in English. Even in Nepal, there is limited material from the Sherpa perspective, and for a nation of well over 100 ethnic groups and as many languages, the amount in English is also lacking. There are exceptions. Shradha Ghale's The Wayward Daughter, a poignant, lyrical depiction of life in Kathmandu showed us the world in the city, but the sky world above the capital was missing.
In early May, over lunch in Kathmandu, Ghale told me how important it was that I write this book. I heard the same from Buddhi Saggar, a journalist turned novelist whose publication of Karnali Blues in 2012 branded him a literary lion (the book is soon to be translated to English).
When I told Ghale and Saggar that I would catch hell in the West over Nima, they both had the same reaction: why.
"You're doing a good thing for Nepal," Saggar told me. "You should be proud, you're talking about so many important issues happening here that people don't know about. Be proud. Don't listen to haters."
*
On May 15, seven days before the infamous shot of the traffic jam on Everest by Nepali Nirmal Purja, Karma Tenzing took another equally jarring photo: the summit, with nearly no one on it. "I had the mountain to myself for an hour and there was no one on top," Tenzing, a teacher trained in New York, told The Nepali Times.
The photo got attention in Nepal, even making the cover of the mountain kingdom's leading English weekly, but by then the story behind Purja's photograph had taken over the global psyche.
Everest does have a lot of trash, there are metric tons of it, and there are bodies, but it's not the apocalyptic graveyard it's been portrayed as. It's a massive region—people are not tripping over plastic and mummies. And there is a more urgent issue at hand.
Across the Himalayas, engineers and monks are scrambling to build glaciers in India's Jammu and Kashmir, and the Chinese are erecting furnaces across the Tibetan plateau to seed rain through man-made clouds. Locals are trying any number of fixes to stem this change. On Everest there's a program to clean the glacial streams that are dirtied by the constant waves of travelers.
There are real issues on Everest and they will keep happening when a weather window forces so many to summit at the same time. Yet most days it's not so crowded, a strange truth. Facts don't often change our minds as the brilliant book Denying To The Grave recently displayed. Powerful images and strong narratives do, and literature is an avenue to that end.
While everyone is focused on the logjam and trash, the entire region is collapsing.
Being on Everest shatters romantic notions of life at high altitude, life in remote communities without access to things we take for granted in the US like running water, electricity, basic education and most of all, opportunity.
While everyone is focused on the logjam and trash, the entire region is collapsing. Everest is melting and with it, the livelihoods and lives of the more than 250 million people who live in the Himalayas and the billions who rely on its water, people like Nima who are forced into impossible choices. So what, you may ask. For you and me in the West, it means global temperatures skyrocket and world economies suffer. If it takes a girl on a mountain to tell that story in fiction rather than in an article, is there really any choice for a writer?
______________________________________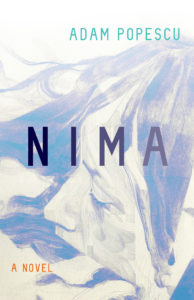 Adam Popescu's Nima is now available from Unnamed Press.
---