Being Seen: 5 Great Books That Capture the Essence of Coming of Age
Contributors to the New Anthology Up All Night Recommend Stephen King, K. Ancrum, and More
You're reading a story and are suddenly hit with the overwhelming feeling that you've been seen. It can be anything—a character, a turn of phrase, an outfit, a time of night—that helps a piece of the story, an echo of your own self, leap off the page.
Coming-of-age novels hold a mirror to our teenage years. They capture our most tumultuous moments, all the joys and all the growing pains meshed together. In my new anthology, Up All Night, 13 stories set between sunset and sunrise run the gamut of genres, from thrillers to romances, but they all share one common thread: they depict a night of change, a night where a character learns something new—about themselves, about their friends, about the world around them. Some of the writers who contributed to it shared their favorite coming-of-age novels that captured a piece of their own heart.   
*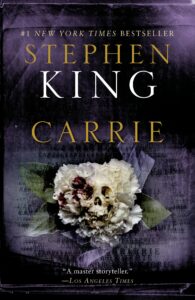 Stephen King, Carrie
(Anchor Books)
Revenge stories are catnip for teens, a way to safely work out inner turmoil. In high school, I fell in love with Stephen King's Carrie. Bullied, tormented, unloved Carrie turns out to have truly explosive powers that she uses to exact revenge on those who have wronged her. King throws in telekinesis and a frightening prom. I thought a lot about Carrie as I wrote "Missing," my story for Up All Night, particularly with the character Lissy, a little girl who is unusually receptive to "otherworldly" influences.  –Kathleen Glasgow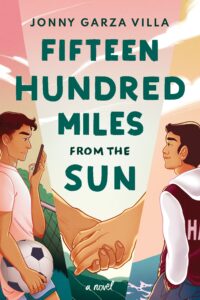 Jonny Garza Villa, Fifteen Hundred Miles From the Sun
(Skyscape)
I distinctly remember rediscovering contemporary YA the summer before my senior year of high school, after a nearly six-year fantasy phase. Contemporary books grabbed my attention by elevating conflicts and relationships I recognized from my own life and introducing characters I wanted to be friends with. Fifteen Hundred Miles From the Sun is a book I would have devoured as a teen because of the high quality Tex-Mex cuisine descriptions, the lovable cast of relatable teens, and the adorable romance.  –Anna Meriano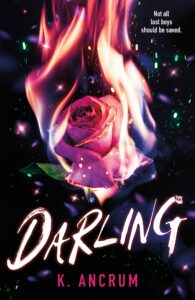 K. Ancrum, Darling 
(Imprint)
K. Ancrum's Darling is a modern-day reimagining of Peter Pan, and like the stories in Up All Night, it takes place over the course of a single night. It's a magical story and a sinister one. It's a tale that engages with storytelling and the stories we tell ourselves. Like my anthology contribution, "Con Nights, Parallel Hearts," it engages with power and violence. And ultimately, it's about finding ways (and people and the self) to trust, and that is a powerful thing. It's an amazing read.  –Marieke Nijkamp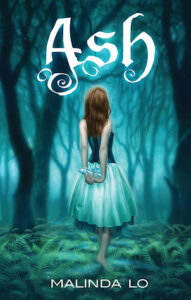 Malinda Lo, Ash
(Little, Brown Books for Young Readers)
Ash by Malinda Lo was one of the first queer YA novels I ever read. More than that, though, it was the first one I encountered that centered love between women so purposefully and unequivocally. Not only within the story itself, but also within the wider context of fairy tales in general. Ash spoke to the teen in me who had watched the guy getting the girl in every Disney movie ever made, and said, "One day, your princess will come." The memory of reading that book for the first time is one of pure tenderness and warmth. I only wish I'd found it even sooner.  –Kayla Whaley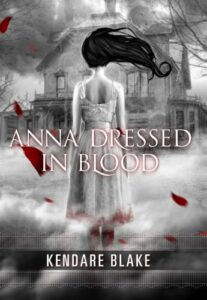 Kendare Blake, Anna Dressed in Blood
(Tor Teen)
Kendare Blake's Anna Dressed in Blood truly made my teenage self sing. Ghosts, haunted houses, blood and gore, a story of an outsider finding friends and a place to belong—it was exactly the kind of book I had always wanted. My story in Up All Night, "The Ghost of Goon Creek," is also about a ghost hunt and finding friends and a place to belong, but (unfortunately for my horror-loving heart) without the blood and gore. If you like the spooky stuff, I highly recommend Anna Dressed in Blood.  –Francesca Zappia
__________________________________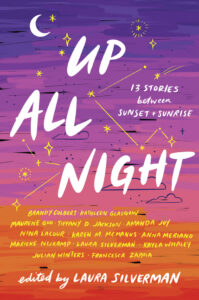 Up All Night: 13 Stories Between Sunset and Sunrise, edited by Laura Silverman is available now from Algonquin Young Readers.
---