Befriending My Neighbor, Nephew of Nazis
Jaswinder Bolina: Just Another Day in Suburban America
Weekends in our Chicago suburb, the immigrant who lived next door would hunch on a rigid wooden chair in his garage and absently watch a 13-inch color television whose thin antennae barely mustered the berserk picture on its screen. He would smoke upward of a pack of cigarettes a day and down a case of Heineken deliberately, quietly, alone. Beyond this, his only task those afternoons off from the ironworks was to mow the lawn, after which he happily devoted a clattering hour or two to manicuring the grass around his wife's flower beds.
In spite of his evident affection for lawn care, whenever he saw me sent out by my father to mow our own lawn, he would offer a scrunched smile, untangle his Bavarian tongue, and call cheerfully in accented English, "When you finish, Jas, you come over and cut my grass too!" This became his recurring joke, and he had a variation of it no matter the season. When I trudged out to corral the autumn leaves, I would be greeted by the immigrant grinning and calling me over to clear his already tidy yard. In winter, when I was sent to shovel our driveway, he would already have tossed most of the snow from his own, but he would grin and shout through the chiseling wind, "When you finish, Jas, you come over and clean my driveway too!"
We'd befriended the immigrant and his family only a few months after moving into our house. My mother would invite them all—the immigrant and his wife, her elderly aunt, and the grown son who lived with them—over for samosas, for lamb masala, for dahl or aloo gobi. They would invite us over for steak fillets wrapped in bacon, for slaw and mashed potatoes and gravy, for pastries that should have been sold in a European bakery for two dollars an ounce. Depending on which household was grilling burgers on a given summer day, meat patties wrapped in aluminum foil would be passed one way or the other over the short chain-link fence between our gardens.
A year or so after we moved in, during one of our dinners together, the immigrant noticed the black-and-white portrait of my father's father on display in our living room. In the photograph, taken some time between the Great War and its successor, both of which he served in, my grandfather stands at attention in front of a brick wall, dark-bearded and turbaned, in full military regalia. A subedar. I never knew him. He died in 1957, when my father was only eleven, and this is my only impression of him, the one I think of when I hear the word grandfather.
A few days after that dinner, the immigrant walked out of his garage, crossed the grass to our driveway, called to my father and me in the afternoon light, and eagerly thrust a frame toward us. It too contained a photograph of a soldier: the uncle who had raised him, also in full military regalia, standing at attention during the Second World War. Now the immigrant presented it to us. "My uncle! He was soldier too! Like you father," he exclaimed, leaving off the r in your. "He was in the SS!"
The immigrant beamed at this earnest offer of friendship. "Like you father!" he repeated in strudeled English. My father took the photograph in hand, betraying no surprise at the apparition of this soldier, this photograph that could have been pulled from a history book, a portrait of villainy. He held it gingerly. He looked into the other side of the war, paused a moment, then smiled, nodded, and said, "Yes. I see. Thank you," before handing back the frame.
When the war is over, its orphans are left to negotiate the peace.
In this moment, some avenue of history ended. In our driveway, an old argument evaporated. In this way, a people are born. When we in this country say only in America, this is what we mean.
This minor occurrence on an otherwise unremarkable day in the dull comfort of suburbia has long reminded me how complicated the question of identity is in the United States, how resistant identity can be to differentiating labels like South Asian American or European American. The neighbor's offering was an erasure of ethnic and racial difference in favor of a shared immigrant experience. I don't imagine he was naïve. He must have understood the resentment the portrait might evoke, but he offered it anyway. After all, the immigrant's uncle, a Romanian, had been drafted unwillingly into the Nazi machine, and whatever we think of the choices he faced and the decisions he made, the elder's actions are not his heir's. When the war is over, its orphans are left to negotiate the peace.
In that moment, my father and the neighbor gathered in a better version of this country, one based on a democratic erasure of the past and the creation of a common identity. We're in this together, we say, even as we quarrel over the question of who exactly we means. In a place where nearly every language is uttered, nearly every history remembered, nearly every ancestry braided together, the answer to that question isn't obvious. I can only tell you that by the time the neighbor retired from the ironworks a decade or so later, tumors were boring through his guts undetected, and that a few years after their discovery, a few years after his stomach was removed and he withered through chemo, a few years after he had grown hairless and wan, the neighbor died. I can tell you he was a lovely guy. He was one of my people, and I miss him.
__________________________________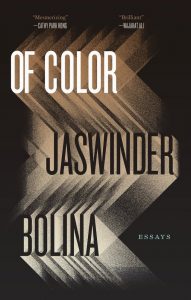 From Of Color: Essays by Jaswinder Bolina. Used with permission of McSweeney's Books. Copyright © Jaswinder Bolina
---