Bearing Witness: Why I Biked Around the Country to Humanize Climate Change
Devi Lockwood on the Power of Deep Listening to Inspire Climate Solutions
MISSISSIPPI
In August 2013, I rode my bicycle 800 miles down the Mississippi River Trail from Memphis, Tennessee, to Venice, Louisiana, where the river meets the Gulf of Mexico. I traveled with an Olympus LS-14 digital voice recorder, my bicycle, and enough peanut butter and tortillas to make emergency meals for days. Along the way I collected stories from the people I met.
At times, I wore my cardboard sign around my neck and walked around small Southern towns with my voice recorder in hand. Other times, the fact that I arrived on a touring bike loaded with front and rear panniers was enough to pique interest from the people I met when I stopped to refill on water or food. I soon benefited from the kindness of Southern networks—people I had just met offered me their homes or called up their friends two towns away to put me up the next night.
Many people asked if I carried a gun. I didn't. In Vicksburg, Sandy Shugars insisted on buying me pepper spray from Walmart, "just in case." The scariest two things I encountered were a vicious nest of fire ants outside of Vidalia, Louisiana, that chewed up my ankle when I paused one afternoon to find a place on the side of the road to pee, and the omnipresence of big dogs with a love for chasing bikes.
You might call this a solo bike trip, but I was never truly alone. People looked out for me wherever I went.
When I pulled off Highway 1 in Greenville, Mississippi, and into her driveway, Jessica Brent took one look at me and said "Girl, where are your lights?!" The next day she came back from Walmart with an orange reflective vest, a pair of red and white flashing lights, and reflective stickers, which we stapled all over the vest.
People talked to me—all sorts of people. I listened. By the end of that first trip, I had compiled over 50 hours of stories that both fueled and inspired me. I didn't know exactly what I was doing at the time, but it felt right.
MOVEMENT
The Mississippi River is defined by its movement. Despite the best attempts of the Army Corps of Engineers, the Mississippi's banks are always jumping. John Ruskey showed me a watercolor map of the river he had painted to illustrate this point—the layers of mud moving and twisting from bank to bank, leaving oxbow lakes full of fish in their wake.
I met 57-year-old Franny Connetti 80 miles south of New Orleans. When I stopped in front of her office to check the air in my tires, she invited me to get out of the afternoon sun. She had red spiked hair and a big smile. I felt welcome.
Franny shared her lunch with me. We bit into fried shrimp, the crispy flesh of it. In between bites she told me about 2012's Hurricane Isaac that washed away her home and her neighborhood.
"We fight for the protection of our levees. We fight for our marsh every time we have a hurricane," she said. Despite that, she and her husband moved back to their plot of land, living in a mobile home, just a few months after the disaster. "I couldn't imagine living anywhere else," she said. They have since rebuilt their home on stilts.
"Do you think there will come a time when people can't live here anymore?" I asked.
"I think so. Not in my lifetime, but you'll probably see it."
To imagine the road I had been biking on underwater was chilling. Twenty miles ahead, I could see where the ocean lapped over the road at high tide. "Water on Road," an orange sign read.
Locals jokingly refer to the endpoint of State Highway 23 as "The End of the World." The light fell, and I cycled back into town to sleep at a fire station, where I made mac and cheese with Tony Chachere's Creole Seasoning.
Here was one front line of climate change, one story. What would it mean, I wondered, to put these stories in dialogue with stories from other parts of the world—from other front lines of climate change with localized impacts from changing water?
My goal, once I graduated, became to put stories of climate change in dialogue with each other, giving names and voices to those impacted. To humanize an issue often discussed in terms of numbers: millimeters of sea level rise or degrees of temperature change.
I applied to every source of funding I could find, and received many nos, but one yes. With that, I was off.
Where to? My then girlfriend advised me to go to Tuvalu. We were sitting in an alcove in a patch of sunlight doing homework side by side. She was taking a politics of immigration course and tossed me an article she was reading about "climate refugees" in Tuvalu.
"You might like this," she said. I pulled up Google Maps and added a point.
What she knew about me, and what I have since come to know about myself, is that I am drawn to water. Water infuses my earliest memories and is a mental marker of the places I have lived: Lake Umpawaug, where the fishermen bushwhacked and flew. The Norwalk River, grit and cargo, ships and salt. The Squamscott, a tidal form of resistance training. The Charles River, where I rowed in college and came to know every sinewy turn—the way the water moved in different kinds of wind—the soft bend of a moonrise behind the Boston skyline as seen from the river basin, suspended between water and air.
Wisdom sits in places. So I went to some places, and I listened. This is the story of those stories.
To humanize an issue often discussed in terms of numbers: millimeters of sea level rise or degrees of temperature change.
A man named Zorp in New Orleans, when I passed through in August 2013 on my bicycle, told me, "You know, poet, the thing is: you're going to find in your life, all the stuff you're doing, you're waiting, saving it up. Don't save it. Get out there."
I listened, Zorp. I'm doing it.
INSTINCT
One of the best pieces of travel advice came to me from Abby Sun, a filmmaker one year ahead of me at Harvard who spent the summer before her senior year jumping trains along the US-Canada border. She pulled me aside before I set out on the Mississippi River Trail.
"I have something to teach you," she said. "The Three Second Rule." "What's that?" I asked.
"When you meet someone, decide in the first three seconds whether or not you trust them," she told me. "And go with your gut."
The times where things have gotten dicey have been where I haven't been able to exit a situation, or I haven't listened to myself. In following this practice on the road, I have honed my gut. I learned when to say no, and how to leave gracefully.
I recognize that my race and gender and class and ability (and even my height! I'm five feet, five-and-a-half inches, and hardly anyone considers me intimidating) afford me a privilege in these kinds of situations. No one finds me threatening. People are quick to trust.
I have talked with men who have ridden their bicycles across entire continents and have never once been invited into someone's kitchen to chat. On the road, people are eager to help me out. Turns out that is great for storytelling, too. So many of the stories I recorded were in people's kitchens or living rooms.
And you can tell so much about someone by the way they organize their kitchen: Lynn and Graham Pearson in Whanganui, New Zealand, have walls full of spoons from all over the world—a collection that started with Lynn's first trip to the South Island as a teen; a recently divorced woman in Australia, guitar in the kitchen corner, the air a mix of cat hair and cigarette smoke; outdoor kitchens in Tuvalu, the water carefully rationed and boiled in pots.
INVITATION
The cardboard sign, I'd like to think, is inviting: some kind of openness in its handwritten words, its quiet invitation to have a conversation, face-to-face. Tell me a story.
I have since gone through various versions of the sign, in seven languages (English, Thai, Lao, Chinese, Russian, Turkish, and Inuktitut). At first the sign was new and clean. Over time, it became full of life and wrinkles—an oil stain, a small rip. I loved watching it age. Occasionally, I taped up the edges.
I made a few replacements—once in Chengdu, China, at an office supply store near a university, another time in Balkhash, Kazakhstan, at an outdoor market—from a fruit seller with extra boxes. Cardboard is surprisingly easy to find the world over. And people have always been eager to give. I travel with a permanent marker.
Now, I feel comfortable introducing myself as a journalist. But at the start, this piece of cardboard was the easiest way to start a conversation. It gave me permission to ask questions.
As the journey continued, my equipment got better, too—I learned to record with a shotgun condenser microphone (yes, I get stopped at airport security lines constantly; no, it's not a weapon). I also learned to insist on finding the quietest places possible, where a person's voice wouldn't be too echoey or overrun with background noise. Coffee shops, despite being full of delicious coffee, are the absolute worst places to do an audio interview. Milk frothing is a noisy process. So is bean grinding.
I shied away from taking videos or photos because I wanted to be able to make eye contact with the people as they spoke to me. Something about sound is more intimate, I think, than image. The lack of a camera lens allowed people to be more candid, too. When I'm in front of a camera, I can clam up. I think most other people do, too.
In a culture that values productivity over slowness, screen time over verbal storytelling sessions—holding a space for a story to be told, face-to-face, slowly, feels revolutionary. While water and climate change are the starting points of many conversations with storytellers, they don't necessarily end there. The personal is political, and environmental. It's all intertwined.
DEEP LISTENING
Throughout the journey I developed a method of deep listening. This was hard-earned, and not instinctual. When I listen to early clips of my journey down the Mississippi, I cringe. I was too pushy. I spoke over storytellers, eager to insert myself. I listened only halfway—the other half of my mind on how I would respond or redirect the conversation next.
I am an auditory person. When I meet someone, the first thing I notice is the musicality of their voice—how they let the taste of a word linger on their tongue or send sentences flying into the ether. Breath. Intonation. Word choice. Sometimes my favorite thing to do is close my eyes and listen.
In Margaret Wheatley's 2001 article "Listening as Healing," written a few days after 9/11 for the magazine Shambhala Sun (now known as Lion's Roar): "Great healing is available when we listen to each other. No matter what we have experienced in life, if we can tell our story to someone who listens, we find it easier to deal with our circumstances," she wrote.
"Listening is such a simple act. It requires us to be present (and that takes practice), but we don't have to do anything else. We don't have to advise or coach or sound wise," she continued, "We just have to be willing to sit there and listen, and if we can do that, we create moments in which real healing is available."
When I'm listening (microphone in hand, nodding along and not breaking eye contact) there have been so many times when people have said, "Thank you. Thank you for listening," or "It feels so good to share this story with you. I've never shared it with anyone else before."
Deep listening has to start from the basic premise that we are all equal, all worthy of being listened to, all human.
I met a Belgian woman in the UK who told me the story of how her hometown's water supply was contaminated from a plant that put a waterproof treatment on fabric. Again, with a man from Afghanistan who lost his brother because of water contamination. An American woman who visited the Florida Keys as a teenager, only to return years later and find that the reef was dead, bleached. "Thank you for listening," she told me at the end, through tears.
I enjoy listening to people whose perspectives and takes on the world are different from my own. There's a difference between offering stories and opinion and offering something aggressive or vitriolic. The first comes from the desire to share and connect—the second is purely an attack. One carries the potential for change and exchange. The other does not.
Deep listening has to start from the basic premise that we are all equal, all worthy of being listened to, all human—that everyone has a story to share, that those stories matter, and that we can learn from each other, if only we are fully present.
So what does deep listening mean to me?
Deep listening is listening without the intention to respond—listening with the whole of one's body: making eye contact, leaning forward, nodding along without interrupting. Deep listening is facilitation, is bearing witness, is keeping one's ears and mind open without the distraction of ego or fear.
This kind of listening is urgently needed in the climate crisis. Because listening is the first stop on the way to solution building. If we're building solutions that don't take into account the voices of people who will be impacted, it's dangerous—and more importantly, ineffective.
__________________________________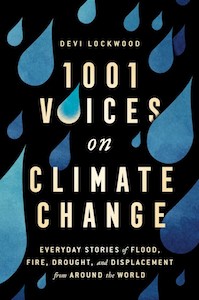 Adapted from 1,001 Voices on Climate Change by Devi Lockwood. Copyright © 2021 Simon & Schuster, Inc. Reprinted by permission of Tiller Press, a Division of Simon & Schuster, Inc.
---