Battle Royale: 6 Books That Take on the Rich World of Wrestling
Gene Kwak Recommends Chapbooks, Novels, and Nonfiction
That there aren't more books about wrestling is baffling to me. It's such a rich environment to mine: over-the-top characters, gaudy costumes, backstabbing, frontstabbing, the works. If you Google "wrestling books" or "best books about wrestling" most of them are autobiographies written by former hard-barked brawlers or non-fiction blow-by-blows that are primarily focused on getting down the details for posterity. Far less available are novels, fiction, graphic novels, short stories, poems, and essays that delve less into chronicling and more into understanding. Here are six that put wrestling in a headlock and try to get up close.
*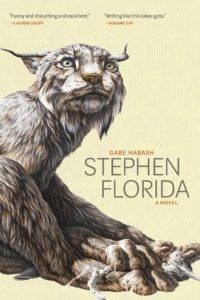 Gabe Habash, Stephen Florida
(Coffee House Press) 
Habash's novel is more headgear-and-ring worm collegiate wrestling and less painted faces and dropkick wrestling. But his narrator, Stephen Florida, a relentlessly driven wrestler in his final year at a DIV North Dakota college is as intense as any swaggering pro wrestler. Read the first page. This novel is all voice and drive.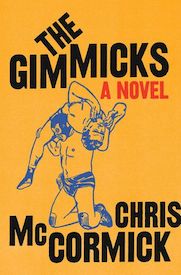 Chris McCormick, The Gimmicks
(Harper) 
Beautifully written, big-hearted novel that's about so much more than wrestling. It's about politics. History. Backgammon. The Armenian Genocide. It almost feels like the wrestling is beside the point, but it's so well woven into the narrative that it's inextricable. Like trying to find the seam on a singlet.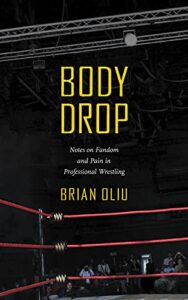 Brian Oliu, Body Drop: Notes on Fandom and Pain in Professional Wrestling
(UNC Press) 
Oliu is clearly a long-time wrestling fan but is also deft at contrasting these highlight reel best-of wrestling moments with the intricacies and difficulties of his own life. There are interspersed short takes on wrestling moves. And some that touch on Oliu's own experiences with his body and chronic pain among other big picture issues. Oliu is also an incredible Twitter follow. Check him out for great donut or track suit recommendations.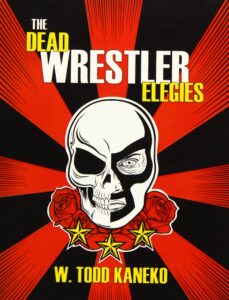 Todd Kaneko, The Dead Wrestler Elegies
(Curbside Splendor Publishing/New Michigan Press) 
While there are arresting images of dead wrestlers and name-drops and nods of acknowledgment throughout this book of poetry, even if you have no knowledge of any of the wrestlers, there's still a thread of a father-son narrative that engrosses you.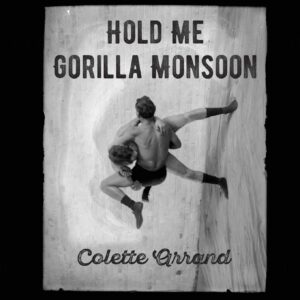 Colette Arrand, Hold Me Gorilla Monsoon
(OPO Books and Objects) 
This is a chapbook of poems and comics that are separated into three sections: The Use of Roland Barthes to Justify One's Love of Wrestling, Wrestling School (with Scott Stripling), and Hold Me Gorilla Monsoon. Arrand is masterful at using these poems and visuals to engage with wrestling and unpack deeper examinations of gender, sex, and masculinity. Arrand is also an editor at FanFyte, Fanbyte Media's wrestling section, which features everything from articles that are minute breakdowns of matches to ones about Sting blending his make-up.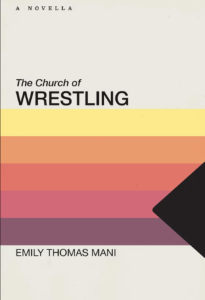 Emily Thomas Mani, The Church of Wrestling
(Split Lip Press) 
The Church of Wrestling is a novella from Split Lip that looks like an old VHS cover, which already makes you want to fork over your cash. Mani's book is also about scholastic wrestling, but really, it's about how the action is an out for this young girl, Jenny, and her father to grapple with their grief. And how dealing with pain can run a little fuzzy, like watching past the warped tracking lines on the umpteenth replay of our favorite videotapes.
_______________________________________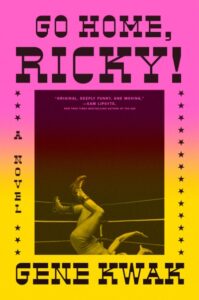 Go Home, Ricky! by Gene Kwak is available now from Overlook Press. 
---