Elaine Feeney Recommends John McGahern, Ralph Ellison, and Black Beauty
Rapid-Fire Book Recs From the Author of As You Were

Welcome to the Book Marks Questionnaire, where we ask authors questions about the books that have shaped them.
This week, we spoke to the author of As You Were, Elaine Feeney.
*
Book Marks: First book you remember loving?
Elaine Feeney: The Dark by John McGahern.
BM: Favorite re-read?
EF: I reread poetry, often out loud. It's a habit formed as a child. I've always lived in the countryside and you can do mad things here like entertain yourself out loud. The Zoo of the New anthology is good to dip into, and I've been rereading Richard Hugo a lot recently. I love the regionalism in his work—it's a very specific aesthetic. 
BM: What book do you think your book is most in conversation with?
EF: I think As You Were is buoyed by a frenetic energy in Ireland prior to Repealing the 8th Amendment and after Marriage Equality. I don't think it's in conversation with any one book. But I was influenced by: Kiss Kiss by RoaldDahl, Plato's Cave, The Country Girls By Edna O'Brien, "Bullet in the Brain" by Tobias Wolff, Wild by Cheryl Strayed, Shakespeare's Hamlet, and Solar Bones by Mike McCormack. 
BM: Last book you read?
EF: The Pages by Hugo Hamilton, wonderful read. 
BM: A book that made you cry?
EF: Shuggie Bain by Douglas Stuart. Nick Laird's recent long poem, "Up Late," made me bawl. 
BM: What book from the past year would you like to give a shout-out to?
EF: Checkout 19 by Claire Louise Bennett; what a talent.
BM: A book that actually made you laugh out loud?
EF: Show Them A Good Time By Nicole Flattery. I find her work very smart and funny. 
BM: What's one book you wish you had read during your teenage years?
EF: Invisible Man By Ralph Ellison.
BM: Favorite book to give as a gift?
EF: Any of Sinead Gleeson's anthologies—The Art of The Glimpse, The Long Gaze Back, or The Glass Shore. 
BM: Favorite book of the 21st century?
EF: Solar Bones. It's close to perfect.
BM: Favorite book you were assigned in high school?
EF: Soundings. It was an anthology of poetry, though I now recognise how conservative it was, I still have my dog eared, annotated, torn copy of the book. My family all used the one book, so they've their hand written notes in it too.
BM: Book(s) you're reading right now?
EF: Whereabouts By Jhumpa Lahiri.
BM: Favorite children's book?
EF: Black Beauty by Anna Sewell. It was my first conscious understanding of narrator. 
BM: Book you wish would be adapted for a film/tv show?
EF: Lisa McInerney's brilliant trilogy.
*
Elaine Feeney is a writer from Ireland and she lectures at The National University of Ireland, Galway. Feeney has published three collections of poetry including The Radio was Gospel and Rise. She wrote the award-winning drama piece with the Liz Roche Company, WRoNGHEADED, which opened at the Dublin Fringe Festival and ran for the 2017 Edinburgh Fringe Festival. Feeney's short story "Sojourn" was included in The Art of The Glimpse, 100 Irish Short Stories. As You Were, her debut novel, was shortlisted for The Irish Novel of the Year at the Irish Book Awards, included in top debuts of 2020 in The Observer, shortlisted for The Kate O' Brien Award, and chosen by Booker Prize Winner Douglas Stuart as best read of 2020. It has recently been shortlisted for The Rathbones Folio Prize, honoring the best work of English Literature in any genre.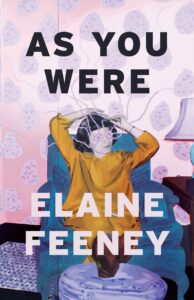 Elaine Feeney's As You Were is out now from Biblioasis
*
---