Bad Trips and Borderlands: Take a Literary Tour of the New American West
Kay Chronister Recommends Books by Daniel Chacón, Kali Fajardo-Anstine, Lydia Millet, and More
The Southwest has always loomed large in the American popular imagination. It's a region of alien-looking natural landscapes, of red rocks and long-armed saguaro cactuses. It's home to places with a distinct sheen of unreality to them: Las Vegas, Hollywood, Death Valley. And, of course, it used to be the Old West, that mythic and largely ahistorical realm of cowboy stoicism and six-shooters.
Fictional depictions of the Old West have been enjoying a revival lately, in recent novels like Téa Obreht's Inland (2019) and Anna North's Outlawed (2021) and in films like The Harder They Fall (2021) and Power of the Dog (2021). But the Southwest has also inspired an abundance of more forward-looking fiction—fiction that revels in the West's persistent wildness and weirdness, that struggles with the difficult legacy left to this region by a history of colonial exploitation, and that even contemplates the Southwest's imperiled future in an era of climate emergency.
Below, I recommend seven books that will take you on a literary tour of the new West: a place where neon sign graveyards abound, schools still take time off for the rodeo, and people bring their pet tortoises along when they evacuate for wildfires.
*
Daniel Chacón, Hotel Juarez: Stories, Rooms and Loops 
(Arte Publico Press)
This magic-tinged collection takes a kaleidoscopic view of El Paso, Texas, and its Mexican counterpart, Ciudad Juarez, its dozens of stories and vignettes bound together by recurring images of cats, winding city streets, incantatory works of art, and missing women. By smudging the line between one city and the other, Chacón makes palpable the artificiality of the US-Mexico border—but he also fleshes out its complicated significance for characters who cross over. Characters struggle with self-definition in the in-between spaces, as do the cities of El Paso (not "really Texas," thinks one character) and Juarez (not "really Mexico," reflects another).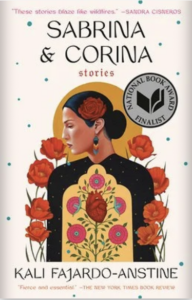 Kali Fajardo-Anstine, Sabrina and Corina
(One World)

This affecting collection centers on indigenous and Latina women and girls in southern Colorado and New Mexico. Their bonds with their mothers, grandmothers, sisters, and friends fortify them against financial insecurity, racial discrimination, sexualized violence, illness and death. The specter of settler colonialism hangs heavily over Fajardo-Anstine's Southwest. Historical atrocities haunt the present, while contemporary inequities—first and foremost, the city of Denver's rapid gentrification—shape characters' dilemmas about money, home, and love. But continually, the women of Sabrina and Corina find strength in preserving their connections to each other and to their heritage.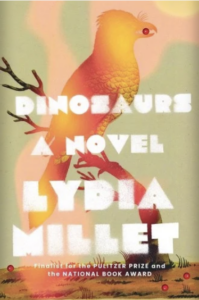 Lydia Millet, Dinosaurs
(W. W. Norton)
This meditative novel follows an orphaned trust-fund millionaire who relocates from Manhattan to Phoenix after a break-up, supposing that Arizona is "as different as you can get, in the lower forty-eight." Once there, the formerly isolated Gil finds himself enfolded into the joys and obligations of living in community—within his neighborhood, at the women's shelter where he works, and with the desert itself. As Gil develops into an avid birder and fledgling conservationist, Millet uses images of the relationships between communities of desert birds to mirror the compassionate, violent, and symbiotic bonds also formed between human beings.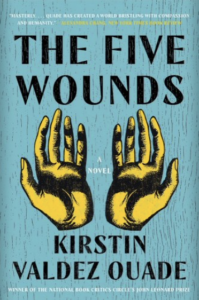 Kirstin Valdez Quade, The Five Wounds
(W. W. Norton)

This poignant family drama, set in the fictional New Mexico town of Las Penas, opens with an Easter pageant in which 33-year-old Amadeo Padilla—playing the part of Christ—seeks absolution by having real nails driven through his hands. What follows is a year in which Amadeo takes a longer and slower path towards redemption, working to break free from generational cycles of poverty and addiction. Quade writes convincingly from the perspectives of Amadeo, his pregnant teenage daughter, his terminally ill mother, and even his daughter's high school teacher, vividly showing how the Padillas are alternately nourished and strangled by life in Las Penas.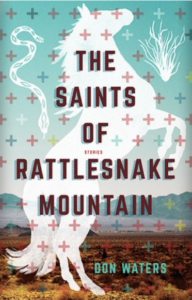 Don Waters, The Saints of Rattlesnake Mountain
(University of Nevada Press)
This vivid collection ranges across the desert landscapes of Nevada, Arizona, New Mexico, and Texas, featuring characters who teeter on the edge between transcendence and despair. Waters' Southwest is a region of ambivalent lapsed Catholics and born-again fanatics, of devout non-believers and aspiring saints, all of them wrestling with faith. For many of them, fittingly, the desert possesses a terrible, sublime, near god-like indifference: "he felt crushed by the immensity of everything," Waters writes of one character, a prisoner charged with rounding up wild horses.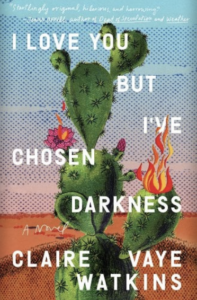 Claire Vaye Watkins, I Love You But I've Chosen Darkness
(Riverhead)
This hallucinogenic work of autofiction recounts its narrator's precarious bohemian upbringing in the Mojave desert and her eventual return there, now deep in the throes of postpartum depression and fleeing an infant daughter, collapsing marriage, and discouraging book tour. Nevada's disaster-pocked history haunts both timelines of the story, as Watkins' narrator must come to terms with her father's past involvement with the Manson family and her mother's descent into opiate addiction. But the Mojave itself emerges as a place of transcendence, a site where Watkins' narrator finds renewal and healing.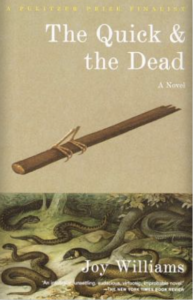 Joy Williams, The Quick and the Dead
(Vintage)

This dark comedy follows a trio of motherless teenage girls through a Tucson summer as they cross paths with a memorable cast of eccentrics: a widower tormented by his dead wife's irate specter, a seller of Navajo fetishes recovering from a stroke that he experiences as a monkey in his brain, a big-game hunter who owns a taxidermy museum, and the preternaturally wise fourth grader who protests its existence. All these characters confront the uncanny permeability between death and life, made sharply visible in the brutal vibrance of Williams' Sonoran Desert.
__________________________________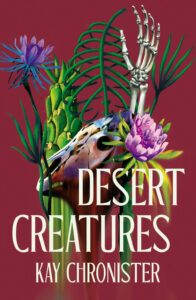 Desert Creatures by Kay Chronister is available via Erewhon Books.
---