AudioFile's Best Audiobooks of May
The Month in Literary Listening
Each month, our friends at AudioFile Magazine share this best audiobooks for your literary listening pleasure.
*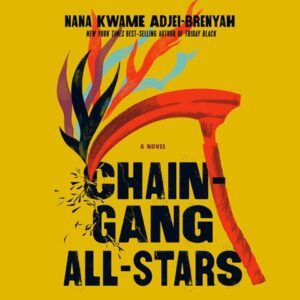 Chain-Gang All-Stars by Nana Kwame Adjei-Brenyah| Read by Shayna Small, Aaron Goodson, Michael Crouch, Lee Osorio
AudioFile Earphones Award
[Random House Audio | 13.75 hrs.]
This thought-provoking audiobook, primarily narrated by Shayna Small, imagines an America in which convicted murderers duel to the death in a wildly popular televised sport. Thurwar and Staxxx, two Black women who are lovers, are close to freedom after years in the arena. Narrating immersively, Small voices a variety of prisoners, a sensationalizing commentator, chanting protesters, and die-hard fans, while Goodson, Crouch, and Osorio add depth as they narrate additional characters. This stunning ensemble performance asks listeners to consider the American prison system and how it tolerates actions akin to slavery and torture.
Yellowface by R.F. Kuang| Read by Helen Laser
AudioFile Earphones Award
[Harper Audio | 8.75 hrs.]
Helen Laser gives a mesmerizing performance in this poignant novel. When June Hayward and Athena Liu get together to celebrate Athena's success as an Asian writer, Athena ends up dead, and June ends up with Athena's manuscript. Ensuing events include June's rise to fame after selling Athena's novel as her own and her subsequent descent into guilt and delusions amid social media fallout and increasing accusations of theft and cultural appropriation. Laser captures all of it with compelling crispness that brings out the novel's themes. This is a riveting production of a thrilling and thought-provoking story.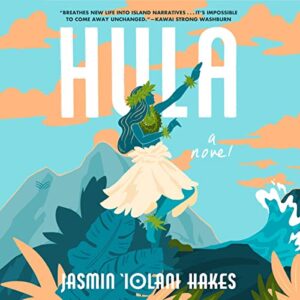 Hula by Jasmin Iolani Hakes| Read by Mapuana Makia
AudioFile Earphones Award
[Harper Audio | 10.75 hrs.]
Two Hawaiian women are caught up in the contemporary battle between colonial encroachment and Hawaiian sovereignty. Laka Naupaka returns to her family in Hilo with a pale redheaded baby named Hi'i, offering no explanations and keeping her distance from her mother. Narrator Mapuana Makia voices the women central to the story with the strength, passion, and pain that fuel them. A chorus perspective of the Hawaiian people ties the story of family and responsibility to the political history of the islands.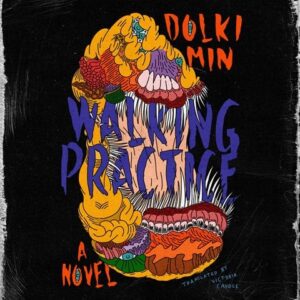 Walking Practice by Dolki Min, Victoria Caudle [Trans.]| Read by Nicky Endres
AudioFile Earphones Award
[Harper Audio | 4.5 hrs.]
First impressions aren't what they seem in this alluring performance by Nicky Endres. The listener is introduced to a nameless woman who is meeting a potential date—then, in a flash, the woman is revealed to be a shape-shifting alien hunting for human flesh. The theme-morphing work explores norms of gender, sexuality, and conformity. Narrator Endres is the perfect casting choice. Their dark, sensual narration is hypnotizing—an excellent voice for the mysterious main character who seems to be exposing their deepest secrets. Fresh, rich, and thrilling.
Rogue Justice: A Thriller by Stacey Abrams| Read by Adenrele Ojo
AudioFile Earphones Award
[Random House Audio | 15 hrs.]
Adenrele Ojo returns to portray smart, feisty Supreme Court clerk Avery Keene in her second adventure. Avery is swept into a dangerous situation, this time involving a threat to the power grid. Listeners get a disturbing insider's view of the complicated and competitive relationships among federal agencies and the U.S. government, including the Supreme Court. Ojo perfectly performs Avery's passion for details, curiosity, and need to protect those she loves. Listeners will be chilled by the potential of real threats and thrilled by the intense, fully engaging listening experience.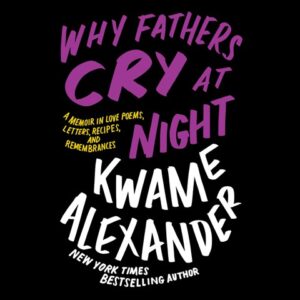 Why Fathers Cry at Night: A Memoir in Love Poems, Recipes, Letters, and Remembrances by Kwame Alexander| Read by Kwame Alexander
AudioFile Earphones Award
[Hachette Audio | 3.5 hrs.]
Kwame Alexander, poet and narrator of several of his own books, brings poignancy to his "snapshots of a man learning to love. Again." His memoir is a savory-sweet mix of poems, letters, and recipes shot through with a poet's rhythms, sensory memories, and unique experiences that strike a universal chord. Candidly, Alexander brings authenticity to remembering his and other family members' failures, loves, and wisdom. Strong emotional tones reflect the devotion he feels for his daughters; his mentor, Nikki Giovanni; and his beloved mother.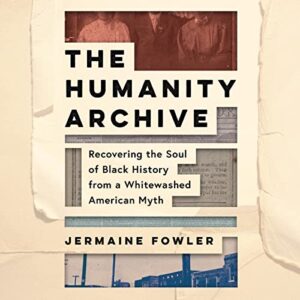 The Humanity Archive: Recovering the Soul of Black History from a Whitewashed American Myth by Jermaine Fowler| Read by Jermaine Fowler
AudioFile Earphones Award
[OrangeSky Audio | 14.75 hrs.]
Jermaine Fowler commands the attention of his audience as he narrates his detailed consideration of Black history with a focus on how the American public has learned a deliberately sanitized story. Listeners who only recently learned of the Tulsa Massacre and are wondering what else they haven't been accurately taught will find Fowler's audiobook to be an excellent source of information. The intellectually rigorous audiobook is ultimately about humanity and how an accurate understanding of history can move us forward.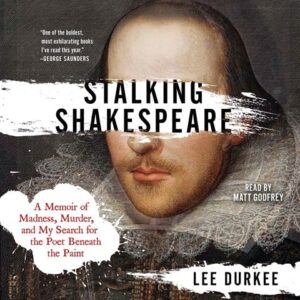 Stalking Shakespeare: A Memoir of Madness, Murder, and My Search for the Poet Beneath the Paint by Lee Durkee | Read by Matt Godfrey
AudioFile Earphones Award
[Simon & Schuster Audio | 7.5 hrs.]
Matt Godfrey's voice is friendly but with a ragged edge—a perfect choice to deliver this tequila-, Pop-Tart-, sake-, and Adderall-fueled trip down the rabbit hole of Shakespeare's life and legacy. This is a true saga of the author's unconventional, obsessive, and exhaustive search to discover Shakespeare's "true" portrait and identity. Godfrey masterfully delivers the author's wry asides and humorous tone as he uncovers the many lies, fakes, and conspiracies surrounding Shakespeare and his portraits. Even if you can't follow all the intrigues and complexities, Godfrey is like an eccentric friend who will drag you along for the ride.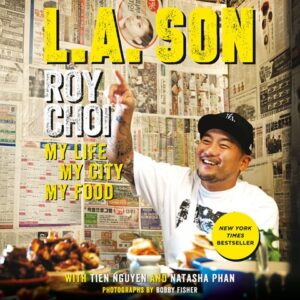 L.A. Son: My Life, My City, My Food by Roy Choi, Tien Nguyen, Natasha Phan| Read by Roy Choi
AudioFile Earphones Award
[Random House Audio | 5 hrs.]
Chef Roy Choi's memoir is as much about place as it is about Choi's formative years in Los Angeles. He takes you through the streets, communities, and cuisines of this eclectic city with a confident, assured, and hilarious narration. This is a listening experience that mixes humor, Korean history, and a love of food. He takes us through the individual flavors of his parents' Korean staples and then into the mix of styles, spices, and dishes that characterize Latino-infused L.A. An excellent example of how an author's narration adds additional layers to the listening experience.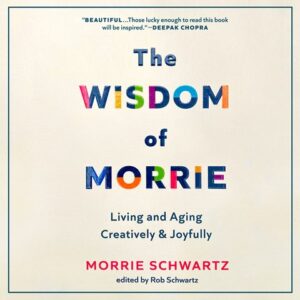 The Wisdom of Morrie: Living and Aging Creatively and Joyfully by Morrie Schwartz, Rob Schwartz [Ed.]| Read by Steven Weber, Rob Schwartz [Fore.]
AudioFile Earphones Award
[Blackstone Audio | 7.5 hrs.]
The late Morrie Schwartz was the subject of the popular book and movie TUESDAYS WITH MORRIE. Here, actor Steven Weber narrates Schwartz's posthumously edited guide to aging. Weber sounds seamlessly connected with the author's timeless wisdom and altruistic spirit. With moving personal stories and observations, Morrie invites listeners to age proactively, to live creatively as who we are, and to seize every day and opportunity to fill our later years with joy and loving connections with others.
---