Great Holiday Audiobooks for Young Readers
From Neil Gaiman to Geogre M. Johnson and More
With school moving online for so many this year, the perfect holiday gift for kids of all ages would be anything that does not involve a screen. Any year prior to 2020, I'd say all books make great gifts, but let's consider giving children's eyes a total rest this year with an audiobook.
This holiday season I recommend five audiobooks for young readers, from preschoolers to older teens. Technically, if listening on an app, a screen is still required, but only for tapping buttons.
If you do give an audiobook as a present, be aware that some audiobook purveyors only sell gift subscriptions rather than specific titles. Know what you're purchasing before checking out.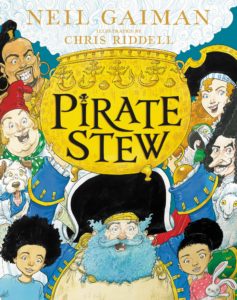 Pirate Stew by Neil Gaiman
Narrated by Neil Gaiman · Quill Tree Books/HarperAudio
10 minutes · Reading Level: 4–8 years
Parents hire a pirate named Long John McRon to babysit their children in Pirate Stew, the new picture book from Neil Gaiman. Chris Riddell provides illustrations in the print edition, but the audiobook is all Gaiman. Many will miss the pictures—they're called picture books, after all—but for parents too tired to turn pages or read aloud without falling asleep, the audiobook could be the perfect solution.
If you've ever worried your teenage babysitter might invite their friends over for a party, be glad you've never hired a pirate to babysit. "The door was opened, in they came, a pirate crew, they were not tame."
Gaiman goes all in on the pirate voice, growling and adding R's at every opportunity. An audiobook's credits have never been so amusing, nor has anyone had so much fun saying HarperAudio. The author's British accent adds a mischievous wink to the non-pirate lines.
Pirate Stew is at its zany best when the pirates begin cooking their titular dish. "Start with onions, start with carrots, add the seeds that feeds the parrots, pulverized with heavy pestles, leeks are good except in vessels, …season it with mermaids' tears," sang the band of buccaneers. "Add a slice of plank for walking and some extra R's for talking."
The rhyme becomes a bit complicated in places, which could make the audiobook a welcome alternative to young readers or their weary parents. At its low price—currently the audiobook costs less than a cup of coffee—parents might wish to buy it as a companion for the hardcover. Allowing children to make their own illustrations for the text could also be a fun exercise.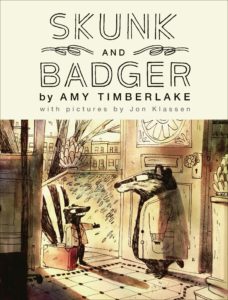 Skunk and Badger by Amy Timberlake
Narrated by Michael Boatman · Algonquin Young Readers/Workman Publishing
2 hours and 57 minutes · Reading Level: 8–12 years
"Badger didn't normally shut the door on animals that knocked, but there was too much slick in this one's stripe, too much puff in his tail." Skunk also carried in his hand a tattered red suitcase, giving him the appearance of a door-to-door sales-skunk. Thus, the topsy-turvy, odd-couple friendship between the two animals fittingly begins with a slammed door.
The latest chapter book from Newbery Honor writer Amy Timberlake comes with Jon Klassen's illustrations in the print edition, but Michael Boatman's narration of the audiobook paints its own three-dimensional picture. Perhaps best known for his work on the sitcom Spin City, Boatman turns in a fantastic performance, making the most of Timberlake's wordplay.
Badger's life revolves around his rock collection until his aunt, in whose brownstone he is living, tells Skunk, whom Badger has never met, that the two can share the brownstone. Boatman's voice work is far more theatrical than one would encounter in an audiobook for adults, but it's more than welcome in Timberlake's humorous, inventive story.
The arc of friendship, argument, and reconciliation might be familiar, but the journey delivers constant surprises: a hundred dancing chickens, a ukulele, and something called a "rocket potato," to name just a few.
Whatever pleasures might be lost without illustrations are made up for with Boatman's attention to sound. "Clink, slide, slurp," goes Badger's lonely spoon while he eats his cold cereal, missing the warm strawberry muffins Skunk used to make. "Sludge and slurry!" Badger shouts in anger, his favorite expletive, and it might become your favorite, too. It has become mine.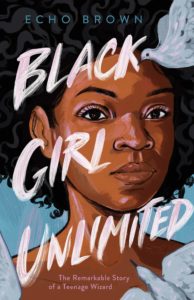 Black Girl Unlimited: The Remarkable Story of a Teenage Wizard by Echo Brown
Narrated by Echo Brown · Henry Holt and Co./Macmillan Audio
8 hours and 29 minutes · Reading Level: 14–18 years
"I am only a kid," says the narrator of Echo Brown's excellent debut novel, also named Echo, "but I know you have to believe in something to make sure you have a story in your head that explains the world." Early on, Echo's belief that she and her mother are wizards seems like a story she tells herself to help cope with her harsh surroundings. Soon, however, it's clear we're dealing with more than metaphors.
Set in Cleveland in the late 1990s, Black Girl Unlimited straddles realism and magical realism to create a nuanced portrait of contemporary black childhood. Readers might recognize tropes and struggles, but Brown is a generous storyteller, showing the complexity of her characters and where they live. Echo's mother is more than her addiction to narcotics, her father is more than his alcoholism, and Echo's best friend is more than her Muslim faith or attraction to the same sex.
A performer and playwright as well as an author, Echo Brown is a natural narrator of her own audiobook. Her voice work, particularly with adult characters, entertains without overdoing it. She's equally at ease with humor and the quiet, vulnerable moments.
Brown's novel is recommended for readers aged fourteen and up, but readers of all ages might benefit from a content warning for rape and sexual abuse. The book's darker elements are certainly handled delicately and with purpose. Black Girl Unlimited, despite the adversity it depicts, offers plenty of hope.
"The ninth lesson of wizard training," teenage Echo tells us, "is learning to tell yourself a different story about who you think you are on the inside. People underestimate the power of telling a different inside story, but it's the only real power we have to create new lives for ourselves."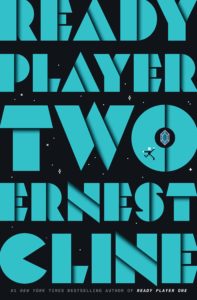 Ready Player Two by Ernest Cline
Narrated by Wil Wheaton · Ballantine Books/Random House Audio
13 hours and 46 minutes
This fall brings the long-awaited sequel to Ready Player One, one of the most popular novels of the last decade. Readers who enjoyed that novel, as this reviewer did, should find plenty to love about Ready Player Two. The same is true of the audiobook, narrated again by actor and geek culture hero Wil Wheaton.
When we left Wade Watts and his friends, they had won ownership of the Oasis, the virtual reality universe created by the late Jim Halliday. Wade and Artemis, aka Samantha, seemed destined for love. A few years later, the two are at odds over how to run the company. Samantha's is the only dissenting vote against letting the public use ONI headsets, which allow Oasis users "to see, hear, smell, taste, and feel their avatar's virtual environment via signals transmitted directly into their cerebral cortex."
Wil Wheaton narrates like he knows what is going on, which, in a novel with so many technical terms, theoretical concepts, and pop culture references, is hardly faint praise. Another quest drives the narrative, this time to prevent an AI version of James Halliday from taking over the world, virtual and physical. The patience of some readers for the length of these missions might depend on their interest in the oeuvre of John Hughes, Prince, and J.R.R. Tolkien. Wil Wheaton sounds like he is having a great time, and he is especially welcome company in these lengthier chapters.
If Cline's sequel stalls in places, its concepts represent a leap forward from its predecessor. Instead of virtual reality, the concerns here are with artificial intelligence and the ethics of such advancements. At times, Ready Player One felt as much like a bag of candy as a novel, and the sequel offers the same sugar buzz with some nutrition thrown in.
"Don't you kids ever get tired of picking through the wreckage of a past generation's nostalgia?" asks a returning character from the first novel. It's a question I found myself asking while trying to decide if teens will enjoy this novel as much as Gen Xers. The tone is young adult, but the allusions remain unabashedly retro.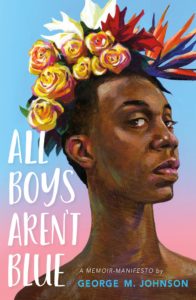 All Boys Aren't Blue: A Memoir-Manifesto by George M. Johnson
Narrated by George M. Johnson · Farrar, Straus and Giroux/Macmillan Audio
5 hours and 12 minutes · Reading Level: 14–18 years
"If there's a book that you want to read, but it hasn't' been written yet, then you must write it," said Toni Morrison, whose famous advice inspired George M. Johnson's memoir-manifesto, All Boys Aren't Blue. Confused about how to navigate the world as a queer black teen, Johnson has written a sort of handbook for anyone with the same questions they had. "[Writing this book]" became less about being a guide and more about being the gateway for more people to find their truth and find their power to live in that truth."
Original and riveting, All Boys Aren't Blue deserves a readership much wider than Johnson's target audience. That said, those readers looking for a book that validates their experience should find additional comfort in Johnson's even, disarming narration of the audiobook. The voice of an author revisiting trauma can be especially powerful to readers with similar experiences, who might be picking up such a book to feel less alone.
The memoir begins with a young Johnson getting their teeth kicked out in a fight, possibly because their assailant perceived something different in their mannerisms. Afterward, as a protective measure, they hid their queerness for many years. "safety trumped satisfaction, even as a kid."
Some of the most moving sections relate how supportive Johnson's family was before and after they came out. Johnson's grandmother says they will have to bring anybody they date to the house to meet her just like the other grandkids. For these many moments, All Boys Aren't Blue could be invaluable reading for anyone with queer family members.
Late in the book, Johnson cites the national rate of homelessness for LGBTQIA+ youth as around 40%. "The rate in my family," they add, "has always been 0%. How could one family get so right what the world has gotten so wrong?"
---