Audacity, Elegance, and the Vulgarity of Garlic: On My Dinner with Giorgio Armani
Alexander Lobrano Recounts an Eye-Opening Evening with the Exalted Fashion Designer
I was startled when the phone rang while I was shaving. It was 7 am. The press attaché for Giorgio Armani called me in my Milan hotel room to tell me the designer wanted to have dinner with me that night. It was more a summons than an invitation. Mr. Armani was the sacred cow, the designer Mr. Fairchild was enthralled with, which is why almost all of his senior editors in New York City wore only Armani's clothing—purchased with generous press discounts supplemented by the occasional, ostensibly forbidden unreported gift.
Most of Fairchild's Europe-based editors found this designer too corporate and decidedly uncool, but they held their tongues. I reminded the attaché that I already had an 11 am appointment to preview the next season's fashions with Mr. Armani, whom I'd met briefly several times before. She briskly told me she'd canceled it. We could discuss next season's trends at dinner. Then she gave me the address of La Briciola, the restaurant where we'd meet, stated that Mr. Armani was looking forward to seeing me, said "Ciao, ciao, caro," and hung up.
Her arrogance was still bothering me when I got to Fairchild's Milan office, in the Piazza Cavour, where I worked during my trips to the city. When I told Nadine, the Milan bureau chief, what had happened, she confirmed my suspicions.
"He wants to size you up," she said, adding, "He does this only when he thinks someone might become important. And of course he'll tell Mr. Fairchild exactly what he thinks of you."
Musing about the situation during the day, I decided Mr. Armani was probably reacting to the stir I'd caused the season before, when I'd slammed a Gianni Versace show called "Diamonds Are a Man's Best Friend." It had been little more than an excuse to send a succession of almost obscenely handsome bare-chested male models down the runway in slinky black-wool-crepe suits ornamented with rhinestone buttons, beading, zippers, and other frippery. The clothing was gigolo-wear defined, and I said as much. This had gotten me banned from Versace's upcoming shows. Being publicly shunned had made people notice me.
His ice-blue eyes had a cruel beauty, and his nostrils and smile were taut.
Before I left the office to go to dinner, I had an idea. I called Dennis Thim in the Paris office and suggested I do a little story about my intimate tête-à-tête dinner with Mr. Armani. That way, he'd be reporting on me, and I'd be reporting on him. Dennis agreed but said it needed to be meaty. There was no point in running yet another puff piece on the exalted designer.
"Do something with some bite, but be careful, Alec, because, well, you know… "
I arrived at the restaurant early, and without giving Mr. Armani's name, I was shown to a corner table under a huge cascading flower arrangement. How did they know who I was, I wondered. Did I look that American? The maître d' poured me a complimentary flute of very good Franciacorta sparkling wine but refused my request for a menu.
"Mr. Armani always orders for his guests," he said, which irritated me.
Speaking to the maître d' in Italian, I asked him how he'd known that I was Mr. Armani's guest. He explained that the Armani press office had described me.
"Your Italian's pretty good," he said in English.
I knew Mr. Armani had arrived even before I saw him. A brief lull in the chatter of the dining room made me look up from my magazine. The elegant white-haired designer had paused at the door just long enough to be noticed, and then his hat, scarf, and coat were whisked away. I stood to shake hands, and once seated, we awkwardly exchanged overlapping greetings and questions in French—Mr. Armani always pretended he didn't know English. His ice-blue eyes had a cruel beauty, and his nostrils and smile were taut. Knowing he had a house at Lake Como, I mentioned that I hoped to visit the lake in the spring; I'd never been there before. I hoped this might provide us with a neutral subject of conversation.
Ignoring my remark, he asked me where I was from, where I'd gone to school, and where I lived in Paris. When I told him I lived in the rue Monsieur, he raised his eyebrows and gave me an approving nod. He clearly knew this chic little street in the seventh arrondissement. He was polite but cool, so I understood it had been presumptuous of me to think we might have a real conversation. He clearly expected me to submit to his blunt interrogation like a vassal.
Our meal began with grilled porcini mushrooms, which had been flattened into small, round chewy steaks under a weight on a very hot grill, then sliced. The dish was presented with a sauceboat of oil, parsley, and finely chopped garlic. I accepted the waiter's offer of the sauce.
"Garlic is so vulgar," Mr. Armani said as the waiter spooned the sauce onto my mushrooms.
"Oh, I love garlic," I replied. He wrinkled his nose and shook his head.
With their shaggy taste of leaf mold and earth, the succulent mushrooms reminded me of an autumn walk in the woods. When the waiter cleared our plates, I told him how much I'd enjoyed the porcini.
"You're very familiar with the waiters, Alexander," Mr. Armani said with pursed lips.
I laughed because I found his censorious remark absurd.
"That's probably because anyone who's ever worked in a restaurant knows how hard it is." It occurred to me that my summer jobs had actually given me a useful perspective very different from that of someone who'd never done such work. I knew how restaurants operated and what went on in the kitchen.
"You worked in a restaurant?" Mr. Armani looked horrified.
I explained that in the summer during college I'd worked as a waiter at several seaside hotels in New England to earn money for the coming school year. I had started out as a busboy.
"What's a busboy?"
This too I explained.
"Very lowly work," he said, shaking his head. He was obviously wondering how someone blighted by such menial labor could possibly have become a journalist.
In the end, I felt sort of sorry for him because he seemed to have little aptitude for pleasure.
I couldn't resist mentioning another college summer job. "I also worked as a salad chef. Americans eat a lot of salad, especially during the summer—green salad, but also potato salad, cucumber salad, pasta salad… "
"Pasta salad?"
I nodded. His expression suggested he was now certain I was a barbarian. I was starting to have a good time.
"Yes, in America we make pasta salad with macaroni and mayonnaise and celery, with olives and other things in it."
"What a horrible idea," he said, wide-eyed. "So in America, you've not only ruined pizza, you've ruined pasta too?"
I couldn't resist the bait. "There's some very good pizza in America. In New Haven, a city in Connecticut where I grew up, they put clams on pizzas, and they're absolutely delicious."
"Who would do such a thing!"
"Well, the Italian immigrants who settled there."
"Ah!" he scoffed. "Gli immigrate… "
I was learning that Europeans often looked down on those who had immigrated.
Our main course arrived, riso al salto, a golden-crusted cake of rice presented in a heavy cast-iron pan. The designer explained that it was made from leftover saffron risotto. Served in slices, it was crunchy on the exterior but still creamy inside, and it confirmed an important thing that I'd noticed about food. Dishes made with leftovers are unfailingly among the best in any kitchen.
"Alexander, are you Italian?" the designer asked me while we were eating.
"Not really. I'm probably three-quarters English and Scottish, with a good chunk of Rhineland German, some Irish, and a great-grandmother from Antwerp who was probably Jewish. Plus some French and Italian."
Then, sounding like a child, he asked me, "Then how do you know who you are?"
I laughed. "That's never been a problem for me."
We said good night under a streetlight.
"You are strange, Alexander, but I appreciate you," Mr. Armani said when we shook hands, and then I watched him walk down the street, the A-line of his loden-green overcoat, a classic of the male bourgeois Milanese wardrobe, swaying behind him.
"Alec, this Giorgio Armani story is so real and intense," Dennis said.
In my take on our dinner, I ignored the fact that Mr. Armani was a world-famous designer and sketched the evening in terms of the man I'd had dinner with. With no press attaché to groom our conversation, I'd discovered him to be a cautious, intensely disciplined, and fiercely private aesthete. His reserved earth-tone clothing, with clean architectural lines, made sense because it was as austere as he was.
Knowing he'd studied medicine before becoming a window dresser—a bold defection in 1960s Italy—and then a menswear salesman at La Rinascente, a big department store in Milan, I admired him for creating a new definition of elegance with global resonance, even if it was mostly ignored by the bourgeoisie in a city as conservative and class-bound as Milan. In the end, I felt sort of sorry for him because he seemed to have little aptitude for pleasure.
"What I really loved was the whole thing about how freaked out Armani was that you'd worked in restaurant kitchens," Dennis said. "But I doubt they'll run this story in New York because Armani is Mr. Fairchild's pet. I'll send it in, though."
The story never saw the light of day, but Dennis told me some of the editors in New York had been impressed by my audacity.
__________________________________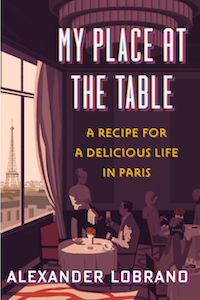 Excerpted from My Place at the Table: A Recipe for a Delicious Life in Paris. Used with the permission of the publisher, HMH Books & Media. Copyright © 2021 by Alexander Lobrano.
---