At the Women's House of Detention, the Intersecting Influences of Black and Gay Liberation Movements
Hugh Ryan on How Afeni Shakur's Incarceration Changed Her Political Thinking
Afeni Shakur is today remembered for many things, including her leadership in the Black Panthers; her brilliant legal mind; the incredible life and work of her son, rapper and actor Tupac Shakur; and her autobiography, Evolution of a Revolutionary, which she cowrote with actor Jasmine Guy. Forgotten, though, is her history as a gay liberation radical, her presence at the Stonewall Riots, and her own bisexuality. But all of these parts of her history connect in one spot: the Women's House of Detention at 10 Greenwich Avenue. In fact, a close look at Shakur's time in the House of D shows the powerful ways in which Black liberation influenced gay liberation, and vice versa.
Shakur's time at the House of D began the night of April 2, 1969, when the NYPD tried to crush the Black Panther Party in New York City. There had been other skirmishes between the two groups before, but that night the police were out to decapitate the party, conducting at least thirteen simultaneous, "heavily armed" midnight raids on the homes of Panther leaders. Doors were kicked in, children were held at gunpoint, and friends and acquaintances who were unlucky enough to be present were rounded up along with the intended targets—a group that would be known as the Panther 21, one of the most infamous causes célèbres of the late 1960s.
Shakur was just twenty-one years old the night of the raid— twenty-one, six months in the party, and already one of its East Coast leaders. Not all the Panthers were quite so young, but youth was a common thread that united 60s radicals across all factions—from the Young Lords to the Gay Liberation Front, to the Radicalesbians, to the Black Panther Party.
Shakur had been raised in North Carolina until she was eleven, then moved with her mother and sister to the Bronx. Like her son, she was a talented artist who qualified for the city's prestigious High School for the Performing Arts (where the movie Fame would soon be set). But the school was never a great fit, and after some disciplinary trouble, she transferred to Bronx Science, a public magnet school that boasts eight Nobel laureates among its alums. She didn't last long there either.
It was the mid-60s, a time of dropping out and tuning in, so Shakur left high school and soaked up Black New York. She went to be-ins and political rallies, studied Yoruba culture, dropped acid to Jimi Hendrix, and was given the name Afeni—"dear one" or "lover of the people." But it wasn't until she heard Bobby Seale, co-founder of the Panthers, give a sidewalk speech in Harlem, that she found herself. She remembered that day, thirty years later:
So there I was wrapped in my Africanness. For the first time, loving myself and loving, now that there was something I could do with my life. There was now something I could do with all this aggression, and all this fear  Before I joined the party, I was fucked up. I would slap a motherfucker in a minute  So, the Panther Party for me, at that time, clarified my situation.  They took my rage and channeled it against them [she points outside], instead of us [she holds her heart]. They educated my mind and gave me direction. With that direction came hope, and I loved them for giving me that. Because I never had hope in my life  They took me and looked at me and said: "Afeni, you are so strong, so use your strength to help the weak. You are smart, so use your mind to teach the ignorant."
She soon met Lumumba Shakur, who led the Black Panther section in Harlem and was steeped in the Black radical tradition—his father had been a follower of Marcus Garvey, who espoused a powerful theory of pan-Africanism. She converted to Islam, they got married, she joined the party, and she quickly rose to be a leader, giving passionate speeches to raise money and helping establish a breakfast program for schoolkids in Harlem. To the rest of the Panthers, Afeni and Lumumba were a power couple, like Eldridge and Kathleen Cleaver, although Afeni was uncomfortable with that kind of celebrity and didn't feel like she deserved a place in that pantheon.
But three months after they got married, when Lumumba was arrested, she found herself one of the leaders of the party in New York. Three months after that, in April 1969, the police kicked in her door on 117th Street and arrested her and Lumumba while they were sleeping. The charges? "Conspiracy to murder, arson, reckless endangerment, and possession of weapons and explosives."
Specifically, the Panther 21 were accused of planning to bomb a startling array of targets simultaneously, from the police station on 106th Street to the Brooklyn Botanical Gardens, to the Easter shopping crowds at Macy's and Bloomingdale's. Additionally, several other existing cases involving members of the party were rolled into this trial. All told, they were charged with thirty counts of conspiracy, and faced a total of 356 years in prison—each.
Joan Bird was the only other woman among the Panther 21. A nursing student at Bronx Community College, she had just turned twenty a month before the raids. She was asleep in her parents' apartment in Harlem when the cops broke in "at 5 AM . . . with shotguns, you see, armed. Armed pigs, breaking down doors." She knew exactly how much danger she (and her mother and father) were in, as this was her second Panther-related arrest that year. In January, she'd been picked up on charges of trying to bomb a police station in New Jersey. She had been beaten badly by the police at the time, who lamely claimed that she had received a black eye, a bruised forehead, a split lip, and contusions all over her body when trying to duck the bullets they fired at her. The truth, according to Bird?
One of the police told me "to crawl out of the car, bitch."…[They] dragged me by my arms, while on the ground on my back… With a short black club [one] beat me across my face and head… I became dizzy…My mouth was bleeding… They put handcuffs on me and turned me over face down… They began to kick me and walk on my back and legs.
After this, she was held for a while and then bailed out. This initial case against Bird and her codefendants was one of the cases rolled into the Panther 21 trial.
Given the vastness of the conspiracy alleged, the number of homes raided, and the months of advance surveillance that had already been conducted by the government, one would imagine the police captured a grand haul of weapons and explosives during their raids. But in truth, they found only "one carbine, one rifle, six revolvers, one shotgun, one saw-off [sic] shotgun, two switchblade knives and one dagger." All the dynamite the Panthers were going to plant in department stores— allegedly on the very day they were arrested—was never found.
For far too long, our frame of reference for Stonewall has been too small, cropping the story down to a narrow sliver of its true self and then enlarging that image until it blots out everything else.
In court, Bird and Shakur were each given a $100,000 bail and sent to the House of D. Joan Bird spent the next year and a half in a dark, dirty, seven-by-six-foot cell. Except to go to court, she wouldn't see the outside world again until July 1970. Afeni Shakur was an exceptional speaker, so the Panthers and their allies bailed her out a little faster, so she could help raise money for the rest of the 21. She only spent nine months in the House of D (this first time), but they were some of the most turbulent in Greenwich Village history—and they would have a profound effect on Shakur's political thinking.
Just two months after Shakur and Bird were incarcerated, the cops conducted an ill-planned raid on the Stonewall Inn, kicking off days and nights of queer resistance. On the very first night, as a rowdy crowd de-arrested one of their own and forced the police to take refuge in the bar, a few people—women—looked to the House of Detention.
About five hundred feet separated the prison and the bar, the incarcerated and the liberated, the forgotten and the immortalized. Five hundred feet between those who "birthed" the modern gay rights movement and those the movement has ignored. Some of those incarcerated had windows that looked down Christopher Street. They would have heard the sirens and the screams, smelled the burning trash, and flocked to see what was happening.
Arcus Flynn was driving home late that night from her job as a nurse, wending through the streets around Washington Square when she noticed something strange: small points of light, flying through the sky. When she pulled over, she realized they were fires—little burning things being thrown from the windows of the House of D. As she got out of her car, she could hear them inside: dozens, maybe hundreds, of voices screaming, "Gay rights, gay rights, gay rights!" That, she would later tell interviewers, was how she first realized Stonewall was happening.
Author Rita Mae Brown was on the street, in the crowd, closer to the bar. Years later, she wrote about her frustration with the way the people in the House of D had been left out of history: "At the women's house of detention, the women heard the noises and started rioting inside the prison.  [They] burned mattresses and shoved them through the bars. This never got written up because all the accounts of that period were given by men."
Jay Toole was also in the crowd that night, one of the many homeless youth who are often generically recognized as a vital part of the Stonewall Uprising, yet rarely singled out for recognition by name, or even as part of the queer community. According to Toole, Stonewall was a turning point because of the diversity of the crowd: "It was every form of human being, every shade of human being, every sexuality of human being, all coming together as one. It was just like, enough is e-fucking-nough."
And yet that diversity has been underplayed—in consistent ways—since the very next day. In one of the first articles written about Stonewall, Village Voice journalist Lucian Truscott IV mentioned the "rough street people," who were not genuinely interested in gay rights or fighting police repression, but instead "saw a chance for a little action." That narrative has held ever since, furthering an imagined divide between "rough street" and "gay."
But many of the street kids in the Village, like Jay Toole, were there because they were gay—a situation that remains true today, when poor queer youth still flock to the neighborhood because of its reputation. David Carter, author of the first book-length history of the Uprising, Stonewall, was one of the rare few who recognized this truth, telling journalist Richard Burnett that "the people who resisted most were gay street youth, non-gender-conforming butch lesbians and effeminate young men."
Some of those gender nonconforming butch lesbians weren't on the street because they were gay, they were in the House of D because they were gay. Who were those women setting fires and chanting for their rights? Like the rough street kids, they're rarely recognized as part of the Uprising, let alone named and honored like other Stonewall veterans.
None of the extant records of the prison talk about that night, but a week later, the New York Amsterdam News—the same historically Black paper that had covered the arrest of Serena C. back in the 1930s—ran an article entitled "Women Held in Assault on Guard," which detailed how eight incarcerated women attempted to escape the prison on the night of Stonewall. Verna, Beverly, Nancy, Marie, Mildred, Sylvia, Veronica, and Jean: forgotten queer women Stonewall veterans? "Rough street people" who "saw a chance for a little action"?
For far too long, our frame of reference for Stonewall has been too small, cropping the story down to a narrow sliver of its true self and then enlarging that image until it blots out everything else. The memory of these eight women has fallen into the crack between what happened and what we remember; research as I might, I cannot bridge this divide.
________________________________________________________________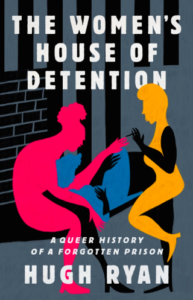 This article has been adapted from The Women's House of Detention: A Queer History of a Forgotten by Hugh Ryan. Copyright © 2022. Available from Bold Type Books, an imprint of Perseus Books, LLC, a subsidiary of Hachette Book Group.
---