Art Young's Dante-Inspired Satire Replaced Demons with Exploitative Capitalists
Steven Heller on an Old Master of Political Cartoons
I dedicated my 1981 book Man Bites Man: Two Decades of Satiric Art to "Three Masters of the Comic Arts: Art Young, Gluyas Williams and Otto Soglow." If today I were instructed to only make one dedication (to save on typesetting costs, perhaps?), I would definitely choose Art Young. He is genuinely still a huge inspiration to me, lefties like me, and a pillar of political cartoon history.
For good measure I wouldn't even typeset his name. I'd simply show the cartoon that I ran in Man Bites Man, "From Jungle to Civilization," showing a pair of related beasts—an apprehensive old simian grasping an armful of coconuts and an anxious rich homo sapiens tightly embracing bags of money. Although apes have not evolved much since his cartoon was drawn in the early 20th century, today's ultra-wealthy have devolved into apes wearing polo shirts, designer jeans and Tag Heuer watches rather than morning coats, cravats and diamond tie pins. Otherwise Young's cartoon is still on the money!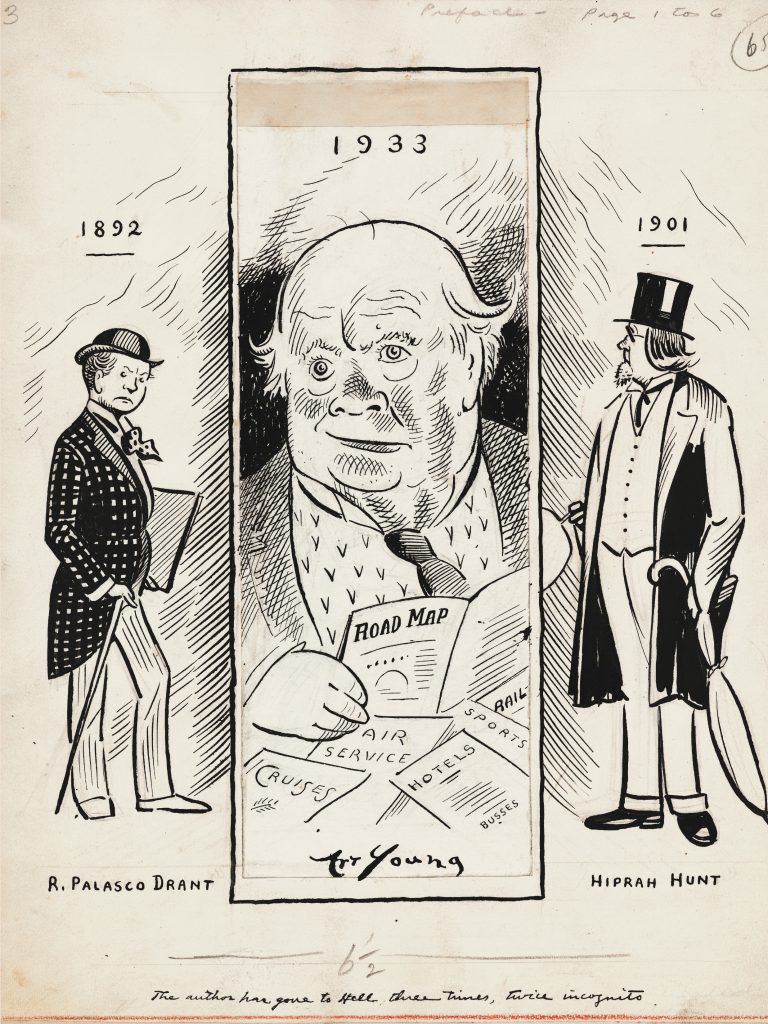 In fact, Art Young's brilliance as a cartoonist, satirist and commentator is that he was always on the money; specifically on the well-heeled heels of those profit-mongering robber barons who amassed billions in wealth on the backs of labor. His most famous depiction of corporate excess and greed, titled "Capitalism" (published in 1911 in Life, then a humor magazine), portrays an obese, bald oligarch gluttonously glugging from a drum-sized terrine, leaning back on a chair poised to topple off a cliff to the bottomless pit below.
If one were to alter some physical characteristics to make him more contemporary looking, you've got the perfect visual indictment of today's Wall Street and Washingtonian plutocrat.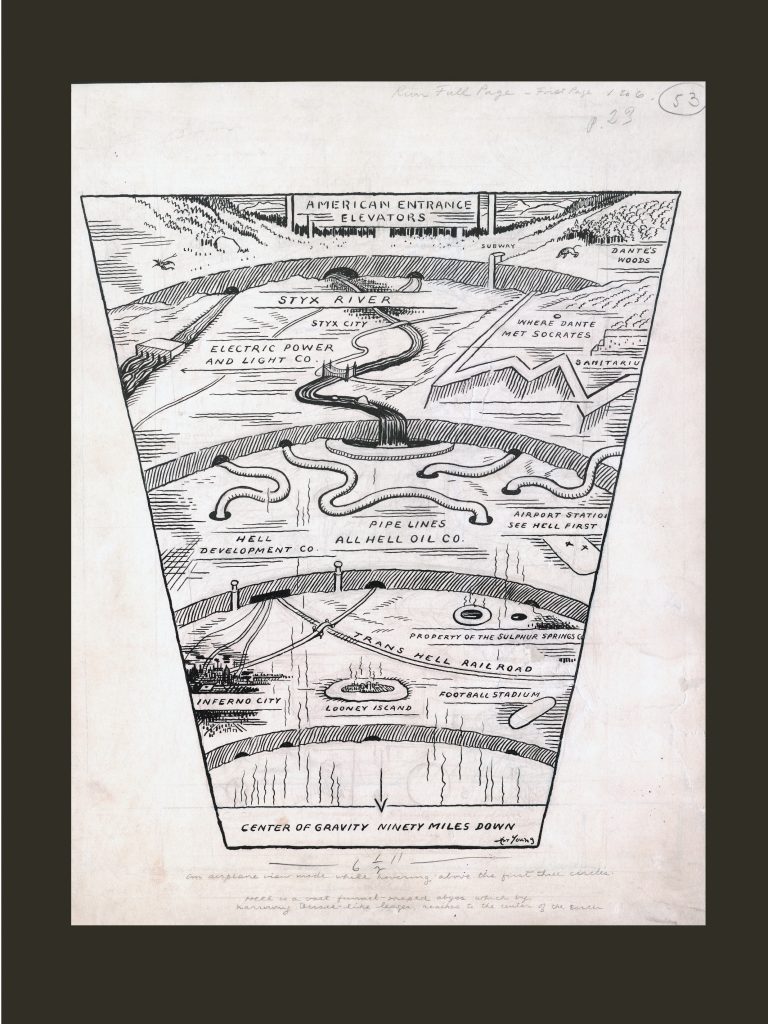 A lifelong provocateur, Young was of his time, ahead of his time, and timeless in terms of conceptual acuity and pictorial savvy. Nothing proves this better than Art Young's Inferno. Originally published in 1934, Young was influenced by Gustave Doré's exquisite 1861 engravings for Dante'sInferno. There have been several artist interpretations of the Divine Comedyi n recent years, Gary Panter's Jimbo's Inferno (2006) and Seymour Chwast's adaptation (2010) among my favorites; however, nothing has come close to Young's roast of free market capitalism and the venal capitalists, monopolists and lobbyists that keep the fires stoked.
In the role of Virgil, Young treats the viewer to Hell as it had never been imagined but nonetheless exist(ed) to a large degree behind the facades of the towering office buildings and boardrooms then and now.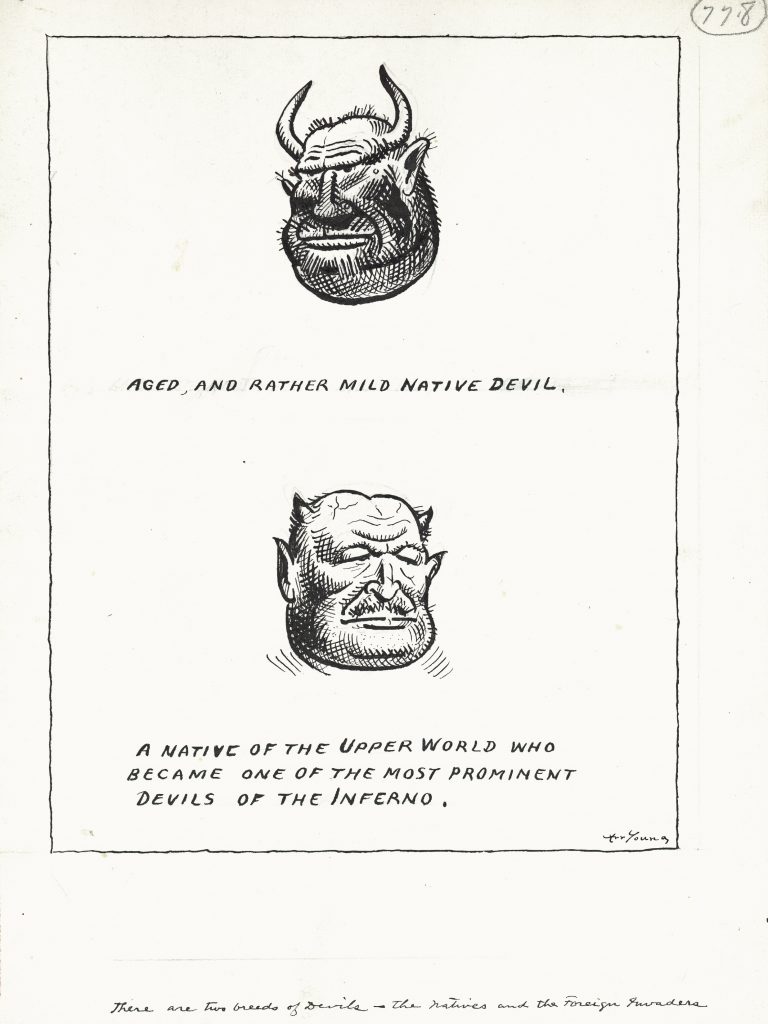 This was Young's final visit into Satan's den before he died in 1943 (and I'm almost certain was arisen to cartoonist heaven). He made two iterations before this. His first in 1892, Hell Up to Date: The Reckless Journey of R. Palasco Drant, Newspaper Correspondent, Through the Infernal Regions, As Reported by Himself, does not so much hit the hotspots of capitalism as it uncovers the secrets of the mythical underworld and what it takes to become a resident.
The second, the 1901 Through Hell With Hiprah Hunt, was a reprise rendered in a less fussy more mature line. Drant was replaced by the bible-thumping preacher Hunt—Presbyterian through and through. The savagely funny imagery is a direct precursor of the '60s underground comix.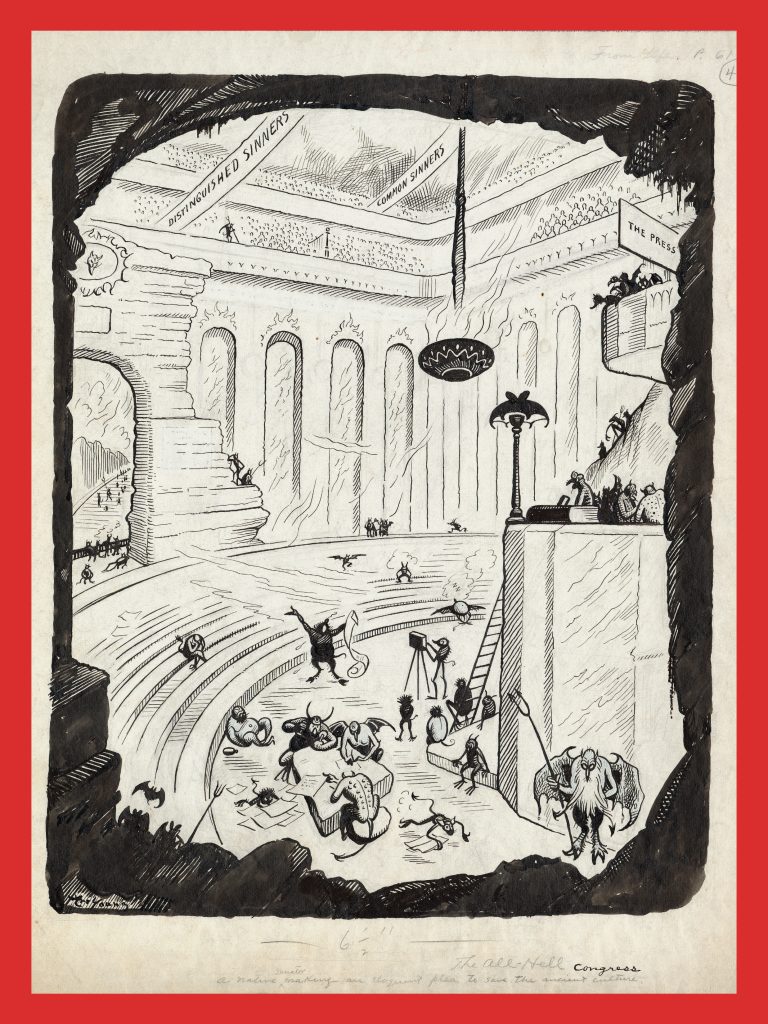 Of course, Young was not alone in his disdain of Capitalism. He was art editor for The Masses—whose offices were just a handful of blocks from where I am writing this (and nearby locales where some of those early underground papers and comics were published)—and oversaw the work of other strong, strident and witty cartoonists and illustrators, including Robert Minor, Boardman Robinson, William Gropper, Rockwell Kent and others with razor sharp pens.
He was preceded by artists for the French L'Assiette au Beurre and German Simplicissimus who lampooned their very own fat cats without mercy. Speaking of mercy. It is merciful that Art Young, despite a few brushes with the censors, was able to create this master work. So many decades after publication, the dire threats to America's well-being that Young predicted in the corruption of healthcare, real estate, industrial monopolies, public services and, of course, politics and government are all too real.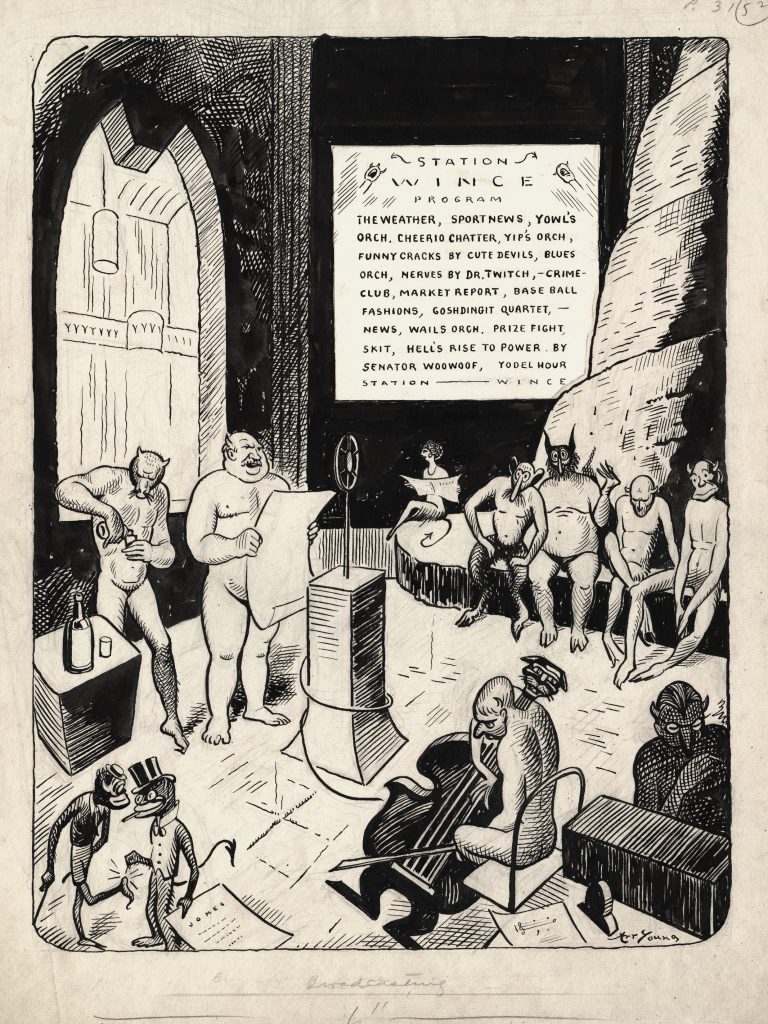 If he to return to our times, I wonder if Young would be shocked or bemused. Would he and Bernie Sanders be comrades? Would he embrace the Green New Deal (Art Young's Inferno was published on the eve of FDR's New Deal)? Or would he simply say, "I showed you so"? After all, his cartoon charting the economic status of the nation, "Poor" / "Out of Poverty"/ "Rich"/ \ "Richer" is beyond prescient. Truth, I suppose, is often not funny.
__________________________________
Adapted from Art Young's Inferno. Used with the permission of the publisher, Fantagraphics. Introduction copyright © 2020 by Steven Heller.
---