In Small-Town America, Elections Can Be Private Affairs
Heather Lende on Running for Office in Haines, Alaska
There are two polling places in Haines, Alaska. One is in the arts center lobby, on the hill above the harbor and cruise ship dock, the other at the fire hall in Mosquito Lake, a woodsy rural settlement 26 miles out of town. I voted at the arts center and said hi to everyone as I walked in, but I didn't say, "Wish me luck," or anything close to it. The public radio station, KHNS, and signs on the street corners reminded residents that no campaigning was allowed at or near polling places.
One neighbor, who lives in an old house with a wide porch on Soap Suds Alley, was asked by the borough clerk to remove campaign signs from his yard since his home was too close to the polls. I did notice who was there voting, though, friends and foes, and wondered which side of the Haines left-right divide would be victorious. Either way, a little more than half of us would be happy, and a little less than half would be disappointed. Haines is predictable; I assumed it would be close. 
It looked to me as though more conservative voters than my supporters were at the arts center that morning. I hoped my years in town, my community service on the library board, the hospice board, and planning commission, my volunteer hosting of the local country music show on KHNS, coaching high school runners for 17 years, five good children and five grandchildren (the sixth and seventh were still to come), our family business, Lutak Lumber, which my husband, Chip, runs, plus all those obituaries—I've been writing them for the Chilkat Valley News since 1997—would give me crossover support.
I'm not sure that term fits Haines-style elections though. Candidates don't run on a party platform, and a so-called liberal may not want to pay more taxes for trash pickup because they recycle and compost everything, while a so-called conservative might because they are tired of illegal dumping near the river where they hunt moose. I may be a registered Democrat, but at least everyone knows me. I have written about this town in three books, which are in many ways love letters to Haines. My life is an open book, literally. 
In Alaska, municipalities are organized as boroughs, and Haines Borough has a mayor, and a six-member assembly that hires a manager who runs the daily operation of what is essentially the small city that is Haines proper, with about 1,600 residents, and the outlying areas—the borough is about the size of Rhode Island—with a grand total of about 2,500 people. I asked how the turnout had been so far, and one of the women seated at the folding table handing out ballots, a friend—our kids grew up together and we played on the same softball team—said, "Quiet but steady."
I was proud of myself for running, for channeling my frustration with the circus of national politics that had been so distracting, really ever since Sarah Palin's rise.
That could describe any Tuesday morning in Haines. I signed the line next to my name in the big book of registered voters and took the ballot over to one of the portable red, white, and blue curtained booths. I stopped a minute to read my own name on the official ballot before filling in the oval next to it. That little moment of pride and even joy may be as good as it gets. It could be the beginning and end of my late-in-life political career.
I was proud of myself for running, for channeling my frustration with the circus of national politics that had been so distracting, really ever since Sarah Palin's rise. And now Trump seemed to be her successor in the "speak first, think later" category, prompting headlines with outrageous pronouncements and turning politics into a new kind of theater of the absurd. 
After feeding my ballot into the electronic ballot box, I pressed a blue-and-yellow sticker featuring the flag of Alaska, with its Big Dipper and North Star that read I VOTED on my jacket, and we all wished one another a nice day. Which of the poll workers had voted for me, I wondered? Actually, I didn't mind not knowing. They didn't need to know who I chose, either. That's how we stay friends after an election. It is also why most businesses don't allow candidates to put up campaign signs, and why a lot of residents never endorse a candidate publicly.
You don't want to burn any bridges or hurt any feelings in a place this small and isolated. Only ferries and small planes connect Haines to Juneau, the rest of southeast Alaska, and beyond, and the one road out of town runs north, through British Columbia and the Yukon Territory. I had let friends know that if they wanted to put up a yard sign, I'd give them one, or if they'd like me to come over myself and hammer it on their tree, I would.
I didn't think I needed to order any more than 25 but ended up buying extra because of all the requests. Did they make a difference? I doubt it. 
__________________________________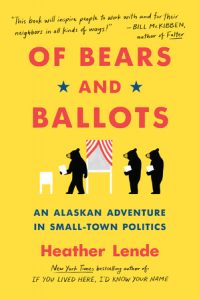 From Of Bears and Ballots by Heather Lende © 2020 by Heather Lende. All rights reserved. Reprinted by permission of Algonquin Books of Chapel Hill. All rights reserved.
---