How Does a Human Being's Internal GPS Work?
Michael Bond on Navigation and Cognition
Not long ago, while backpacking with my wife through South America, we traveled to San Pedro de Atacama, an adobe oasis village on the eastern edge of Chile's vast northern desert. After we arrived, to get a sense of our surroundings, we hired bikes and cycled for seven miles into a sandstone canyon called the Quebrada del Diablo, the Devil's Ravine, where a path climbs between eroded cliffs onto an escarpment with fine views of the plains and the Andes to the east. Half a mile from the top, we passed four young European women who, like us, were starting to question the wisdom of pedaling uphill through sand in the heat of the day.
In the afternoon, while on the way back down, we met two policemen on the canyon path who asked us if we had seen "the four lost girls. Not since they became lost, we told them. A little later, on the road back to San Pedro, an armored jeep raced past us, blue lights flashing, and a breathless young Chilean man interrupted his furious pedaling to ask if we'd come across the chicas who had borrowed his bicycles—one of them had phoned him just an hour and a half earlier to say they had lost the path and couldn't find their way out of the Quebrada. By the time we got back to town, everyone was talking about them.
The Atacama is the driest desert in the world and the nights are long and cold—it wasn't hard to understand why people were worried about the young women. When we had passed them they had been wearing shorts, T-shirts and flip-flops, and carrying enough water to last an afternoon. Local residents told us that tourists hardly ever get lost in the Quebrada del Diablo, despite its ominous name; the main path branches into two or three but they all end up in the same place, and it's hard to go wrong. By nightfall, the girls were still missing, and the police sent officers on motorbikes into the canyon with powerful searchlights.
It's easy to scoff when people lose their way, but it can happen to anyone. Getting from A to B (and back again) along an unfamiliar route and without GPS is one of the most complicated and difficult of cognitive tasks. To do it successfully you need to pay attention to your surroundings, remember features of the landscape and how they relate to each other, calculate distances, coordinate movements, orientate yourself and heed changes of direction, plan a route and be prepared to change it, and process all kinds of sensory information.
Unsurprisingly, it requires the engagement of multiple regions of the brain: the retrosplenial cortex, which establishes the permanence of landmarks and relates our heading direction to local geometry; the hippocampus and entorhinal cortex, which build cognitive maps and process routes; the prefrontal cortex, which assists with decision-making and planning; the parahippocampal place area and the occipital place area, which interpret visual scenes; and the posterior parietal cortex, which is responsible for visual-spatial perception and coordination. If one of these regions malfunctions or our hippocampus is lacking grey matter; if we don't pay attention at a crucial point or, feeling anxious, go left instead of right; if we're distracted by the bickering of our companions or have a strong preconception about the direction of home that proves to be awry, we're as good as lost. Navigation can feel simple until it goes wrong.
If you're not convinced, you should meet Erik the Red. Erik is a navigator robot designed by Leslie Pack Kaelbling, a computer scientist at the Massachusetts Institute of Technology, and named after a Viking explorer who, having been banished from Norway for various violent misdeeds, went on to "discover" Greenland. Erik the robot is also an explorer, though with more modest ambitions: to find its way around offices without bumping into furniture and to deliver things to people's desks. Considering that it was built nearly twenty years ago, it does this reasonably well.
Humans are blessed with an inner navigator that is immeasurably more sophisticated and capable than any artificial system.
Erik's navigation abilities may be primitive compared with ours, yet it still requires a large array of technologies to enable it to learn its environment, recognize landmarks and build up a rudimentary spatial memory. It uses video streaming to monitor optical flow and identify edges and contours, laser beams to measure distance, infrared "whiskers" for short-range interactions, sonar for topographical mapping and impact sensors to tell it when it has run into something. It is equipped with a suite of algorithms to allow it to make decisions based on these inputs. If you multiply that complexity by about a thousand, you're somewhere close to a human navigation system.
*
Humans are blessed with an inner navigator that is immeasurably more sophisticated and capable than any artificial system. How do we use it?
Psychologists have found that, when finding their way through unfamiliar terrain, people follow one of two strategies: either they relate everything to their own position in space, the "egocentric" approach, or they rely on the features of the landscape and how they relate to each other to tell them where they are, the "spatial" approach. The egocentric approach is like following a set of instructions: how many streets will I pass before I reach the turning? Should I turn left or right when I get there? The spatial approach, by contrast, involves taking a bird's-eye view: where is my house in relation to that hill? Should I head south or west? Egocentric is following your nose; spatial is about the big picture.
Both methods work, up to a point, and many of us use them interchangeably. Egocentric navigation is often simpler and quicker, and it makes sense to use it when regularly taking the same route (on your daily commute, for example). But you shouldn't rely on it all the time, because if one of your cues doesn't match the reality on the ground—if a road is blocked or a landmark has disappeared—you'll have no geographical knowledge to fall back on and no way of calculating a detour. Only a spatial strategy can give you a full understanding of your surroundings and where you are in relation to them. An egocentric view is a single-point construal, like a conventional photograph; a spatial view is more like a David Hockney landscape, full of depth and multiple perspectives.
As you might expect, the two approaches use different parts of the brain. Egocentric route-following depends on two areas: a structure near the centre of the brain called the caudate nucleus, which is involved in movement control and the learning of habitual behaviors, and the posterior parietal cortex, which sits near the back of the brain and plays a big role in spatial reasoning. Spatial navigation, on the other hand, is driven by the hippocampus, the brain's map-maker. People who consistently navigate with a spatial approach have more grey matter in their hippocampus, presumably because they exercise it more; for egocentric navigators, the same is true of their caudate nucleus.
The obvious implication is that our brains respond to how we use them. Studies on the psychology of navigation have found that in a general population, the ratio of egocentric to spatial navigators is around 50-50. Within that, there is great variation dependent on age, sex, culture, whether someone has an urban or rural upbringing, the state of their health and even whether they are left-or right-handed (in the next chapter we'll explore why these factors are so important).
If you are a skilled navigator—meaning that you can find your way around an unfamiliar area while maintaining a sense of direction and an idea of where you are—then your default strategy will almost certainly be spatial. This is because effective navigation requires a cognitive map, which is harder to achieve with an egocentric strategy. Skilled navigators, because they use a spatial approach, seem to have a more "muscular" hippocampus—at least, this is what studies with undergraduate students have told us. No one has yet analyzed the brains of Inuit elders, Polynesian sailors, Aboriginal Australians, Alaskan fur trappers, US Army Rangers, Ordnance Survey cartographers, orienteering champions or other renowned "natural navigators," but it is likely that they are all well endowed in the hippocampal area. If that's the case, did practice make it that way, or were they born with "a wayfinder's flair"? We can't be sure.
Genes almost certainly play a part. In 2016 a research team led by Veronique Bohbot, a neuroscientist at McGill University in Montreal, showed that people who carry a particular version, or allele, of the Apolipoprotein E (APOE) gene are more likely both to have an enlarged hippocampus and to use a spatial navigation strategy.3 The finding is particularly intriguing because the allele the researchers were studying—known as APOE2—is known to protect carriers from Alzheimer's disease, unlike APOE4, which doubles the risk of developing it. The entorhinal cortex, the retrosplenial cortex and the hippocampus are the first areas affected by Alzheimer's, and a decline in spatial abilities is one of the first symptoms of the disease. Bohbot thinks one reason that carriers of APOE2 may be more resistant to Alzheimer's is that the extra grey matter in their hippocampal area acts as a bulwark against the neural atrophy caused by the disease. It's also possible that the extra grey matter is due to their use of spatial navigation strategies, in which case, says Bohbot, "we could train those who don't have the favorable genes to use spatial strategies that would grow their hippocampus, and give them protection that way."
Bohbot is one of many researchers who believe that the spatial approach to navigation, by which we build cognitive maps of our surroundings, is more effective than simply following a route, even though it requires more brain power. Cognitive map-making doesn't automatically help us find our way home from unfamiliar places, but it does allow us to build up reliable spatial memories of our neighborhoods. Bees use cognitive maps to find their nests, and elephants to find waterholes. Migratory birds use them at the end of their journeys. The navigation skills of most 21st-century humans do not compare favorably with those of other animals. This isn't because we're inherently bad navigators—it's just that, most of the time, we don't use our inner maps to their full potential. In fact, we use them less as we get older: Bohbot has found that 84 per cent of us use spatial strategies as children, and less than half of us as adults. But they're there if we need them—which, for hundreds of thousands of years, our prehistoric ancestors did. There's no better way to learn about the world, to maintain a healthy hippocampus and, perhaps, to stave off cognitive decline.
__________________________________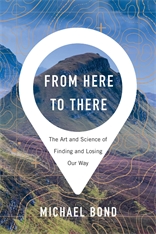 Excerpted from From Here to There: The Art and Science of Finding and Losing Our Way by Michael Bond, published by Harvard University Press. Copyright © Michael Bond, 2020. Used by permission. All rights reserved.
---