Another Way New York City is Dying: The Rise of Fauxstalgia
Jeremiah Moss on NYC Restaurateurs Rebooting Classic Restaurants
When I moved to the city, I thought I would live in Greenwich Village, but affordable apartments were no longer scarce, they were nonexistent. Still, aching to be part of a scene already vanished, I searched the Village for the bohemianism I longed for. I had read about the White Horse Tavern, the place where writers once gathered and Dylan Thomas whiskied himself to death. The first time I walked in, I was shocked to find a crowd of Wall Streeters in dark suits, making their animal herding noises around the bar. But if I went to the White Horse early in the afternoon, I could sit alone in the quiet middle room, under the portrait of Dylan Thomas, and nurse a pint of beer while writing poetry and chatting with an elderly woman named Sunny who also liked to sit in that room and nurse a drink or two. Sunny was such a regular the White Horse hung her framed photograph on the wall. She would tell me about her husband, a Hollywood screenwriter who specialized in bullfighting movies, and I would read her my poems.
Over time, I would discover the few authentic places of the Village that remained uncontaminated. But loving those bars, cafés, and restaurants has been a dangerous and painful affair. In the 2000s it seemed that every time I fell for some place it was snatched away, given over to a successful restaurateur to be gutted and glamorized.
*
A virulent trend has been sweeping the Village, and the city, in which upscale restaurateurs take over vintage spots, refurbish them, and turn them into exclusive locales, keeping their names and capitalizing on their history. It's an invasion of the body snatchers. The old places look like themselves, sort of, but there's no soul inside. The blog Grub Street called the trend "fauxstalgia."
Article continues after advertisement
It first happened to the Waverly Inn and the Beatrice Inn, prompting the Times to write about the practice in 2010. The Village, they said, "has become like a theme park of the past, as these restored standards offer a vision of a lost bohemian New York—albeit with a well-heeled clientele and prices to match." The body snatchers came next for the Minetta Tavern, originally opened in 1937 and long a hangout for writers, artists, and eccentrics, including Ernest Hemingway, Eugene O'Neill, and e.e. cummings. The owner of Minetta's was forced to close in 2008 when the landlord hiked the rent, and the lease went to neighborhood-changing restaurateur Keith McNally. He removed the walls of ragtag memorabilia, scoured it clean, and put it back shined, curated, and just so. He took away the red-sauce Italian food and replaced it with French cuisine (plus the $28 Black Label Burger). Any bohemians left in the neighborhood were unlikely to get in—reservations were impossible, prices were high, and the bar was packed with posh people who looked like they were schmoozing at the Hampton Classic Horse Show cocktail hour, all knotted sweaters and blue blazers. A muscular bouncer guarded the door, offering visual discouragement to those of us whom the blog Thrillist called "the joint's wizened, soon-to-be-muttering-outside-angrily ex-patrons."
Still, I braved the new Minetta one evening, squeezing in early to see what it had become. When I took a seat at the bar, a woman in pearls snatched the stool between us, glaring as if daring me to challenge her. When her friend arrived, also in pearls, they commenced a grueling, lockjawed discussion about the properly made Pimm's Cup. I looked away, scanning the meticulously recreated room, and noticed something missing. The old Minetta's "house bohemian," as the great Joseph Mitchell called him, was Joe Gould, aka Professor Sea Gull, author of the mysterious Oral History of Our Time. For decades, Gould's portrait had hung prominently on the wall across from the bar. That tobacco-stained oil painting of the toothless old man with wild gray hair and beard, mouth open to tell a tall tale, must not have fit the new clientele. Gould had been evicted.
Fedora was another classic restaurant that fell. The first time I ventured under the pink and green lights of its battered neon sign, walking down the steps into the dark little Italian joint, I fell instantly in love. I had come home, it felt, to a halfway subterranean room lit by rosy light, walls covered with dusty memorabilia, Playbills, and photos of handsome young men in midcentury black and white. The room was quiet, a few tables occupied by gray-haired gay men either in couples or dining alone on the $13.95 dinner special, a full-course meal that might consist of antipasto with iceberg lettuce, chicken tetrazzini, and homemade pie. The food was nothing special, but I didn't care. It was the place that mattered, the feeling of it. You knew it was special the minute you sat down to be greeted by George, the acerbic veteran waiter, who snapped, "Give me a hundred minutes" because "I've only got two hands" (on a later night, he would bark at me to "Eat your beets," adding sympathetically, sotto voce, "I hate beets"). You knew the place was special when Fedora Dorato, the restaurant's namesake and owner, made her nightly entrance, an event for which everyone put down their forks to give a delirious round of loving applause. She was a star. White-haired, slightly stooped, and elegant, Fedora would make her rounds, greeting everyone, many by name. "And how are you tonight, Jane," she asked the woman who sat always at the bar milking an enormous pink cocktail served in what looked like a fishbowl on a stem. "And how are you, my dear friend Charlie," she said to the tremulous, elderly man who dined with his West Indian nurse by his side. Fedora didn't know me, but she placed a hand on my shoulder as she passed and gave me a warm welcome. I went back every chance I got.
The restaurant had been in the family for many years, opened  by Dorato's father-in-law as a speakeasy in 1919. After the repeal of prohibition, Charles Dorato turned it into Charlie's Garden. When his son Henry took over, it was renamed Fedora, after Henry's wife, in 1952. In the days before and after gay liberation, the restaurant welcomed homosexuals, and into the 2000s it remained an accessible, welcoming space for men of a certain age. A regular for 50 years, local historian Warren Allen Smith told me, "Fedora's was definitely a refuge where the waiters were gay, you could camp it up and be yourself, and no problems occurred." He explained what was special about the place, "Nowhere else is there such a bargain. Nowhere else can you use a rotary pay phone. Nowhere else is change limited to installing a new lightbulb. Nowhere else can you carry on a conversation with someone several tables away, and others will join in. Nowhere else do you love being insulted by the witty waiter. Almost nowhere else can you find deviled eggs as an appetizer."
But all of that vanished in the summer of 2010 when the increasingly frail Fedora was encouraged by her family to retire and the place was rented to a new owner, the successful young restaurateur Gabriel Stulman. It seemed promising at first. "While presenting his case for a liquor license transfer," reported the blog Eater, "Stulman gave an eloquent speech on the history and importance of the eatery in the neighborhood." He appeared interested in preservation, and Fedora herself approved of him. "As it was described," Eater continued, "Fedora 2.0 will undergo a renovation similar to that of the Minetta Tavern: a few structural overhauls will be put in place, but the space will basically remain exactly as it appears today." That's not quite what happened. Once he got the liquor license, Stulman gut renovated the place. He did keep and refurbish the antique bar, along with a few other choice items, but otherwise he changed the interior completely, outfitting the space with diamond-tufted leather banquettes and Richard Avedon prints. Just as McNally had done to Minetta's, he upscaled the menu from red-sauce Italian to French cuisine, and raised the prices high.
Article continues after advertisement
The last time I saw Fedora Dorato, a few days before the closure, her place was packed with farewell wishers. She was busy clearing the tables of used plates and glasses. At 90, she still had her seemingly unstoppable energy. I asked her what she would do without the restaurant, and she replied, "I don't know. Every day, for 60 years, I baked and I cooked. Now what?" One year after the restaurant left her hands, Fedora passed away. For a little while, in homage, Stulman's drink menu featured a cocktail titled the Fedora Dorato, aka "The Spirit of the West Village." It was a mix of Grouse Scotch, Cynar, and Cocchi Americano, a favorite aperitif among craft bartenders. The drink sold for 12 dollars, nearly the cost of an entire full-course dinner at the old Fedora.
As the fauxstalgia trend continued, New York magazine wrote about how fashionable, moneyed restaurateurs "seem to be in a race to acquire New York's oldest, most storied properties," as if some bloodthirsty crew were hunting down the last remaining survivors, like millionaire trophy hunters who pay to prey on endangered species so they can add a rare head to their collection. Uptown, the fashionable restaurateurs overhauled the wonderful Bill's Gay 90s, in business since 1924. In the East Village, they tried to take John's of 12th Street, an Italian place unchanged since 1908. And back in Greenwich Village they gutted Rocco Ristorante, yet another red-sauce Italian joint, on Thompson Street since 1922.
Run by the original Rocco's great-nephew, Antonio DaSilva, the place was simple and affordable. In 2011, according to DaSilva, the landlord raised the rent from $8,000 to $18,000 per month. "We're fighting it," he told Eater. But the landlord gave the lease to Major Food Group, those successful young restaurateurs who created the gourmet "Beast" of the San Gennaro Feast. In the Times, Frank Bruni called them "the newest darlings of the New York culinary set." With the same "it was going to be a bank" argument we heard over CBGB, the team talked in the press about how they were saving Rocco's by keeping it an Italian restaurant and paying tribute to its history. "People want to talk about New York vanishing," one told the Observer. "I think we're rebuilding it." In the Times, partner Jeff Zalaznick added, "What's it going to become? A Chase? A Duane Reade?" Renaming it Carbone, they turned Rocco into an exclusive simulacrum of its former self. Times restaurant reporter Jeff Gordinier called it "engineered to conjure up the feeling of a lively night downtown, circa 1958 . . . the middle of the last century as interpreted by chic players from the early part of this one," complete with Schnabel-curated art on the walls and waiters in "vintage-style" uniforms by a high-end fashion designer. They even ripped out Rocco's antique tile floor and put in a new tile floor modeled on the idea of an antique—in fact, modeled on a floor in the film The Godfather. Why replace the real thing with a copy of a copy? No matter. Carbone was an instant success among the wealthy and the celebrated, like Kim Kardashian, Beyoncé, and Jay-Z.
__________________________________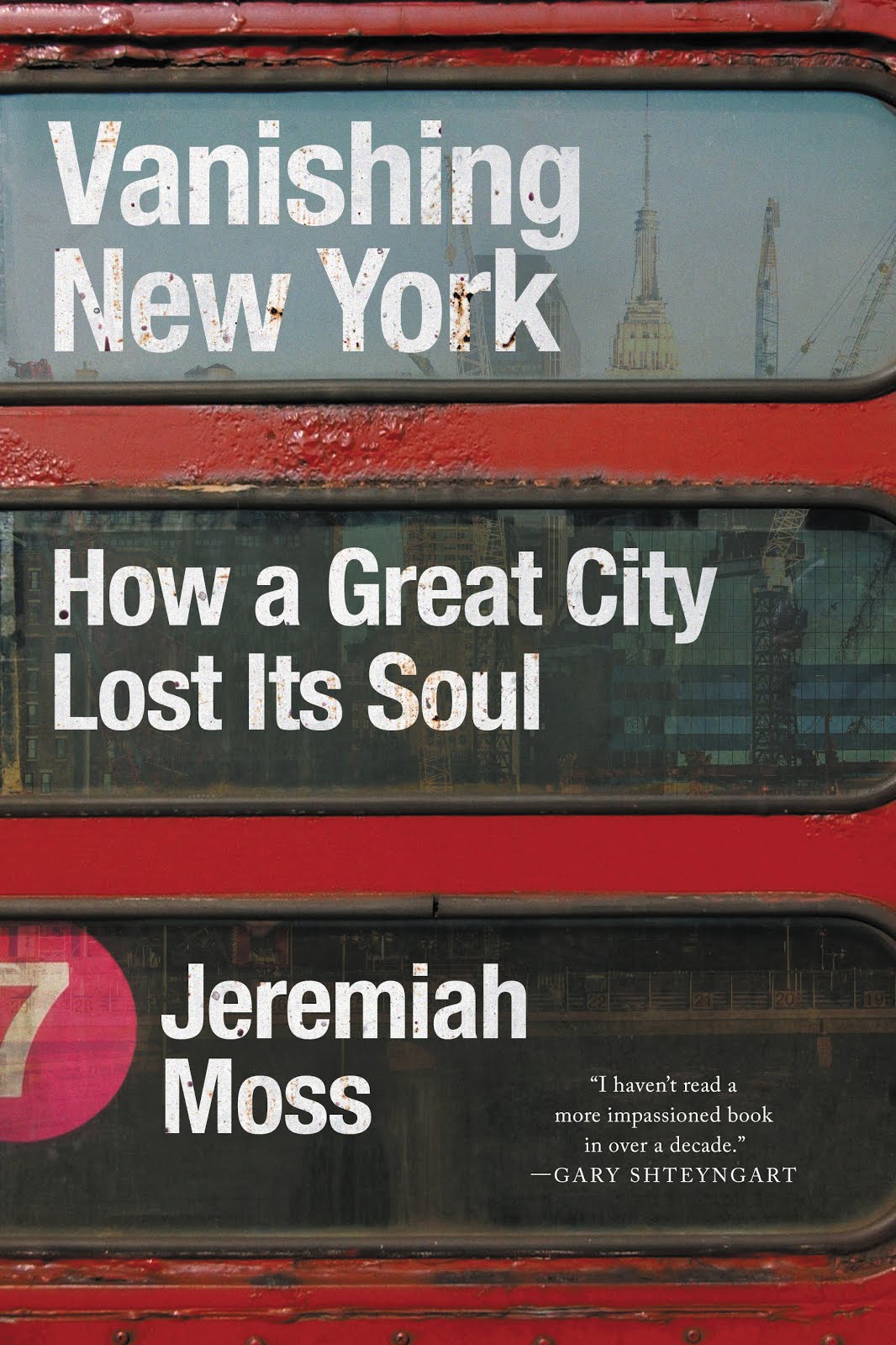 From Vanishing New York, by Jeremiah Moss. Courtesy Dey Street, copyright 2017 by Jeremiah Moss.
---