Today, Literary Hub is pleased to announce the winners of PEN America's two "early career" prizes for writers: the PEN/Bellwether Prize for Socially Engaged Fiction and the PEN/Robert J. Dau Short Story Prize for Emerging Writers.
"Taken together, these prizes are designed to launch the careers of new writers, and to bring to the table original voices and stories that deserve to be told," said Jane Marchant, director of PEN America's Literary Awards program, in a press release. "We're deeply grateful to the incredible panels of  judges who have carefully discussed the merits of these works, and we cannot wait to celebrate  the winners virtually this spring."
The PEN/Bellwether Prize for Socially Engaged Fiction, established in 2000 by Barbara Kingsolver, advocates for and honors fiction that addresses the most pressing sociopolitical issues in relation to culture, politics, and interpersonal relationships. Every two years, a writer of a winning manuscript is awarded a $25,000 purse and a publishing contract with Algonquin Books, along with an additional publishing advance.
This year, the winner—selected by Heidi W. Durrow, Kathy Pories, Sunil Yapa—is Jamila Minnicks Gleason, for her forthcoming novel, Hydrangeas of New Jessup.
Hydrangeas of New Jessup follows Alice Young, who disappears into the segregated town of New Jessup, Alabama. The novel takes place in 1957, and while the Civil Rights movement is beginning to pick up steam on a national level, Alice falls in love with a man, his family, and New Jessup. However, when her concealed past attempts to encroach on her newfound stability, Alice must confront and grapple with what it means to protect one's rights and freedom.
Gleason has written that she believes her novel is a piece of socially-engaged fiction because it challenges the idea that Black Americans believe in a monolithic approach to social justice, and celebrates Black humanity as it threads together an understanding of progress into the "tapestry of the characters' lives."
The PEN/Robert J. Dau Short Story Prize for Emerging Writers, now in its fifth year, annually honors 12 emerging writers with $2,000 each for a debut short story published in a literary magazine, journal, or cultural website. According to the press release, the prize is generously supported by the family of the late Robert J. Dau, whose commitment to the literary arts has made him a fitting namesake for this career-launching prize.
This year's judges—Nana Kwame Adjei-Brenyah, Kali Fajardo-Anstine, and Beth Piatote—selected 12 stories from several literary publications; the winning authors are:
Heather Aruffo, "Force, Mass, Acceleration" 
The Southern Review
Lindsay Ferguson, "Good Girls"
Barrelhouse
Isaac Hughes Green, "The First Time I Said It"
The Georgia Review
Amy Haejung, "Maria"
Waxwing Magazine
Nishanth Injam, "The Math of Living"
Virginia Quarterly Review
Khaddafina Mbabazi, "Transit" 
Virginia Quarterly Review
Mackenzie McGee, "Re:Frankie"
Porter House Review
Mathapelo Mofokeng, "The Strong-Strong Winds"
adda
Alberto Reyes Morgan, "Salt"
Michigan Quarterly Review
Stanley Patrick Stocker, "The List"
Kestrel: A Journal of Literature and Art
Pardeep Toor, "Taxi"
Midwest Review
Qianze Zhang, "Mandy's Mary Sue"
Sine Theta Magazine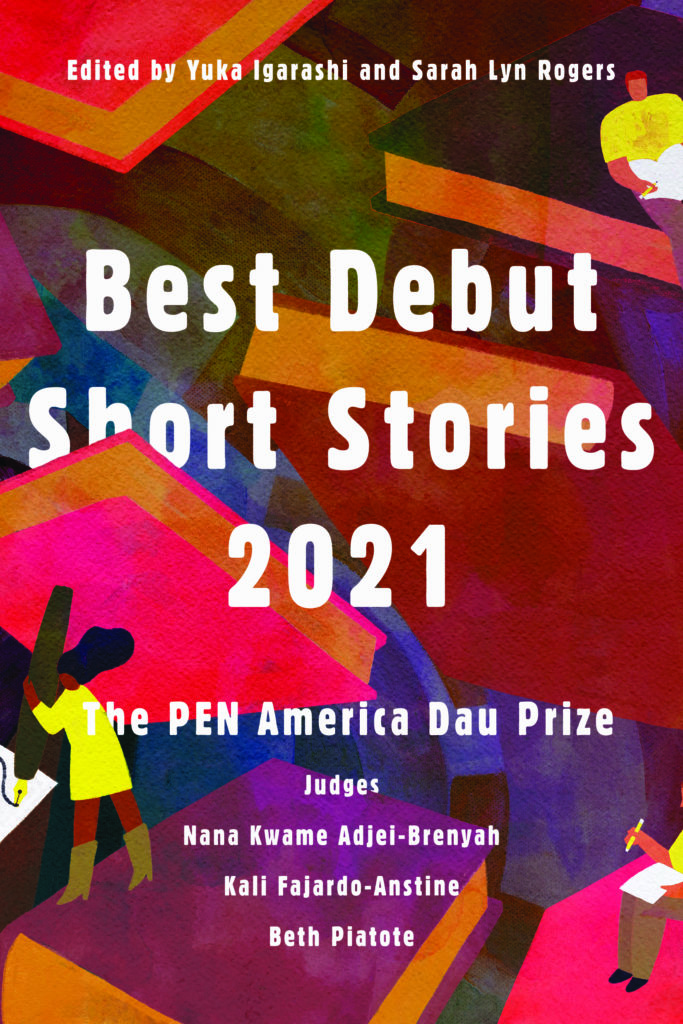 Cover design by Nicole Caputo, art by Sirin Thada