Ann Quin: Understated, Tragic Innovator of the British Novel
Brian Evenson Looks at Quin's Second Novel, Three
First published in 1966, Three is the second of four novels Ann Quin produced prior to her death by drowning in 1973 at the age of 37. Heir to Virginia Woolf and Anna Kavan, Quin was one of the few British women writing in the 1960s to be recognized by her contemporaries as a major formal innovator. In her fiction, reality and fantasy leak into one another, selfhood is depicted as fractured and transitory, and style and technique serve as a catalyst to propel the reader into an affective encounter with the text.
Quin is almost unknown in the United States. She was born in 1936 and raised by her mother, her father having left soon after her birth. She was educated in a convent (though she was never Catholic), which she described as "A ritualistic culture that gave me a conscience. A death wish and a sense of sin. Also a great lust to find out, experience what evil really was."
In her teens she grew interested in drama, joining a theatre company for a short-lived stint as an assistant stage manager. She applied to the Royal Academy of Dramatic Art but experienced severe stage fright when faced with the prospect of auditioning and soon gave up any hopes for the stage, though dramatic performance and ritual inform most of her novels in terms of both form and content.
After leaving school, Quin began to write, poetry at first, later fiction. While employed at a series of secretarial posts, she wrote a novel which was quickly rejected by several publishers. She set it aside to write a second novel, also rejected by publishers. While trying to juggle her writing with working for a living, she experienced her first nervous breakdown. Unable to get out of bed, she found herself subject to severe hallucinations.
After visits to a psychiatrist she pulled herself together sufficiently to become functional, for "the loneliness of going over the edge was worse than the absurdity of coping with day-to-day living." Like Virginia Woolf, Quin struggled with mental illness for most of her adult life, and many speculate that her death, seemingly a suicide, was motivated by a belief that another breakdown was coming.
Quin's first published novel, Berg (1964), won her the University of New Mexico's D. H. Lawrence Fellowship as well as a Harkness Fellowship, a three-year award given to a promising UK artist under the age of thirty. Both this novel and Three are more grounded than Quin's two later novels, Passages (1969) and Tripticks (1972). Though the plot and characters of Berg are ritualized, narrative progression is central. The development of that narrative is gradual and not always linear, but story is still critical and one reads on largely to see how that story will resolve itself.
In Three as well, narrative progression remains crucial. The characters are more realistic than in Berg, though in the place of a single narrative thread Three offers a third-person narrative which is impinged upon by other first-person voices from the past. In Passages, narrative progression is attenuated, other voices taking the place of a developing narrative in a way that encourages a confusion of character and identity, a swapping of voice and personality. Indeed, Passages offers more stylistic variation, a much more aggressive exploration of the technical possibilities of prose.
The novel Three is structured as a process of unveiling. Both Leonard and Ruth seem intent on discovering the motivations behind S's death.
In Berg and Three, third-person external narration plays a significant role; in Passages, however, the third person seems to be a mask adopted by objectified "I"s, and thus the authority connected with third-person narration becomes highly suspect. Quin's final novel, Tripticks, offers a barrage of styles and images, the novel operating according to principles of collage which continue to lessen the importance of narrative progression and plot, moving Quin's work farther into innovation and experimentation.
Three was well received. It had many reviews, including several written by other innovative novelists, such as Robert Nye, Alan Burns, and B. S. Johnson. It was recognized as both worthwhile and difficult. The Spectator called it "a skillful book that needs reading more than once, and readers may feel the same confusion as did the early readers of Virginia Woolf."
The Scotsman referred to Quin as "The most naturally and delicately gifted novelist of her generation" and called Three "exquisitely written from the first page to the last. If you don't read it then you're not interested in the present and possible future of the English novel." Indeed, Quin might be seen as suggesting an alternative to today's British novel, an indication of where the British novel could have gone had an interest in innovation been encouraged to flourish.
The "three" of the title refers to a middle-aged and dissatisfied married couple named Ruth and Leonard, and S, a young woman who comes to live with them. The novel begins after S has disappeared, seemingly having committed suicide by drowning. Despite the existence of a suicide note, Leonard and Ruth are compelled to question the notion that S's death was suicide.
On the first page Ruth suggests, in the run-on style that characterizes the dialogue of Three, "I mean we can't really be sure could so easily have been an accident the note just a melodramatic touch." Leonard, though not quite willing to concur, does insist that "No one can be blamed Ruth we must understand that least of all ourselves."
The novel is structured as a process of unveiling. Both Leonard and Ruth seem intent on discovering the motivations behind S's death. As the narrative progresses, revealing the hollowness of Leonard and Ruth's relationship and calling into question Leonard's assertion that no one can be blamed "least of all ourselves," we are exposed to documents that claim to reveal the past: tape recordings of S speaking, excerpts from her diaries, excerpts from Leonard's and Ruth's diaries as well.
Yet, instead of providing solutions, these recordings and inscriptions raise as many questions as they resolve, destabilizing Leonard and Ruth's sense of one another as well as their sense of S. S has disrupted the fragile balance of the couple's conventional existence, an existence which S both feels drawn to and repelled by. S's fragmented and evocative style opens worlds of which Ruth and Leonard seem to be ignorant; there are glimpses of her troubled family life, hints of a love affair, but they remain glimpses and hints, indistinct shapes. Under the veil, it seems, lies another veil.
Leonard and Ruth hope the diaries and tapes will serve as a means of pinning down the truth, of establishing the reasons for S's death. Yet S seems less interested in recording facts in her journals than in providing a mental landscape. The documents she has left behind are fragmented and impressionistic, and though they do provide details about her life, the essentials are often elided, the facts, sometimes even the names, hidden away. Her concerns are often for the ephemerae, for fragmentary gestures that seem unrelated to the main thrust of her existence.
For instance, she dedicates a good portion of one diary entry to a definition of character through hands: "My hands the instruments of torture. Hers butterflies, when excited, flusters. His feed the goldfish. Fingers snap like crickets in long grass, as he enters leaves a room." She imposes her own language and world view on the fragments of the world, at once defining and fetishizing them. Her diaries are less about preserving facts than about asserting, even performing, a self, and providing a world to go with it.
Each of the three has used the others for their own purposes. Within the triad there has developed a series of dyadic alliances which allow each pairing to play themselves off against the excluded third. This has kept all three in a state of constant sexualized tension. Leonard and Ruth, who initially seem a fairly solid albeit predictable couple, are slowly revealed as unable to connect to one another, as torturing both themselves and one another, as perhaps incapable of real human feeling.
Yet it is less the story itself than Quin's technique which makes Three an intriguing and remarkably successful novel. Quin operates in a world that seems mimetic, but in which the real has in fact undergone a subtle disorientation. She is less interested in creating a mirror of the real world than in allowing the characters to perform. In Three, the characters participate in mime-plays, wearing white robes and masks, but their acting does not end there. They do not live their lives so much as they perform them.
Leonard and Ruth play out certain roles, entering into conversations that very deliberately seem staged. It is difficult to tell when they are acting and when, if ever, they are being genuine. As S says about Ruth it is "As if R plays a role when he [Leonard] is with us. Except I wonder if it is not a certain role she plays with me, when we are on our own."
Quin offers several different sorts of narratives, inviting the reader to navigate back and forth between them. These exist at different levels, at different degrees of closeness to the characters. The primary one, returned to most regularly, consists of Leonard and Ruth's present life. They do very little—they read the newspaper, take a bath together, talk about S, argue about the cat, pass and repass one another, correct one another, nag each other. They very rarely, almost never, say anything to open themselves up.
Their narrative has little differentiation. It is structured so as to do away with many of the standard markers fiction gives to let us know when we are switching levels in one of several ways: i.e., moving from person to person, adjusting point of view, moving from clause to clause. Either the differentiation is not there or it comes in unexpected places, in ways that disrupt our reading of the text. Take for instance the passage that opens the book:
Ruth startled from the newspaper by Leonard framed in the doorway. Against the white-washed wall. A wicker arm-chair opposite the Japanese table. Screen. Sliding doors. Rush matting. A mirror extended the window. Gardens. A bronzed cockerel faced the house.
The first line begins with distinct characters, a sense of an interaction about to begin. Quin then allows this to sputter into a larger sense of place, but it is a place divided into bits, its parts not allowed to cohere efficiently into a whole. Indeed, each sentence seems to correspond to a slight movement of the eye, a slight shift in gaze. The reader thus is made to assemble the larger landscape out of a series of verbal snapshots.
The picture remains blurred, compromised, the individual accounts gapped and hard to reconcile completely either with each other or with the third person present account.
I have already mentioned how Quin's dialogue often consists of unpunctuated run-on sentences. One begins reading a sentence one way then is forced to reformulate one's understanding as the sentence progresses. Like José Saramago, Quin is reluctant to differentiate dialogue from description in this main narrative line, and thus we find Leonard and Ruth's words mixed in with the narrator's description, not set off by quotation marks or paragraph breaks or dialogue tags.
As one begins to read a given sentence one is not always certain at first whether it operates at the level of the narrator's description or within the first person speech of Ruth or Leonard. Nor is one always certain at first whether the "I" speaking is Ruth or Leonard. The resulting effect is to slow down the reading process, demand that one constantly step back and reread, re-envision what one has begun to think. This inflects a certain tentativeness on the narrative process, further destabilizing the reading experience.
Leonard and Ruth's narrative is offset by documents from the past. These range from the telegraphic sentences and coded x's in Leonard's diary ("March 26th S for supper/March 27th Headache/March 28th Same") to the expressive gestures found in S's diaries and recordings:
Buildings. Where lights are stars.
Hours become hands. Impressions stain.
These are private documents, representations of inner selves, recordings of thoughts or impressions not meant primarily for others. They are personal records of the past. Indeed, it is the contrast, the tension between these inner lives and the outer reality of Leonard and Ruth's day-to-day existence that creates one of the book's primary tensions. It is a tension which Quin refuses to resolve.
This refusal might be thought to characterize the aesthetics of the book taken as whole, for Quin resists resolution, preserving ambiguity to the end. We are given bits and pieces, different kinds of juxtaposed narratives, and through them we gain a picture of both past and present. But finally the picture remains blurred, compromised, the individual accounts gapped and hard to reconcile completely either with each other or with the third person present account. In short, Quin's fiction refuses the consolation of neat closure.
Thus the reader goes away from Three infected with the same unease and suspicion which haunt Ruth and Leonard. Despite its gestures toward the real, it is a book whose function is not primarily representational. Instead, it is affective, dragging readers into the text, demanding they plunge into the experience the characters find themselves struggling in. The book refuses to stay at a comfortable distance.
__________________________________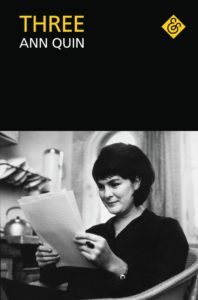 This introduction was adapted from Dalkey Archive Press's 2001 re-issue of Three. The latest re-issue is available from And Other Stories.
---