Andrew Johnson's Impeachment: A Model And A Warning for Trump
A Case Study in How to (Almost) Remove a President
THE MOST ACCIDENTAL OF PRESIDENTS
Like Donald Trump, hardly anyone expected Andrew Johnson to become president of the United States. If Trump seemed destined for stardom in business, young Andrew Johnson, born into poverty and apprenticed to a tailor at the age of ten, seemed destined to sew buttons and cut cloth for the rest of his days. What Johnson lacked in sophistication he compensated for in ambition, grit, and bravado. With help from his wife and customers at his shop, he first learned to read and eventually became a compelling speaker who had a say-anything style that confounded the conventional politicians of his time.
Johnson scratched his way up the sand hill of Tennessee politics as a Democrat in the early and middle years of the nineteenth century. He eventually became a United States senator in 1857. Johnson campaigned as the champion of the common people of America, who he said the political elites of his time had scorned and ignored.
Four years later, Johnson's political career seemed over when the nation plunged into civil war. Seven southern states, threatened by the election of Republican president Abraham Lincoln on a platform opposed to the expansion of slavery, seceded from the Union before his inauguration. The Civil War began when Confederate batteries fired on Fort Sumter on April 12, 1861, and in June, Tennessee seceded, becoming the last of the eleven states of the Confederacy.
As a slaveholder who upheld the sanctity of the federal union, Johnson was the maverick of his time, and he was the only senator in a seceding state who refused to resign his seat and join the Confederacy. Although Union predictions of a quick victory proved false and the war would grind on for four bloody years, Johnson's exile was short-lived. In February 1862, Union troops captured Nashville, Tennessee, making it the first Confederate state capital restored to the Union. Republican president Abraham Lincoln rewarded the loyal "war Democrat" Andrew Johnson by appointing him governor of Tennessee.
Two years later, Lincoln dumped his vice president, Hannibal Hamlin, and put his prized Democrat, Andrew Johnson, on his reelection ticket in a show of national unity. In his second inaugural address, Lincoln spoke of how the great and bloody war was a divine retribution for slavery, visited upon a guilty people both north and south. If the bloody war "continue until all the wealth piled by the bondsman's two hundred and fifty years of unrequited toil shall be sunk," he declared, "and until every drop of blood drawn with the lash shall be paid by another drawn with the sword, as was said three thousand years ago, so still it must be said, 'the judgments of the Lord are true and righteous altogether.'" His new vice president, Andrew Johnson, listened, but failed to comprehend the profound implications of Lincoln's words.
THE WORST FATE THAT COULD BEFALL HIM
On April 15, 1865, just over a month after his inauguration, Lincoln died after the first presidential assassination in American history, and Johnson became the most accidental of presidents. In the wake of Lincoln's death, Johnson showed a humility of the moment never seen in Donald Trump, commenting, "I feel incompetent to perform duties so important and responsible as those which have been so unexpectedly thrown upon me." But Johnson's humility did not last. His more enduring character traits inclined him to stubbornness, hasty action, disdain for cautious advice, and ill-tempered retorts against critics.
Johnson loved the Union but not the black people it had liberated from slavery. Although later in life a moderately wealthy slaveholder, Johnson rose from the lower ranks of white society, what some at the time called "mudsills," the humble white farmers, laborers, tradesmen, and mechanics that, like Trump, he had championed in his political campaigns. He saw mudsills as threatened both by aristocrats from above and aspiring black people from below. At an outdoor rally, he told a crowd of cheering white men that he was their Moses who would lead "the emancipation of the white man" from their slavery under postwar Reconstruction. Johnson, declared the former slave and abolitionist Frederick Douglass euphemistically, is "no friend of our race."
Johnson was an odd man in his time. He was an apostate Democrat assuming the incumbency of a Republican president. He lacked allies in either party and prided himself as an outsider untethered to a capital city that he called "12 square miles bordered by reality." By opposing efforts to reconstruct the nation and integrate newly freed slaves into American life, Johnson quickly fell afoul of a Congress controlled by Republicans with southern states still in limbo. He pardoned from the consequences of rebellion thousands of wealthy planters, some of whom with their wives had wined and dined him in Washington. With his humble roots and his penchant for spouting populism but privileging the rich, Johnson foreshadowed Trump.
Johnson pushed to restore southern states swiftly to the Union with no controls on race relations. He lambasted the "Radical Congress" for giving blacks privileges "torn from white men." In a comment eerily similar to Trump's denigration of a "so-called judge," Johnson decried Congress as "a body called or which assumes to be the Congress of the United States." He proclaimed to be protecting America, not from ex-Confederates, but from radical Republicans and their Negro allies. He forced Congress to override his vetoes on legislation aimed at protecting black rights and safety in the South and exploited his powers as president to evade and obstruct the enforcement of these laws.
Johnson's conduct had tragic consequences for black people in the South. He restored to power, political and economic, much of the old slaveholding elite, who proceeded to keep their former slaves poor, controlled, and powerless. He forced his successor president and Congress to essentially begin anew much of the process of Reconstruction. Ultimately Reconstruction failed. The South remained mired in poverty, and the white supremacists who regained full control of southern governments imposed on African Americans the Jim Crow system of segregation and discrimination that endured for nearly a century. The failure of Reconstruction, "to a large degree," wrote the historian Michael Les Benedict, "could be blamed alone on President Johnson's abuse of his discretionary powers."
In 1867, murmurings of impeachment began to circulate among exasperated, radical Republicans in Congress. In March, they had enacted over Johnson's veto the Tenure of Office Act, a law that cut into his powers by prohibiting the president from replacing without consent of the Senate any federal official who had previously won Senate approval. To bait an impeachment trap, Congress inserted a clause that said any violation constituted a "high crime and misdemeanor." And then, they waited.
JOHNSON STANDS HIS GROUND
Johnson was at the defining moment of his presidency. His response to Congress's challenge would decide his own fate as president, with profound implications for every successor in the White House. He could battle Congress and risk impeachment or withdraw from the fray and count down passively the final days of his presidency. Or he could change his ways and reach an accord with the Reconstruction Congress.
Johnson stayed true to his notoriously pugnacious character and chose to fight. He taunted Congress by deliberately violating the Tenure of Office Act. "I have been advised by every member of my Cabinet that the entire Tenure-of-Office Act is unconstitutional," he later said.
The House of Representatives struck back, by voting along party lines to approve articles of impeachment tied to Johnson's violation of the act. "He is not Napoleon," said Republican representative Tobias A. Plants of Ohio, "there will be no coup d'état!" To keep open all options for the Senate, members voted for eleven verbose and repetitive articles, totaling some forty-five hundred words.
In the fixation on the dubious Tenure of Office violation, lost were the potentially more serious charges that Johnson had abused presidential power to obstruct Reconstruction and delegitimize another branch of government. Embedded within the garrulous articles was the charge that his conduct was "denying and intending to deny, that the legislation of said Congress was valid or obligatory." The articles charged him with saying that Congress was not a legitimate body "authorized by the Constitution to exercise legislative power." The articles further charged that he had willfully schemed to "prevent the execution" of legislation vital to congressional Reconstruction.
Johnson's last chance to fight for his survival in the Senate had arrived. The Senate trial dragged on for nearly three months, with House prosecutors and defense lawyers clashing on issues that cut to the heart of the meaning of impeachment and the scope of presidential authority.
IMPEACHMENT'S BIG ISSUES
America's founders, insisted the prosecutors, placed no restrictions on what qualifies as an impeachable offense. Impeachment is not meant solely "for the punishment of crime," argued the chief prosecutor, Benjamin F. Butler of Massachusetts. A president should be impeached and convicted if he "imperils the public safety" and shows himself "unfit to occupy official position." Wrong, said Johnson's defense attorney Benjamin Curtis. Impeachment, he argued, requires a violation of law and not just of any law, but of "only high criminal offenses against the United States." The Senate cannot sit "as some nameless tribunal with unbounded and illimitable jurisdiction."
Prosecutors claimed that Johnson had no absolute authority to disobey the law, and that his discretion begins and ends with his veto power. The right "to judge upon any supposed conflict of an act of Congress with the Constitution is exhausted when he has examined a bill sent to him and returned it with his objections," Butler said. After that, he "must execute the law, whether in fact constitutional or not." Otherwise, "the government is the government of one man."
The House's constriction of presidential power "does offend every principle of justice," responded another presidential lawyer, William Evarts. "If an act be unconstitutional [the president] had a right to obey the Constitution," and "to raise a question between the Constitution and the law." The prosecutors, he warned, had proposed a subversive doctrine that "constitutional laws and unconstitutional laws are all alike in this country," and the president must obey both equally.
In their final bold argument against excessive presidential authority, prosecutors said that the laws of Congress restricted the president's powers to remove federal officials. "If we concede such royal power to a president," said Representative John A. Logan of Illinois, "he is henceforth the government." Americans must ask, "Will you have Andrew Johnson as President or King?" Johnson's attorney general, Henry Stanbery, who rose from a sickbed to defend his president, argued that the Constitution granted the president absolute authority over removing administration officials. He fired Stanton "in the exercise of an undoubted power vested in him by the Constitution," performing "a strictly executive duty."
Eventually, the Senate voted on three of the House's charges, only to fall one vote short of the two-thirds needed for conviction in each case. Seven Republicans joined all the minority Democrats in voting for Johnson's acquittal. "I knew he'd be acquitted; I knew it," declared Johnson's wife, Eliza, unsurprisingly his staunchest supporter.
Yet defecting Republicans who saved Johnson's presidency may have been informed less by a quest for justice than by the rules of presidential succession at the time that would have elevated the controversial Speaker Pro-Tem of the Senate, Benjamin Wade of Ohio, to the presidency. The outspoken Senator had earned the nickname of "Bluff" and alienated many fellow Republicans with his radical views on Reconstruction and his support for paper money and protective tariffs. James Garfield, then a member of Congress, privately wrote that conservative Republicans feared "the Presidency of Ben Wade, a man of violent passions, extreme opinions, and narrow views."
A WARNING FOR TRUMP
Johnson's acquittal may have pleased his wife, but it resolved none of the momentous issues debated at the trial. Johnson narrowly escaped removal, but a healthy majority of senators still had voted for his conviction. Although the Johnson precedent did not define the grounds for impeachment or disinfect the process from policy and politics, it showed how an impeachment and trial could benefit the nation. After his impeachment, Johnson tamed his invective and moderated his opposition to Republican Reconstruction. He served out quietly his last nine months in office without renewing his conflicts with Congress.
To this day, impeachment remains subject only to the judgments of Congress. Too liberal use of impeachment could diminish the standing of Congress or unleash a chain reaction of uncontrolled partisan warfare. But too much restraint threatens to allow corruption and abuse to fester in the most powerful office in the world.
Andrew Johnson's New York Times obituary contains a warning for Donald Trump. The Times observed that "Undoubtedly the greatest misfortune that ever befell Andrew Johnson was the assassination of President Lincoln." Johnson's fatal flaw, it said, was that "he was always headstrong and 'sure he was right' even in his errors."
__________________________________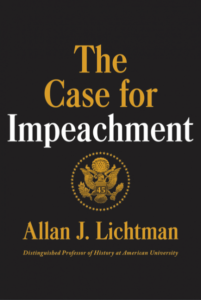 From the book The Case for Impeachment. Copyright © 2017 by Allan J. Lichtman. Reprinted by permission of Dey Street Books, an imprint of HarperCollins Publishers.
---