An Argument for Requiring Americans to Vote
E.J. Dionne Jr. and Miles Rapoport on Voting as Public Responsibility
One hundred percent democracy sounds like a grade someone has achieved in a course—and we would like to believe that our American system can be remade to live up to its promise and become worthy of such acclaim.
It refers specifically to the aspiration that every American be guaranteed the right to vote—with ease and without obstruction—and that our nation recognize that every citizen, as a matter of civic duty, has an obligation to participate in the shared project of democratic self-government. We want to make the case for what Australians refer to as "compulsory attendance at the polls" and what we call universal civic duty voting.
We see voting as a public responsibility of all citizens, no less important than jury duty. If every American citizen is required to vote as a matter of obligation, the representativeness of our elections would increase. Those responsible for organizing elections would be required to resist all efforts at voter suppression and remove barriers to the ballot box. We believe that universal civic duty voting is the decisive step toward putting an end, once and for all, to legal assaults on voting rights.
Civic duty voting would end the cycle of exclusion. It would stop cold the efforts of politicians to invent new legal techniques to keep some of our citizens from casting ballots. And, most importantly, it would engage all American citizens in our democratic experiment. Our call for universal civic duty voting is rooted in the proposition that rights and duties are intimately related. To say that everyone should vote is the surest guarantee that everyone will be enabled to vote. Stressing the obligation to participate will, we believe, expand the freedom to participate.
Civic duty voting must be accompanied by other voting reforms. These include expanding same-day and automatic voter registration, early voting, mail-in voting, and no-excuse absentee voting. Such reforms also reduce wait times at polling places, which should be conveniently located and widely available. "Long lines are voter suppression in action," election lawyer Marc Elias observed—one reason the 2014 bipartisan Presidential Commission on Election Administration insisted that no voter should have to wait more than thirty minutes to cast a ballot. We also hope that all states will restore voting rights for citizens with felony convictions.
False cries of "voter fraud" never go away, because efforts to disenfranchise parts of the electorate arise again and again.
During Reconstruction and the civil rights era, few reforms were more important or more empowering than ensuring the right of Black Americans to sit on juries. They demanded that they be included in the pool of those who might be required to sit through trials because their own liberties depended upon being included in the process of judging whether a fellow citizen would be jailed, fined, or set free. In the case of jury service, the right and the duty are one and the same.
This logic applies to voting as well. The franchise, as one voting rights advocate of the Reconstruction era observed, is "an essential and inseparable part of self-government, and therefore natural and inalienable." W.E.B. Du Bois saw voting as central to the larger aspiration of being treated as an equal, "a co-worker in the kingdom of culture."
Our call to require everyone to vote reflects a sense of alarm and moral urgency in the face of ever more inventive forms of voter suppression. The efforts of Republicans in states they fully controlled to suppress votes by rolling back the reforms that led to the exceptional turnout of 2020 are a national scandal. Their actions demand a forceful response. Our book 100% Democracy: The Case for Universal Voting is offered to set our nation down the very different path of full inclusion in our democracy and full participation in its public life. Its proposals are rooted in a spirit of hope—and in a patriotism that takes America's promises seriously.
For it would be a great mistake to see only negative portents in our current situation. If some states have tried to push voters away from the ballot box, others have enhanced voting rights by expanding the ways in which citizens can register and cast ballots. These reforms have had a measurable and positive impact on participation—and enjoyed enthusiastic citizen support.
In fact, as our nation showed during the COVID-19 pandemic, when states and localities felt an urgent need to make it possible for their citizens to vote safely and more easily, they could embrace the innovations required to make it so. And when citizens were given more options for casting their ballots, they seized them. In 2020, 159.69 million Americans cast ballots, the largest number in our history. When measured as a percentage of the population eligible to vote, the turnout was 67 percent—the highest in 120 years.
But far from welcoming this achievement and building on it, foes of voting rights looked upon the outpouring of civic energy with horror. Donald Trump's attacks on expanded voting opportunities, particularly by mail, and his false cries of "voter fraud" were part of a mendacious campaign to keep himself in office against the wishes of the majority. His effort culminated in a violent, seditious assault on our nation's Capitol to stop the count of Electoral College votes. Trump's coup attempt failed, and Joe Biden duly took office, but the disgraced ex-president kept his fake fraud campaign going throughout 2021, and it was picked up by many members of his party who had been offering similar arguments to restrict the franchise for more than two decades.
The attacks on the Capitol and the efforts to reverse the wishes of the majority should not be seen as disconnected from American history. On the contrary, Reverend Cornell William Brooks, former president of the NAACP, characterized the mob at the Capitol as voter suppression in action, an attempt to use violence to disempower 81 million voters. The event had deep roots in the tragically successful use of violence in the South after the Civil War to reverse the voting rights revolution of the Reconstruction years and the empowerment of Black Americans.
Universal civic duty voting, we argue, is the one way to send a message to all Americans that every citizen will count.
And while Trump's false charges were repeatedly rejected in court and discredited again and again, attacks on easier access to the ballot began almost immediately after the election in states where Republicans controlled the legislatures. These efforts were especially jarring in Georgia and Arizona, two swing states that Joe Biden won narrowly and where repeated recounts and reviews confirmed what the suppressors refused to acknowledge: that voter expansion had worked and that the vote counts were accurate. The virus of suppression spread to more than a dozen states, including Florida and Texas.
Especially pernicious were provisions in some of the bills that allowed partisan majorities in state legislatures to override nonpartisan election administrators and subjected conscientious local officials to fines—simply for doing their jobs. "These new laws are part of a troubling trend to remove authority from election officials who stand up for democracy," University of Kentucky law professor Joshua A. Douglas wrote in the Washington Post. "Local election officials know best how to serve their communities. They were the heroes of the 2020 election. It's unfair, inappropriate and unnecessary to punish them with the possibility of fines or jail for protecting the right to vote."
False cries of "voter fraud" never go away, because efforts to disenfranchise parts of the electorate arise again and again. The Capitol mob should not have surprised us, New York Times columnist Jamelle Bouie wrote: "As an accusation, 'voter fraud' has been used historically to disparage the participation of Black voters and immigrants—to cast their votes as illegitimate." Those accusations were loud, he notes, after Barack Obama "came to office on the strength of historic turnout among Black Americans and other nonwhite groups. To the conservative grass roots," Bouie added, "Obama's very presence in the White House was, on its face, evidence that fraud had overtaken American elections."
Yes, the fight for inclusion must begin all over again. And universal civic duty voting, we argue, is the one way to send a message to all Americans that every citizen will count, every vote will be counted, every voice will have a chance to be heard.
__________________________________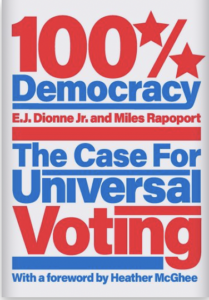 From 100% Democracy: The Case for Universal Voting by E. J. Dionne and Miles Rapoport, published by The New Press.
---