An American Bookseller Reports from a Glamorous Italian Bookfair
Dispatches in Crayon from the Salone Internazionale del Libro di Torino
Bookseller Jenn Witte (Skylight Books) was one of three recipients of a scholarship sponsored by Europa Editions and Other Press to the Salone Internazionale del Libro di Torino.
I practice a soft power as a bookseller. I like to think I am less of a salesperson and more of a covert advertiser—I prefer to offer suggestions using tools other than sentences, whenever possible. I like to make jokes, drawings, and displays to help people gravitate and experience things on their own. Faced with the challenge of writing about my recent experience traveling to the Salone Internazionale del Libro di Torino as part of Europa Editions and Other Press' International Book Fair Scholarship, I can't make a standard sales pitch. I don't want to walk you through my days, and I don't want to tell a story or drive home any profound insight. No hard currency. I want more than anything just to share a cool interactive diorama with buttons you press to hear anecdotes and singing soccer fans and my brilliant translator whispering in your ear. I would totally curate a small gallery room filled with ephemera and some choice pieces and maybe serve some of the delicious desserts I was so lucky to eat for free and in such abundance (everybody deserves to eat this food). Take my hotel room—I'm not using it anymore. It was the first hotel room I've ever had all to myself, and it was glorious. As much as I hate writing, I took great pleasure in sitting down at the small desk in my very own room at the end of the day and taking notes on everything that I tried not to forget. I wish that desk upon all booksellers. I can share it with you by drawing it, maybe?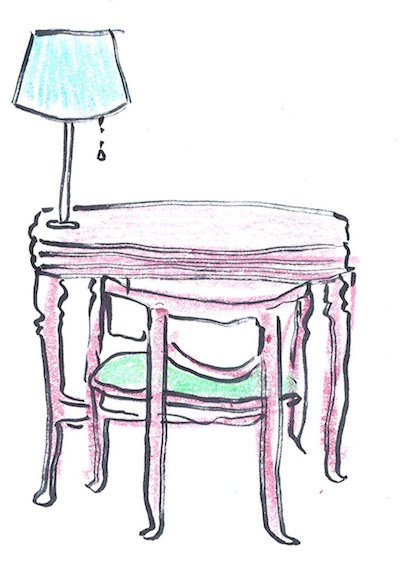 Please tell me this is the first Lit Hub article done in crayon! [Ed. yes.]I have a working thesis about the many forms glamor takes in bookselling. I get the same hourly rate to mop poop off the sidewalk as I do to answer the phone and hear, "Hi, this is Amy Goodman and I have a question for you," as I do to help a young reader find her first favorite book, as I do to attend skill-sharing workshops with brilliant booksellers from around the country, as I do to call an ambulance for a customer having a stroke. I pretend it is all glamorous. But traveling as a bookseller to Turin, Italy was truly the most glamorous thing I have done in my ten years at this job.
This opportunity came to me at a time when I was exploring the idea of becoming proud of Los Angeles. The bookseller's experience is different on the West Coast: our distance from most publishers, touring authors, the Tumblr headquarters, BookExpo, and potential internships leaves us in a wide-open space. Sometimes it feels empty and lonely; sometimes it feels powerful and freeing. In this case, it has brought me pleasure to joke that, in my trip from Los Angeles to Italy, New York was a flyover state.
Playing the part of a person who is proud to be from Los Angeles, I put a lot of effort into preparing for this trip. I tried to anticipate any questions that might be asked on the panels I was participating in and did my research on diversity in publishing, empathy, experience, escape, voice, Ferrante, demographics, statistics—basically anything that might fly out of my head. A month before leaving for Turin, we were asked to create a list of 40 books by independent presses to have for sale at the pop-up American Indie Bookstore booth in the fair. Representation is big on my mind lately, and I chose to attempt to represent the West, Los Angeles, Skylight Books, and specifically the individuals working at Skylight Books the best that I could. This meant bugging all of my coworkers not only to feed titles to me, but also to write up their own shelf talkers that I could use. My coworkers are so smart and supportive and radical and engaged; I really only know how to be a bookseller when I have them all around me (luckily, our shelf talkers are printed with cartoons of our faces on them, so having these at the booth in Turin was a little bit like having paper dolls of my buddies all around me). Thinking about our audience—mostly European adults—we wanted to place an emphasis on highlighting voices that represented us creatively and politically. Looking back, I think I went into the fair with a fear of not being taken seriously, specifically because I was coming from Los Angeles, and also because I am a woman and I don't have a college degree. As it turns out, that was not at all the case. People bought the books that we brought. My translator came by the booth for a beer after our panel. I was greeted by a driver who was holding a sign with my name on it. I had a seven minute conversation with Dayna Tortorici in a taxi that pushed my feminism into new and exciting places.
Everywhere I went, my fellow scholarship recipients and I were met with great generosity, hospitality, and respect. We'd come to a place where we could share our best work in a new and exciting way–and we got dessert, too.
Fellow scholarship recipients David Sandberg and Camilla Orr's reflections on their experiences can be found on Bookselling This Week and Shelf Awareness.
---