"All the Friends I Ever Had Are Gone." On the Later Years of Bob Dylan
Howard Sounes Considers the Hard Realities of Being an Aging Icon
Big news broke in Sweden. "The Nobel Prize in Literature for 2016 is awarded to Bob Dylan," announced Sara Danius, on behalf top of the mountain 489 of the Swedish Academy, to gasps of delight and surprise from those present. This was significant—for Dylan, the Nobel organization, literature, and popular music. And it was highly controversial. "Today, the happiest of turmoils all over the world," commented Professor Sir Christopher Ricks, the leading academic champion of Dylan's writing.
Dylan had already received many of the world's highest awards, including France's Legion of Honour, Sweden's Polar Music Prize, a Pulitzer, the Presidential Medal of Freedom and, from Hollywood, ten Grammys and an Oscar. Those who believed that Dylan was a great writer had long argued that he might be a worthy recipient of the world's most prestigious literary prize as well, and he had received a Nobel nomination back in 1996. Since it was first awarded, in 1901, the Nobel Prize in Literature had been given to writers of poetry, short stories, novels, plays, screenplays, historical and philosophical works, but never to a songwriter.
Now the Swedish Academy was adding a rock star to a spectacular roll-call of laureates that included W. B. Yeats, Eugene O'Neill, T. S. Eliot, Ernest Hemingway, Albert Camus, Samuel Beckett and Aleksandr Solzhenitsyn. Broadening the prize's scope to include song lyrics did not meet universal approval. The French-Moroccan writer Pierre Assouline denounced the decision as "contemptuous of writers', that is to say writers of books, and great authors were overlooked by the Academy in favor of Dylan. "I love that the novel committee opens up for other kinds of literature—lyrics and so on. I think that's brilliant. But knowing that Dylan is the same generation as [Thomas] Pynchon, Philip Roth, Cormac McCarthy, makes it very difficult for me to accept it. I think one of those three should have it, really," commented the Norwegian writer Karl Ove Knausgård.
Dylan was on tour in the United States when the Nobel announcement was made, and it came as a surprise to him. The Swedish Academy had been unable to contact Dylan in advance, and now that the story was public they made frantic efforts to reach him. As days passed without a response a member of the Nobel committee grumbled that Dylan was being rude. Perhaps it had been a mistake to honor a multi-millionaire rock star who had no need for their eight million krona ($870,000) prize. Still, the Swedes remained optimistic that Dylan would come to Stockholm to accept his award in December, live on TV in the presence of the King of Sweden. "I think he will show up," said Sara Danius.
It might be said that Bob had handled the Nobel affair awkwardly, but his slow and thoughtful response showed him to be somebody who was reluctant to be co-opted by anyone at any price.
Two weeks later Dylan let the Swedes know that he would not be attending the ceremony, due to unspecified previous commitments. "He did not accept the invitation," chuckles Sir Christopher Ricks, "but I was there in December and I purred [with pleasure]." Bob did write a thank-you letter, which the US ambassador read at the banquet. "I was out on the road when I received this surprising news, and it took me more than a few minutes to properly process it," he wrote. As the letter continued it became apparent that Dylan had ambivalent feelings about the award. He was not a writer who worked in a study for publication in books. In a bold analogy, he suggested he was more like Shakespeare. "I began to think about William Shakespeare . . . I would reckon he thought of himself as a dramatist. The thought that he was writing literature couldn't have entered his head . . . like Shakespeare I too am often occupied with the pursuit of my creative endeavors and dealing with all aspects of life's mundane matters. 'Who are the best musicians for these songs?' 'Am I recording in the right studio?' . . . some things never change, even in 400 years." As a sop to the Swedes Dylan asked Patti Smith to go to Stockholm on his behalf to sing "A Hard Rain's A-Gonna Fall." That turned into a shambles when she got the words muddled and had to start again. "I apologize, sorry . . . I'm so nervous."
Bob was still obliged to deliver a Nobel lecture, and it wasn't until the following June that he got round to it. He recorded his lecture in Los Angeles, with piano accompaniment by Alan Pasqua (who'd played in his band in 1978), the result being uploaded to the Internet as a kind of podcast. "When I received the Nobel Prize for Literature, I got to wondering exactly how my songs related to literature," Dylan began, before reaching back to his school days to recall three literary classics he'd read as a boy: Moby-Dick, All Quiet on the Western Front, and Homer's Odyssey. He proceeded to offer a précis of each work (fans noted that his description of Moby-Dick was similar to an online student crib) before concluding that "songs are unlike literature. They're meant to be sung, not read." Again, Dylan referred to himself in comparison to Shakespeare while noting that the Odyssey was probably sung initially. "I hope some of you get the chance to listen to [my] lyrics the way they were intended to be heard: in concert or on record." So saying, he appeared to sympathize with those who believe he didn't qualify for the Nobel Prize in Literature. Maybe Homer and Shakespeare wouldn't either, if they were alive.
Was Dylan's Nobel Prize a fiasco? "I'm one of the people who didn't think it was a fiasco," commented Christopher Ricks, who had no hesitation in discussing Dylan's writing in the same breath as T. S. Eliot's, hailing Bob as "a genius of and with language." It might be said that Bob had handled the Nobel affair awkwardly, but his slow and thoughtful response showed him to be somebody who was reluctant to be co-opted by anyone at any price, even the King of Sweden with a bag full of gold, while retaining a healthy sense of his own worth.
*
Leonard Cohen was among those supporters who expressed their approval of Dylan's Nobel Prize, saying that giving Bob the award was like "pinning a medal on Mount Everest for being the highest mountain." The two artists had always had a lot in common. Apart from being contemporary singer-songwriters, both Jewish and signed to the same record label, Dylan and Cohen had long been seen as the two leading male poets of popular music, transcending their vocal limitations to create profound and original songs that lifted pop music to a higher level. There had also been a professional rivalry between them, each artist keeping a wary eye on the other. That race was now run. Aged 82 when he spoke up for Dylan's Nobel, Cohen was in failing health. A few weeks later, in November 2016, he died.
In the words of an old song that Dylan had often sung, "all the friends I ever had are gone."
Friends and contemporaries were falling with increasing frequency. Rubin "Hurricane" Carter died of prostate cancer in 2014 aged 76; the following year saw the death of Jerry Weintraub, who managed Dylan's 1978 tour; while Joni Mitchell suffered a brain aneurysm that left her in a wheelchair. Dylan had been an inspiration to Mitchell, though she'd made disobliging remarks about him in recent years, as he had inspired many great artists. David Bowie was another fan, as he expressed in his "Song for Bob Dylan." Bowie's sudden death at 69, in 2016, came as a shock to millions of people, a reminder that this generation was starting to pass away. With them went an era of popular culture and social history. Bowie's death was closely followed by Muhammad Ali's, another of Dylan's fellow travelers who once seemed immortal. Asked if these deaths touched him, Dylan said, "Sure, they all did—we were like brothers, we lived in the same street and they all left empty spaces where they used to stand. It's lonesome without them."
More deaths followed. Asked around this time which of his songs he considered to be underrated, Dylan named "Brownsville Girl," which he cowrote with his friend, Sam Shepard. Sam died in 2017 aged 73. A couple of months later Tom Petty died suddenly at home in Malibu after a tour. He overdosed on painkillers aged 66. Having toured extensively with Tom Petty and the Heartbreakers in the 1980s, and worked with Petty in the Traveling Wilburys, Dylan was shaken. "It's shocking, crushing news. I thought the world of Tom. He was a great performer, full of light, a friend, and I'll never forget him." On tour in Colorado he performed Petty's "Learning to Fly" as a tribute.
Echo Helstrom hadn't seen Bob for years but she was a significant figure in his life as his first serious girlfriend and the inspiration for one of his most beautiful songs, "Girl from the North Country." A new chapter was added to the story of that song when Conor McPherson wrote a play of the same name, set in Duluth in the 1930s, and featuring Dylan songs in collaboration with his company. The play Girl from the North Country opened at London's Old Vic theater in July 2017, transferring to London's West End and to Broadway where it enjoyed good reviews and long runs. Echo remained convinced that the titular song was about her, though Bob also led another Minnesota girlfriend, Bonnie Beecher, to think he might have had her in mind.
"I think it's about both of us. I think he top of the mountain 493 [told] us both that it's our song. That's just Bob," Echo told me in 2017. "I believe it's about both of us combined, but he [told] each of us that it's about us individually." Echo was living alone in California, in poor health. She suffered with Chronic Fatigue Syndrome. "It gets worse. I can function more or less [but] I don't get out much." She retained fond memories of Bob. "He was a fun guy to hang out with, I admire him and the things he's done, and is still doing, and I'm glad he has gotten the recognition he has." She recalled the last time they met. "My friend and I went backstage. He said, 'If I'd known you were going to be here I would have done your song.'" Now Bob had the Nobel Prize she felt that she had dated a great person. "When you know someone like that, you just think of them as your friend [but] you also know they're special." These were Echo's last words on her ex-boyfriend. The girl from the North Country died eight months later, in January 2018, aged 75. It is perhaps telling that when Dylan saw Girl from the North Country on Broadway he wept.
In the words of an old song that Dylan had often sung, "all the friends I ever had are gone." The death of another old girlfriend followed. Clydie King had been one of the loves of Bob's life, and a colleague. She toured with Bob as a backing singer in the 1980s. Her voice can be heard on Saved, Shot of Love, and Infidels. She also spent a lot of time with Dylan at home. Clydie died in 2019, aged 75. "She was my ultimate singing partner," said Bob in tribute. "No one ever came close. We were soulmates."
Other friends and colleagues who died around this time included two old Dinkytown buddies, Tony Glover and Dave Morton. Glover's widow later auctioned correspondence Tony had exchanged with Bob, and transcripts of taped interviews they did together, which attracted press attention in 2020, not least because Dylan suggested in a 1971 conversation with Glover that he wrote "Lay, Lady, Lay" with Barbra Streisand in mind. (This may have been a joke.) Glover's archive sold for half a million dollars. The lyricist Robert Hunter and filmmaker D.A. Pennebaker also passed away in 2019.
People who knew Dylan well often described him as an isolated figure. Fame had created a barrier between him and the world in his twenties, while the passing of time had thinned out the ranks of friends he had been close to before his life was transformed by success, the people who'd known him as Bobby. Arguably his two best male friends outside the music business were Larry Kegan and Louis Kemp, two guys he met at Jewish summer camp when they were teenagers. "I would say Larry and I were his best friends, sure," says Kemp (known to Bob as Louie), who went on to make a fortune in the fish business. "My friend is Bobby Zimmerman, and I don't relate to him as Bob Dylan—that professional persona . . . I was never a fan. I was a friend of Bobby Zimmerman, and that's a whole different relationship from what most people have."
Louie describes the Bobby he knows as humble and modest. "He always said to me, 'You know, I'm just a conduit for these songs. It's a gift from God. It passes through me.' He has no ego about it whatsoever. He is down to earth. That's why I was able to stay friends with him, because he remains Bobby Zimmerman. You know, he's really Bobby Zimmerman." The three amigos from Minnesota were particularly tight during the 1970s when Bob shared vacation time with Larry and Louie, invited them into his homes and onto his tours. That ended on September 11, 2001. Dylan's album "Love and Theft" was launched that day, as the twin towers fell, and while he was in his van on his way to a record store in Minnesota to buy Bob's new album Larry suffered a fatal heart attack. Louie rang Bob at once. "I broke the news to him. We had a long conversation." It was one of their last conversations. "After 2001 we weren't in touch." Louie won't explain the reason for the rift, "that's between him and me," insisting they are still friends, but admitting that they are no longer in close contact. With Larry and himself out of Bob's life, Louie Kemp agrees that Bob doesn't have many friends left. "Most of the people around him are employees."
_________________________________________________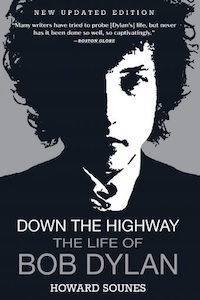 Excerpted from DOWN THE HIGHWAY © 2021 Howard Sounes. Reprinted with permission of the publisher, Grove Press, an imprint of Grove Atlantic, Inc. All rights reserved.
---