Alejandro Zambra on Juan Emar, Whose Avant-Garde Writings Deserve Our Attention
"He wanted to write, to give himself over to pure leisure, to the search."
In a diary entry from his youth, Juan Emar writes that if he had been born in ancient Greece, he would have dedicated his life entirely to art, in a perpetual and delicious solitude interrupted only by "the obnoxious Olympic Games." It seems that, from a very early age, Emar fantasized about a life dedicated to creation. Still, he didn't want to "be a writer," much less to behave like one. He wanted to write, to give himself over to pure leisure, to the search, fearlessly tuning in to mystery and uncertainty.
And this life dedicated to art and introspection is the one that we can intuit for the narrator of Yesterday, who wanders about the fictional city of San Agustín de Tango (Emar's Macondo or Yoknapatawpha, which in any case would sound familiar to a Chilean ear: San Agustín de Tango) searching for a "conclusion" or illumination that remains always just out of reach. His wanderings, however, take place not in solitude, but in the company of his wife and a rotating cast of characters, including a painter whose love for the color green is as deep-seated as his hatred for the bourgeoisie; a pot-bellied man who is a stand-in for every story under the sun; a poor soul whose generosity gets him beheaded; plus the narrator's family and the Uruguayan consul.
Juan Emar (1893–1964) was born Álvaro Yáñez Bianchi but was "Pilo" to his friends, and later, during his years as an art critic, he went by the name Jean Emar: "J'en ai marre, "which means "I'm fed up" in French. Indeed, he was a contemporary not of Pindar but of André Breton, and he wasn't born in the country of Homer but rather that of Vicente Huidobro and Pablo Neruda, to name two poets who were enemies of each other but friends to Emar. Especially Huidobro, to whom, nevertheless, the following phrase is attributed, about as friendly as a knife in the back: "Pilo writes with his feet." Neruda, on the other hand, wrote a generous prologue in 1971, well after Emar's death, that began like this: "I knew Juan Emar intimately without ever knowing him. He had great friends who were never his friends."
Emar published little and late and strangely. In June 1935, at the age of 41, he self-published three brilliant novels en bloc: Miltín 1934, Un año (One Year) and, perhaps the best of them, Ayer (Yesterday). Then, in 1937, the Editorial Universitaria published Diez (Ten), which I consider one of the best story collections of Spanish-language literature, though I say that from the future, of course; in Emar's present, the book found few readers. It failed in much the same way as his novels, which were absolute critical and popular flops.
Today it seems a mystery how a millionaire aristocrat, whose father founded a newspaper and was president of the Senate of Chile, could fail so spectacularly. One obvious but insufficient explanation is his staunch, dogged avant-gardism, and surely his aversion to literary critics didn't help, leading him to include in his novel Miltín1934, for example, a direct attack on the very critic who could have helped to improve his public standing, Alone (that was the absurd pseudonym used by Hernán Díaz Arrieta: Alone, the greatest tastemaker in Chilean literature, later humorously fictionalized by Roberto Bolaño with the name Farewell).
His contempt for critics was legendary ("I don't want to hear comments from critics and more critics, I don't want to learn the opinions of beings who turn what they read into a profession to earn a living") and also extended to the art world. In fact, he would often lay into other critics in his own art reviews (I remember one very funny piece in which he cites the example of a critic who was despondent because he couldn't figure out whether the fruits he'd seen in a still-life painting were apples or plums).
Perhaps the books he published in his lifetime were Emar's Olympic Games. Because after those he swore never to compete again, to publish nothing more, and in fact he transformed non-publication into a kind of personal mission ("My refuge consisted in not publishing, no, never publishing again, until others whom I didn't know would publish me while they sat on the steps of my tomb"). As I have already said, he didn't want to be a writer but to write, and that's precisely what he did during the last twenty years of his life, which he dedicated entirely to his massive project Umbral (Threshold).
It's almost absurd to present Emar as a forgotten writer, since he has never been, so to speak, sufficiently remembered.
"I'm still writing every day," Emar says in a letter in 1959. "I'm on page 3,332. When this is published it'll make for an immense number of volumes. When? After I die!!" The manuscript eventually swelled to over five thousand pages, the first volume appearing in Argentina in 1971, published by Carlos Lohlé. Then, in 1996, thirty-two years after his death, Emar's monumental work was finally published in its entirety, in five volumes that totaled 4,135 cramped pages (in a normal-sized font it could easily have reached six or seven thousand).
This is not, however, a Hollywood biopic, or even a Netflix series… And then again, maybe it is. But it's not over yet, we're only halfway through, say at the end of the first season. Even today it's almost absurd to present Emar as a forgotten writer, since he has never been, so to speak, sufficiently remembered. In spite of a few tons of doctoral theses and improved access to digital versions of his books (the Chilean National Library has uploaded almost all his works in some foggy but free PDFs), Emar is still far from occupying the place he deserves in Chilean literature. The matter becomes even more critical if we broaden our scope beyond national borders, since although there have been publications in Argentina and Spain, his work is still a fundamentally Chilean phenomenon or epiphenomenon.
As for other languages, so far he has been translated only into French and Portuguese; this is his first book in English (although the Review of Contemporary Fictiondid dedicate a special issue to him in 2007 with translations by Daniel Borzutzky). This implies an additional layer of irony, because there are few writers in Chile who had such an international background as Emar, who knew, for example, the twentieth-century French avant-garde like the back of his hand, and first-hand at that. Maybe Emar's scarcity in English translation has to do with the fact that he doesn't fit the Anglophone idea of a Latin American author, having more in common with European surrealist writers, or Fauvist or Dadaist artists. I have the feeling that English-language readers are willing now to rescue him from the literary seclusion to which he was relegated by his anachronistic internationalism.
Nevertheless, there are many of us now who grew up reading and admiring him. I was fourteen years old when I first read "El pájaro verde" ("The Green Bird"), his most famous story, and I couldn't stop laughing, but it was only in college that I read him seriously and fell in love with him. Though maybe I should talk about polyamory, because there were six or seven of us who loved Juan Emar and had the unexpected pleasure of discovering him together, every Friday, in the long and intense classes given by a specialist in his work who was only a little less young than we were, and who loved Emar with a sweeping and perfectly reasoned madness.
Emar's avant-gardism was, of course, old-fashioned, traditional, and that's how we read him in part, though his fidelity to avant-garde procedures, tricks and slogans didn't explain our love for his work then and doesn't explain it now. His writing didn't sound old to us, it sounded furious and prematurely contemporary, as perhaps Emar himself expected or presupposed, if one can judge from his constant and bitter reflections about posterity and literary fame, which were present, for example, in Miltín 1934 ("Why give such importance to gentlemen from the year 2000 and onward? What if they turn out to be a pack of cretins?"). I suppose that these days we've grown more used to the incursion of unreality in art, and we feel less shocked by—to borrow Lautréamont's lovely description of beauty so often quoted by surrealists—"the chance meeting on a dissecting table of a sewing machine and an umbrella." Emar's experimentation with form would have been more shocking in his day, a direct refutation of the serious and often boring realism that was the more establishment, criollismo of contemporary prose writers.
Today we focus on other things: the first pages of this novel, for example, appear to a Chilean reader as a direct indictment of our country's conservatism, which unfortunately we still know so well. But it is perhaps his indescribable sense of humor that most attracted us to Emar, a perfectly recognizable humor, though as with all truly good humorists, we often don't know whether his narrators are speaking seriously or in jest. In this sense, Emar is to prose what Nicanor Parra is to Chilean poetry, and maybe the combination of their influences can explain many particularities of our so often anti-literary Chilean literature.
Juan Emar, ahead of his time, was no doubt writing for readers of the future.
In his 1971 prologue to Diez, Neruda pretty haphazardly compares Emar to Kafka, thus generating an instant blurb that is a little unfair, because Emar was not the Chilean Kafka, just as Neruda himself wasn't the Chilean Whitman. Chileans my age were lucky enough to read Emar without needing to apply that kind of comparison, though I do understand the impulse. I remember we spent one class arguing over whether Emar was superior to Cortázar, who at the time, in the mid-1990s, was unanimously considered to be the paradigm of the super-writer, valued in equal measure by aesthetes, essentialists, vitalists and speculators.
We never reached a conclusion, but I remember that someone—it wasn't the professor, who was unusually reserved that day, limiting himself to semi-silently savoring his victory, because in a matter of weeks he had managed to turn us into Juan Emar fanatics—proclaimed that in the future no one would read Cortázar any more, and in that future Emar's work would be at the center of the canon, and we were all more or less in agreement. It was a reckless and clearly nationalist idea, and a stupid one, because why did we even need to force a competition between two writers we adored? But it was the 1990s, a horrible time when at least we could give ourselves the luxury of pretending to be Harold Bloom during discussions that tended to end in explosions of lysergic laughter.
Juan Emar, ahead of his time, was no doubt writing for readers of the future, and it's as arrogant as it is exciting to suppose that those readers of the future are us, those who were born fifteen or twenty years after his death, in a world very different from and in many ways worse than the one he knew. But maybe we are not his intended readers. On rereading, for example, some passages of Umbral, or the fantastic, fantastical and beautifully "quantum" ending of Yesterday, I get the impression that Juan Emar wasn't even writing for us. Yes, we can read him and enjoy him and think we understand, but deep down we know his books will be read and enjoyed and understood better by readers in a time yet to come.
__________________________________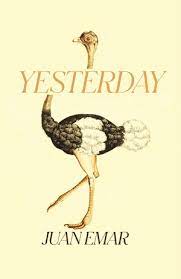 Excerpted from Yesterday by Juan Emar, translated from the Spanish by Megan McDowell, with an introduction by Alejandro Zambra. Published by New Directions.
---