Alan Bennett: The Time I Saw T.S. Eliot on a Train Platform
The Legendary Playwright on His Brush with the Great Poet
11 November
T.S. Eliot I only saw once, some time in 1964. It was on the old Central Station in Leeds, long since demolished, which was the terminus for the London trains. I was with Timothy Binyon, with whom I had been at college and who in 1964 was a lecturer in Russian at Leeds University and was also teaching me to drive. In the early 1960s there had been a long overdue attempt to reactivate the slot machines which all through the war years and after had stood empty and disconsolate on railway platforms, a sad reminder of what life had been like before the war. Now briefly there was chocolate in the machines again and cigarettes too; it had taken 20 years but austerity was seemingly at an end. One beneficiary of this development was a rudimentary printing machine to be found on most mainline stations. Painted pillarbox red it was a square console on legs with a dial on the top and a pointer. Using this pointer, for sixpence or a shilling one could spell out one's name and address which would then be printed onto a strip of aluminium which could be attached to one's suitcase, kitbag or whatever. Astonished to find such a machine actually working after decades of disuse, Binyon and I were printing out our names watched by a friendly middle-aged woman who was equally fascinated.
It was at this point the train came in and after most of the passengers had cleared there came a small procession headed by the friendly lady, whom I now recognized as Mrs. Fletcher, a customer at my father's butcher's shop, followed by her daughter Valerie pushing a wheelchair with, under a pile of rugs, her husband T.S. Eliot; all accompanied by a flotilla of porters. It was only when this cavalcade had passed that the person we were waiting for made her appearance—namely the current editor of the London Review of Books, Mary-Kay Wilmers, who at that time worked for Faber and Faber and whose titular boss Eliot had been.
T.S. Eliot died early the following year. Timothy Binyon, having produced a definitive biography of Pushkin, died in 2004 and now Valerie Eliot has died. I only met her a couple of times, though was persuaded to attend her funeral if only because, through her family coming to our shop, I had known her longest—if in some respects least.
She used to claim that she remembered me as a boy doing my homework in a corner of the shop—an unlikely recollection, and a slightly distasteful one, reminiscent of Millais's (fairly odious) picture of Christ in the carpenter's shop. Had I ever chosen to do my homework in the shop it would have got short shrift from my father who would have seen it as "showing off."
What Valerie Eliot did do, though, was to send me the notes her husband had made on the inside of his program after their visit to Beyond the Fringe:
An amazingly vigorous quartet of young men: their show well produced and fast moving, a mixture of brilliance, juvenility and bad taste. Brilliance illustrated by a speech by Macmillan (Cook), a sermon (Bennett) and an interview with an African politician (Miller, who otherwise reminded us of Auden). Juvenility by anti-nuclear-bomb scene, anti-capital-punishment scene and the absence of any satire at the expense of the Labour Party. Bad taste by armpits and Lady Astor speech (?). Still, it is pleasant to see this type of entertainment so successful.
__________________________________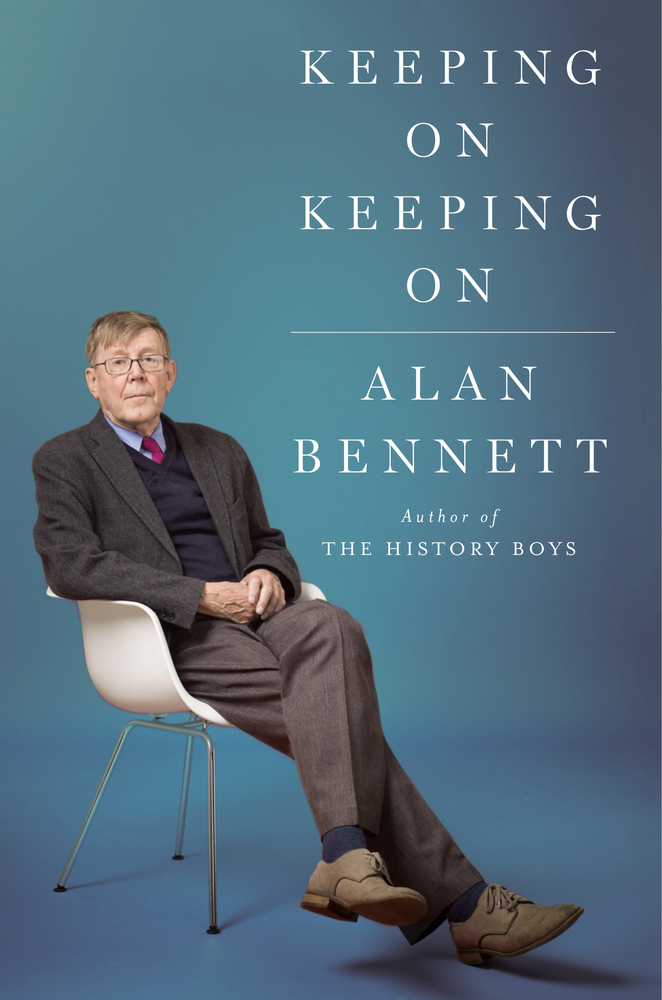 From Keeping On Keeping On, by Alan Bennett, courtesy FSG. Copyright 2017, Alan Bennett.
---