Abbie Greaves on the Merits
of Silence
Could You Please Be Quiet?
Every year since I've been old enough to ask my Dad what he wants for his birthday, Christmas, Father's Day, he has given me the exact same answer: "A quiet life, darling." It would take me over 20 twenty years to understand why that was a gift worth giving.
See, for just as long as I have been asking that question, I have lived in fear of silence. As a child, it was synonymous with boredom. I dreaded the drawn-out days of the school holidays, filled primarily with the company of my own thoughts. Then, as a teen, silence morphed into a state that was to be avoided at all costs. The popular crowd were surrounded by noise, invigorated by the sound of their own voices as they shrieked in-jokes to one another outside the local record store. Quiet kids were viewed with suspicion. Often, contempt.
After graduation, silence gladly slipped out of my life altogether. I moved to London (traffic and tourists) and began a job as an assistant in a literary agency (telephones non-stop). My daily routine began with snoozing my alarm at least three times. I'd set the radio as I got dressed, then switched to a podcast to power me through my commute. At my desk, my day was punctuated by the burble of new emails and instructions shouted across the open-plan office. Drinks with friends played out against the backdrop of text alerts and a flurry of apologies for calls that just had to be taken.
I structured my post-university love life around, or rather in opposition, to silence. Newly single, I was looking for someone gregarious, someone with whom there would be no awkward silences. If he could pull that off, then a second date might be on the cards. But only if he didn't disappear before we reached that stage. I've been ghosted enough times to know that the coward's way of cutting communication has done absolutely nothing to revive the poor position of silence in our cultural imagination. I told myself that I needed a man who would turn up, talking at full volume.
It was at this time that I began to pen my first novel, The Silent Treatment, which tells the story of Frank and Maggie, a couple who have been married for 40 years but who haven't spoken for the last six months. As I was working a hectic full time-job, the hours that I had available to write also just so happened to be some of London's quietest. Between 5 am and 7 am, my characters began to take shape under my fingertips.
I heard birdsong again and learnt the exact pattern that my pipes gurgled in my tiny, top-floor rental flat. At 6:30 am, my new boyfriend would roll out of bed in his slippers to make me a cup of tea and then deliver it with the joyful clunk of ceramic on desktop. (Remarkably, I'd ended up dating a Silent Type and was learning, during these periods of intense focus, that I had woefully underrated it as a quality in a partner.) But in between those accents, there was nothing. Without realizing it, I was reacquainting myself with my oldest foe.
Soon, I made the decision to move from London to Edinburgh, where I hoped distance from the capital's chaos might help me write. I was leaving behind the metropolis for a city where I knew next to no-one, my frenetic office life for the comparative quiet of self-employment. "But won't you be… lonely?" My friends asked, with palpable concern. The last word came out as a whisper. "I hope not." I replied. I might have crafted 90,000 words on the subject, but I still didn't know if I had it in me to face my fear of silence.
For the first time in my life, I tuned into what was important for me and discovered that quiet figured at the top of that list.
At first, it felt impossible that I would ever acclimatize to the quiet of my new life. With my boyfriend at work from 8 am until 6 or 7 pm, I had a minimum of ten hours to fill by myself and I stayed out for all of them. I experimented with new ways of finding community whilst working—whether that was drilling down on my edits in the busy, public library or on a park bench, nestled among the pram-pushing new mums and retirees stretching their legs.
I gravitated towards cafés in particular, where I would often install myself for the whole day. Eavesdropping has always been a prime source of inspiration for writers and I was no exception. I filled my ears with juicy divorce melodrama and jaw-dropping business scandals while I typed. I had never felt so plugged in my neighborhood gossip network, without contributing a single word. Still, at lunchtime, I would pop up to the counter to ask for a refill of tap water, even if my glass wasn't quite empty. It was reassuring to know that my voice still worked.
Gradually, however, the background hubbub began to grate. People talk loudly and three pounds is a lot for a coffee. Fitting my laptop, manuscript and an overpriced beverage on a small table was like playing a game of Tetris where the loser ends up wrapping their laptop cord around a stranger's leg and upturning a drink on their own head all at the same time. I felt guilty for monopolizing the limited seating capacity of an independent business.
So it was that I started to spend increasingly lengthy stretches in the silence of my flat. I noticed that I was more creative and productive, not to mention the fact that I could read back passages of prose without attracting arched eyebrows from the other freelancers sharing the communal space. I worked in cafés no more than once a week and only then in winter, when a crisis of environmental conscience made me feel it was too indulgent to be heating my apartment for me alone.
I wasn't cut off by any means. Yes, the majority of my friends and family were 400 miles south, but their geographical location made no difference to how present they were in my life. I learnt that there was no need to be in constant contact with my nearest and dearest. For hours at a time, I hid my phone out of sight. I started to hit my daily word count for the second novel, as well as turning down the dial on the constant cacophony that is social media. For the first time in my life, I tuned into what was important for me and discovered that quiet figured at the top of that list.
The link between silence and mental clarity has long been acknowledged. As the 13th-century Persian poet Rumi put it, "the quieter you become, the more you are able to hear." While doing the final edits on my book up in Edinburgh, it became apparent that it wasn't just my characters who had found new and unexpected awareness in the silence that befalls them. I realized that my urge to run towards noise was really the desire to run away from the sort of calm and quiet conditions that breed self-reflection. But no more. Six months of daily silence have taught me that my fear was unfounded. Maybe I'm not so bad after all. Or if I am, then at least I am mindful of it.
Last night, I texted my Dad to ask what he wanted for his birthday next month. I had an inkling about the answer I'd receive but hey, he's about to turn 60 and if ever there was a time to put in a request for a Harley Davidson then surely it's now. Ten minutes later and I was relieved to hear that he had held back on the later-life crisis. "A quiet life," came the response.
"I can understand that." I replied.
__________________________________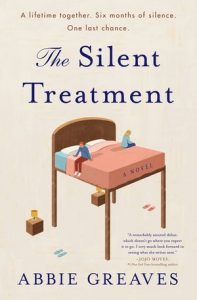 Abbie Greaves' novel The Silent Treatment is available now.
---