The Black Descendants of President Madison
Bettye Kearse on the Complicated Lineage of Her Ancestors
President Madison did not have children with his wife, Dolley. Leading scholars believe he was impotent, infertile, or both. But the stories I have heard since my childhood say that James Madison, a Founding Father of our nation, was also a founding father of my African-American family.
According to the history told by eight generations of my family's griots, Madison had a relationship with one of his slaves, Coreen, that resulted in the birth of a son, Jim, who was sold and sent away when he was a teenager. Jim was my great-great-great-grandfather.
My earliest recollection of hearing this story was as a five-year-old attempting to stand still while my mother worked on the dress she was creating for me. Every time I had a piano recital, she sewed me a new dress, and every time she sewed for me, I became bored and fidgety. I dreaded the fittings more than the performance itself. The performance lasted little more than two minutes; the fittings took forever. Mom pinned a seam; I tried on the dress. Mom sewed a seam; I tried on the dress. Mom pinned a hem; I tried on the dress . . . It was torture. My mother designed my outfits, but I did not care about ruffles, lace, and satin trim, and I did not want to play the piano. I wanted to dance. The closer the dress came to its final shape, the closer I came to driving my mother to her wits' end. At every opportunity, I'd slip away and dance to the music in my head. I loved the Nutcracker Suite. I was the Sugar Plum Fairy. I arabesqued, twirled, pliéed, then twirled again, careful not to let the pins stick me. But my reprieves were brief.
"Dolly, come back," Mom would call. "I have the box out. I'll tell you your favorite family stories." And if I kept whining and squirming, Mom would throw up her hands and say, "Please, Bettye, why do I have to keep reminding you? Always remember—you're a Madison. You come from African slaves and a president."
These words have never been for me alone. They have guided my family for nine generations and evolved to meet the demands of America's changing times. In the antebellum years, my enslaved ancestors used Madison's name as a tool to help them find family members who had been sold and sent away. During Reconstruction, the saying inspired my ancestors to make the most of their lives, now that they were free. And since the Jim Crow era, it has reminded us that our enslaved ancestors were strong, remarkable people.
"Always remember—you're a Madison. You come from African slaves and a president."
When I was a child, I thought the directive was merely Mom's way of telling me to behave myself. In part, it was. She employed the exhortation to set the standard for my conduct in many of my childhood moments, good and bad. As I grew into adulthood, she taught me to incorporate it as the standard for how I should live my life. My actions should reflect both my presidential ancestry and my pride in knowing that the blood of slaves runs through my veins.
*
But it took time for me to learn how to live up to my legacy and figure out what it meant to me. I am seven years older than my brother, Clay Morgan Wilson IV, nicknamed Biff. Because of the difference in our ages, our parents often joked that they were doing the best they could to survive the challenge of raising not one only child, but two. Our parents, Dr. Clay Morgan Wilson III and Ruby Laura Madison Wilson, enrolled us in good public schools, paid for music lessons—and dance classes for me—took us to cultural events and church, sent us to summer camps, and taught us how we should behave. Their only demand was that we do our best at all times. We didn't have to be the best; we only had to do our best. My mother would often take me aside and say, "All you have to do is to be sweet and smart." I didn't understand what being sweet had to do with being smart, and I didn't understand why my brother was told only to be smart. I was her sweet doll for whom she made fancy, one-of-a-kind dresses, and she called me "Dolly."
*
When I was 17, my mother, backed by my father, insisted I be a debutante in the cotillion. I acquiesced; otherwise I would not be allowed to go out on one-on-one dates until I started college. It was a choice that was not a choice for a 17-year-old, and I knew that many of the other potential debs were already dating and had serious boyfriends.
The cotillion is an annual ball sponsored by the Bay Area chapter of the Links, which, when I was a deb, was a national organization of wives of prominent black men (today it is the women's accomplishments that qualify them for membership). Dating back to the seventeenth century, the debutante ball was originally a European tradition that declared young women with the "right" credentials eligible for marriage. The goal was for the girls to snag husbands.
In 1960, I and most of the other debs were thinking about college. Few of us were interested in marriage. But on the night of the cotillion, one by one, each deb, wearing a long white dress evocative of a wedding gown, stepped onto an elaborately decorated platform to be shown to society.
I stood in the wings, more resigned than nervous, waiting to hear my name called. When my turn came, I lifted the hem of my dress and climbed the steps up to the platform. There I stood, framed by a plethora of white flowers and ribbons, the spotlights blinding me, as the announcer read off my lineage and described my accomplishments. I smiled hard and curtsied deep. I couldn't see the audience, but I heard the applause validating my worth.
We formed three circles on the dance floor to perform a rigidly choreographed minuet. We were petals on a flower. Black girls in white.
Unaccustomed to high-heeled shoes, I gingerly stepped down a red-carpeted stairway. My proud, tuxedoed father met me at the bottom and paraded me around the ballroom. Then my proud-of-himself, tuxedoed young escort paraded me around the ballroom. When the last of the debs had gone through this ritual, we formed three circles on the dance floor to perform a rigidly choreographed minuet. We were petals on a flower. Black girls in white.
We flaunted our American middle-classness, I now realize, and gave no thought to the time, a hundred years earlier, when our ancestors stood on platforms to be appraised and parceled out.
Later, a photograph of me receiving a certificate for best academic achievement appeared in Jet magazine. I had done a good job of representing my father's family, the Wilsons, and my mother's family, the Madisons. But I thought the whole thing foolish. There was pressure not just to achieve but to broadcast that achievement. I resented being put on display.
*
Oakland had a racially and culturally diverse population, and I could take a train or a ferry across the bay to San Francisco to explore the museums and shops, attend plays and dance performances, or meander through the long, narrow park that ended at a zoo with the Pacific Ocean a short walk beyond. San Francisco was one of the most sophisticated, pretty, and glamorous cities in the world, but it was too close to home.
The family saying anchored me—I knew who my ancestors were and what they had accomplished; they had set examples for me to follow. But it also felt like a trap. It sounds banal, but I wanted to explore life unencumbered by an overprotective family and a watchful black middle-class community. I knew that whatever I wanted to try, I could find it in New York City. I also knew my parents would let me go anywhere to further my education. New York University was the perfect choice.
I attended class faithfully and fulfilled the academic requirements, but the city around me beckoned. I arranged my schedule so I could attend Wednesday matinees on Broadway. I saw Rudolf Nureyev and Margot Fonteyn dance as Romeo and Juliet; Sammy Davis Jr. act, sing, and box in Golden Boy; Sidney Poitier become Walter Lee Younger in A Raisin in the Sun; and Barbra Streisand and Sydney Chaplin portray Fanny Brice and Nicky Arnstein in Funny Girl. Judith Jamison was the dancer I had dreamed of becoming almost two decades earlier. Her performance in The Prodigal Prince with the Alvin Ailey dance company was so mesmerizing it made me cry. I loved the subway; for a nickel, it could take me almost everywhere in the big, noisy, exciting city.
I came to resent the reverence for James Madison the directive demanded. He was a Founding Father and a president, but he had also owned people.
One afternoon, I attended a talk by science fiction writer Ray Bradbury, who urged the audience of NYU students to "muddle around in life." Only by exploring life's ups and downs, he explained, could we grow as young adults. My family's expectations were clear and binding; there was little room for me to muddle, but I gave it a try. I partied with friends in disco after disco until closing time. We often ended up in someone's apartment, dancing until early morning. I remember sitting on the floor at a friend's smoke-filled place as he tried to teach me what to do with a joint. I failed. It made me feel weak and dizzy and triggered my asthma, but I was delighted I had tried. My parents would not have approved of my efforts, tame as they were, had they known what I was up to.
Well before graduate school, I'd found that being a descendant of African slaves had a significant impact on my life. Being a descendant of a president, however, did not. I came to resent the reverence for James Madison the directive demanded. He was a Founding Father and a president, but he had also owned people. And I did not believe he should be excused merely because, at that time, having slaves was the norm among landowners and the wealthy.
It would take me years to articulate this to myself and then decades to explain to my mother that the saying she revered and lived by echoed with the abuses of slavery.
*
In 1990, at the age of 47, I had my own pediatric practice and had been married for twenty years to an accomplished physician-researcher. Our daughter, Nicole Elise, was a bright, beautiful, often hilarious 17-going-on-70-year-old who described herself as "spoiled but not rotted." She loved to burst into the house shouting, "Hi, honey, I'm black!"
Life was good. But one day, my mother called, sounding tired. "Dolly, I'll be coming east soon to bring you the box." Mom's pet name for me was a reference to that little girl she once dressed up in organdy and lace to perform in piano recitals and to the elegantly gowned teenager who smiled and curtsied in the debutante ball. Mom was not referring to our ancestor's wife. She had no fondness for Dolley Madison.
_________________________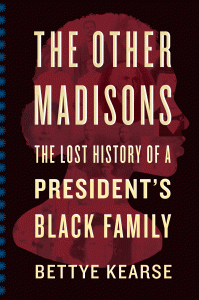 Excerpted from The Other Madisons by Bettye Kearse. Copyright © 2020 by Bettye Kearse. Reprinted by permission of Houghton Mifflin Harcourt. 
---