A Scotsman: Why I Love Getting Drunk on Cocktails in America
Daniel Sloss on the Varieties of Worldwide Drinking Culture
I love drinking in America. They don't have restricted alcohol measurements like they do in the UK or those other countries where people dying is considered a negative thing. In a country where you can buy an assault rifle over the counter and that profits off health care, why on earth would they limit how much alcohol you can pickle yourself in?
There isn't a tipping culture in the UK. You can tip.
Most people do. You're a wank if you don't. It's about ten percent. The employees don't rely on them in the same way Americans do. American bartenders need tips because their minimum wage doesn't cover shit.
Australia's minimum wage is something like 40 bucks an hour and that's why they give the worst service in the entire world. Take a seat, America, I'll get back to you. Aussies, you're up, you lazy fucking bastards. Christ, you suck at service. I don't care who you are in Australia, that applies to every single one of you. You suck at service because you're spoiled. You don't need tips to live, so you put an almost French level of effort into hospitality. You don't fear your customers because you don't really need them.
You'll get to them within an hour or two. If you're polite, it's because you're a nice person. You're choosing to be polite. If you're having a shit day, you'll more than happily take it out on my dining experience, as if I'm the reason your dad never hugged you. The great thing about Aussies is I don't even have to end this tirade with "But I still love Aussies" because they won't give a shit. They can take a punch and give it right back. Unlike you bitchy little Yanks. Yes, back to you. In America, servers need tips to live. I don't like this, but it does mean the service is excellent everywhere. That, coupled with most Americans being lovely, means their service staffs are the friendliest on the planet.
I go into a bar. I order my gin and tonic because I have the drinking palate of an 85-year-old widowed woman. The bartender then pours gin into a glass. Not some. Not a bit more than usual. Fucking half. Half gin, half tonic. That's not what a gin and tonic is, you psycho. That's not a drink. That's a commitment.
I'll still drink the drink, obviously. I'm Scottish. I'm thrilled at this turn of events. That's three times the normal measure of gin I'm used to, and it's the same price. So of course I tip heavy. I'll double it. What great service.
That's my first mistake. The bartender looks down at my five-dollar tip and thinks to him- or herself, Holy shit. Five bucks. I love this guy. I'll keep an eye on this little millionaire. I drink my gin and tonic. Like a man. Yes, like a man.
All you beer-drinking losers are too macho to admit that beer tastes like a thousand sweaty buttholes. You sit there throwing shade at real men, like me, who down cocktails. You're too fragile and too proud to admit that fruit tastes better than wheat. Drink for drink, I'll floor you. You do a beer, I'll do my pornstar-martini, and I promise you, you'll die. End of you. RIP, bitch.
I'll finish my gin and tonic and order another one. The bartender sees my raised hand, comes down, and goes "Oh, this bloke. The big tipper. Ol' Fish and Tips. Tippy Longstocking. My best friend. I'll give him a bigger measurement, as a thank-you for the big tip."
American bartenders need tips because their minimum wage doesn't cover shit.
I then watch this murderer fill the glass three-quarters of the way with gin and then splash in some tonic. I sit there thinking, Oh, my God. This guy is a legend. That's far too much gin. I'll have to give him another big tip as a thank-you, and then give him a thumbs-up to signal that he's nailed this measurement, and not to deviate from said measurement. I'll also squeeze 90 limes in there to dilute the taste and stop my scurvy from getting any worse than it already is. I tip another three dollars, so that maybe next time he doesn't pour as much gin.
Then this greedy little man sees the three dollars' worth of tip and thinks, That's still triple the normal tip amount. I still love this man. I will look after him. He's drinking to forget. I choke back this 75 percent gin, 15 percent tonic, and ten percent ice over ten minutes. I'm tipsy. I've basically had eight British gin and tonics. My brain doesn't register the difference. I'm in denial. I can't be drunk after two drinks. If I was, I'd never be allowed back in Scotland. Babies who hadn't even walked yet would spit at me from their strollers. Their first words would be homophobic slurs.
I order my third. The bartender, who would now literally die for me, pours an entire glass of gin. All the way to the top. Plops in some ice and then bends down and whispers the word tonic into the glass and hands it to me. I then choke an entire lime into this glass like it owes me money. It's a Sour Patch Kid glass of suicide at this point. Still booze, though, so I'm not turning it down. Never. I tip another five dollars because at this point this guy is running his bar at a loss. I'm tipping to make him stop. Please stop. Just make normal ones. I don't have the strength to say no. His mind is blown that I've tipped again. I shit you not, this professional will then give me a free drink. I've tipped so much, 13 dollars, that he now has to buy me one. Whether it's just a free round or whether he pours me a shot and does it with me. As if we're friends. We're not friends. My real friends would never make me drink pure gin. I am scared of this man and I drink through sheer pride and fear. I have now consumed three times my normal consumption of alcohol in four drinks. All for less than 50 dollars. Madness.
I then wake up two days later, wondering why I still give Americans shit when it comes to their drinking culture. I still do, though. You pussies.
__________________________________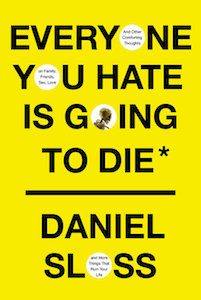 Excerpted from EVERYONE YOU HATE IS GOING TO DIE: And Other Comforting Thoughts on Family, Friends, Sex, Love, and More Things That Ruin Your Life by Daniel Sloss. Copyright © 2021 by Daniel Sloss. Excerpted by permission of Alfred A. Knopf, a division of Penguin Random House LLC. All rights reserved. No part of this excerpt may be reproduced or reprinted without permission in writing from the publisher.
---