Fiction As Resistance: Catherine Lacey on Joy Sorman's Life Sciences
"Women are inheritors of a thousand demented and limiting ideas of what a woman can or should be."
Women are heiresses, inheritors of a thousand demented and limiting ideas of what a woman can or should be. Most women know this; many resist. And while some will say this is a battle waged between the sexes, the keen will know that feminism is an act against history itself. And yet, at times a feminist might wonder—where and when in history did this hostile subjugation begin? And why?
It is possible this oppression did not begin as an abstract hatred for the female sex, but in a sheer terror of bodily decay. Centuries of men have been trying to avoid the unfathomable fact of death by exaggerating every unfathomable aspect of the feminine form. Never trust anyone who bleeds for a week without dying, the old joke goes, a desperate stab to belittle the fleshy origin of all men.
Though Ninon Moise, heroine of this wonderfully modern and timeless fable, Life Sciences (translated by Lara Vergnaud), is able to trace her particular doom through the genes in her maternal lineage, knowing where her suffering comes from does not offer relief. Torturous pains and unexplainable maladies flow from generation to generation in her family—"a string of genetic catastrophes." Like all the women who've come before them, Ninon and her mother (who was lucky enough only to be struck by a form of blindness) are so wedded to the inevitability of their suffering that its anticipation ultimately guarantees its arrival. This stance—this bracing for an unreasonable inevitability—will be familiar to anyone who has lived through girlhood.
Every girl reaches a point in her childhood (perhaps the end of her childhood) when she perceives the approaching tsunami. What's more, we gladly prepare these girls to live within the historic limits of the feminine: how to be pretty, to be nice, to be small, and most importantly—how to anticipate the violence looming over all that pretty, nice smallness. Fairy tales tell this again and again—there is a place for you in this world, a beautiful and dangerous place, and it's better that you accept it now as you really have no choice. Better to prepare girls for what's coming, no? Better to tell them the bad news first, and let them invent their own good news later.
Women are heiresses, inheritors of a thousand demented and limiting ideas of what a woman can or should be.
From a young age, the stories of Ninon's doomed female lineage serve as her bedtime stories—from Marie Lacaze's dancing fits in 1518 to Catherine Tendron's witchy seizures, to Ninon's own grandmother, Louise, who abruptly went deaf and blind at fifteen for no known reason. Soon, none of her children's books will appease the serious Ninon. She only wants stories of the curse, and she studies her body in wait of what will soon consume it.
Children who immediately prefer the true, bad news over the soothing fantasy are often disturbing to adults. They seem to know too much, too quickly, as they readily discard the soft blinders of childhood. Our heroine is just such a child, and perhaps because she is so enamored with the dark fairy tale she's been told will define her life, her version of the curse is a particularly painful, unlivable one. In this way, perhaps Life Sciences is a cautionary tale—fall in love with the stories you're told, and they will be that much harder to change.
A series of doctors—most of them nonplussed and male—shrug at Ninon. They live in the limits of their own stories, in particular the belief that their knowledge of the human body is complete, and that female pain is trivial. Her troubles are "nothing life-threatening," one of them tells Ninon, all while her excruciating pain encases her life in threat. Even when a diagnosis arrives, these ambivalent professionals still insist: "It's not serious, it's mysterious, it's trying, it's rare, but you don't die from it, it's being researched, a little, it's not very profitable yet, but still, people are interested in it, kind of."
The word unfathomable appears only once in this feminist Metamorphosis, but it feels especially pertinent to its concerns. Truly, the condition of being mortal, regardless of gender, is at least in some respects an unfathomable experience, and it is through story that we try to fathom our way through it. For centuries, men have written an ever-limiting set of stories about women, and the project of un-telling those old stories is a relatively recent development. Women so often carry this delusion of being innately wrong, of needing to be numbed, controlled, caged or hidden—a delusion smuggled into us in the Trojan horse of a thousand old stories.
The way out of this cycle, Joy Sorman suggests, is the same way we got into it: "No experience is pure, no experience exists without a story," she writes. We must tell stories like this one. We must read stories like this one, an honest cure.
_______________________________________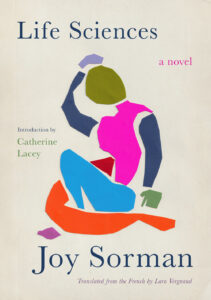 Excerpted from Life Sciences by Joy Sorman, translated by Lara Vergnaud. Introduction by Catherine Lacey. Reprinted with permission of the publisher, Restless Books. Copyright © 2021 by Catherine Lacey. 
---