A Reading Series That Challenges Calls for 'Civility'
Reading Across America: An Angry Reading Series
Anger has always been a catalyst to my productivity. Dissatisfied and enraged for those treated unfairly by the political system—women, people of color, the queer community, the formerly religious fleeing theocratic regimes, and others—I write extensively and hungrily. And in a time when the press and creative freedom are under attack, when artists across the world are being rounded up as serious threats, it felt most fitting to set up a reading series that had no qualms about being mad as hell.
In April 2018, I asked my friend Chelsea Asher—who I'd met through the Teaching Artist Program and who had fast become my most trusted confidant—if she would start a reading series about angry literature with me. Chelsea enthusiastically agreed and—ever the pithy writer—came up with the name "An Angry Reading Series."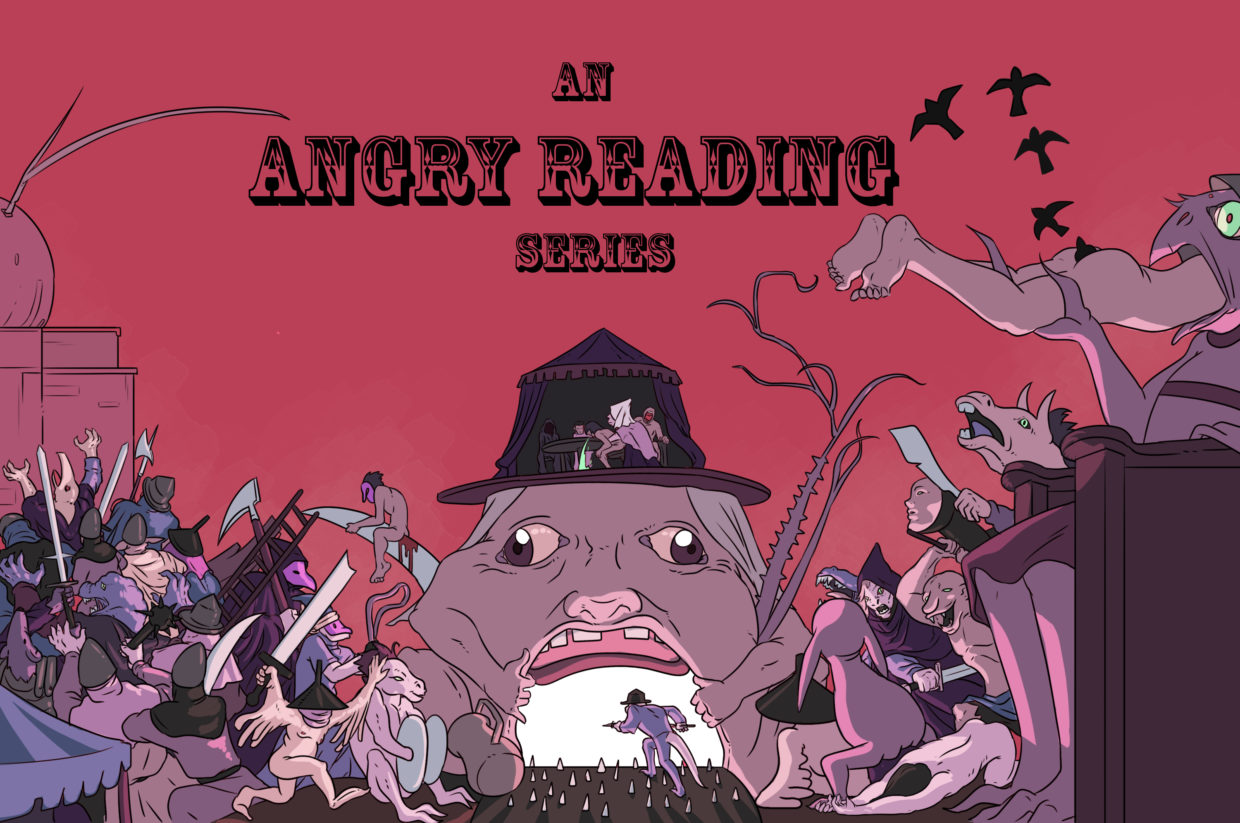 I'd been frequenting local literary events—as a reader and an attendee—since my move from India to New York City in the fall of 2016 to pursue my MFA in Creative Writing. I read my work in public for the first time at the Bowery Poetry Club's Sunday Open Mic three months after my move, then at more open mics and several reading series, including Dead Rabbits, Boundless Tales, Poet's Country, and Poets & Writers' Connecting Cultures. But, mostly, I would end up at the Nuyorican Poets Cafe, Bowery, or some random reading with a notebook and pen. I could listen to writers read endlessly, inspired by their rhythm, incantations, and word choices. So much of my poetry developed through this witnessing.
For an Indian writer like me who had moved to this city blindly, these readings also gave me my community outside of graduate school. I found compatriots in writers reading alongside me, in hosts and organizers who mentored me, and with other attendees. While readings made me a more assured writer and reader, they also allowed me to find my own place in the city and my own core group of people.
In the wake of growing political unrest in both India and America, I wanted the reading to highlight assertive voices.
But with an increased MFA workload, internships, and teaching assignments, I found myself unable to attend readings that often, and a desire to build my own reading series rose from a purely selfish motivation: By launching my own series, I could bring together incredible writers with dynamic work and watch them perform. New York already had many wonderful reading series, so I wanted to create an intentional cultural project. As a woman and a writer of color, it was essential that the readings focus on writing that challenges civility. In the wake of growing political unrest in both India and America, I wanted the reading to highlight assertive voices.
As we planned the series, Chelsea and I discussed where and how often we'd host events. We decided to hold monthly readings, on second Saturdays. And, most importantly, we agreed that we would steer clear of Lower Manhattan and Brooklyn—those areas already had many series, and, for us, the series' location had to be as deliberate as its theme. We chose Harlem, birthplace of the Harlem Renaissance and the home of literary pioneers Langston Hughes, W. E. B. Dubois, James Baldwin, and Zora Neale Hurston, as the most appropriate backdrop to our fledgling project.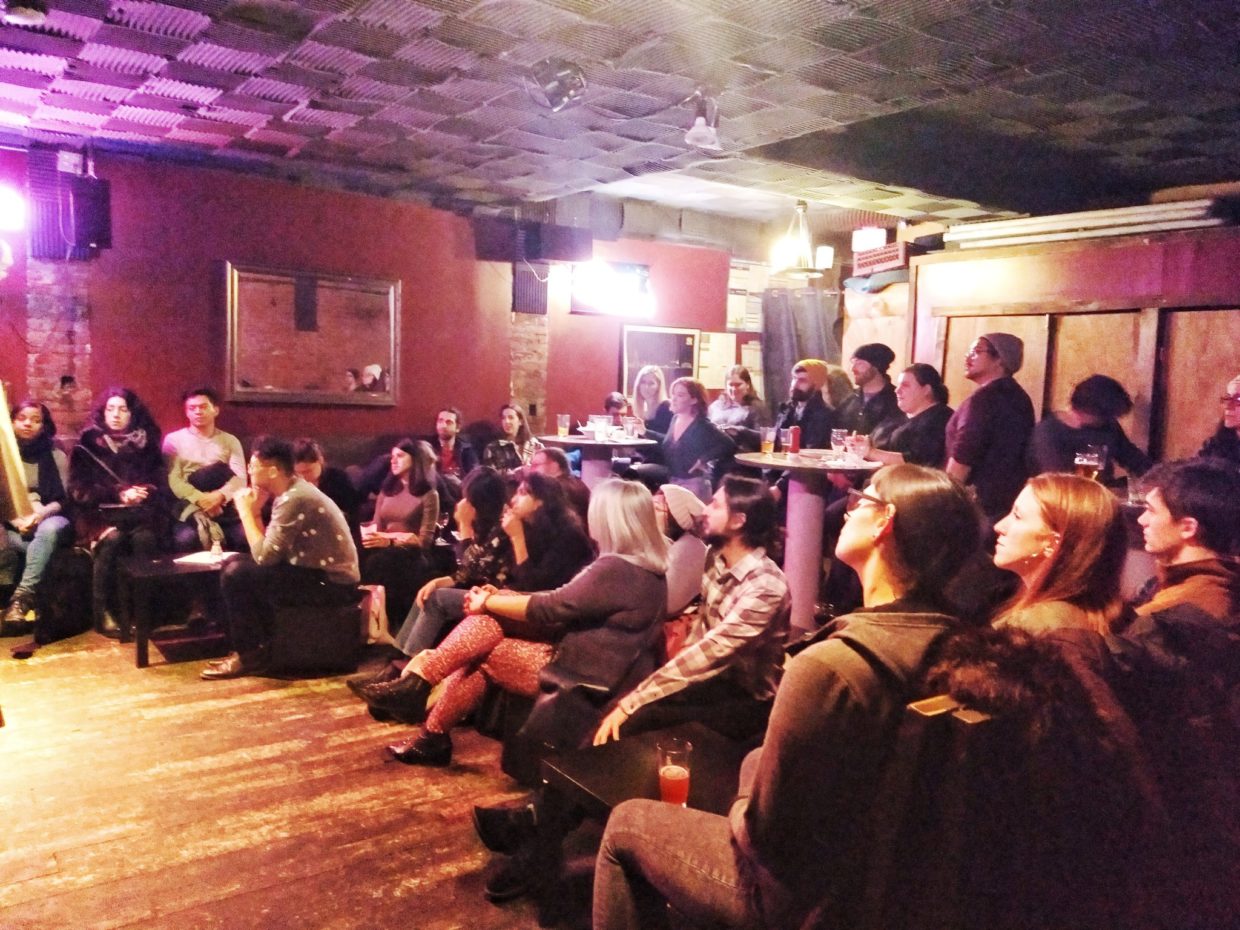 We didn't have to scout long for the perfect venue. Katie Rainey, a co-founder of the Dead Rabbits Reading Series and our overall godmother, took us to a bar ten blocks from her home, Grill on the Hill. A hangout for City University of New York students, Grill on the Hill had the feel of a friendly neighborhood bar, as well as a separate performance space in the back that could cocoon our reading.
Each writer would have at least ten minutes to read a piece that represented whatever anger meant to them.
We decided to launch our series in September 2018 and asked our friend and inimitable artist Mayukh Goswami to create a scathing, theme-appropriate artwork for our website, which we built for free on WordPress, as broke writers do. We asked for submissions online and reached out to writer friends to spread the message. Our curatorial intention was simple: to invite writers whose work and voices we admired, like Ricardo Maldonado, Leah Johnson, Amy Lawless, and Chaya Bhuvaneswar, to read alongside emerging literary talent selected through our submissions pile. Each writer would have at least ten minutes to read a piece that represented whatever anger meant to them. We were mindful of bringing together lineups comprised of people whose anger is most policed and wanted to center the voices of women, people of color, and queer writers. Each month, of the five to six readers we feature, we consciously ensure diverse representation.
We curated our first lineup with writers from New York City's literary community whose work we felt provided a template for the kind of series we wanted to host: Itiola Jones, John Bazley, Katie Rainey, Kwame Opoku-Duku, and Leah Johnson. Our launch was also part of the Reading for Raices initiative organized by curators of the Big Words and Dead Rabbits reading series, in which New York reading series raised funds at their September events for RAICES, an organization providing legal support for immigrants.
We promoted our launch on Twitter and Facebook and invited friends and writers from the community and our alma maters, the College of New Rochelle and Sarah Lawrence College. We pulled in over 40 people, but it wasn't the number of attendees that made us feel like we had created something important—almost every person stayed long after the reading ended to talk to our readers about their work, to talk to us about lines and moments that moved them to tears, and to congratulate us on what we had created. These healing moments that followed the reading convinced us we had something potent in our hands.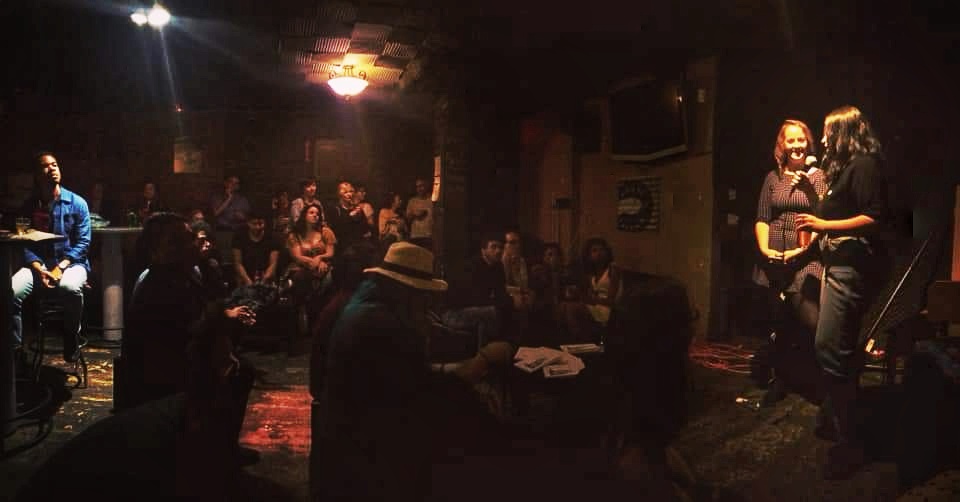 After hosting seven readings and over thirty writers, we went on hiatus for the summer and will return this fall, using the break to find ways to compensate our writers for their time and words. We want to dedicate ourselves to creating space for writing workshops—facilitated, if possible, by our former readers—that help emerging writers tap into their most assertive ideas and create confrontational writing. And, someday, we hope to publish an anthology or two and several angry sociopolitical manifestos.
But for now, we are thankful for the discourse the readings inspire, for how intentionally our featured writers choose their pieces, and for the friendship and solidarity the Angry Reading community members have offered each other. Chelsea and I remain mere witnesses, watching in awe and gratitude.
---