A Radical Education: How Greenwich Village Transformed Eleanor Roosevelt
Jan Jarboe Russell on the Friendships That Inspired and Nourished a Former First Lady
"The giving of love is an education in itself."
–Eleanor Roosevelt
*
It was in Greenwich Village that Eleanor Roosevelt became the strong woman that we now know. From 1920 until the end of her life in 1962, she was actively connected to the political and social mix of the neighborhood. Paradoxically, her early years in the Village helped her gain the strength in her political convictions and in her personal confidence that would be essential to lifting Franklin to the presidency, even as their increasingly difficult marriage drove her to seek friendship and stimulation elsewhere—particularly in the Village. One might even legitimately wonder if FDR ever would have become president were it not for Eleanor's ongoing and transformative experiences in the Village.
Eleanor experienced in 1920 what Ross Wetzsteon, editor of The Village Voice, captured in his book Republic of Dreams: Greenwich Village: The American Bohemia, 1910–1960: "The essence of the Village was to create a miniature society where personal idiosyncrasy could flourish through communal society… Even Americans who remain hostile to the Village have become fascinated by it because it has become a kind of laboratory in which a nation at once dedicated to militant individualism and middle class conformity could witness attempts to overcome that paradox."
In 1921 Eleanor made two friends who would influence the rest of her life: Esther Everett Lape and Elizabeth Fisher Read, a lesbian couple who lived in the Village. Read was a lawyer who later became Eleanor's financial adviser, and Lape was a highly respected professor of English and journalist, and was a cofounder of the nonpartisan League of Women Voters (est. 1919). Together, they formed a three-way friendship that became the nucleus of Eleanor's support network.
In the early 1920s they joined what was then called the "New Woman Movement" in Greenwich Village, part of a larger awakening and activism of educated and increasingly independent-minded women in Britain, Europe, and the US that dated back to the mid-1890s. The movement organized for social change, unions for workers, equal pay for equal work, and protection for child workers, and insisted on women having their own sexual freedom. Members disagreed about politics and political parties. Some, like Eleanor, were Democrats, while others were Socialists and Communists, even Republicans.
Eleanor's brand of feminism, shaped by these women, was moved by compassion, bottled-up sexuality, and the quest for her own truth. This all happened as the Village was coming alive, working around Prohibition and freeing women to drink or smoke in public with men. There was a determination to end misunderstanding and inequality between the sexes, and Eleanor and her friends, particularly Lape and Read, laid the groundwork for tackling gender inequality that would inspire the later 20th-century feminist movement.
Eleanor fought for women to be educated, to own their own property, and to receive equal pay for equal work. She and her friends often called themselves "the newest" of the "New Women." Unlike the younger flappers, who favored bobbed hairstyles and short skirts and frequented speakeasies, the New Women organized for social change and freely disagreed among themselves about politics and political parties. "If women could believe they were free," Eleanor said, "they could behave as if they were free, then they would be free."
When Eleanor was tired at the end of a weary and ragged day, she would often go to 20 East 11th Street, where Esther and Elizabeth lived. The brownstone was built in the prewar style; it was five stories tall and contained nine apartments. The street outside their house was serene, and the mood in their book-lined living room was set by beautiful rugs and objects, and for Eleanor, a feeling of comfort and of being appreciated.
Eleanor's brand of feminism… was moved by compassion, bottled-up sexuality, and the quest for her own truth.
In the 1930s, Eleanor would rent a pied-à-terre of her own on the fourth floor, above Lape and Read. Her apartment would be small compared to her other homes, only 1,350 square feet, but it had high ceilings, good light, and a sunporch that overlooked the gardens on the roof. Eleanor often slept on the sunporch. Today, a plaque outside the house memorializes Eleanor's time in the apartment; no mention is made of Lape and Read's residence there.
As the 1920s got under way, Eleanor had little interest in her appearance, but fashion was very important to Lape and Read, whose clothes were custom-made. Lape's were particularly extravagant—silks, velvets, brocades that lasted many years. Read wore dark tailored suits with string ties. In time, Eleanor used the same designer for her wardrobe.
Dress is a way of expressing one's self but can also be a way of hiding. In those early years in Greenwich Village, Eleanor took her signals from the way that Lape dressed. They both wore large hats and black dresses that swept close to their ankles. Their bodies were hidden, but Eleanor held her head high, as proud of her height as she had been in England with Marie Souvestre and her circle of women friends.
The three women hosted small salons in the Greenwich Village apartment and invited other New Woman neighbors over for formal dinners. They read the classics and poetry aloud in French to one another long into the evening. The food was excellent, and even Eleanor sometimes sipped champagne. They talked about politics and organized ways that the New Women could promote rights for all women and all races of women. Many of Eleanor's later ideas came from these dinners. In the presence of her friends, she felt an awakening in herself and a calming of her spirit.
Elizabeth Read wrote a letter to Narcissa Vanderlip about whether the cause of women's rights was more important than private relationships. The letter said in part: "If a person is lucky enough to meet a human being that is worth devotion, that—in the absence of a crisis, or an all-compelling call—is the important thing—always remembering that selfish devotion defeats its purpose, that limiting life to the devotion eventually kills it. In other words, it is a matter of a balance that changes every day." Eleanor remembered Read's words and put them into action—to avoid selfish ideas, to care for her own soul, to help those in need.
Eleanor also took to heart Virginia Woolf's idea that because the reality of life often overwhelms women, they must be stronger. As Woolf famously wrote: "So when I ask you to earn money and have a room of your own, I am asking you to live in the presence of reality, an invigorating life, it would appear, whether one can impart it or not." All of this Eleanor decided was necessary and in the long run, she lived by Woolf's ideas: to live in the presence of what is the truth, what is strong, what is real.
The Village was a refuge for Eleanor, not just a place but an idea—the idea of following the rhythm of who she really was. In addition to spending time with Lape and Read, she also relied on another lesbian couple, Marion Dickerman and Nancy Cook, who lived in a cooperative building at 171 West 12th Street.
The poet Edna St. Vincent Millay lived at 75 ½ Bedford Street, which, at nine feet six inches wide, was well known as the narrowest house in the city. In 1923, Millay became the third woman to receive the Pulitzer Prize for poetry, and also joined the ranks of the New Women and declared herself a believer in free love, which made her at home in the Village. These friendships enriched and changed Eleanor's life.
In April 1921, Eleanor attended the National League's convention in Cleveland, Ohio, and was exhilarated to meet Carrie Chapman Catt, the white-haired leader of the suffrage struggle, who spoke in support of the League of Nations and said: "Men were born by instinct to slay. It seems God is giving a call to the women of the world to come forward, to stay the hand of men, to say: 'No, you should no longer kill your fellow men.'"
Even though she had her own ideas and interests, Eleanor knew she would also have to focus on her husband's work, and expressed enthusiasm for doing so. In a note to Franklin from the convention in Cleveland, she wrote: "I've had a very interesting day and heard some really good women speakers. Mrs. Catt has clear cold reason… Minnie Fisher Cunningham from Texas is emotional and idealistic, but she made everyone cry!" Eleanor finished her note to Franklin this way: "Much, much love dear and I prefer to do my politics with you."
In the spring of 1922, Nancy Cook, serving as the head of the Women's Division of the New York Democratic Party, telephoned Eleanor and asked her to be a speaker for a fund-raising luncheon for activist women Democrats. Eleanor hesitated. She was a reluctant public speaker at the time. Her voice went up several octaves when speaking, which then made her giggle uncontrollably. She later tamed the monster, with Louis Howe's help, and in time became a very good public speaker. But Howe encouraged Eleanor to speak at the luncheon. Eleanor arrived at the luncheon with a bouquet of violets for Nancy Cook.
As Blanche Wiesen Cook explained in her biography, "Between women, gifts of violets were quite the rage during the 1920s—they appear again and again in feminist literature as an international symbol of affection." From then on, Eleanor considered Nancy Cook a close friend and called her Nan. A potter, photographer, and carpenter, Nan had short, wiry hair and an intense personality. She and her partner, Marion Dickerman, had met in graduate school at Syracuse University and had become lovers not long after. Marion was tall, ladylike, and quieter than Nan. In 1917, during the First World War, both Nan and Marion went to London as volunteers for the Red Cross. Marion quickly took to nursing the many wounded men, but Nan, a gifted craftsperson, used her skills to make artificial limbs for soldiers.
Of the two women, Eleanor favored Nan, whom she called a "boyish" girl. Both Eleanor and Nan were experienced political organizers, but Nan was also funny and roguish, and with her, Eleanor did things that horrified her mother-in-law, who particularly disapproved of Nan's masculine clothes. Eleanor once appeared with Nan at a family event, dressed in matching knickerbocker outfits with vest and jacket.
To his credit, Franklin welcomed Nan and Marion to his and Eleanor's circle of close friends. Often he teased the women; he was "Uncle Franklin" and they were "the girls." Louis Howe and Franklin joked that the women were "she-males," a loaded phrase that conveyed their belief that Eleanor and her women friends would never be equal to men at home or in politics. Nancy and Marion laughed at FDR's joke, but Eleanor was not amused. Nor was she likely pleased when her cousin Alice called Nancy and Marion "female impersonators."
Eleanor was increasingly caught between two lives: the life she had once had with Franklin versus the life she now had in the Village with other New Women. In June 1921, Eleanor asked Lape and Read, who were open about their lesbian relationship, to stay for a few days at Hyde Park with her and her family.
"My mother-in-law was distressed," wrote Eleanor. "I had begun to realize that in my development I was drifting far afield from the old influences."
At the end of their stay, Lape remembered, "Franklin took us to the station, carrying our bags. He was wearing one of those baggy brown suits. He looked so strong and healthy." That would be the last time that Esther saw Franklin standing on his own two feet.
__________________________________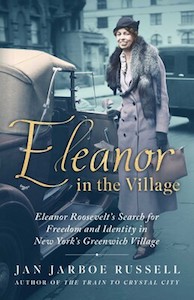 Excerpted from Eleanor in the Village: Eleanor Roosevelt's Search for Freedom and Identity in New York's Greenwich Village. Reprinted with permission of Scribner, a Division of Simon & Schuster, Inc. Copyright © 2021 by Jan Jarboe Russell.
---