A Poetic F*ck-You: Behind the Scenes of Fleetwood Mac's Chart-Topping "Dreams"
Tom Breihan on the Ineffable Vibe of the Band's Sole Number One Hit
By 1976, Fleetwood Mac was a circus. The band's two couples—Stevie Nicks and Lindsey Buckingham, Christine and John McVie—were both breaking up. Mick Fleetwood, the band's drummer and manager, was going through his own divorce. Everyone was fighting with everyone else. Everyone was writing songs about everyone else. Band members and associates were ingesting vast quantities of cocaine, marijuana, and alcohol.
In spite of all this chaos, though, Fleetwood Mac was a band of sonic perfectionists. The group put in long, expensive hours working on Rumours, its much-anticipated new album—playing songs over and over, then getting their producers to manually splice together tapes of their best parts. That left Stevie Nicks, the one nonperfectionist in the band, with nothing to do.
Nicks played piano, but she was the one member of Fleetwood Mac who didn't usually play an instrument on record. In his book Making "Rumours," the album's coproducer Ken Caillat writes that Nicks "was foremost a singer-songwriter; she wasn't into the technical end of the music. So while all this experimentation was going on in the studio with the other members of the band, she was frustrated and pretty much bored out of her mind." Whenever Nicks could, she'd find a corner by herself. The studio, as it happened, had a pretty great corner, and that's where Stevie Nicks wrote "Dreams," Fleetwood Mac's sole #1 hit.
Fleetwood Mac spent the first few months of 1976 working on Rumours at the Record Plant, a sprawling compound in the Bay Area city of Sausalito. Using the Record Plant had a lot of perks: two limos on call, a speedboat, a staff of cooks who could whip up hash cookies whenever necessary. One of the office rooms had a floor made entirely out of waterbed. Another had been turned into the Pit.
Sly Stone, leader of Sly and the Family Stone, designed the Pit while recording the 1973 album Fresh. The Pit was a functional recording studio, but Stone had vibes in mind when he conceptualized it. The room's floors, walls, and ceilings were covered in red shag carpet. At the center of the room was a black-velvet four-poster bed; you had to climb through a giant pair of fuzzy lips to get into it. During the Rumours sessions, the Pit was a hangout spot; Mick Fleetwood later said that the room "was usually occupied by people we didn't know, tapping razors on mirrors." Sometimes, though, it was where Stevie Nicks went to get away from the rest of her band.
Fleetwood Mac's entire existence had been flux. By 1976, the band had already gone through seven different lead guitarists. Mick Fleetwood and bassist John McVie had teamed up with guitarist Peter Green to form Fleetwood Mac in 1967. All three musicians had been members of John Mayall & the Bluesbreakers, the British blues-purist institution that had also served as an early launching pad for musicians like Eric Clapton. Green, Clapton's replacement in the Bluesbreakers, was an eccentric guitar hero, and he named Fleetwood Mac after its rhythm section because he didn't want all the attention on him. The name proved prescient. Over the years, Fleetwood and McVie would be the band's only consistent members.
Early on, Fleetwood Mac was part of the same British psychedelic blues-rock scene as bands like the Yardbirds and Ten Years After. They had early success in the United Kingdom, hitting #1 with the 1968 instrumental "Albatross" and getting close with messily ruminative Peter Green songs like "Man of the World" and "The Green Manalishi (with the Two-Pronged Crown)." Along the way, the band added keyboardist and singer Christine Perfect, who married John McVie and joined Fleetwood Mac in 1970.
Fleetwood Mac idolized American bluesmen like Elmore James, but their early records simply didn't sell in the United States, despite steady touring. Until Rumours, the band was best known in America for recording the original 1968 version of "Black Magic Woman," a horny and mystical koan that Peter Green had written; two years later, Santana's cover of the song peaked at #4 on the Hot 100. Around the same time Santana's version of "Black Magic Woman" took off, Peter Green got heavily into Jesus and LSD, and he abruptly quit Fleetwood Mac midtour in 1970. Guitarist Jeremy Spencer, who took over frontman duties, left even more suddenly—walking off before a 1971 show in Los Angeles and never returning. When the band found him, he'd shaved his head and sworn allegiance to the cult known as the Children of God.
Fleetwood Mac found a new singer and guitarist in American musician Bob Welch, who convinced the band to relocate to Los Angeles. But Welch also left Fleetwood Mac for a solo career in 1974. Fleetwood Mac burned through more musicians, including one temporary frontman, Bob Weston, who got the boot after having an affair with Mick Fleetwood's wife. The band also got into a protracted court battle with a former manager who'd claimed that he owned the Fleetwood Mac name and sent a fake version of the band out on the road. All the while, the members of Fleetwood Mac partied hard; Mick Fleetwood once estimated that he'd snorted seven miles' worth of cocaine over the course of his career.
Even through all this pandemonium, Fleetwood Mac continued to function. In his 2015 memoir, Play On, Mick Fleetwood wrote, "We were an outfit that could be counted on consistently to move between 250,000 to 300,000 records whenever we put out an album, but that was about it. We never did better, we never did worse." One day, Mick Fleetwood went to check out the LA studio Sound City, and an engineer played him a tape of a duo called Buckingham Nicks, who'd been recording there. Fleetwood, once again in the market for a new frontman, was so impressed with the idiosyncratic fingerpicked guitar style of Lindsey Buckingham that he asked Buckingham to join the band. Buckingham would do it only if Stevie Nicks, his girlfriend and musical partner, was part of the deal. With Buckingham, Nicks, and Christine McVie, this new Fleetwood Mac had three members capable of writing songs and singing lead. After almost a decade of constant upheaval, Fleetwood Mac had found its lineup.
Before joining Fleetwood Mac, Buckingham and Nicks weren't selling any records on their own. The two had met as well-off teenagers at Menlo-Atherton High School in the Bay Area. (Nicks was born in Arizona, but she'd moved around a lot as a kid because her father was the CEO of the bus company Greyhound.) Buckingham and Nicks had started dating as teenagers in the late sixties, and they'd played together in a psychedelic folk-rock band called Fritz. That band hadn't worked out, and neither had the Buckingham Nicks album that Mick Fleetwood heard in the studio that day. Before taking the Fleetwood Mac job, Buckingham had been working the nostalgia circuit, playing guitar and singing backup for the Everly Brothers' Don Everly. Buckingham and Nicks turned out to be exactly what Fleetwood Mac needed. They brought a whole new personality and songwriting style to the group, and they jelled right away.
That was the way things were in Fleetwood Mac. The turmoil drove the music, and everyone played their part, helping out on songs even when those songs directly targeted them.
Fleetwood Mac's new style fitted perfectly with the sound of Los Angeles in the seventies. Three-fifths of Fleetwood Mac were British transplants, but most of the people on the LA music scene had also come from elsewhere. For years, pop musicians had been moving to Southern California, forming a tight community of hedonistic professionals. These musicians developed a shimmery, bucolic pop-rock sound that owed something to the idealistic folk-rock jangle of the Byrds and to the blissful harmonics of the Beach Boys. Many of them found huge pop success in the seventies.
Carole King, for one, moved to Los Angeles after her divorce from former songwriting partner Gerry Goffin. Her 1971 album, Tapestry, sold fourteen million copies, and she made a #1 single of her own with "It's Too Late." King's friends and collaborators James Taylor and Joni Mitchell also became huge stars in the seventies; Taylor landed his only #1 hit with his cover of King's "You've Got a Friend." After his time in the Byrds, David Crosby joined Buffalo Springfield's Stephen Stills and the Hollies' Graham Nash to form a harmony-singing supertrio. Neil Young, who often joined Crosby, Stills & Nash, had also recorded the country-flavored Harvest, the biggest-selling album of 1972. Other folk-rockers, like Eagles and Linda Ronstadt, were also playing around with country elements, adding them to their slick and harmony-heavy sound.
Most of these artists, based around LA's Laurel Canyon area, found their way to fame after the idealistic era of sixties protest art had died away. Their music generally did not have the searching, exploratory quality of "Mr. Tambourine Man" or "Good Vibrations." They weren't singing about imagining better worlds or different paths. Instead, they sang about bitterness and burnout—major themes for Eagles, whose 1977 chart-topper "Hotel California" is an allegory about how greed and hedonism had obliterated the dream of the sixties. The musicians got into complicated romantic entanglements with one another, and they wrote songs about those entanglements. The music was warm and mellow, but its lyrics were often jarringly callous. As disco took over the Hot 100, the Laurel Canyon musicians' combination of bucolic reverie and erudite viciousness held sway over Billboard's album chart.
Working with Stevie Nicks and Lindsey Buckingham, Fleetwood Mac tapped right into that sound on their tenth album, a self-titled affair that came out in July 1975. The band's new lineup immediately mastered a form of polished, harmonically rich pop music—soft rock that sometimes still rocked hard. Fleetwood Mac's self-titled LP was a slow burner, but the singles "Rhiannon" and "Say You Love Me" slowly rose on the charts, both peaking just outside the top 10. The album sold steadily, gaining steam over time and finally climbing to #1 more than a year after its release. At the end of 1976, Billboard named Fleetwood Mac the #2 album of the year, with only Peter Frampton's double-live monster Frampton Comes Alive! Selling more copies.
But even as their album brought them entirely new levels of success, Fleetwood Mac were coming unglued. John and Christine McVie's marriage fell apart, with John drinking to excess and Christine enjoying a fling with the band's lighting director. Buckingham and Nicks also broke up, and Mick Fleetwood's wife left him for his best friend. Fleetwood and his wife would remarry while the band was still recording Rumours, and they'd divorce again a year after the album came out. The drama didn't end after that, either. Later, Mick Fleetwood would start an affair with Stevie Nicks, and then he'd leave her for her best friend.
Rumours was an album driven by this labyrinthine web of heartbreak and lust, and also by drink and drugs. Fleetwood Mac's whole soap opera played out in public, and it fueled the art, to the point that the band chose Rumours as the album title. The LP's creation took them a year, cost a million dollars, and it just about broke the band to pieces. The members of Fleetwood Mac fought bitterly. Christine and John McVie wouldn't speak to each other about anything but music, and even then, Christine had to tell John that her song "You Make Loving Fun" was about her dog, not the lighting director that she was having fun loving. But the work shows through. In its acrid bitterness, Rumours positively gleams.
Nothing gleams brighter than "Dreams," the song that Nicks wrote by herself on a Fender Rhodes keyboard in the Pit, Sly Stone's party-room studio. Talking to Blender in 2005, Nicks remembered, "I sat down on the bed with my keyboard in front of me. I found a drum pattern, switched on my little cassette player, and wrote 'Dreams' in about 10 minutes."
"Dreams" is a song aimed directly at Lindsey Buckingham, Nicks's bandmate and ex. The song doesn't sound bitter. It radiates a mystical serenity. "Rhiannon," Nicks's big hit from the Fleetwood Mac album, is about an ancient Welsh fertility goddess. With its talk of crystal visions and cleansing rains, "Dreams" creates a similar feeling, but the lyrics are unmistakably pointed. The opening line is a poison dart: "Now, here you go again. You say you want your freedom. Well, who am I to keep you down?" Elsewhere in the song, Nicks envisions Buckingham in the stillness of what he had and what he lost. It's a poetic fuck-you, but it's still a fuck-you.
Elsewhere in the song, Nicks envisions Buckingham in the stillness of what he had and what he lost. It's a poetic fuck-you, but it's still a fuck-you.
Lindsey Buckingham had to play on "Dreams." Buckingham's guitar on the song finds a softly consoling tone, and its moaning, purring sound almost turns "Dreams" into a duet. Buckingham also sings backup. You can hear his voice singing the words that Nicks wrote about him. For his part, Buckingham was also writing songs about Nicks, and she was also singing backup on those songs. "Dreams" was the second single on Rumours. The first, the #10 hit "Go Your Own Way," is a Buckingham song where he sings that packing up and shacking up is all that Nicks wanted to do. Nicks has said that she "very much resented" having to sing on "Go Your Own Way." She still did it. That was the way things were in Fleetwood Mac. The turmoil drove the music, and everyone played their part, helping out on songs even when those songs directly targeted them.
"Dreams" is a simple song, built on just two chords. The song's arrangement is rich and subtle, and its pulse carries at least an echo of disco. Nicks wrote "Dreams" with a preset drum-machine beat—"a dance beat," as she later called it. Before "Dreams" had its title, the band referred to the track as "Spinners," since it reminded them of something the great Michigan orchestral soul group might've done. The drums on the final version of "Dreams" sound mechanistic because they are. Ken Caillat got Mick Fleetwood to play eight simple bars, and Caillat then edited those bars into a tape loop. This was just before the Bee Gees would do something similar with their own #1 hit "Stayin' Alive." By the mideighties, programmed drums would become a common pop-music trope. In the tape-loop groove of "Dreams," Fleetwood Mac were prescient.
That loop of Mick Fleetwood's drums isn't the same as a drum machine, though Stevie Nicks did use a preset beat when she was writing the song. Soon afterward, though, samplers would make it easy for producers to put together looped drum beats, and that new capability would drive rap and house and dance-pop. That simple, hypnotic pulse was a new thing for a blues-informed rock band like Fleetwood Mac, but Fleetwood Mac were, at the very least, interested in disco. On other tracks from the album, Lindsey Buckingham would coach Mick Fleetwood and John McVie to play with the same steady, basic beat that the Bee Gees had used on their disco breakthrough, "Jive Talkin'."
On "Dreams," the groove—those looped drums, the heavily treated moans of the guitar, the understated swagger of John McVie's bass line—conveys a numb sense of bliss. Stevie Nicks conveys something else. In her tone alone, Nicks radiates both fond regret and seething anger. Where Buckingham sounds raw and frustrated on "Go Your Own Way," Nicks comes off as a mystical being who's simply shaking her head at the small-minded pettiness of this man's actions. She sounds like she's above it and like she's both disappointed and lightly amused at the antics of mortal men. Even the voices behind Nicks—including that of Buckingham, the song's mortal-man target—add to the sense of luxuriant remove.
"Dreams" is full-immersion pop music. It's dense with meaning and allusion, and it creates a strange, tingly out-of-time feeling. Fleetwood Mac's albums regularly sold better than their singles. Heard on the radio, "Dreams" might not actively grab your attention in the same way as something like KC and the Sunshine Band's "I'm Your Boogie Man," the song that "Dreams" knocked out of the #1 spot. But in its intricate expansiveness, "Dreams" creates its own uncanny sonic environment. That's the quality that's helped "Dreams" linger in the sonic imagination. In the summer of 2020, for instance, "Dreams" returned to prominence after Idaho skateboarder Nathan "Doggface" Apodaca posted a video of himself riding down a highway, swigging from a bottle of Ocean Spray, and listening to "Dreams." That video went megaviral for no real reason. It just had a vibe to it. That vibe was "Dreams."
In the entire history of Fleetwood Mac—fifty-four years and counting, as I write this—the band has spent only one week atop the Billboard Hot 100. Many of the various members and ex-members of Fleetwood Mac have made hit singles, but none of those hits has topped the Hot 100. Even Stevie Nicks, who had a serious run as a solo star, has never reached #1 without Fleetwood Mac unless you really stretch things and count the sample from the 1982 single "Edge of Seventeen" that drives Destiny's Child's 2001 smash "Bootylicious."
"Dreams," the song that Nicks spent ten minutes writing, was a hit, but it wasn't exactly an earthshaker. When "Dreams" reached #1, the shimmery California pop sound was near its peak. Eagles, friends and contemporaries of Fleetwood Mac, had already scored two #1 hits in 1977 alone. But "Dreams" belongs in this book because that song, along with the rest of Rumours, recalibrated music industry ideas about how big an album could be. "Dreams" was the second single from the LP. Rumours spun off a total of four singles, and all of them became top-10 hits. That had never happened before.
______________________________________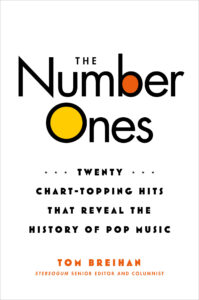 Excerpted from THE NUMBER ONES: Twenty Chart-Topping Hits That Reveal the History of Pop Music by Tom Breihan. Copyright © 2022. Available from Hachette Books, an imprint of Hachette Book Group, Inc.
---