A Multiverse of Words: Mirza Waheed on the Happy Coincidences of Omnivorous Reading
"I've been trying to bring back to life that old, unencumbered young reader who reads what absorbs him, at leisure, at ease."
I was always the faithful, non-promiscuous reader, staying with a book without looking at its rivals on the pile or the shelf. I read slowly, preferring to stay entirely in the world of one book. 
But perhaps because I've grown older or perhaps because time is a fundamentally fragmented entity when you're a parent, at some point (quite unconsciously) I started assigning books to the time of the day, to where I was, or to journeys I was embarking on. Soon I was reading more than one book at a time, throwing this paperback in the bag for the tube, putting that good old fat yarn on the bedside table, keeping a favorite close on my desk.
I wonder now whether this, the strange new reading habit, has something also to do with the transformative isolations that the Coronavirus imposed on us all, or with the daily grief and trauma that followed when I lost my father to Covid. It's entirely possible that all these events led me to read differently, slowly, less linearly.
If at bedtime I was reading John Banville's atmospheric slow-burn murder mystery Snow, set in a 1950s Irish country house, in the day I was spending time with the rained-in characters of Summerwater, Sarah Moss's intensely absorbing, finely etched novel about middle-class life and society in contemporary Britain. Moss's prose is diamond cut, the story unfolding in the course of one rainy day in a holiday cabin park in the Scottish Highlands, but its cadences, themes and tragedy ringing in my head long after. It was also interesting to note Banville doing snow and Moss doing rain, both hypnotically, but to very different ends.
Banville's detective Strafford must go out amid heavy snow, following leads in his investigation of a gruesome murder, but in doing so, he also uncovers long buried secrets. The snow-covered Irish countryside provides a starkly pristine canvas for Banville to show us the cruelties and contradictions of class and religion. Moss deploys relentless rain to keep her cast mostly in, forcing them to look at their fears, resentments and prejudices. 
More recently, I found it enjoyable to read Kazuo Ishiguro's Klara and the Sun when out and about, especially if I was on the "hail and ride" bus that I sometimes take in the neighborhood. Probably it had something to do with Ishiguro's astonishing narrator. Klara is an Artificial Friend, who's looking at those who come to the store to look at AFs, and at those passing outside in the sun, and sharing her observations about humanity and love.
To read is to find out what happened. To write is to see what happens.
As I progressed further into Klara's world, I also read Dead Lions, the second of Mick Herron's spy novels. Herron's wry take on the master spy figure in the form of Jackson Lamb, who heads a dumping ground for discards from Britain's main spy agency M15, is both a wonderful homage to John Le Carre's fiction, and a funny, irreverent departure. The two novels I've read in the Slow Horses series are told in a playful, soft sardonic manner. Lamb is particularly funny, a war horse fond of takeaways and given to lacerating sarcasm reserved mostly for his colleagues but also for his superiors at the main house. 
Perhaps these two books, even as they are vastly different from one another, one written by a modern literary genius and the other by a sensational new thriller writer, were in an accidental conversation. Did I subliminally sense thematic parallels between Klara, a highly observant artificial being, and Lamb, a hardened old spy with a frighteningly sharp nose for sniffing things?
I suppose the question goes to the heart of reading and writing, in that both acts can be and are often thought of as inquiries. To read is to find out what happened. To write is to see what happens. Detective fiction and novels dealing with AI are both explorations into the unknown: we uncover surprises, we come face to face with the unexpected, we go along as these stories try to probe at the heart of humanity.
I had probably started to read Damun Galgut's Booker Prize-winner The Promise just as I finished the first Slow Horse book, and I was immediately entranced by Galgut's style, by the way he zooms into a house, a room, landscape, his character's heads, most memorably that of Amor and Anton, and, of course, into South Africa's history of racial discrimination. Galgut is superb at excavating the violence beneath long buried secrets or promises. It's a story told with breath-taking psychological depth, and it took me back to the writer's marvellous earlier novel—In a Strange Room—about loneliness, travel, and home, which is so hauntingly written that it hurts.
At a book event last year, I met the novelist Anuradha Roy and I realized I hadn't read her books, so on returning home I bought her novels and started reading her deeply affecting novel All the Lives We Never Lived. Roy's writing is transportive, her touch elegant, letting the scents and colors of the fictional town of Muntazir (where one "waits for with anxious impatience") sweep over you, like good old classics do.
The story of Myshkin, (yes, he's named after Dostoevsky's Prince Myshkin), his mother Gayatri and the historical figure of Walter Spies grows in shades and layers, the back stories accreting to give it the texture of epics. This is the kind of novel I wait for, because I like reading slowly, sometimes going back again and again to fully take in the sound of a sentence or marvel at a particularly beautiful scene.
I've been trying to bring back to life that old, unencumbered young reader who reads what absorbs him, at leisure, at ease.
Amid All the Lives, I put the Pakistani writer Aamer Hussein's memoir Restless on my bedside. For about a decade or so I'd been asking Aamer whether he would write his memoirs, and now he has done it but it's not a conventional memoir. Here we have a collection of memoirs, essays, and auto-fictional stories aptly subtitled "Instead of an Autobiography."
Like his pointillist short fiction and novels, this is a beautifully distilled work, his early years interspersed with college and university life in London, his writing life, memories of growing up in Pakistan, India and Britain, translations of his Urdu fiction, all mixed up to profound effect. And there's a spell-binding section about the writer's journeys across Palestinian towns with a group of writers for the Palestine Festival of Literature. It's a short, slim book but with a long and deep gaze at a writer's life and work. 
Towards the middle of Restless is a memorable auto-fictional story titled "The Garden Spy," in which the narrator Mehran starts to photograph flowers during his walks as he comes to terms with grief and the suffocation of lockdown. The story combines vignettes of lockdown life in London with reflections on Mehran's past and recent personal losses. "He was in that space where clock time ceases to exist… Where are my dead, he thought? Sister, mother, companion, all gone… Are they ever far from me?"
This reminded me of something I'd read in Roy's novel. As Myshkin, who also makes notes of interesting plants and trees, settles down to tell his story, he says, "Our memories come to us as images, feelings, glimpses, sometimes fleshed out, sometimes in outline. Time solidifies as well as dissolves… Chunks of time are a blank, while others grow to be momentous in retrospect."
Reading in the way I have in the last few years allows me to see different conceptualizations of time, as I am led along narrative arcs imagined by the writers. Sometimes they're propulsive sprints, and at other times deep, reflective journeys. With the simple turn of a page, I may switch from versions of the future into a recollection of the past. With each writer comes a suspension of clock time. Of course, I also choose to stay fully immersed in the world of a novel when I want to.
In this way, I dip into multiple worlds at the same time, emerging from one and easing into another, all of it at a slow pace. I have eased up on the urge or the epistemic anxiety to plug the various holes in my reading, trying to bring back to life that old, unencumbered young reader who reads what absorbs him, at leisure, at ease. 
Moving from book to book, sometimes even on the same day, feels like switching between timelines in a self-designed multiverse. Of course, you have the luxury of choosing the universes created by the writers you admire.
I feel grateful they exist.
______________________________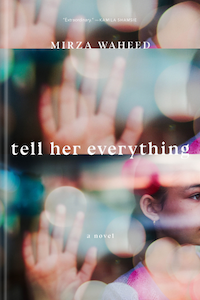 Tell Her Everything, by Mirza Waheed, is available now from Melville House.
---