A 'How to Write' Craft Syllabus From Non-White, Non-Cis Writers
Alex Lockwood Recommends Samuel Delany, Toni Morrison, Alexander Chee, and More
Some familiar names occupy the bestseller lists for writing direction, authors who've secured their reputations in giving advice to other writers. They've found just the right recipe combining anecdote, self-deprecation tinged with success, insight, exercises, and a great title. Whenever you take a class, go on writing retreat, or search for inspiration to overcome that third draft block, it's their craft books you cram in your backpack.
These authors are mainly white. Like me, they're probably cis-gendered men. Their books are well-thumbed and well-taught because they're good. More importantly, they are imagined to confer success. You know the titles. I say King—you say? I say McKee—you get the idea.
I've found the books by women to be better. I've not taught a class without Goldberg eliciting tears, Dillard tales of death, or Le Guin a dive into those pools where good writers submerge and come out shivering. I own three copies of Brenda Ueland. I say Lamott, you say—see feathers on a red and white fold. These are wonderful tools and inspiration, and for the majority-female classes, they're written by authors that students identify with. But, like the others, these authors are mainly white.
Putting together a reading list for a new creative writing program, I saw an opportunity to diversify and decolonize. As allies to writers of color, we white guys can tackle the privilege of "longform patriarchs," as Bernardine Evaristo calls them. A reading list is part of that work, but not the whole story—often, it won't be assimilated by white colleagues crying identity politics. My hope, though, is that when a person of color learns from a writer who looks like her, it makes her desired writing career more possible. And for white writers, it shows us we exist in a panoply of talent. We need not simply read black, indigenous, non-cisgendered writers, but learn from them. Let's change the names we go to as a matter of course. Not McKee, but Shawl. Not King, but Unigwe. Not for ally points, but in order to write better.
There aren't as many as there should be, no doubt due to publishing's bias toward whiteness. These books below are some of those I've come to draw upon in asking who gets to produce knowledge, to direct how we learn the craft. Let's make some room on the shelf for these and others that, hopefully, will follow them.
*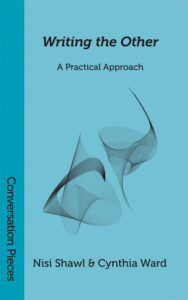 Nisi Shawl and Cynthia Ward, Writing the Other
(Aqueduct)
This book grew out of dissatisfaction that there aren't enough resources for teaching how to write diverse experiences, produced by those who live them. A writer of speculative science fiction, Shawl and colleague Ward pulled together materials that have spawned both this book and workshop programs. Writing The Other has exercises to help empathize with others (what does a Buddhist Tarot reader from Florida do on a Friday night?). But as most readers seem to agree, the book is best on what to avoid so as not to horribly, unforgivably appropriate and transgress.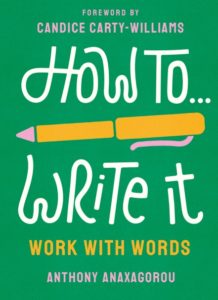 Anthony Anaxagorou, How to Write It
(Merky)
Brand new this month, How to Write It was launched after Anaxagorou's latest poetry collection, Returning Stranger, was published at the beginning of October. How to Write It combines practical guidance on craft with the story of Eliot Prize nominee Anaxagorou's relationship with race, including the story of how he overcame a lack of confidence and imposter syndrome. It's essential reading for young poets and has a foreword from Queenie author Candice Carty-Williams.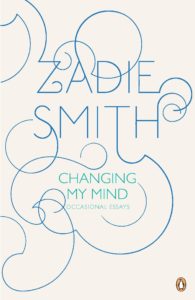 Zadie Smith, Changing My Mind: Occasional Essays
(Penguin)
A book about reading as the prerequisite for writing. It is not a guide to structure, plot or scene, but rather mentality. At the beginning of "That Crafty Feeling," a lecture given to Columbia University's Writing Program, Smith confesses that "what I have to say about craft extends no further than my own experience." Yet what she has to say is valuable for that.
It begins with Smith's resistance to black writing. At the age of 14, her mother gave her a copy of Zora Neale Hurston'sTheir Eyes Were Watching God. "I flattered myself I ranged widely in my reading, never choosing books for genetic or sociocultural reasons." Her mother persisted. "But you'll like it." "Why, because she's black?" "No, because it's good." It was Hurston who convinced Smith that the poet John Keats did not have a monopoly on the lyrical. Up to that point, Keats had been Smith's role model despite being "not working-class, exactly, nor black." Keats taught Smith, who "felt none of the entitlement of, say Virginia Woolf" that even for people like her, there was a way of "entering writing from a side door, the one marked 'Apprentices Welcome Here'."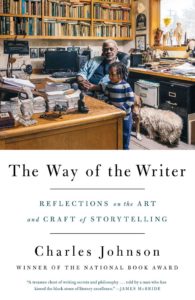 Charles Johnson, The Way of the Writer: Reflections on the Art and Craft of Storytelling
(Scribner)
In The Way of the Writer, Johnson recounts the story of how he met John Gardner in the fall of 1972. After writing six novel-length "experiments," each an attempt to improve on the weaknesses in the previous one, Johnson knew he could write but "needed a deeper grasp of rhythm and voice." "I can help you with that!" Gardner replied. Johnson copied out by hand the first chapter of Gardner's novel The Wreckage of Agathon, learning the meter and rhythm of his prose. The white Gardner was the only writing teacher Johnson ever had—other (black) writers such as James Baldwin and Ralph Ellison were accessible to Johnson only through their works. Born in an all-black hospital (which Johnson fictionalizes in his MLK-novel Dreamer) in Evanston, Illinois, Johnson's experience, and rhythm, was very different from Gardner's. For young men of color following Johnson, The Way of the Writer may give them something he did not have: guidance in the craft by someone who grew up in an America that looks like his own.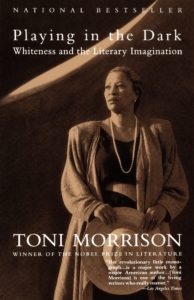 Toni Morrison, Playing in the Dark: Whiteness and the Literary Imagination
(Vintage)
I could have gone for the collection that Morrison edited, Burn This Book, where she and other PEN America writers speak out against censorship and despotism. But although Playing in the Dark is more literary criticism than practical guide, it is an essential companion to the ways in which black, Africanist, and marginalized voices have been left out of the criticism of American literature, an act that replicates the production of whiteness that those books already rehearse. Playing in the Dark was one of the first books that motivated writers and academics to make whiteness visible. The black hand, Morrison argues, continues to write and to shape global literary discourse.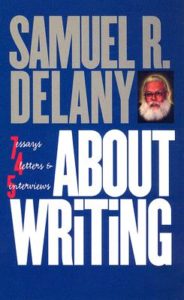 Samuel Delany, About Writing: Seven Essays, Four Letters, & Five Interviews
(Wesleyan University Press)
Delany wants to warn us off. "This is a book for serious creative writers," he says. As a guide to the craft for solemn practitioners, Delany gets to the specifics, focusing on grammar, paragraph logic, the chronology of clauses—and then hints that none of that matters unless you have what "the smart Romantics" called Begeisterung, or "inspiration." Delany moves the conversation past the white Europeans that have often served as role models in the literary field, writing letters to correspondents on "the writer's condition" and how it differs today from the high Modernism of Hemingway.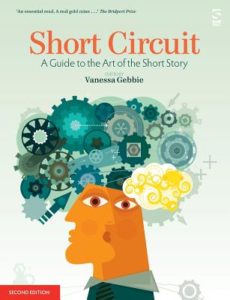 Elaine Chiew and Chika Unigwe (ed. Vanessa Gebbie), Short Circuit
(Salt)
There are essays in this superlative collection that deserve to be expanded into books, and those by Elaine Chiew and Chika Unigwe are certainly two that do. Unigwe, the Nigerian author of On Black Sisters' Street, a novel about trafficked Nigerian sex workers in Europe, writes with clarity about how the senses create setting, while Chiew expands upon resonant endings as "a little bit of witchcraft." Both essays have made me a better writer.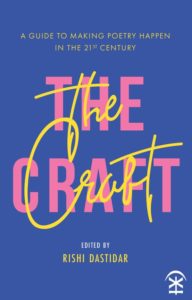 Rishi Dastidar (editor), The Craft: A Guide to Making Poetry Happen in the 21st Century
(Nine Arches Press)
Rishi Dastidar puts his energies into championing craft essays from authors of color such as Moniza Alvi, Dean Atta, Malika Booker, Debjani Chatterjee, Karen McCarthy Woolf, Roy McFarlane, and Marvin Thompson. It's a little book that, through the prism of the experience of these poets, explores the politics of the word "craft" itself and gives other poets and writers of color confidence to make the word their own.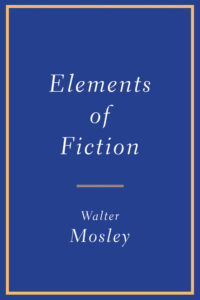 Walter Mosley, Elements of Fiction
(Grove Press)
Known for This Year You Write Your Novel, Mosley's new-this-fall Elements of Fiction is not shy in demanding greatness of its readers. It's presented in conversational style, but Mosley still wants you to achieve what the genii have and uses many examples from his own work. Mosley urges authors of color, particularly black men and women, to demand greatness of yourself, asserting that our society needs stories that bring home uncomfortable truths. "White Americans don't know how to live with people who hate them. We do," he writes in What Next: A Memoir Toward World Peace.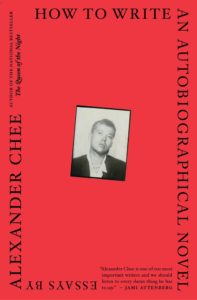 Alexander Chee, How to Write an Autobiographical Novel: Essays
(Mariner Books)
"We are not what we think we are," writes Alexander Chee in this memoir of his writing life, which covers his experiences from applying to Wesleyan to study with Annie Dillard through to life as a gay man, to the therapy that broke him but pushed him to pen this wise and honest guide. Chee's book is special for the insights he offers into the impact of craft choices not only on the reader, but on the writer. For Chee, writing is "the self brought to a confrontation with the past." So, a decision such as which tense to use "casts a powerful spell on the writer's own mind." As Chee points out, the present tense, which he chooses for his autobiographical novel, "is also the tense victims of trauma use to describe their own assaults."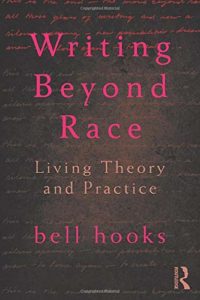 bell hooks, Writing Beyond Race
(Routledge)
A list that engages with questions of representation and race without bell hooks is at risk of losing its compass. Writing Beyond Race models a practice of crafting language to reject domination. Whereas Mosley's Elements is a technical manual, or Smith's Changing My Mind explicates how feeling acts as a bellwether to craft on the right lines, hooks leads her reader to question what writing can be for black subjects and subject matter.
Nikesh Shukla, Your Story Matters
(Bluebird)
Not published until September 2021, Shukla's book grew out of his popular newsletter that guided writers to find the confidence to tell their stories of marginalized experience. If you can't wait that long, you could always read Shukla's essay "Go Do It" in The Art of The Novel (edited by Nicholas Royle, Salt), where he recounts writing the manuscript for his novel Meatspace on a bus on a highway on an iPad in 63 days. The cramped, time-limited production is the point; although he doesn't say so explicitly, writers of color are generally less advantaged for time and resources than white writers. Shukla offers a plan for working within constraints to finish a first draft. This collection also has an essay on magical realism from British-Jamaican writer Leone Ross, author of the forthcoming This One Sky Day.
Thanks to everyone who took part in this conversation to help forge this list, especially Dr. Jane Alexander at Edinburgh University.
---