"A House is Just a Pile of Stuff with a Cover on It." When Less Really is More
Leidy Klotz on How Hard It Can Be to Truly Subtract From Our Lives
When I told Monica I was working on a book about why we neglect subtraction and how we can do better, the first thing she asked was, "What if readers find out about our addition?" Let's see.
Monica was referring to how we transformed our new (circa 1947) Cape Cod-style home. At 1,500 square feet, our new home was about half as big as the home from which we had moved. We didn't mind downsizing, but a renovation was in order. Our new home had been a student rental, and while the tenants had treated it well, the landlord had made questionable decisions. My nemesis was the vinyl floor in the kitchen, which was white-black checkered and also textured, presumably to better hold and display dirt.
To gather ideas for our renovation, I ran a design contest for students. Monica and I had clear intentions. We advertised the contest with the title "Addition by Subtraction" and emphasized that our goal was "to improve the human experience in the home and surroundings by subtracting." We were willing to pay more, we said, if our renovation could make a statement through subtraction. Conscious of exploiting students' expertise, we offered $1,000 in cash prizes, plus free cookies. A couple of dozen architecture, engineering, and environmental design majors signed up.
I inspired the entrants with less-is-more design wisdom I had curated over the years: industrial designer Dieter Rams's advice: "Less, but better"; a TED talk by the peerless chemist George Whitesides, in which he says we need to respect simplicity, and stop dismissing it with the same "we know it when we see it" logic we use for pornography; and even a bit by the late comedian George Carlin, in which he shares his philosophy on house design: "If you didn't have so much stuff, you wouldn't need a house . . . A house is just a pile of stuff with a cover on it." At the culmination of the three-month competition, entrants presented their proposals to a general contractor, Monica, me, and Ezra, who was partial to those who regifted cookies.
The students came up with clever designs. A sophomore found unused vertical space and used it to add a lofted area in Ezra's bedroom. A junior changed the grading of the backyard to provide outside access to the basement, turning it into a viable living space. A graduate student pair reconfigured the entire interior floor plan.
And yet—none had actually subtracted. Our competition theme had inspired economy of space, but not less of it.
As Monica worried you would learn, the professor was even worse than the students at taking away. A five-room, two-story, nine-hundred-square-foot addition now extends from the rear of what had been a little Cape Cod.
There are interwoven psychological, biological, and cultural forces behind why we neglect subtraction.
Sure, adding improved our home: we have nice new space, the first story of which serves as a cover for Ezra's Legos. But we never got to see if our home would be improved by subtraction as well.
There are interwoven psychological, biological, and cultural forces behind why we neglect subtraction, as we've seen. But none could fully explain my addition. The design competition entrants and I had certainly thought of subtraction. It was the theme of my whole contest. Yet I, a behaviorally modern human, suppressing my instinct to add and resisting outside pressures, failed to subtract.
To explain this choice, we have to consider one last force against less: the economy. For our home renovation, the sticking point was the fact that a home's value increases with total square footage. Entrants in our design competition could not figure out a way past this financial reality, and neither could I. Spending money without adding square footage would have been a risky investment. Spending money to get rid of existing square footage was preposterous. Less space was as absurd as negative numbers were for Ben's son and for Blaise Pascal. Someone else could be the home-subtraction pioneer.
This idea of adding square footage to grow personal wealth is relatively new. While humans have always had instincts to add, and our ancestors' cultures of more turned into us, modern economies overlay their own logic on how we build, how we think, and how we spend our precious time. So just as we have probed biological and cultural roots of our adding, we need to probe the economic forces that contribute to its overuse. And to appreciate this relatively new pull toward more, we need to understand its origins.
*
On January 20, 1949, more than a million people converged on the Mall in Washington, DC, for President Harry Truman's inaugural address. Federal employees had the day off to attend. It was the first televised inaugural, so those who watched in person were joined by hundreds of millions more across the United States and beyond. Truman's twenty-minute address aired on every television network and was beamed into school classrooms. The video was translated and shared worldwide. The world watched, listened to, read about, and discussed his words.
Everyone in Truman's audience had been touched by World War II. My grandmother Mimi considers herself among the fortunate ones. She was one of the few women to attend college in that era, at the University of New Hampshire. After the Japanese bombed Pearl Harbor, she was called in by the dean. He told her that math teachers were desperately needed to fill teaching roles vacated by servicemen. Mimi majored in math, and though she had a semester of courses left, her professors had determined that she was ready to teach. After writing a paper to satisfy a stickler sociology professor, Mimi earned her college diploma a semester early. In 1942, instead of partaking in the spring semester of her senior year, Mimi was shipped off to rural western Massachusetts, where she taught math and lived by herself.
That same year, her fiancé, John, left to serve his country and never came back. When it was all said and done, he would be joined by three percent of the world's population.
By Truman's inaugural, then, people were fed up with world wars, and he spent the first part of his address echoing the prevailing wisdom that Communism posed the greatest threat of another one. Against this backdrop, his first three points were expected. The United States would do all that it could to support the newly formed United Nations, war recovery, and a military alliance between North America and Europe.
Truman's fourth and final point was the surprise. As he put it: "Our aim should be to help the free peoples of the world, through their own efforts, . . . to lighten their burdens."
This was an unprecedented goal for the United States, or for any other nation. Truman was declaring that one way to prevent future conflict was to care for people beyond national boundaries. That must have sounded good to Mimi. She certainly cared for all people. Plus, she was just seven years removed from losing her fiancé. Her new husband worked in defense, and she would have draft-eligible sons before she knew it.
When Truman set this new goal on the world's biggest stage, there was no consensus on how to achieve it. How would we "lighten burdens of the free peoples of the world"? He gave a bit more detail on how he hoped it would go: the United States would help free people help themselves, with "more food, more clothing, more materials for housing, and more mechanical power."
There's a fancy name for this kind of statement. It's called an anaphora, one of the oldest rhetorical tools. An anaphora is made by repeating the same word or phrase at the beginning of successive clauses, for emphasis. Whitman used anaphora to emphasize multitudes in "Song of Myself ":
Have you reckon'd a thousand acres much? have you reckon'd the earth much?
Have you practis'd so long to learn to read?
Have you felt so proud to get at the meaning of poems?
By repeating "have you," Whitman drew attention to the self. By repeating "more," Truman emphasized adding.
Truman's anaphora of more signaled the United States' postwar goals. As he went on: "Greater production is the key to prosperity and peace."
At the time, there was no greater compliment that could be bestowed upon a social goal. Greater production was how my grandmother's husband and sons would avoid the fate of her fiancé.
Looking back now, it's easy to overlook the significance of Truman's call for more for all. Remember, though, that throughout history, most upstanding citizens—whether at Potbelly Hill, Rome, or Coba—were not in the business of adding wealth. Entrepreneurial traders and merchants could even be social outcasts, or worse. (Just look up usurers in the Bible.) Sure, there were oligarchs, feudal lords, and icons of excess like Nero or Marie Antoinette. But most people weren't pursuing economic more.
Truman's televised decree marked a tipping point for an idea that had been gaining steam since the 1700s, when the economic philosopher Adam Smith argued that growth was the fairest way to improve situations for as many people as possible. Without economic growth, most people had no chance to satisfy what Smith considered a natural desire to better our lives: not the laborers who made sun-dried bricks in Mesopotamia, not the Jewish prisoners forced to build Rome's Colosseum, and not the slaves who quarried rock for the Washington Monument.
By 1949, reality had reinforced Smith's ideas about more. Even with the setbacks of world wars, the economic growth brought by the Industrial Revolution had advanced living standards for many. Making a similar point in the opposite way, high-profile programs meant to help people by stifling growth had been spectacular failures. During the Great Depression that preceded World War II, farmers were paid not to harvest their cotton and not to take their slaughtered pigs to market. The hope was that reducing supply would drive up prices.
No such luck. The Depression worsened. At its depth, one in four workers in the United States was unemployed, national income was cut in half, and there were widespread food shortages, no thanks to those wasted pigs. Mimi, who again considered herself fortunate, shared her shoes and her dinner with her twin sister. Things weren't any better elsewhere in the world, which created an opening for Nazis and other fascists.
The failed anti-more programs during the global Depression were fodder for the economist John Maynard Keynes, who, building on Smith's ideas, was overturning the long-standing notion that adding wealth was immoral. Keynes argued that individual consumption was the path to collective prosperity. If more people buy shoes, then companies grow to meet this demand, which creates better-paying jobs for more people, which means more people have more money to spend on shoes, and so on.
In the Depression, Keynes explained, this virtuous adding cycle had turned vicious. People responded to having less money by spending less, which, while logical on an individual level, also shrank the overall economy, which meant that people had even less money to spend. When this global economic crisis led into World War II, the nations involved were eventually forced to spend money on military growth, which broke the vicious cycle.
After the war, Keynes's ideas about individual adding for the collective good began to infuse government policies in Europe and in the United States. Truman's inaugural, then, canonized a patriotic duty to consume and took this same thinking global. The United States backed a system in which everyone could—and should—pursue dreams of economic wealth. More was now a moral objective, the key to peace.
In the aftermath of Truman's inaugural, Brazil, India, Egypt, and Mexico were among the nations that embraced rapid economic adding. If a nation wanted to be part of international trade and finance, they had to commit to growing their economies. Growth was the mandate from the International Monetary Fund and the World Bank, new organizations set up to ease burdens through "more food, more clothing, more materials for housing, and more mechanical power."
There were well-founded and now-familiar counterpoints to this new more-ality: worry that too much growth would concentrate wealth among too few, warnings that endless expansion on a finite planet was physically impossible. But at the time, and for the people to whom Truman was speaking, the way to lighten burdens was through more. For a farmer in India, or Algeria, or in western Massachusetts, more production did, on balance, promise peace. My grandmother bought in, and her four children, seven grandchildren, and thirteen great-grandchildren have so far been spared the horrors of another world war.
It's not just my family; the ideas in Truman's anaphora of more have allowed more people to enjoy life on earth. It took all of history for the human population to grow to the roughly 2.5 billion people alive in 1949. It then took about seventy years to triple that number. Even with three times as many people, global per capita income also grew from around $3,000 per year in 1950 to around $14,500 in 2016. Global life expectancies have risen from forty-eight in 1950 to over seventy today. Around 55 percent of people over the age of fifteen could read in 1950; today, more than 85 percent can. Billions still live in dire poverty, but billions more have choices and opportunities that Mimi did not.
Still. We've learned from evolution and from Maya Lin that it's add and subtract. Just because more has made things better, doesn't mean that less cannot.
__________________________________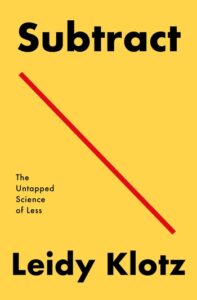 Excerpted from Subtract by Leidy Klotz. Copyright (c) 2021 by the author and reprinted by permission of Flatiron Books.
---