A History of the Future: Billy-Ray Belcourt, Shayla Lawson, and Meredith Talusan
Questions (and Answers) From the First Kimpton Hotels Book Club and Lending Program
In a partnership with Kimpton Hotels & Restaurants Lit Hub is curating a book club and lending program for travelers based on seasonal themes. Our summer reading list, A History of the Future: The Best in Contemporary Queer Memoir, featured three of our favorite writers, Billy-Ray Belcourt, Shayla Lawson, and Meredith Talusan.
Queer stories save lives. Even today, in the third decade of the 21st century, LGBTQ people continue to face the kind of widespread discrimination that not only jeopardizes their rights but their very well-being. What these brilliant memoirs do—suffused as they are with struggle, pain, bravery, and joy—is offer hope to those who need it most, while reminding the rest of us what matters in life: that we deserve to be who we really are, no matter what anyone else tells us.
The next Kimpton Book Club series will be announced next month.
*
Billy-Ray Belcourt, A History of My Brief Body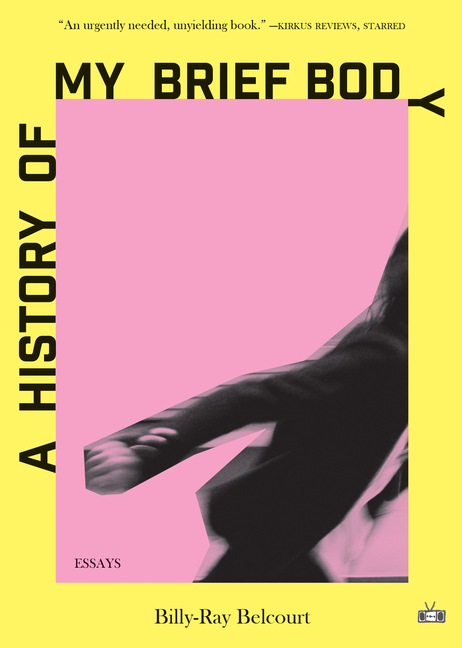 Who do you most wish would read your book?
I think the ideal reader is a queer and/or Indigenous grad student who doesn't feel housed by the institution they're in and desires a kind of writing that shifts embodied experience rather than quashes feeling. The book was a kind of experiment in melding theory, poetry, and autobiography in the service not of plot or narrative but rather freedom. I wanted to write toward freedom. This book should be read by those who've felt a similar longing.
What do you always want to talk about in interviews but never get to?
No one ever asks me about ontology.
What time of day do you write (and why)?
I do my most concentrated writing in the late evening, a time when something inside me quietens (usually, anxiety) and sentences feel like little doorways to other places and people. I say hello to past lovers, relatives, strangers.
How do you tackle writers block?
If I'm feeling blocked, it's usually because I've been confronted by a problem of form or narrative or image-making. I've come up against something mysterious and impenetrable. Sometimes that means I take a break; sometimes it means I go deeper into the mystery, writing into or against or around or above it. Sometimes I call my sister and she talks to me about her son and daughter, all of whom I love deeply, and that reminds me of what's at stake.
Which book(s) do you return to again and again?
Ocean Vuong's books—there are little anchors everywhere in his writing. I flip through any of Dionne Brand's books when I want to be reminded of what liberatory writing looks and feels like. Clarice Lispector's Agua Viva is like a collage of poetic and philosophical meditations that always gets my own poetic-philosophical impulses vibrating.
Which non-literary piece of culture—film, tv show, painting, song—could you not imagine your life without?
I haven't stopped listening to "Love Me Like You Hate Me" by Rainsford since I first heard it. "Drag Race," for its queer of color joy. "Lilting" is one of the films I've rewatched the most (hashtag melancholic gay hours).
What's the best writing advice you've ever received?
https://www.poetryfoundation.org/poetrymagazine/poems/154658/fuck-your-lecture-on-craft-my-people-are-dying.
What was the first book you fell in love with (why)?
I remember reading Maria Campbell's Halfbreed in my bed over one weekend in my first-ever apartment. I had sticky tabs jutting out of the book everywhere. Her story of Metis life and politics and also Canadian racism struck a chord I was not used to having struck.
Name a classic you feel guilty about never having read (why)?
Leslie Marmon Silko's Ceremony, though it's in my TBR pile!
Is there a book you wish you had written (and why)?
I can only write the weird, intense queer NDN books that I write, so no.
You've written a lot about the idea of queer and First Nations identity within a particular framework of "western" masculinity. Has your sense of those identities—which can exist in parallel and in contradiction—changed much since the publication of A History of My Brief Body? Has sharing yourself so intimately with the wider world changed your sense of who you are?
Why I'm interested in writing about masculinity is because colonialism works in part by imposing a set of gender norms in Indigenous communities that run counter to older ethical tenants. In the book, I argue that feminist parenting in a decolonial register requires the interrogation of these norms. How have property and possessorship structured gendered relations? In my mind, decolonization entails adopting a view of gender as vast, expansive, non-biologically essentialist, queer, trans, unfixed. I identify as a Cree man only insofar as "man" is something I can rework and subvert and allow for something unknowable and queer. I feel both disinterested in and wounded by what the category of man traditionally and colonially connotes. And so I suspect I won't always be bound to it.
You've talked about joy as a part of any "ethic of resistance"—how do you maintain that in the face of the legacy of colonial oppression, a cruel history that always seems to be revealing itself?
Joy has always been an integral part of how Indigenous peoples rebel against colonial violence. Joy is a constant because our desire for freedom is constant. Freedom is a joyous desire, maybe the most joyous. That's not to say that to struggle for freedom isn't difficult and taxing and precarious; all of this is true. I want a notion of joy that is about being in our bodies freely and safely. A joy that has to do with seeing ourselves as Indigenous peoples in the future. Joy is an ethics of resistance because it keeps us from being subsumed by the terrors of the past and the present. Joy is future-oriented; it propels us into the future.
*
Shayla Lawson, This Is Major: Notes on Diana Ross, Dark Girls, and Being Dope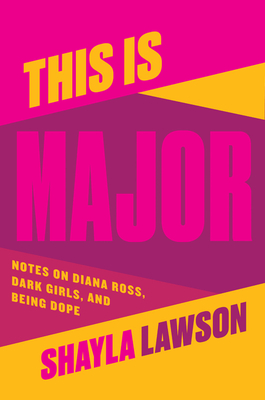 What do you always want to talk about in interviews but never get to?
How dope Diana Ross is. I'd be down for an interview that's really just a fan girl sesh.
What time of day do you write (and why)?
I'm a blue hour writer. I like to write before the suns' fully up and right before it comes fully down. I'm also a solid 7pm-and-a-wine-glass editor.
Name a classic you feel guilty about never having read (why)?
I don't feel guilty, but I want to call it out: I've never read Catcher in the Rye. I think we need to normalize leaving some classic literature behind since it's not always built for everyone in the contemporary (Franny and Zoey has real girl characters in it, and is a much better book.)
In "I Tried To Be Twitter Famous," one of the essays in This Is Major, you discuss the communal nature of Black Twitter. You write, "I am frustrated by how it has created yet another space in which black people are critiqued." In what ways has "Black Twitter" been co-opted by white people and mainstream media? How does the concept of digital blackface factor into the way Black slang and AAVE have been picked up and appropriated by brands and corporations?
We can use "Black Twitter" as an umbrella to talk about the co-opting of Black creativity by white people throughout social media. TikTok today is a great example of this. I wasn't surprised by the recent TikTok dance scandal where, when all the Black creatives went on strike, all the white influencers who've made huge careers from recycling their choreography had nothing new to contribute to its culture. Digital blackface is a bit difference. In the book, I refer to it as a "social media of Ariana Grandes" because blackface involves changing ones image to mimick a coolness white people admire in black culture (bronzed skin, "baby hair" and church rungs, for example) without crediting the source. We do see this a lot with corporations; I learned this while working in advertising. I'm a poet with and MFA who grew up in Kentucky. But I'd often work on campaigns for big brands to recreate the sound of "urban" or hip hop culture because companies recognize it's a formula that sells, they just don't want to give the original Black creators the credit they deserve for being marketable.
Over the course of your writing career, you've used music as a way to dig deeper into larger discussions of Black identity, interracial dating, and the white gaze. Your 2018 poetry collection, I Think I'm Ready to See Frank Ocean, uses the discography of Frank Ocean as a creative springboard. In This Is Major, you reference artists such as Beyonce, Nina Simone, Diana Ross, and SZA. How has music shaped your sense of self, as both an individual and a writer? How does the treatment of Black female artists reflect the way in which Black girls and women are viewed and treated in our society?
I'm a big music appreciator. Growing up, my family and friends used lines of songs as annotations for our emotions. I knew if my mom sang the first few lines of "Brick House," she was applauding my sister for looking pretty in her Sunday dress at a time when my sister felt too curvy in our white suburban neighborhood to be a proper teenager. Things like that. Using music in writing for me is a gesture to how the people within my version of Black culture talked to each other. I like to keep that going in my writing practice by tying in what our artists are saying as both lyricists and performers—how their choice of music is their particular read on what's happening in society, and often, what they'd like to see happen next. This is empowerment. The world of music is probably one of the first places where African American girls saw a catalog of women they could become that wasn't a monolith. I'd say that's true of most Americans, actually—pop music has given us a lens into the people we can be. I love cracking that open on the page and letting it blossom into new creative work.
*
Meredith Talusan, Fairest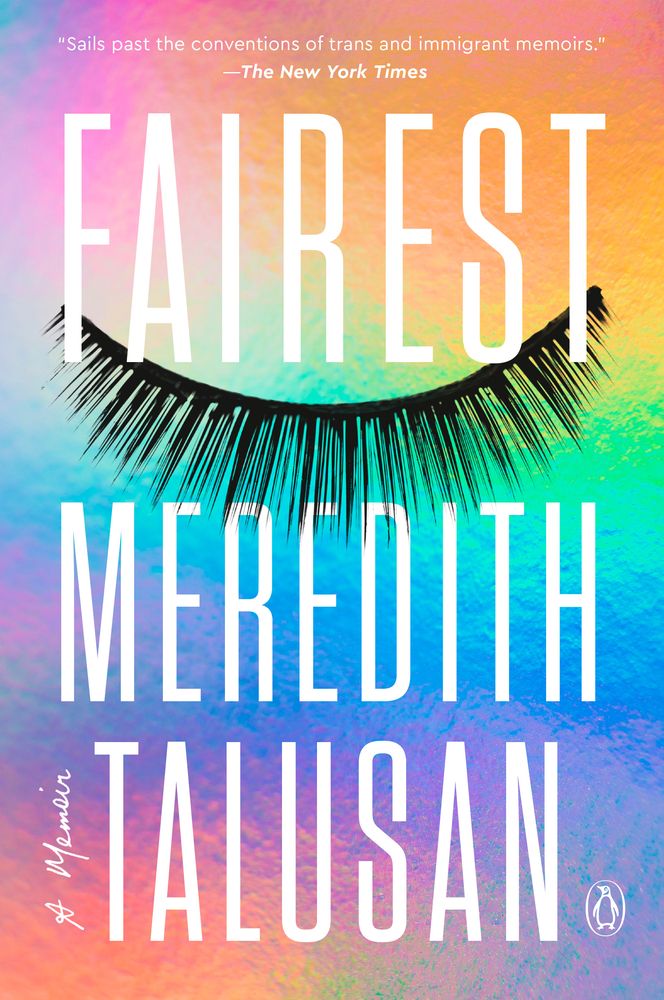 Who do you most wish would read your book?
Coming of age before social media, there are many trans folks from early transition I've lost touch with, and I dream of one or a few of them reading the book and contacting me so we can catch up.
What time of day do you write (and why)?
I've woken up with the sun to work for as long as I can remember, the side effect of growing up on a farm in the Philippines. I really love the feeling of no one else being up and about yet, especially now that my imagined community includes people online.
Name a classic you feel guilty about never having read (and why)?
One of the terrible gaps in my Eurocentric literary education is Zora Neal Hurston, who I haven't read at all, not even Their Eyes Were Watching God (I know). I could blame what was perceived as "canonical" when I was in college, but at this point I really have no excuse so I'm planning to dive into Zora as soon as possible.
Your book explores your experience navigating intersecting identities, from your relationship to race (and perceived whiteness) to gender transition and sexuality, and you've described the resulting narrative as "kaleidoscopic." How has the complexity of that narrative affected the process of selling and marketing the book within the publishing industry? Has there been pressure to flatten the story or erase elements of it, and how do you address that pressure?
There was definitely both implicit and explicit pressure for me to foreground transness over all other considerations when I was preparing to sell the book, at a time when trans issues were and still are very much a big part of the cultural conversation. I also understood that writing Fairest the way I did made it impossible to do the one-sentence elevator pitch that's supposed to be vital for a book's marketability. But my collision of identities and experiences felt too fundamental, especially because my whitepassing is so deeply tied to my understanding of gender as an illusion, so I couldn't write the book any other way. So I just continued working and eventually garnered enough trust from both the publishing industry and the public for the book to be published in the form I needed it to take.
Were there any books or personal accounts, particularly by queer writers, that you looked to as models for the craft of writing memoir?
Because my collision of experiences is so rare, I've always had to cobble models together from a bunch of places, so my list of memoir influences is extensive. The books I kept close to me while writing Fairest were Alexander Chee's How to Write an Autobiographical Novel, André Aciman's Out of Egypt, Lidia Yuknavitch's Chronology of Water, Samuel Delany's Times Square Red, Times Square Blue, Jamaica Kincaid's Lucy, and Jennifer Finney Boylan's She's Not There. I also had ongoing arguments in my head with Mary Karr.
To celebrate our partnership with Kimpton, enjoy 20% off their Best Available Rate. Cozy up in your hotel room with one of our seasonal book recommendations, or venture out on a book lovers' travel itinerary.
---