A Brief Visual History of Virginia Woolf's Book Covers
From 1919 to Today
Virginia Woolf was born 136 years ago today. It almost seems silly to write that her books are wonderful, or world-changing—but they are. I'd wager that, if you're reading this space, you knew that already. Woolf's writing has been essential reading for so long that there have been countless editions and reprints, redesigns and rebrandings, of all of her books—and not just the most famous ones, Mrs. Dalloway, To the Lighthouse, A Room of One's Own, etc., but even the deep backlist. Sometimes her books get they covers they deserve—and sometimes they don't. (The current Wordsworth Classics, for instance, are truly awful.) So below, I've dug up some of the most interesting, or at least representative. Of course, because of the onslaught of covers, this isn't anywhere close to a complete collection, and that the exact dates of particular editions are not always easy to track down, and in some cases are approximate. This is only a way to look at the general progression of the treatment her work has been given over the years—the good, the bad, and the ugly—with some fan-designed covers thrown in there for fun.
Hogarth Press Early Editions, designed by Vanessa Bell:
Many of Virginia Woolf's earliest dust jackets were designed by her older sister and fellow member of the Bloomsbury Group, the artist Vanessa Bell. "Your style is unique, because so truthful," Woolf told her when some criticized the designs, "and therefore it upsets one completely." Bell designed a total of 38 book covers for Hogarth Press, the publishing house Woolf founded with her husband.
The first edition of Orlando looked a little different:
Harcourt, Brace & World editions from the mid-1950s:
Harvest/HBJ editions from the mid-1950s:
Three miscellaneous covers from the '60s:
Penguin Modern Classics & Penguin Modern Classics Reprints, 1960s and early 1970s:
Grafton/Triad/Panther Books editions, 1970s:
Two more Harvest books (probably) from the '70s:
Two international covers from the 1980s (and one unknown):
Penguin 20th Century Classics series, from the 1990s: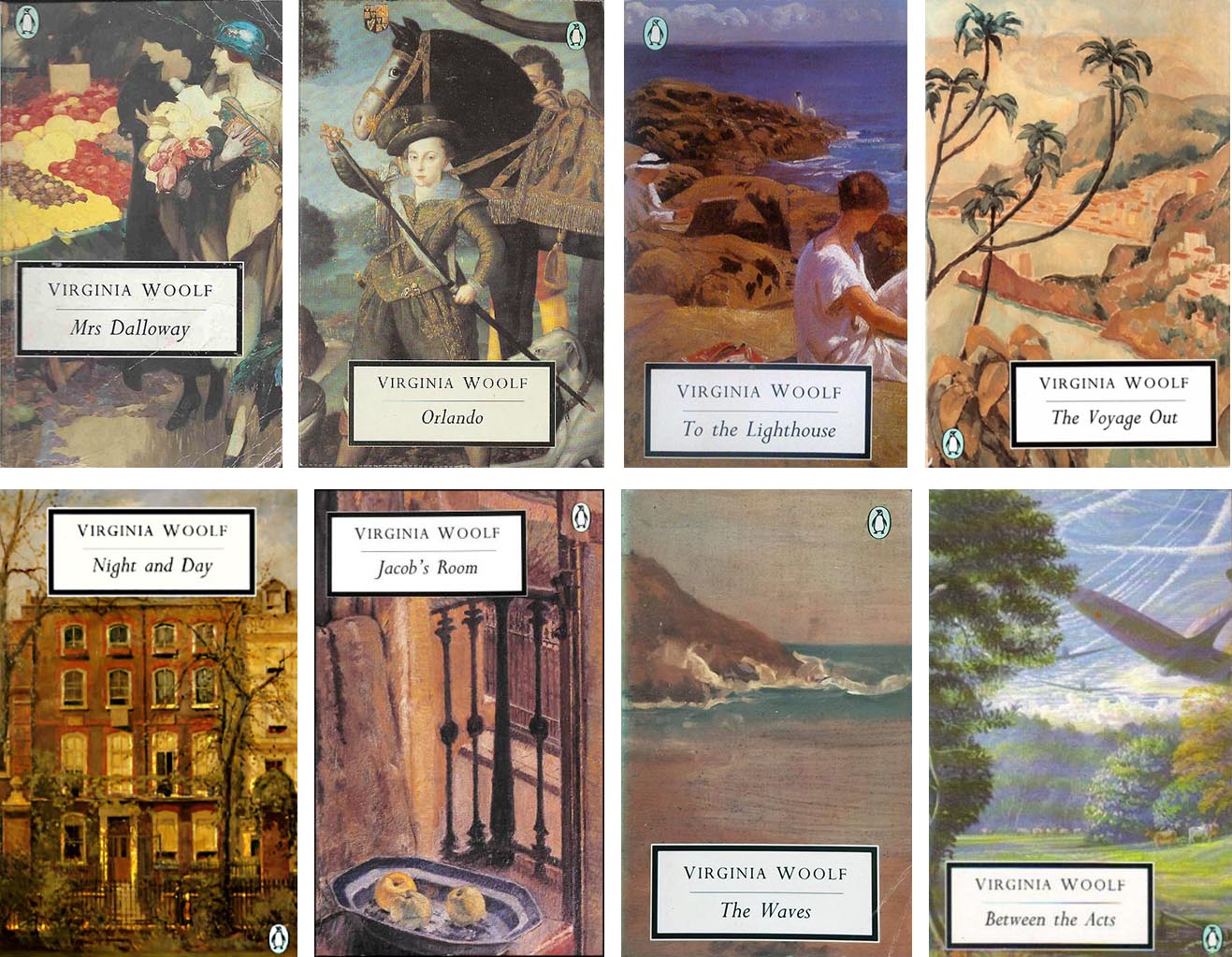 Current Wordsworth Classics editions, first released in the '90s: 
Mariner Books editions, circa 1990: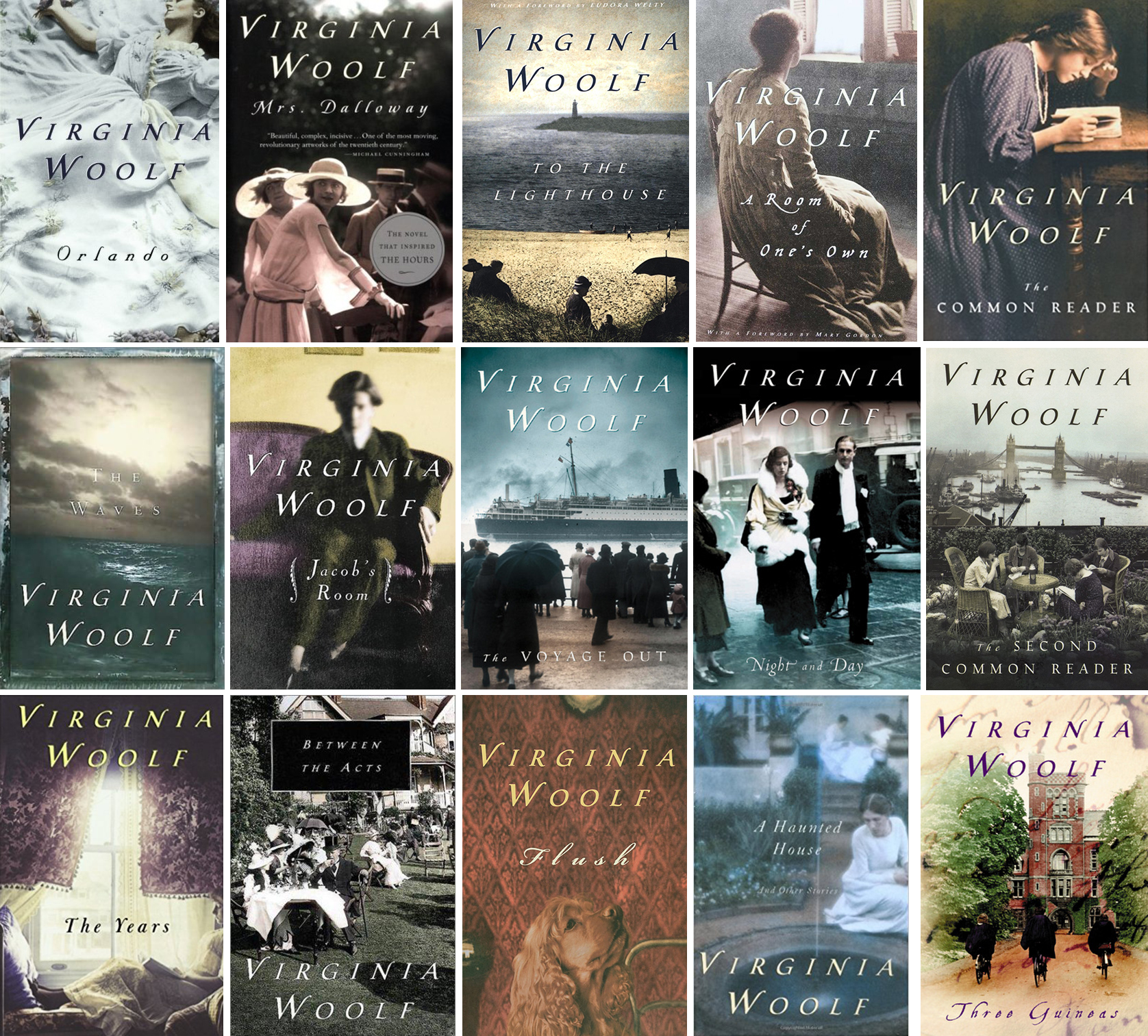 These are still being printed; they are the paperback editions I see most often today.
Vintage Classics editions, 1992-2014:
More Vintage Classics editions, circa 2004:
Penguin Books editions, designed by Angus Hyland, 2011:
In 2011, Penguin Books UK commissioned these hardcover designs from Pentagram designer Angus Hyland in 2011. The abstract painted designs are reportedly inspired by the famous textile designs of Omega Workshop—and thus of Vanessa Bell herself, the books' first designer, who was a Director of Omega and designer of many of those textiles. Some hardcore Woolf fans, however, were not impressed.
Leanne Shapton's comps and cover for Mrs. Dalloway, 2011:
Vintage Classics editions, designed by Aino-Maija Metsola, 2016:
Helsinki-based Marimekko illustrator Aino-Maija Metsola created these complementary designs for six books in Woolf's backlist for Vintage Classics UK. "Painting with water color enabled me to create pictures that suit Woolf's fluid writing," Metsola told AIGA Eye on Design. "I was interested in making pictures with strong, possibly mysterious atmospheres, pictures that captivate the viewer, but not in an obvious way. . . For Orlando, I was thinking of the great oak tree that connects the main character to his/her roots while he/she changes, and evolves through the centuries. . . For A Room of One's Own, I painted abstract characters falling. I was thinking that they could symbolize text flowing freely without restriction, like rays of sun, or rain."
But she wasn't actually that familiar with the books before she started the project, and didn't have time to read them all before her deadline. "I tried to convey something essential about the atmosphere of the books," she told Culture Trip, "but I wanted the illustrations to be rather abstract so that they are open for interpretations. With each of the Woolf covers I simply picked one little detail from each text or some visual image that started to build up in my mind. Then I started painting. . .I wish I had known Woolf's works better before starting with the covers so I was first a little nervous about the possibility of completely misunderstanding what is relevant. But I tried to view that as an interesting challenge."
Three fan-designed covers for Orlando:
Three more fan-designed covers:
Three fan-designed series treatments:
---