A Brief Political—and Personal—History of Gay Bathhouses
Rasheed Newson on Sexually Accommodating Spaces as Community Hubs, and the Moral Panics That Destroyed Them
My first experience at a gay bathhouse took place in D.C. during my junior year in college. This would have been in 1999 or 2000. I met a handsome Black man with dreadlocks in a gay bar called The Fireplace on the edge of Dupont Circle, and after a few rounds of drinks, we left to go have sex only to discover that neither of us could take the action back to where we lived. I can't recall exactly what the hold-up was on his end. He might have lived with his boyfriend… I, for sure, couldn't take him back to fool around on the top level of the bunkbed that I slept on, with a roommate snoring below, in a row house that was made available to me through Campus Housing at Georgetown University, the nation's oldest Catholic institution of higher learning.
So what to do? The man with dreadlocks said, "I know a spot." He took me to a nondescript building on 14th Street. I followed him inside, where he paid for my admission and our private room. It dawned on me that I was in a bathhouse for the first time in my life, but any misgivings I had were quieted by the liquor in my bloodstream and a singularity of purpose. I wanted to have sex with the man who brought me.
We fornicated using the lube and condom that we were given to us upon checking in. The man with dreadlocks was a fabulous kisser and his hands massaged my inner thighs as we found our rhythm. In the afterglow, he explained that he needed to leave, but I could keep the room for several more hours. Sounded good to me.
We kissed goodbye, and I roamed the rest of the bathhouse. I was curious; I was adventurous; I was popular. Only as I was leaving did I learn the name of the bathhouse: the Crew Club. I frequented the place for the rest of my years in D.C. The vibe could be less aggressive there than at gay dance clubs like Badlands or Chaos, and the entry fee was usually cheaper than a night of drinks at gay bars such as Mr. P's or Cobalt.
I also felt I could be my truest sexual self inside a bathhouse. There was no agonizing over what to wear and how it would be read by other men. I just tied the skimpy towel around my waist. There were no conversational mind games, during which I had to be witty and seductive all while signaling my sexual preferences. In the baths, we didn't need words to get our messages across. I could relax and simply be. It was exquisite. Nothing about spending time in a bathhouse felt degrading to me.
After I moved to L.A. in 2002, I became a regular at Roman Holiday's westside location in an unmarked building near the border of Culver City and Venice. If the staffer who had a crush on me was working the check-in booth, he'd buzz me in for free. Not every visit turned into an orgy that would make Caligula feel right at home. There were plenty of slow nights. One of my fondest memories was on a Wednesday evening when I and four or five other regulars were sitting around the television in the open lounge. We might have been the only customers in the bathhouse, and none of us were aroused by each other. We kept an eye on the door in case a new opportunity walked in.
Jeopardy! was playing on the television. When Alex revealed an answer, one of the men in the lounge came up with the correct question before any of the three contestants on screen. Just like that, me and the other bathhouse regulars were collective playing Jeopardy!, racing to stay ahead of the televised contestants, who were actually earning money for their answers. We were wrong, here and there, but we solved Final Jeopardy, and for half an hour, we had platonic fun.
My point is that sex was never the whole story. But, looking back over the past half century, sex has been the fixation of vocal conservatives, who never knew the genuine value of gay bathhouses, sex clubs, or porn theaters. The critics simply wanted to regulate queer sex lives and bodies.
Yet, for a long while, it was easy to underestimate the threat they posed. They were a small band of puritans railing against the seemingly unstoppable Sexual Revolution of the 1960s. What were they going to do? Turn back time? Impossible. Hard-won, liberal freedoms looked permanently secure.
So, by the late 1970s, you could roll your eyes at the opponents of gay sexual liberation as you walked into the Roman Holiday Spa in Los Angeles; or the Nob Hill Theater in San Francisco; or Man's Country in Chicago; or the Olympic Baths in Washington, D.C.; or the Ellwest Stereo Theater in Dallas; or the Gay Paree Cinema in Atlanta; or the Mineshaft in New York City. There were approximately 200 gay bathhouses and dozens of gay porn theaters operating in the United States as the seventies drew to a close.
Today, we all know that political gains are more fragile than they appear. The 1980s marked a sharp right turn, and while Ronald Reagan's election to the presidency and his subsequent administrations dominate the political history of the era, the effort to strip the LGBTQ+ community of rights and freedom was often local. Mayors passed laws, city councils approved ordinances, and school boards set policies that set back the Gay Rights movement. The anti-LGBTQ+ faction, who once seemed to be doing little more than shouting into the wind, had in fact been accumulating political power in municipal government and honing a media message that reduced their targets to caricatures in a simple narrative.
And their narrative about gay bathhouses and other places accommodating to queer sex still endures. It has become so pervasive that even many members of the LGBTQ+ community accept it as truth to this day. Here's how the distorted story goes: gay bathhouses, sex clubs, and porn theaters had no redeeming social value and were purely an outgrowth of the immoral, drug-fueled, hedonistic lifestyle of queer men, and closing these lewd dwellings during the AIDS crisis in the 1980s was the prudent decision.
In the baths, we didn't need words to get our messages across. I could relax and simply be. It was exquisite.
Let's topple these misconceptions one by one. For starters, none of the venues that allowed patrons to engage in sex needed to do more than that to validate their existences. Laundromats clean clothes. Restaurants serve food. Libraries lend out books. Providing a legitimate service is all a business must do to justify its operations, and facilitating consensual sex in a safe environment is in itself a worthy enterprise.
Nonetheless, gay bathhouses, sex clubs, and porn theaters did foster community among their members. They often served as news hubs, providing access to local and underground LGBTQ+ newspapers and magazines like D.C.'s The Washington Blade, L.A.'s ONE, or Boston's Gay Community News. In addition, many establishments sold travel directories like Guild Guide, which listed restaurants and bars across the U.S. that were hospitable to queer customers, and specialty catalogues like Vagabond, which discretely delivered "gay-themed" albums, books, and magazines. The information in these publications kept queer people informed, connected, and, without a doubt, safe from violent homophobes. And you were not going to find the Guild Guide on the news rack in your neighborhood five and dime.
Sex clubs, XXX theaters, and bathhouses also addressed a pervasive loneliness among gay men that was more than sexual. In New York City, the Continental Baths held special dinners on Christmas and New Year's, which can be tough holidays to get through alone for people estranged from their biological families. Mineshaft published a newsletter that listed events for affinity groups among its members. San Francisco's Nob Hill Theater opened its doors for Gay Rights activists to hold strategy meetings during the theater's off hours on Sunday mornings. Friendships were born and nourished within these safe havens. They were institutions worthy of respect and protection.
Here's why they didn't get either. There was a ruthless calculus to how federal, state, and city governments tended to respond to the AIDS crisis in the 1980s. At first, most political leaders seemed quite willing to stand back and silently watch the unchecked spread of a deadly virus laying waste primarily to the homosexual population. Then when spurred into action, a host of elected officials used the public health crisis as a pretense to enact measures that had long been on their political wish list—for instance, closing the gay bathhouses, sex clubs, and porn theaters, which was framed as a public health measure.
What galls me most about this chapter in our country's history is that the cynical ploy now masquerades as widely accepted fact. I've raised this topic with dozens of queer people across generations, and a staggering number consider it a matter of common knowledge that shutting down the gay bathhouses, sex clubs, and porn theaters was a necessary and effective policy under the circumstances.
In the 1980s, anti-LGBTQ+ activists succeeded in imposing their moral views on our community under the guise of public health and safety—and their bogus rationale has largely lived on as the acceptable answer in such a crisis.
To buy that line of thinking, one has to imagine that criminalizing an action automatically stops people from engaging in the action. But human nature is rarely so compliant. Once bathhouses were ordered to close in San Francisco and New York City, most notably, the men who has sex with men in those bathhouses likely found other places—the woods, a parked car, a back alley—to have sex with other men.
As public health workers argued at the time in 1980s, keeping the gay bathhouse, sex clubs, and porn theaters open would provide them with places to educate people about HIV and AIDS, to test people for HIV and AIDS, and to offer people greater access to medical treatment for HIV and AIDS. LGBTQ+ activists Harry Breaux summed up the shortsighted policy best in an interview he gave to San Francisco AIDS Foundation, "Closing the baths in 1984 was like shutting off the internet today. Our lines of communication in the war on AIDS were severed."
And a segment of our community was decimated and demonized. My purpose in underscoring the value of gay bathhouses, sex clubs, and porn theaters and in retracing the political motivations for closing so many of them down during the AIDS crisis in this essay and in my novel, My Government Means to Kill Me, isn't simply an exercise in exploring history. I'm concerned about the present and I fear for the future. In the 1980s, anti-LGBTQ+ activists succeeded in imposing their moral views on our community under the guise of public health and safety—and their bogus rationale has largely lived on as the acceptable answer in such a crisis. This is a dangerous, and often forgotten, precedent. The opposition to our community defeated us with a strategy that manipulates the levers of local government and the media better than we do. The question before us now is, Can they do it again?
_______________________________________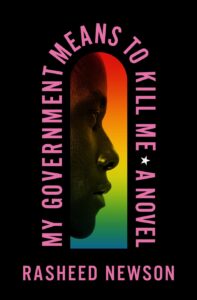 My Government Means to Kill Me by Rasheed Newson is available now via Flatiron Books. 
---