A Brief History of Phantom Islands
Why Did Oceangoing Explorers Make Up So Much Stuff?
FRAUDULENT ISLANDS
Among the multitude of non-existent islands that have appeared on maps over the past few centuries, the vast majority are the result of mistakes. They are accidental phantoms, caused by imperfect navigation, optical illusions or poor recording by mariners and cartographers. Sometimes, though, there is no accident at all. Islands are invented deliberately, often creating inordinate confusion as a result.
There were many reasons for mariners to lie about what they had discovered, especially if the chances of being found out were slim. Fame and prestige could be found by the most creative liars; the public were often eager to learn of new discoveries overseas, and a captain with a good imagination could do well. But there was money, too, to be made in this business. Investors would only support explorers if they thought it worth their while, so there was plenty to be gained by lying. Rich businessmen and politicians were also keen to be immortalized, and what better tribute could there be than an island bearing their name?
Just as it was hard to identify errors on the map, lies could take a long time to uncover, and they could cause a lot of problems in the process. In 1910, the International Date Line had to be redrawn after it was discovered that Byres Island and Morrell Island—around which it had previously diverted, northwest of Hawaii—did not actually exist. They were the inventions of Benjamin Morrell, a 19th-century sealing captain, whose reputation for fantasy was widely known in his own lifetime. Morrell's semi-fictional memoir, A Narrative of Four Voyages, included accounts of his searches for other doubtful islands, including the Auroras. And though he apparently succeeded in finding Bouvet Island—a remote speck in the South Atlantic, which many had previously thought to be a phantom—the American couldn't resist inventing a couple of his own. He was far from the only one.
*
On page five of the Literary Gazette, published in London, February 12, 1825, a brief notice gave details of a discovery in the South Pacific. Tucked between a paragraph on the use of Chinese costumes in French theatre and the announcement of an invention that allowed people to breathe while in dense smoke, were the following words:
New Island—Captain Hunter, of the merchant-vessel Donna Carmelita, is stated, in the New South Wales' Journals, to have discovered a new island in the Southern Ocean, in July last. The latitude is 15 degrees 31'S. and longitude 176 degrees 11'E.
The notice went on to explain that the crew of the Donna Carmelita "had friendly intercourse with the King and natives," who, it stated, "do not seem to differ from the South Sea Islanders, already known to navigators."
As it happened, the Literary Gazette was out of date. The discovery of Onaseuse, as it was called, had in fact been made two years previously, on July 20, 1823. The journal's brief outline of the story also failed even to hint at the extraordinary level of detail about the island and its inhabitants with which Captain Hunter had furnished the world's media.
Phantom islands are rarely explored, for obvious reasons. But this one was. And the information recorded by captain and crew demonstrated beyond any doubt that Onaseuse was not a case of mistaken identity. There were no other known islands in this region (around 250 km northwest of Fiji), and certainly none that matched the descriptions given by those onboard the Donna Carmelita.
In the Asiatic Journal of May 1824, the chief officer's record of the discovery was published, together with Captain Hunter's. It explained how, in the early afternoon, the crew had landed on the island, which was "fruitful and very populous," and been met there by a group of natives. Given that they had never seen Europeans before, the locals were remarkably welcoming. One came quite willingly onboard the ship, bringing them "refreshments," including meat and plantains.
Some of the men then went ashore and were taken to meet the king of the island, who was called "Funafooah." We went without weapons, wrote the chief officer, "as it would make them have more confidence in us." He went on:
Most of them were armed with war clubs, with short round heads, some with spears from 24 to 40 feet long, afterwards I saw some much longer. A great number of women, many of whom carried two spears, as I judged for the use of the men.
Despite this abundance of weaponry, there was no sign of aggression from either side. (Though one cannot help but wonder how useful a 40-foot spear would be anyway, other than to decorate a tall tale.)
The relaxed conviviality of this first contact went on, according to the report, with the king and chief officer exchanging a variety of gifts with one another. Funafooah and his brother were presented first with white shirts, which they wore, seemingly delighted. In return, they offered "a hog, a basket of yams and bananahs and cocoa-nuts."
Next, "I made him a present of a looking glass, which seemed to surprise them greatly; it went from the King to the Queen, and from her all round, every one taking a look at it, and then touching the crown of their heads with it, that ceremony they performed with every little thing given them. He took a shell from his neck and gave it me."
While this extended ritual of gift-giving was fascinating enough, the elements of the story that aroused most interest among anthropologists were those describing the islanders' physical features. There were, for instance, the red, circular tattoos that many of the women had inscribed on their arms, and the fact that most wore shells as ornaments, and had some kind of white paste smeared on top of their hair.
But of particular interest was the observation that "all the women and men had their little fingers cut off at the second joint on the left hand, and the women had their cheek bones perforated, and the blood smeared round about an inch; I suppose the mark of beauty." This kind of self-mutilation had never been recorded anywhere else, so it was not surprising that others were keen to visit the island again, to learn more about these unusual people.
The problem was, nobody could find it. Numerous attempts were made to relocate Onaseuse throughout the 19th century, but it was never seen again. Which begs the obvious question: was it ever there in the first place?
According to the chief officer, the island "was entirely composed of lava, in some places, almost a metal," which leaves open the possibility that it may have been destroyed in a volcanic explosion, some time after that initial visit. If so, it would not be the first such disappearance in the South Pacific. But there is something not quite right about this explanation. The detail seems rather too convenient and deliberate, as though the chief officer knew, as he wrote it, that such an excuse would be necessary. As though he knew that Onaseuse was going to disappear.
The story of this island, with its warlike-yet-friendly natives, and their familiar-yet- extraordinary appearance, is suspicious. This region was well traveled by the early 19th century, and no other report of an island in this area was ever recorded. It is within the bounds of possibility that Onaseuse—or Hunter Island, as the captain renamed it—did exist. But more likely is that the captain and his crew, eager to make names for themselves, invented every last detail.
__________________________________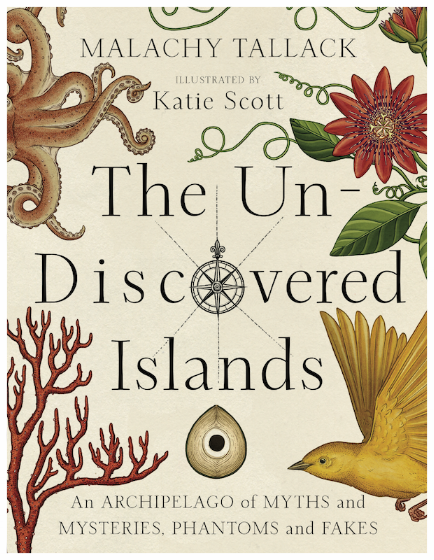 From The Undiscovered Islands, by Malachy Tallack. Courtesy Picador, copyright 2017 Malachy Tallack.
---