Happy Red Re-release Day to Swifties and non-Swifties alike! If you're not in the know, Taylor Swift is re-releasing her masters (long story made short here), and this morning at midnight, we got her version of Red—my absolute favorite album, which was totally robbed of Album of the Year at the 2013 Grammys (I will die on this hill). It's a searing, perfectly melancholic masterpiece that, one might argue, catalyzed the phenomenon of sad girl autumn. So to celebrate its re-entry into the world, and to show you how versatile Swift's lines can be—how apt they are, even out of context—I'm giving you, dear reader, something you perhaps didn't know you needed: nine books summed up with lyrics from Red.
*

Maria Stepanova's In Memory of Memory delves deep into what makes a memory: the letters, the photographs, the lingering of ordinary moments that whirl and wind into a heavy thing in the head. Following the death of her aunt, Stepanova is left to go through her apartment and, with the repository she finds, tell the story of her Jewish family in Russia. The book holds the little things up to light, examining just how relentlessly the past shines through. It's a panoramic exploration of how memories haunt us—of how, even when we don't want to, even when we think we've left things behind, we remember them "all too well."

Is this line not just a modern-day rendition of a conversation between Wuthering Heights' Heathcliff and Cathy? Toxicity, turbulence, and tenacity: the three key ingredients for an on-again-off-again relationship that seems like it will never end. And Swift and Brontë cover it all.

In Anita Brookner's Hotel du Lac, Edith Hope is cast off to a hotel in Switzerland, after her affair with a married man is revealed (hence the passion, hence the oh-so-cardinal sin). At the Hotel du Lac, she is expected to take time to think about her decisions, atone for the humiliation she has caused—both for herself and her friends—and ultimately grow up. Whether she does or not is up to you to find out, dear reader. But the thread that runs throughout the novel is one of loneliness, a deep kind of blue, that ties you to the very thing that is unravelling you. Swift would very much approve.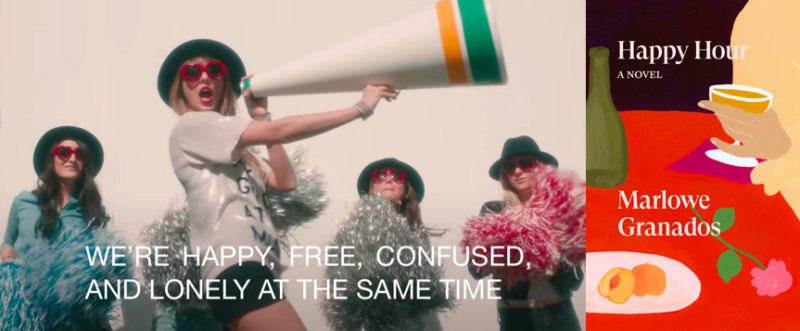 Happy Hour is about being in your 20's, being in New York, being with your friends, and being lost. In other words, you guessed it, being "happy, free, confused, and lonely at the same time."

This line just reminds me of the opening poem from Mary Oliver's Felicity. Oliver writes: "Things take the time they take. Don't / worry. / How many roads did St Augustine follow / before he became St. Augustine?" An exploration of re-entering and re-discovering love (in all forms), the book is a celebration of patience and softness, on witnessing things as they begin once again.

There's just one thing getting in the way of the Ramsays getting to the lighthouse.

Anne Carson's The Beauty of the Husband is as much a meditation on Keats' idea that beauty is truth, as much as it is a story of volatile relationship between the speaker and her husband. It follows the two when they first meet as teenagers, their marriage which is constantly marked by the husband's cheating, and their subsequent divorce. The speaker's mother knows from the very start that not much good can come out of this relationship. She, echoing Swift, warns her daughter that the boy courting her is only trouble. But alas, desire is a heady thing, and trouble has pretty eyes.

To echo an unhappy Austen reader, Pride and Prejudice is just a book about people who visit other people's houses.

Well, I mean, yeah.