50 Great Literary Cameos in Terrible* Early 2000s Movies
The Good, The Bad, The Gigli
Two years ago, in the depths of winter, I compiled this list of literary cameos in 90s movies. Now, from the depths of my pandemic-sealed apartment, I'm back to survey the books characters read in films in the first decade of the 2000s. Some of them are exactly what you think! But others may surprise you—or at least entertain while you eat your lunch in the same place where you eat all your other meals.
My thanks to The Screen Library, Real Books in Films, Cinematic Literature, and Twitter/Reddit/the internet at large for doing a lot of the legwork and screen-grabbing on these. And time being finite, I had to stop somewhere, but please drop links to any favorites that I've missed in the comments.
*Okay, I admit that some of these movies are good. But that doesn't change the fact that, on principle, all movies that came out between 2000 and 2009 are bad . . . even if they're actually delightful. (Plus, it makes a better headline.)
Love in the Time of Cholera is actually a pretty pivotal plot point in Serendipity (2001)—when Sara (Kate Beckinsale) tries to give Jonathan (John Cusack) her number, it flies off, so (being superstitious) she writes it in a copy of the Gabriel García Márquez novel and then leaves to sell it to a used bookstore. Seems like they could have just googled each other, but fine.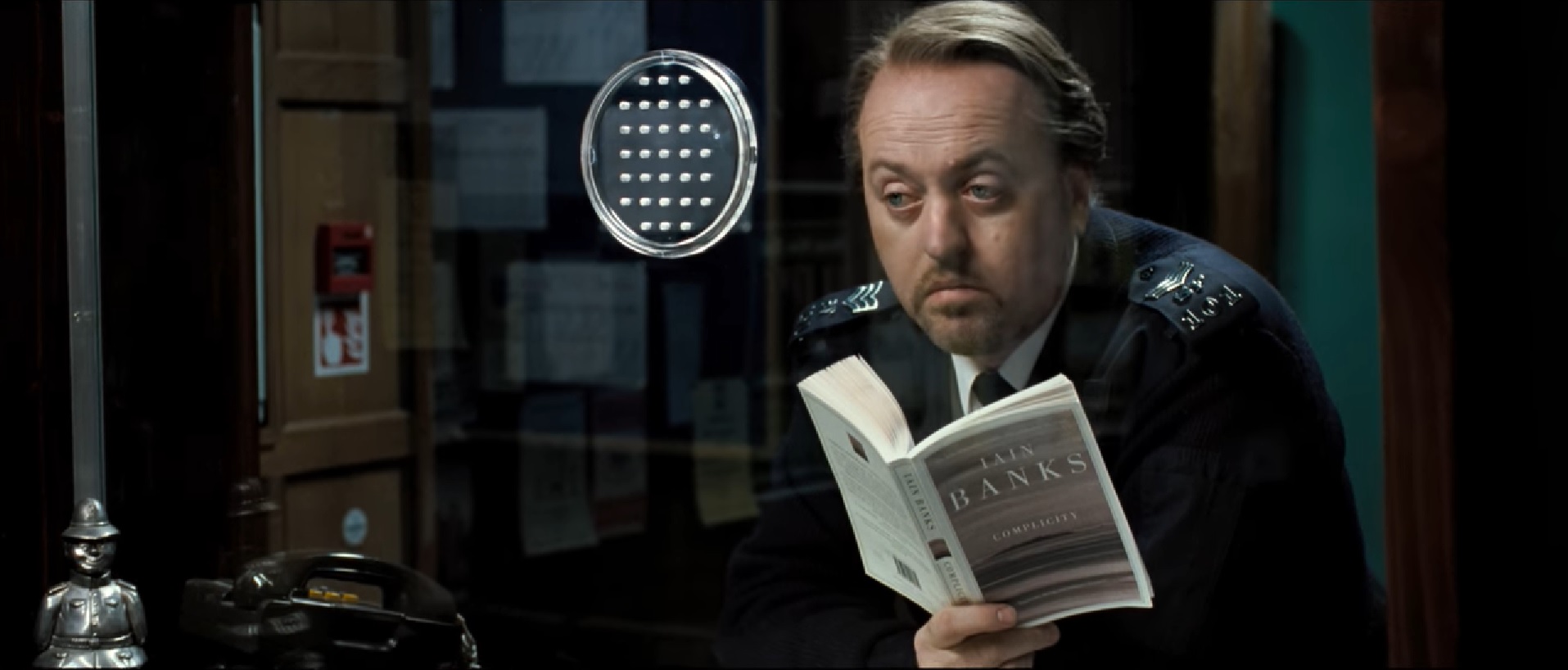 When Sergeant Angel visits the police station in Hot Fuzz (2007), the desk sergeant (Bill Bailey) is reading Complicity by Iain Banks—a novel about a serial killer on a mission to cleanse the land of the rich and powerful.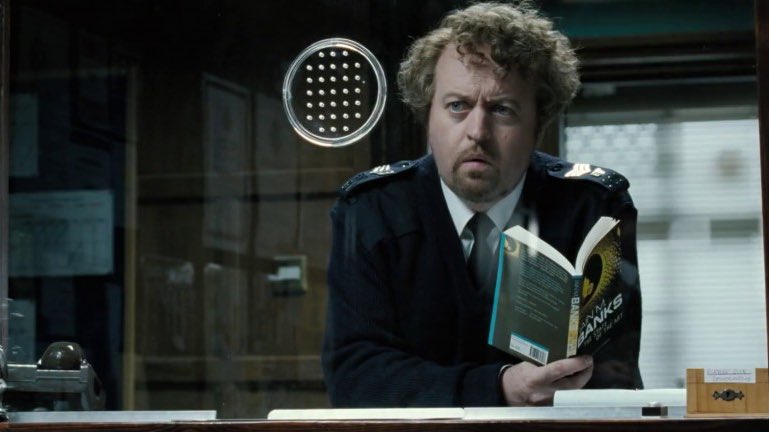 Bill Bailey also plays his own twin, who can be seen reading The State of the Art, by Iain M. Banks. Very subtly done.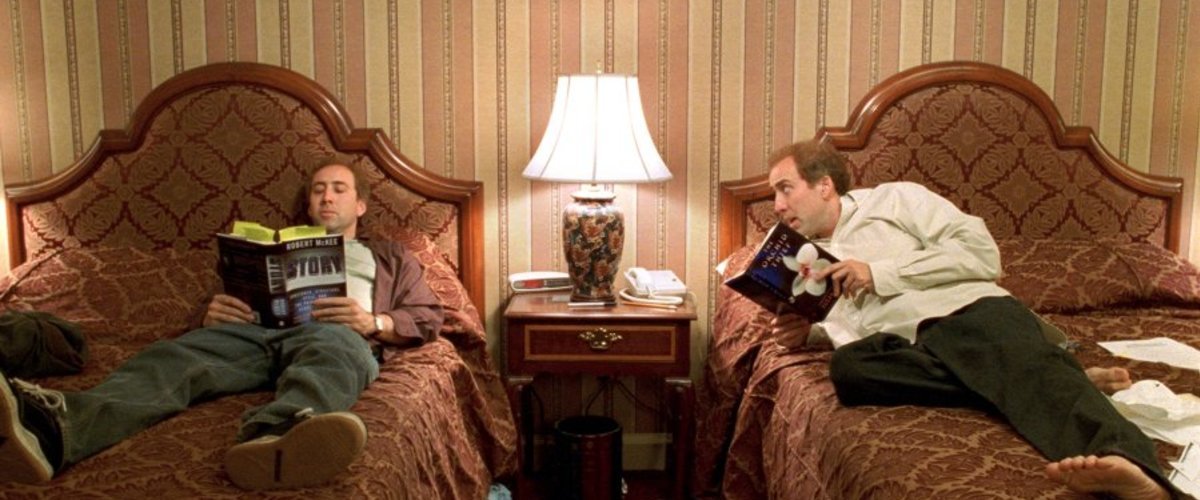 As you may know, Charlie Kaufman's Adaptation (2002) is a movie about him trying and mostly failing to adapt Susan Orlean's 1998 book The Orchid Thief. With Nicolas Cage as Kaufman (and also as Kaufman's imaginary twin) and Meryl Streep as Susan Orlean!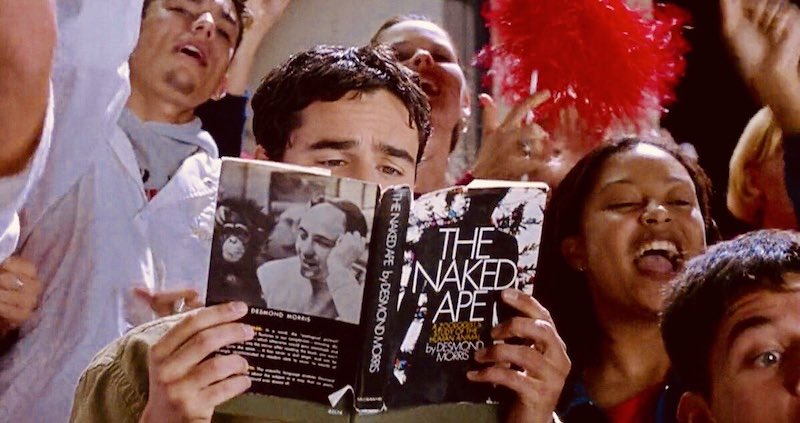 I maintain that Cliff (Jesse Bradford) would have gotten a slushie to the head for reading The Naked Ape at this event in Bring it On (2000). A zoologist's study of the human animal, indeed.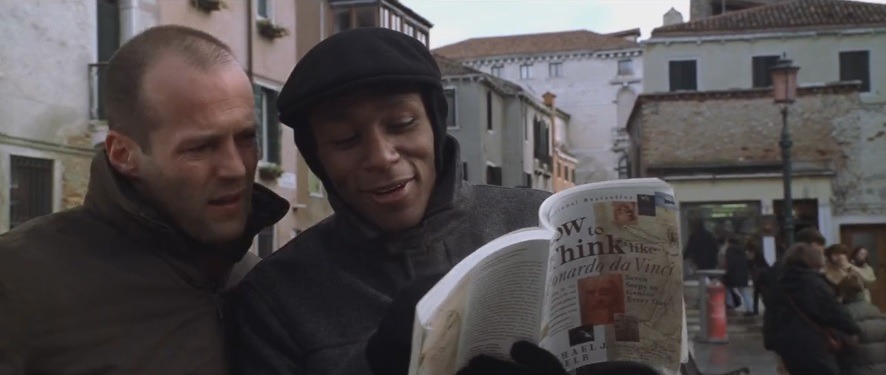 Handsome Rob (Jason Statham) and Left Ear (Mos Def) take their cues from How to Think Like Leonardo da Vinci: Seven Steps to Genius Every Day in The Italian Job (2003)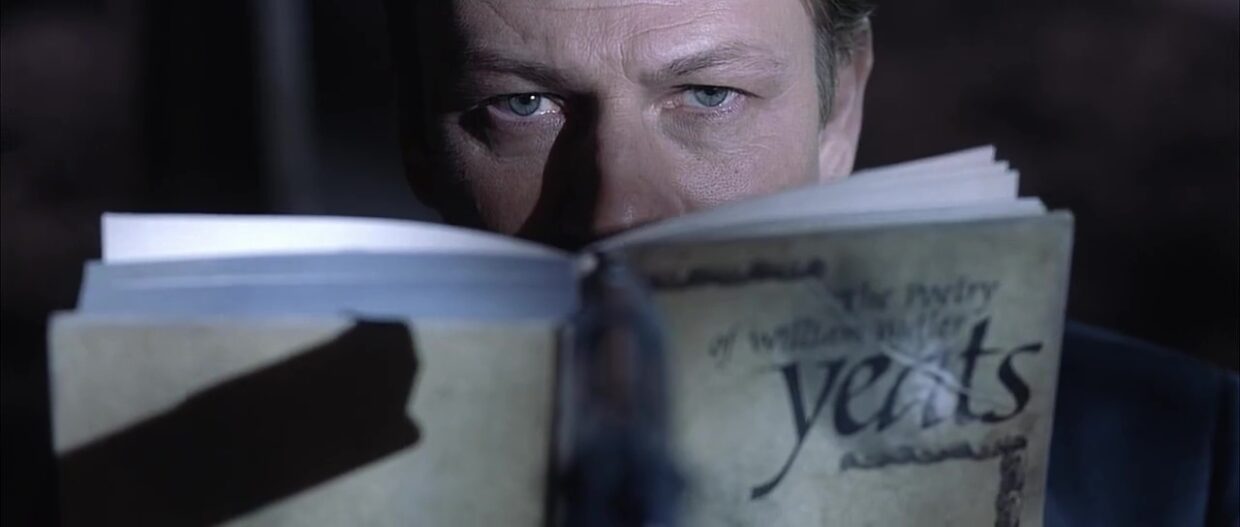 In Equilibrium (2002), Christian Bale is obliged to shoot Sean Bean right through a copy of The Collected Poetry of W.B Yeats.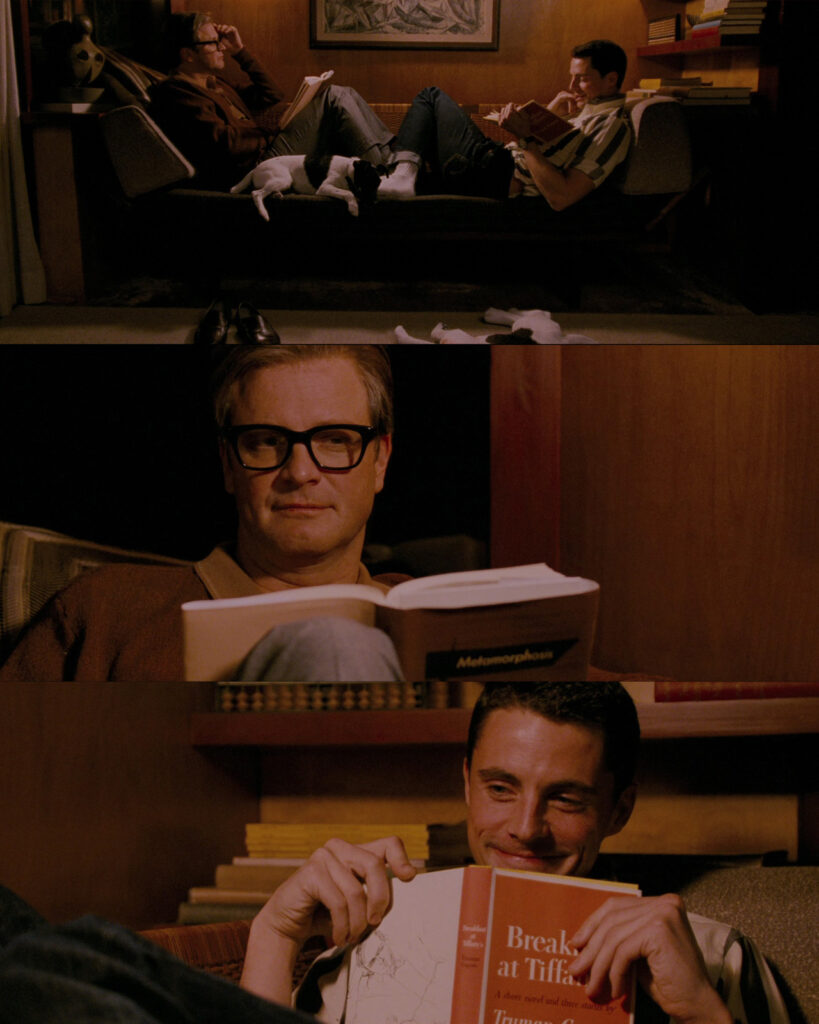 In A Single Man (2009), George (Colin Firth) and Jim (Matthew Goode) sit on the couch with their dogs, reading The Metamorphosis and Breakfast at Tiffany's respectively. Wah.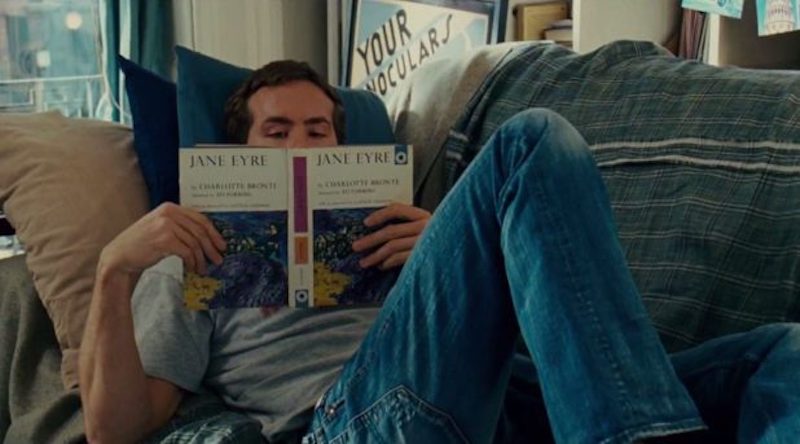 In Definitely, Maybe (2008), April collects used copies of Jane Eyre, searching for the one that her father inscribed for her just before he died. Because it's a romantic comedy, you can rest assured that Ryan Reynolds will find it for her. But only at the end!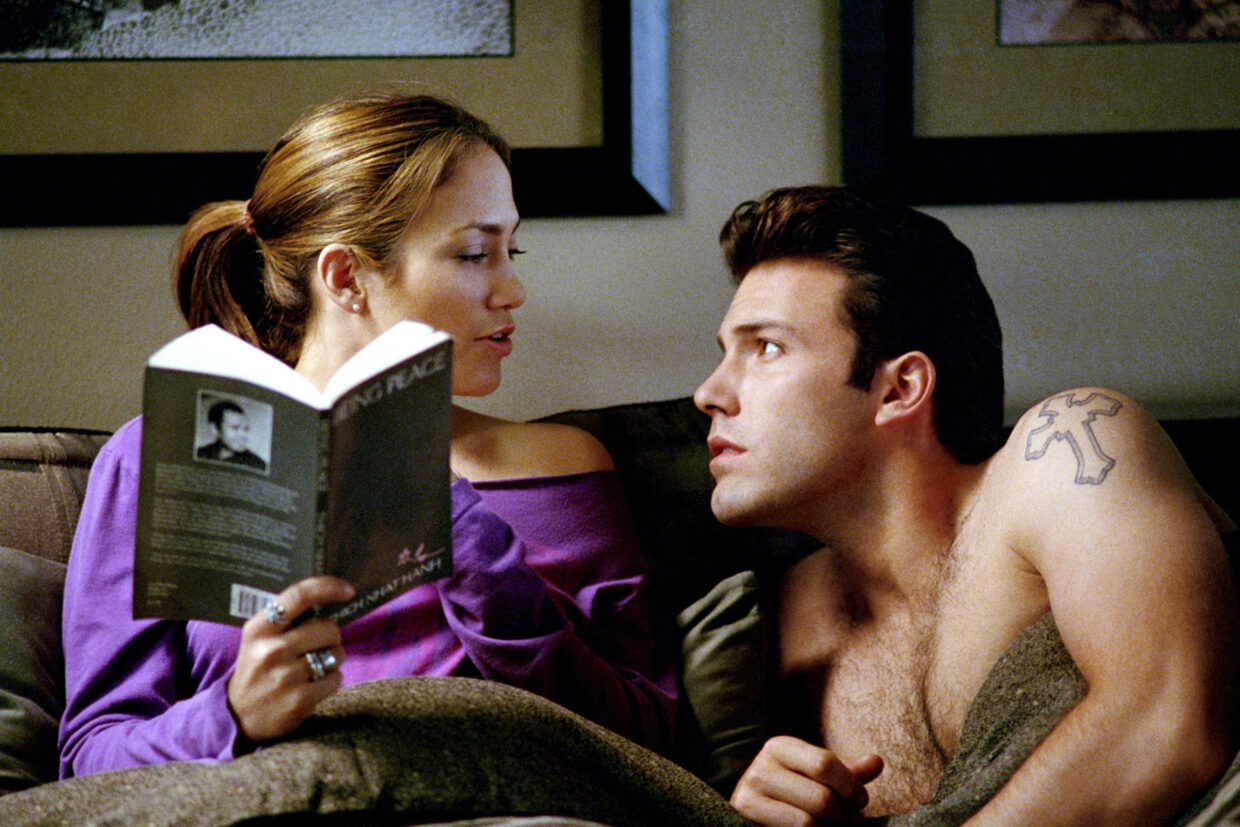 I think Jennifer Lopez spends about 50 percent of the widely adored film Gigli (2003) reading Thich Nhat Hanh's Being Peace. (So glad these kids got back together!)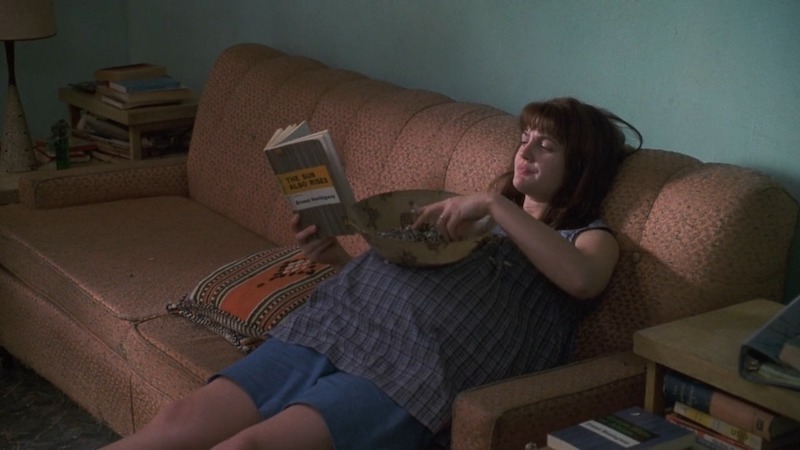 Aspiring writer Bev (Drew Barrymore) reads The Sun Also Rises in Riding in Cars With Boys (2001). She'll get her wish—the movie is based on her memoir.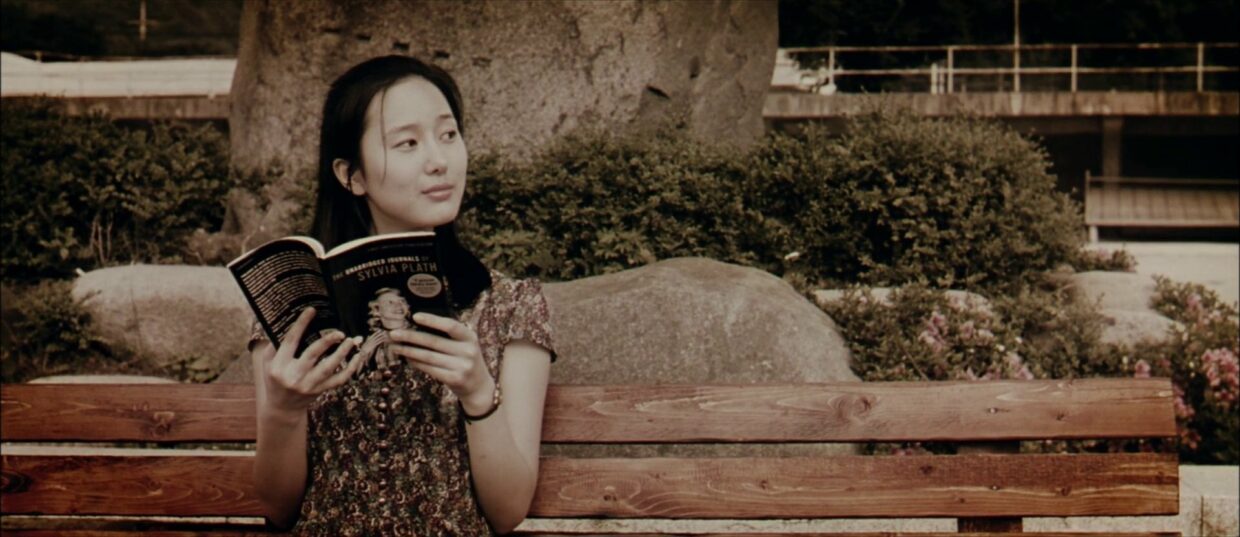 Lee Woo-jin's sister reading The Unabridged Journals of Sylvia Plath in a flashback in Park Chan-Wook's Oldboy (2003).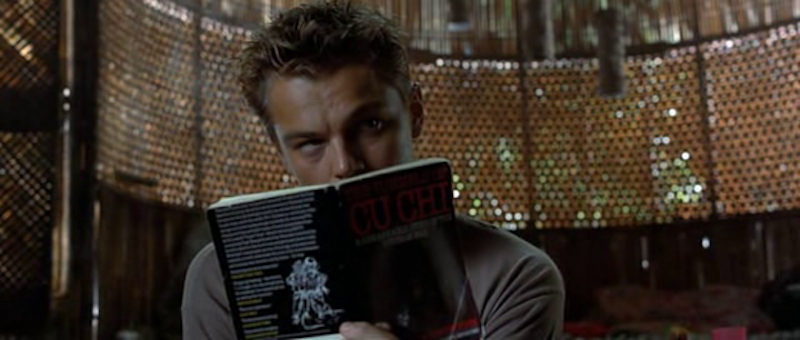 Whoever said that The Tunnels of Cu Chi: A Harrowing Account of America's Tunnel Rats in the Underground Battlefields of Vietnam wasn't beach reading? Ahem, I mean The Beach (2000) reading.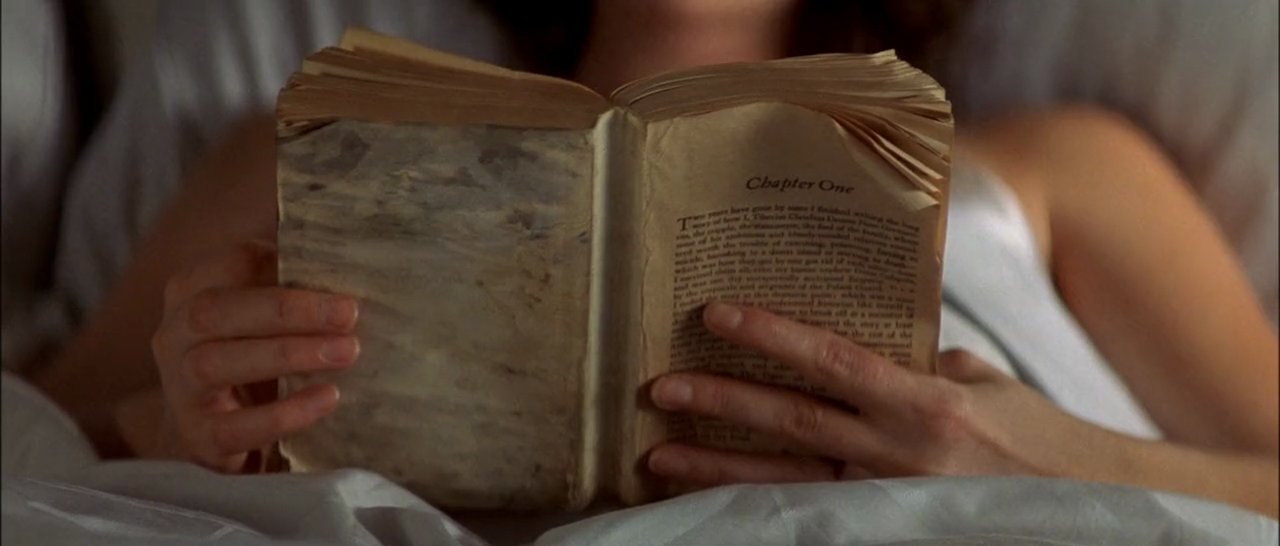 In Memento (2000), Leonard's wife Catherine has read Robert Graves's Claudius the God and His Wife Messalina so many times that the cover has worn off.
LEONARD: How can you read that again?
CATHERINE: It's good.
LEONARD: You've read it, like, a thousand times.
CATHERINE: I enjoy it.
LEONARD: I thought the pleasure of a book was in wanting to know what happens next.
Ok, Leonard.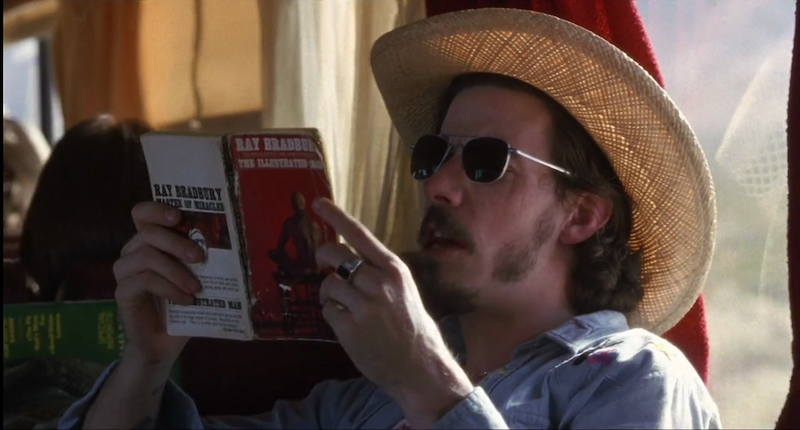 Stillwater manager Dick Roswell (Noah Taylor) reading The Illustrated Man on the tour bus in Almost Famous (2000).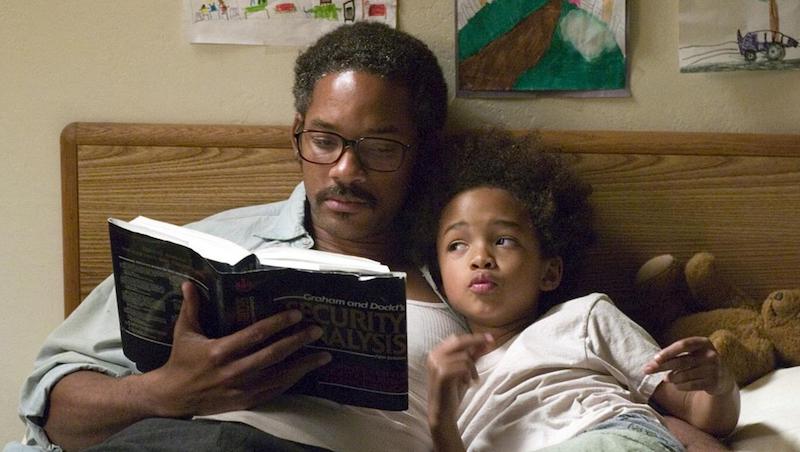 Chris Gardner (Will Smith) bones up on his Security Analysis with his son (Jaden Smith in his film debut) in The Pursuit of Happyness (2006).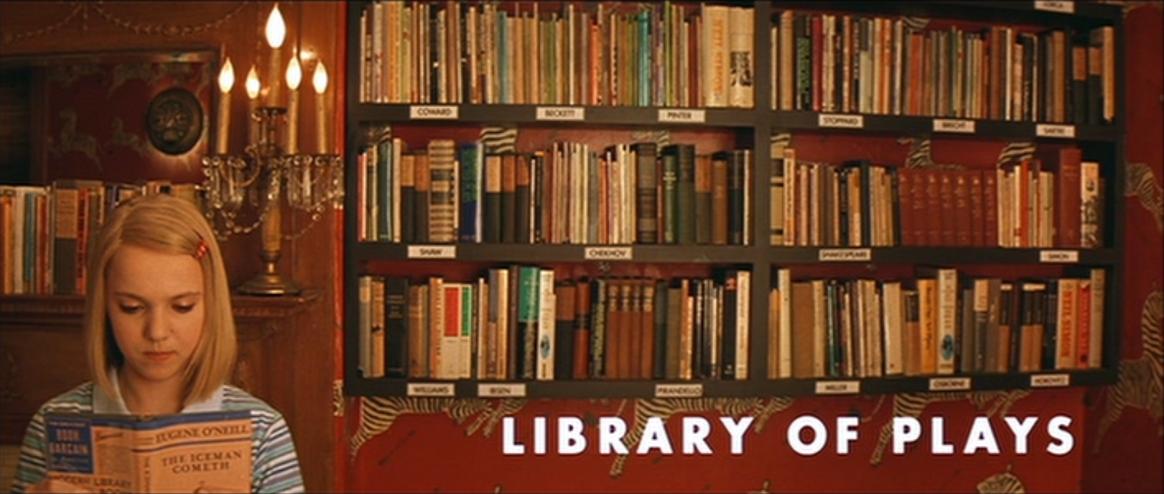 The books in Wes Anderson movies tend to be fictional, but after all, Margot Tenenbaum is adopted. In The Royal Tenenbaums (2001), she has a whole library of plays (see above), including The Iceman Cometh (see above) and The Cherry Orchard and some George Bernard Shaw.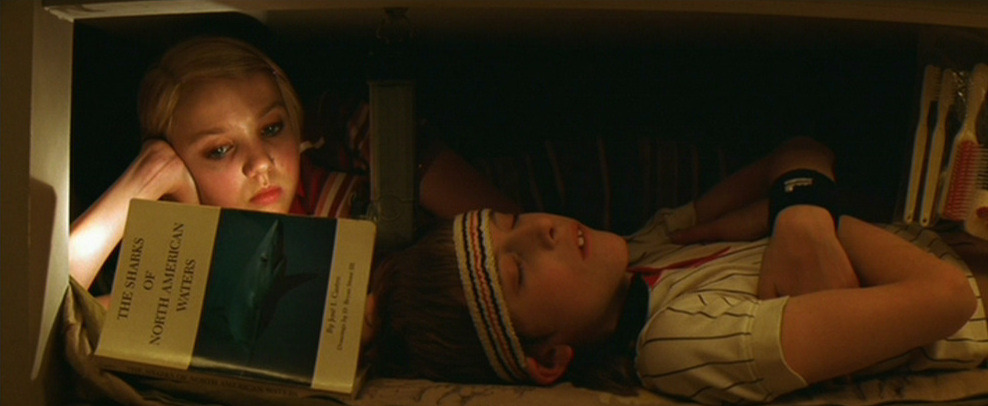 Also, of course, The Sharks of North American Waters, essential reading for any young woman.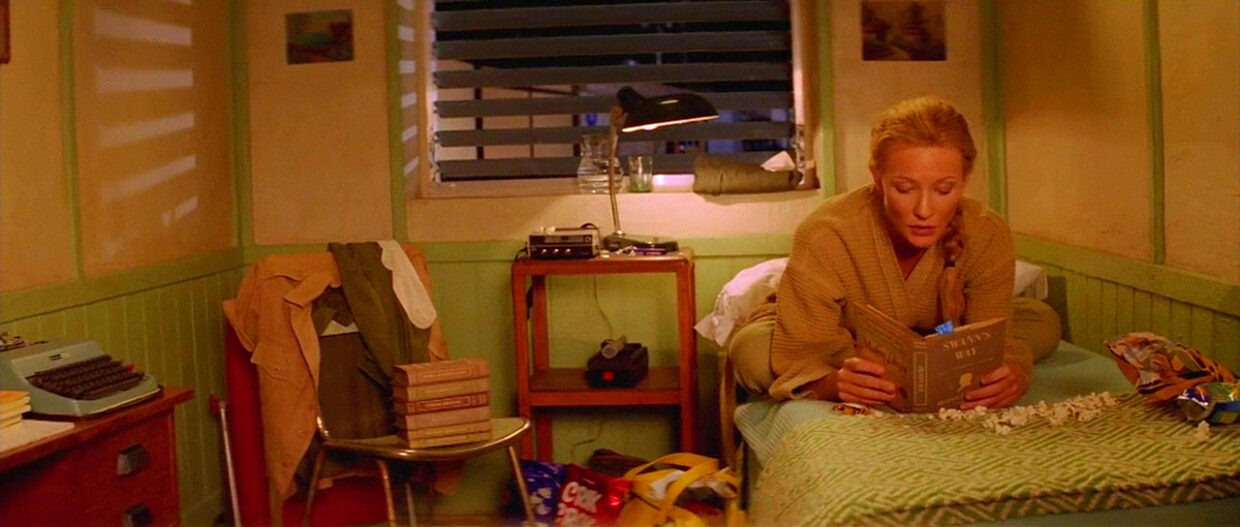 Another Wes Anderson exception: Jane (Cate Blanchett) reading Swann's Way in The Life Aquatic with Steve Zissou (2004).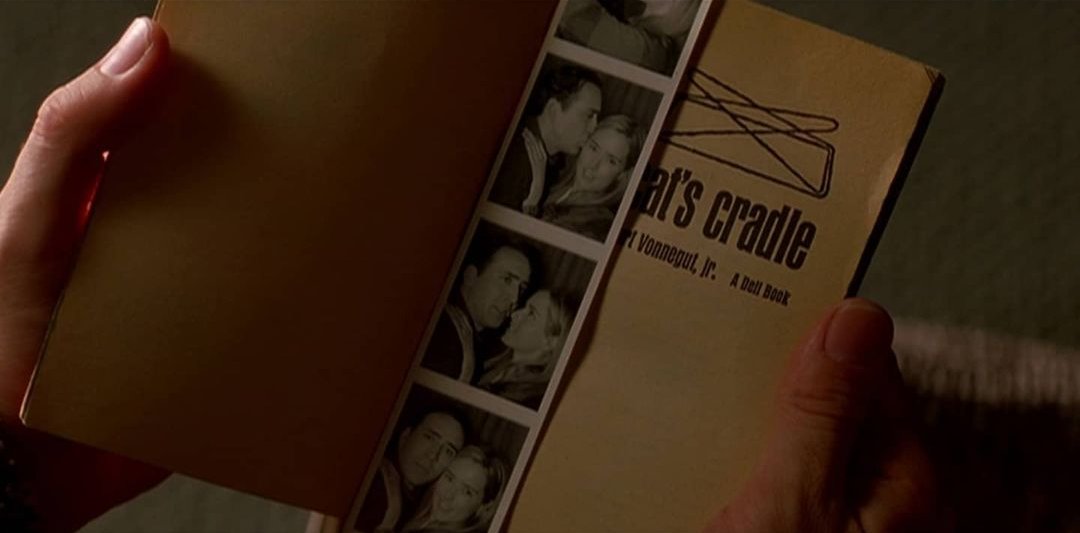 Kate (Téa Leoni) gives Jack (Nicolas Cage) a new copy of Vonnegut's Cat's Cradle in the first scene of The Family Man (2000), as he gets ready to get on a plane—though considering what happens next, Slaughterhouse-Five might have been more appropriate.
Mary McDonnell does some excellent hand acting as Donnie's mom reading a copy of Stephen King's It in Donnie Darko (2001). (A Brief History of Time and Watership Down also appear.) Unfortunately Roberta Sparrow's The Philosophy of Time Travel is not a real book. Fortunately, Attitudinal Beliefs and Cunning Visions of Love by Jim Cunningham isn't either.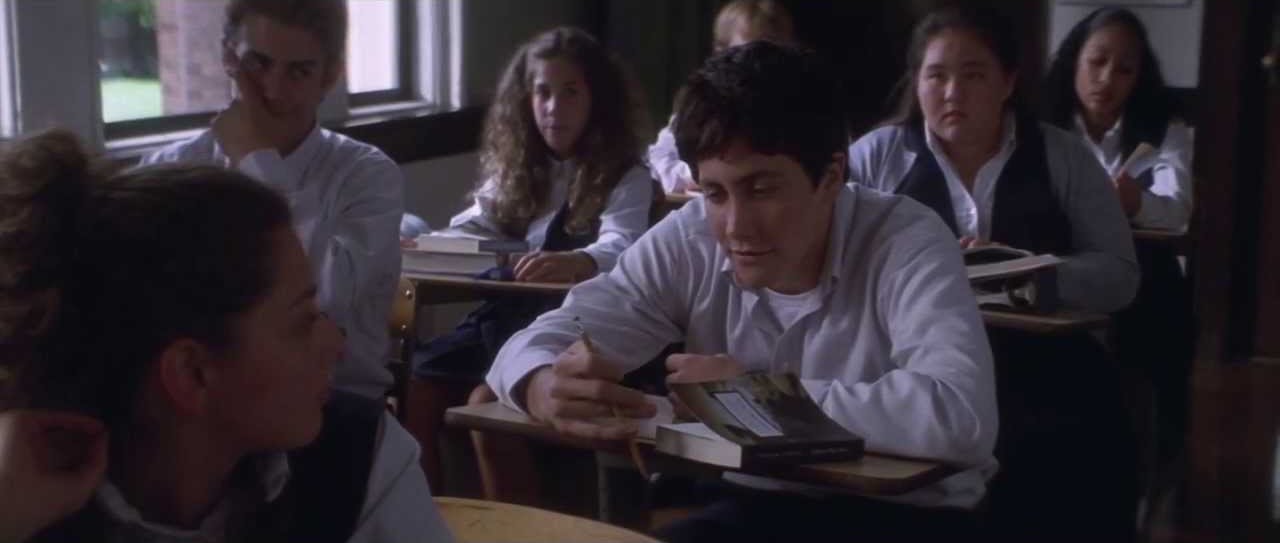 Of course Donnie himself relates to Graham Greene's "The Destructors," from what looks like an edition of Twenty One Stories.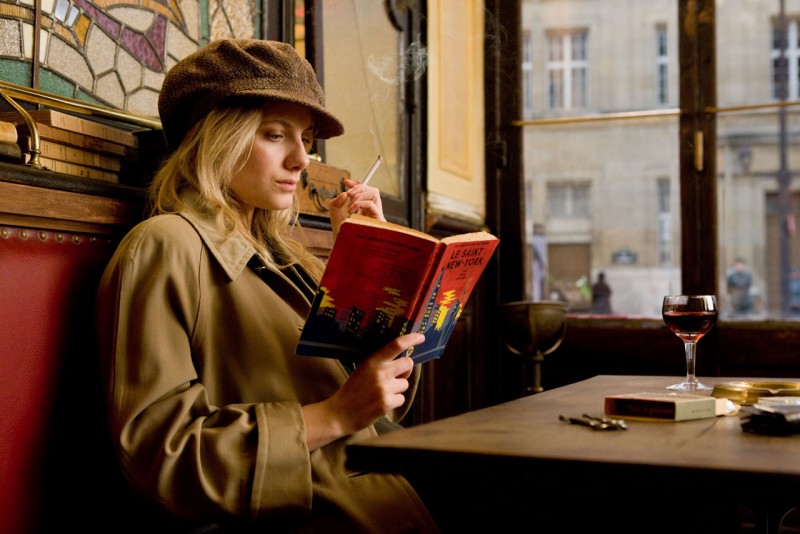 Shosanna (Mélanie Laurent) reads Leslie Charteris's The Saint in New York (the French edition, of course) in Quentin Tarantino's Inglourious Basterds (2009).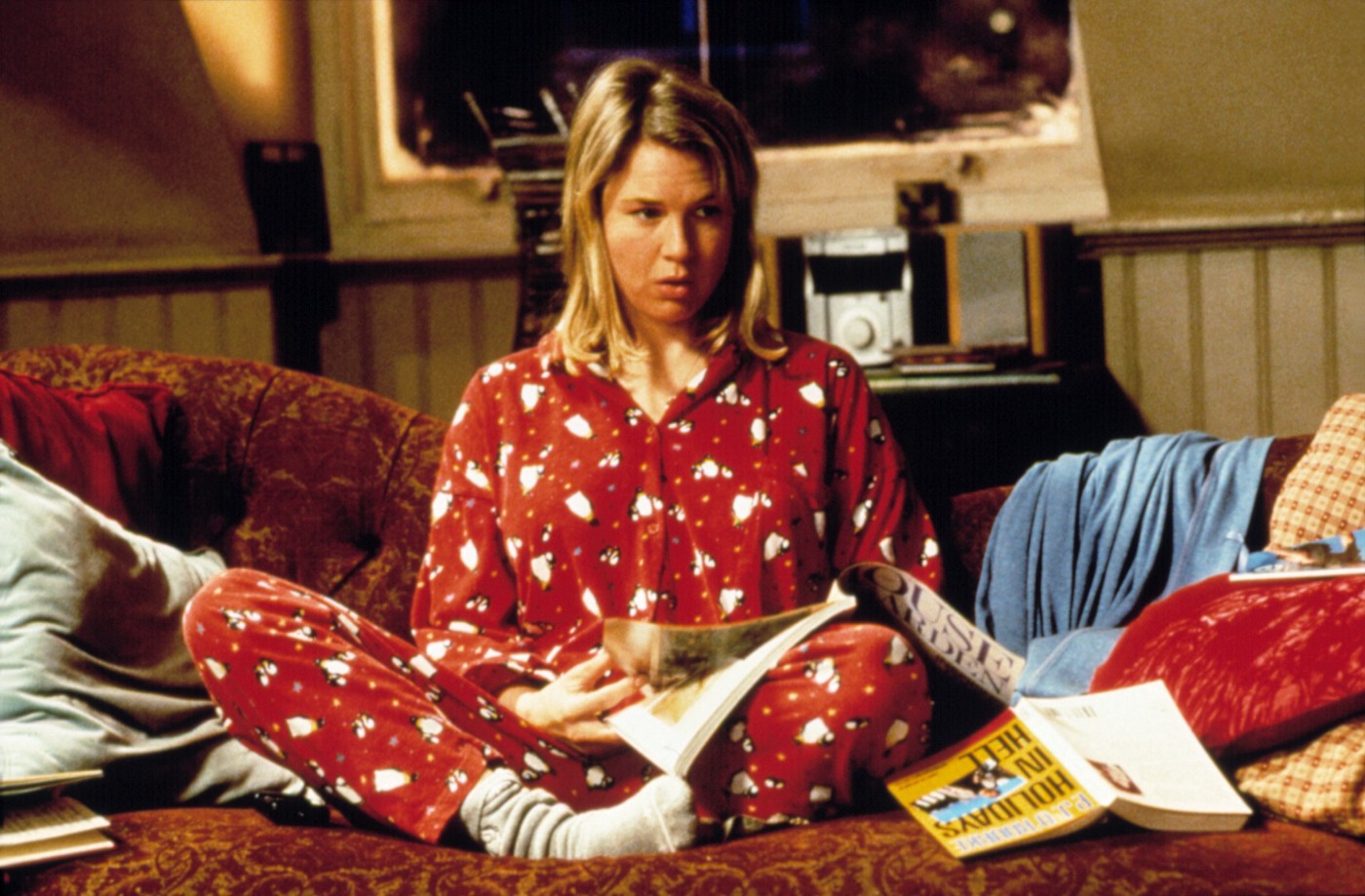 I think it's safe to say that in Bridget Jones's Diary (2001), our Bridge knows a little something about Holidays in Hell.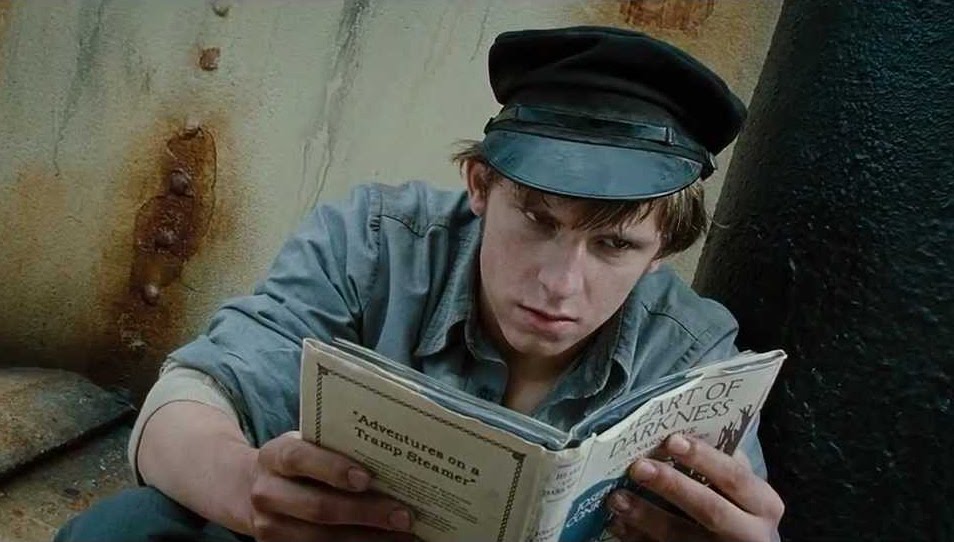 "Why does Marlow keep going up the river? Why doesn't he turn back?" Jimmy (Jamie Bell) asks the hard questions about Heart of Darkness in King Kong (2005).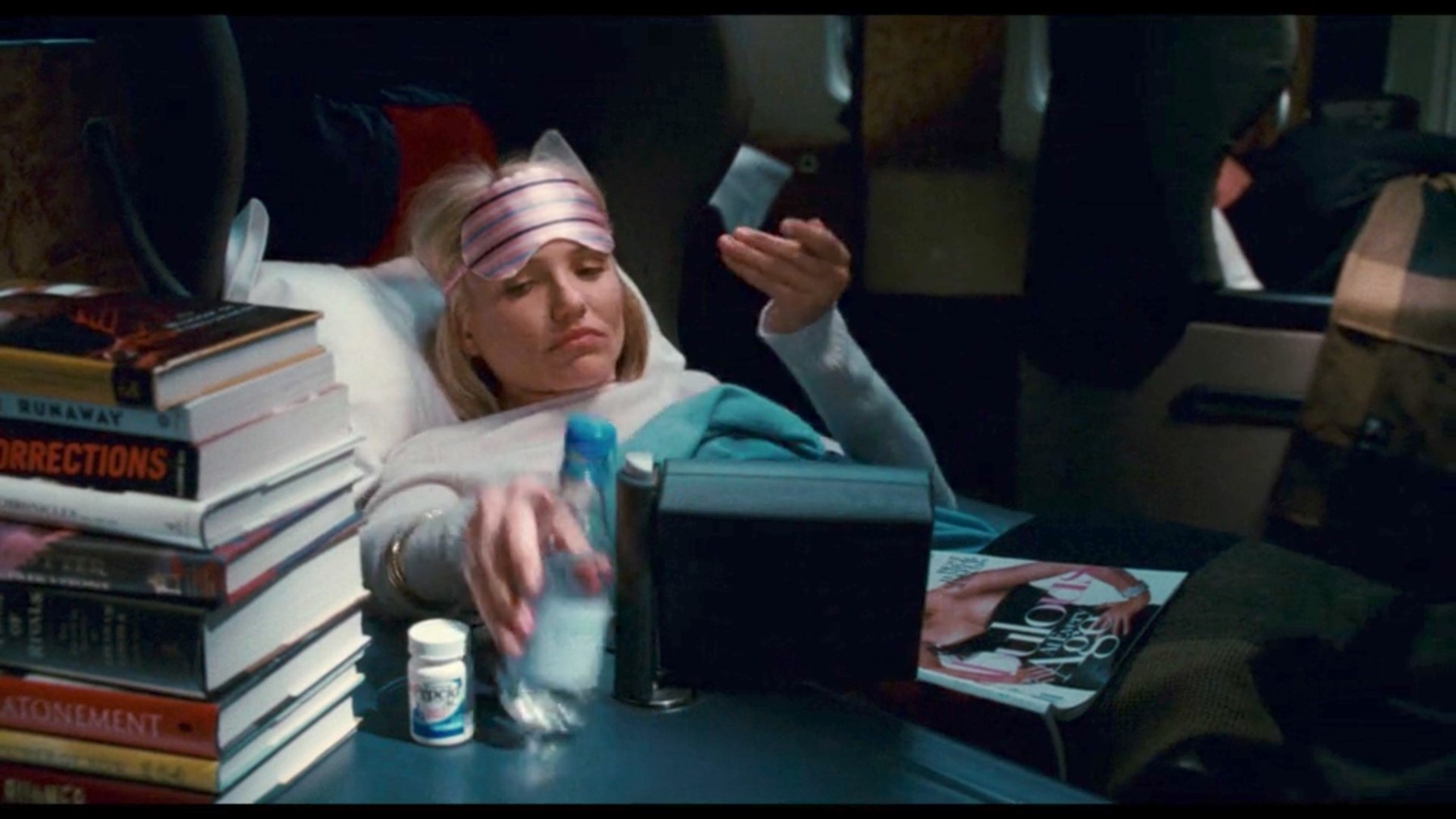 "I want to read a book. Not a magazine, an actual book. For years I read these reviews, I buy the books, but I never read them." Ah yes, the genesis of Cameron Diaz's ill-fated book stack in the very good film The Holiday (2001), which features a host of riches, including The Kite Runner, Atonement, The Corrections, and Runaway. You could never say she wasn't well-prepared, but one does have to wonder why she's starting with the third Harry Potter book.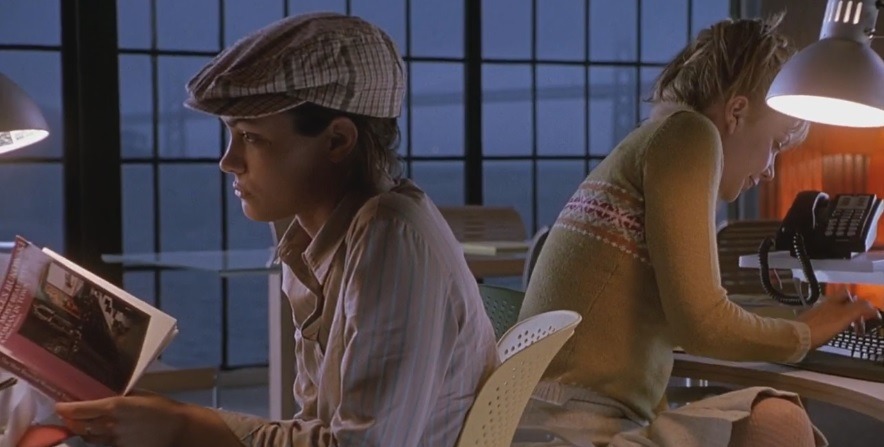 In absurd Josh Hartnett vehicle 40 Days and 40 Nights (2002), Erica (Shannyn Sossamon) reads The Most Beautiful Woman in Town & Other Stories by Charles Bukowski. Someone please save her. From the book and from the hat.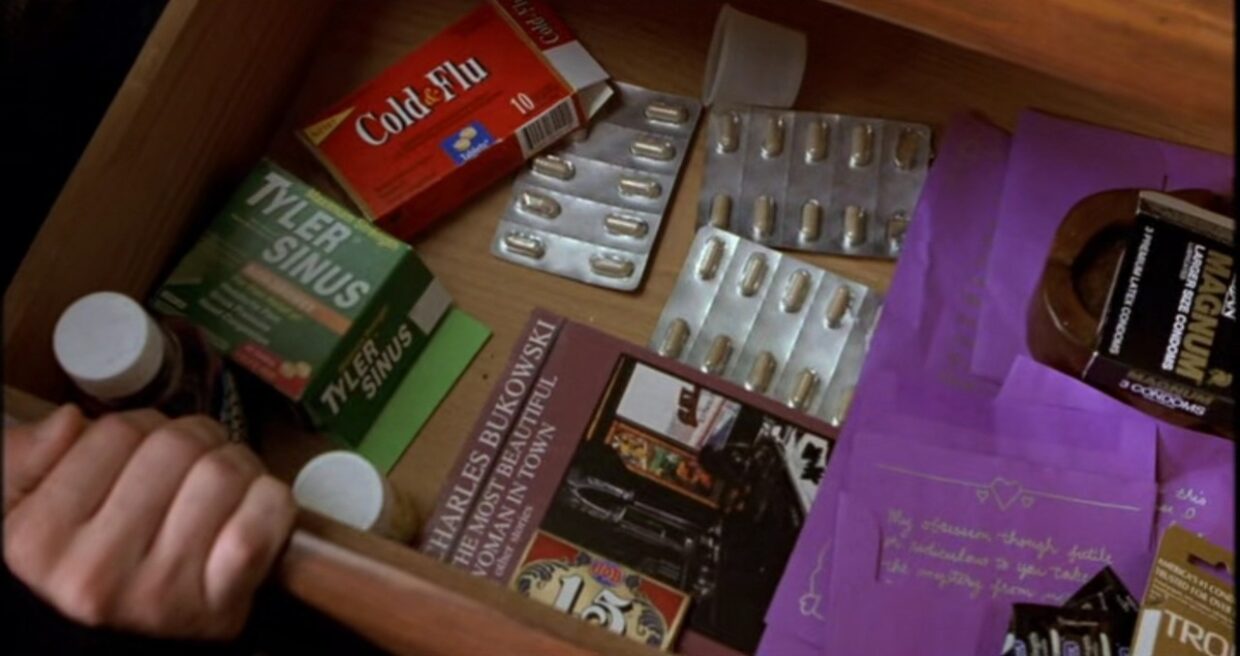 This book also appears in The Rules of Attraction (2002), sharing a drawer with some condoms and cold medicine.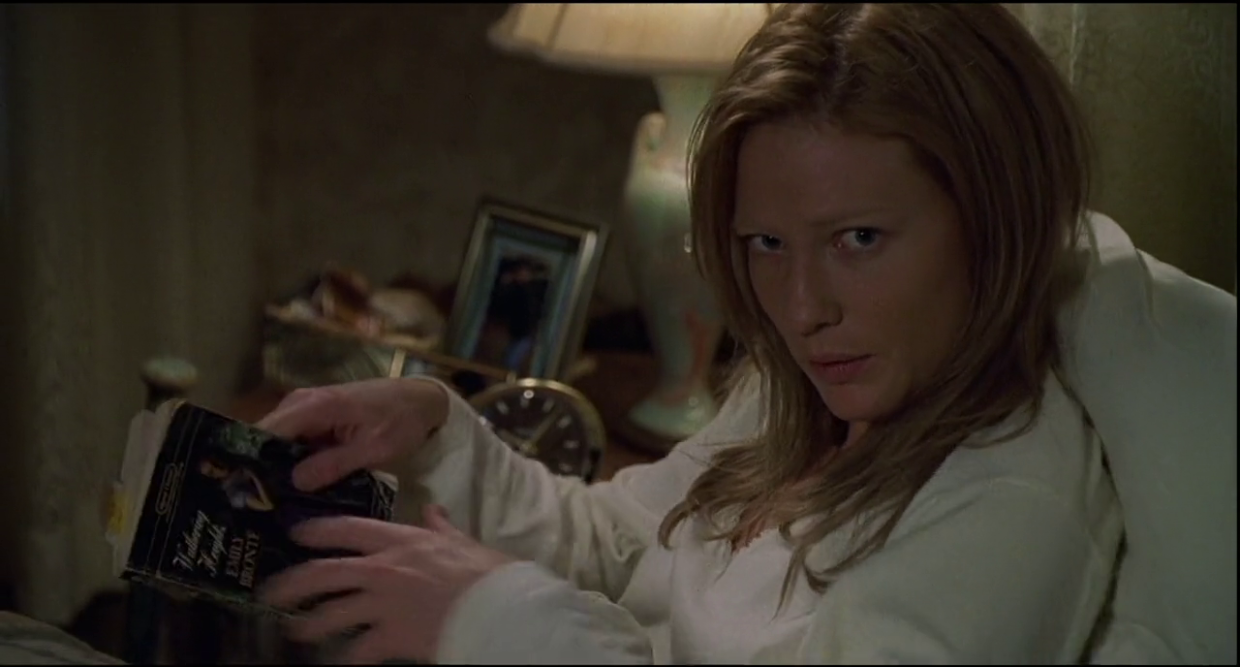 Annie (Cate Blanchett) reads classic ghost story Wuthering Heights in The Gift (2000).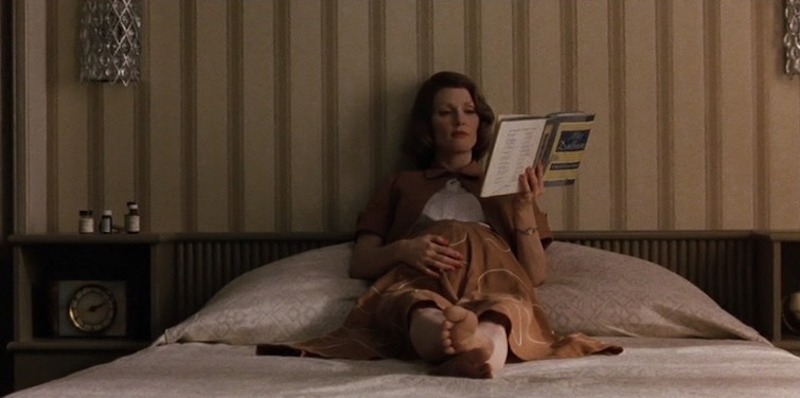 In The Hours (2002), which is a movie about Mrs Dalloway based on a novel about Mrs. Dalloway, Laura Brown (Julianne Moore) finds her life saved by (you guessed it) Mrs Dalloway.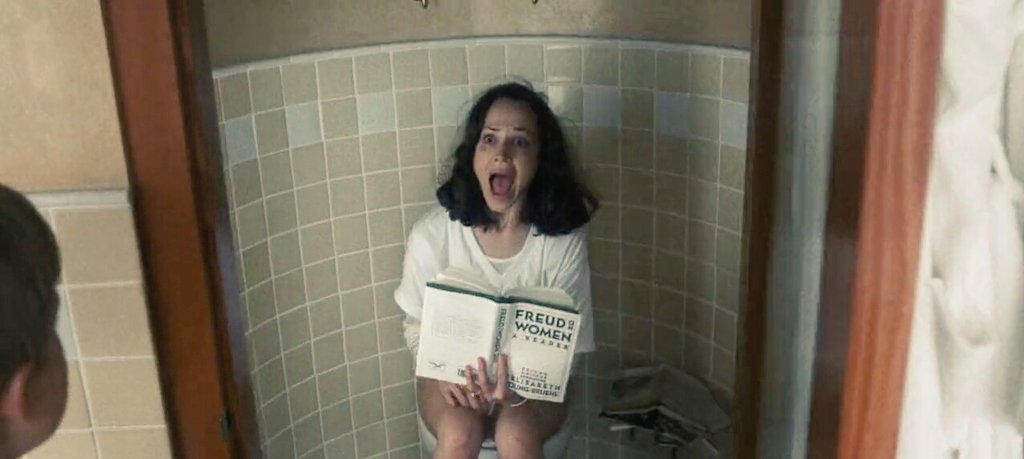 In AI: Artificial Intelligence (2001), Monica Swinton (Frances O'Connor) reads Freud on Women: A Reader in the bathroom.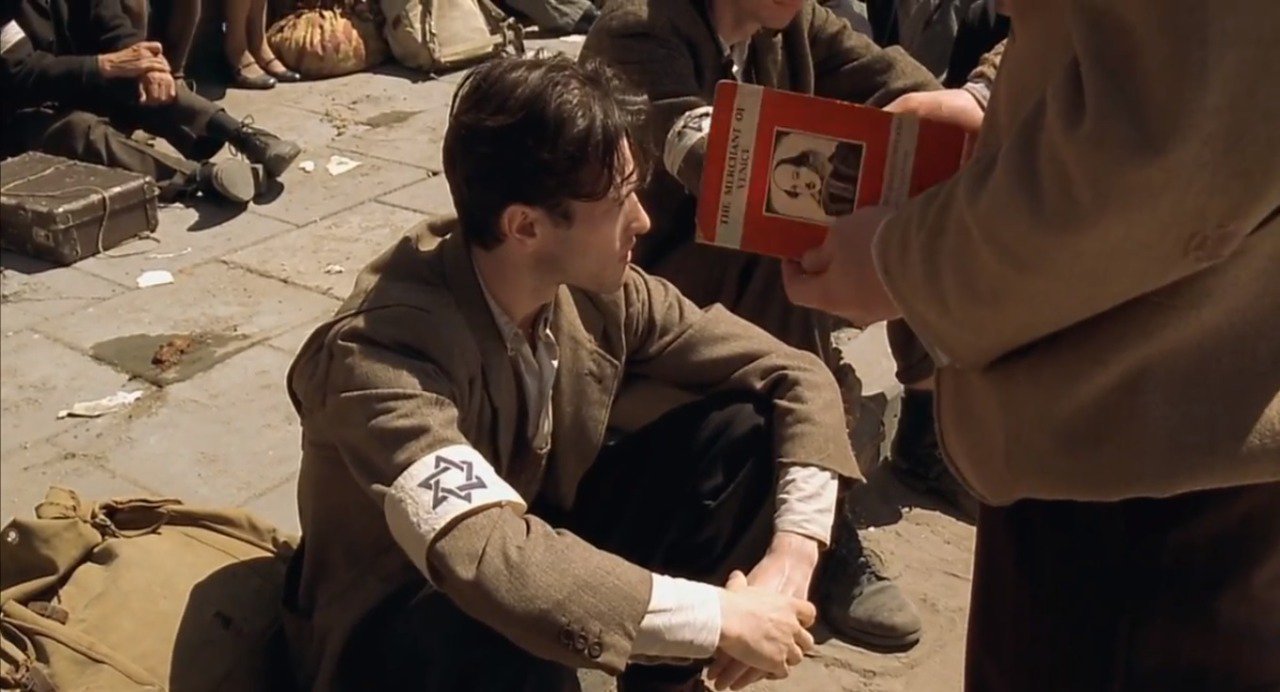 "If you prick us, do we not bleed? It you tickle us, do we not laugh? If you poison us, do we not die? And if you wrong us, shall we not revenge?" The Merchant of Venice being "very appropriate" in The Pianist (2002).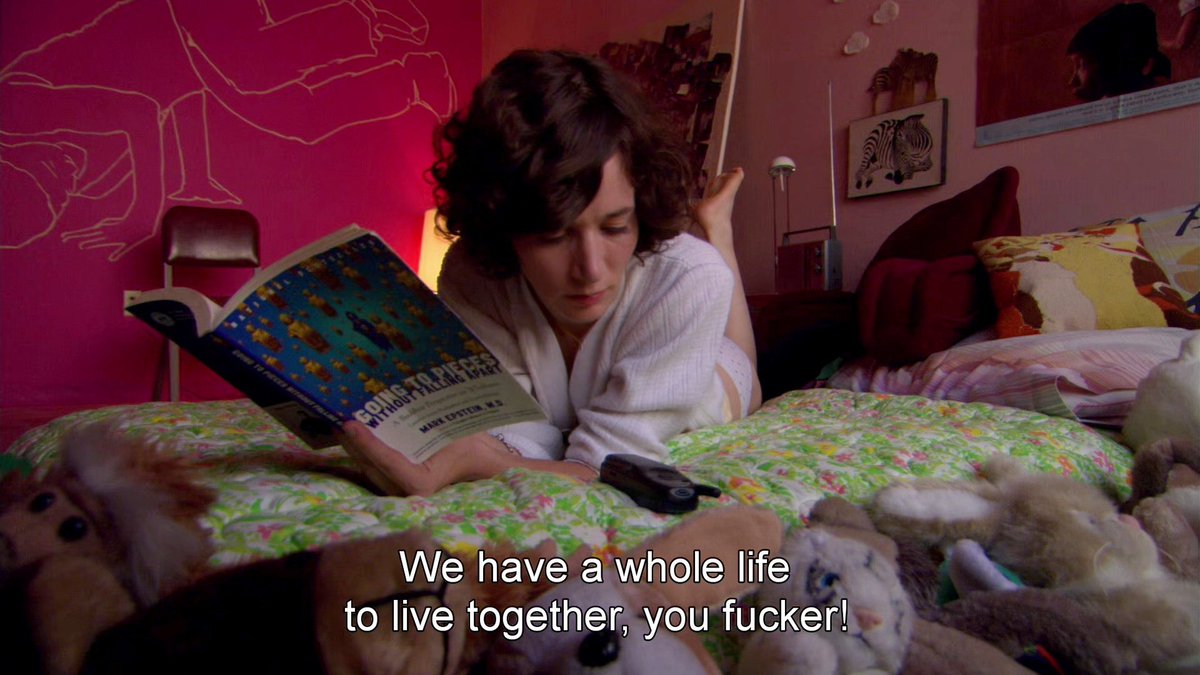 Christine (Miranda July) reads Mark Epstein's Going to Pieces Without Falling Apart: A Buddhist Perspective in Me and You and Everyone We Know (2005). Back and forth forever, indeed.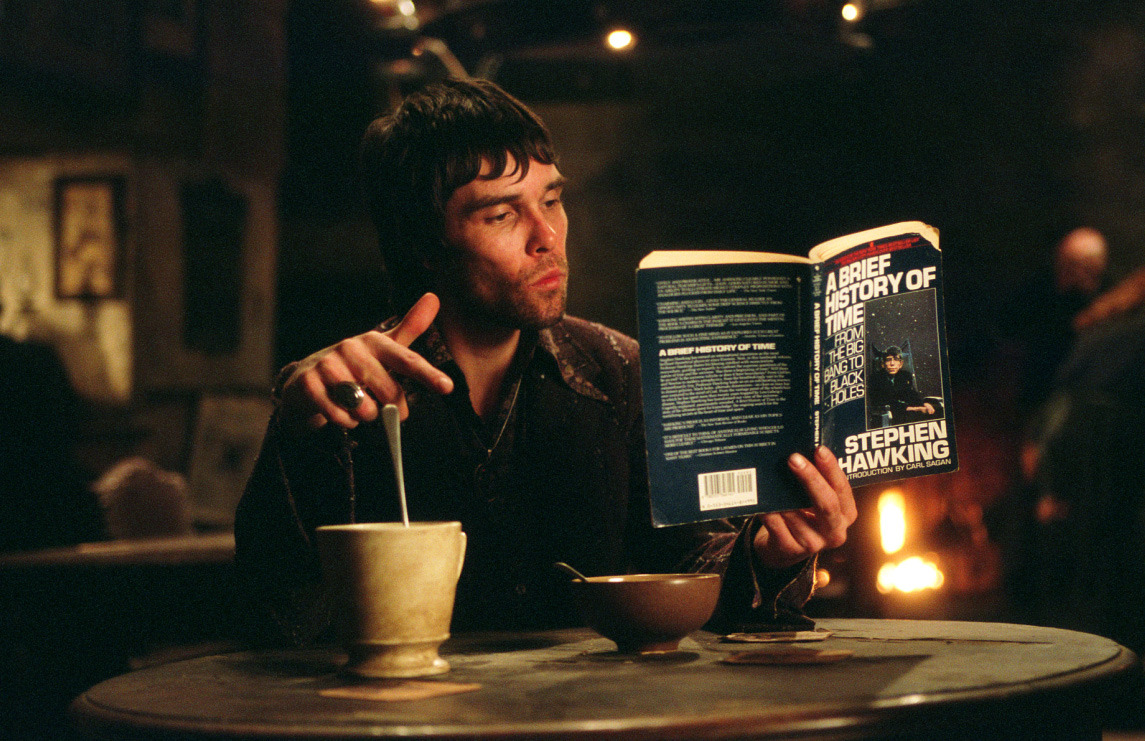 Even wizards need Stephen Hawking. A Brief History of Time: From the Big Bang to Black Holes in Harry Potter and the Prisoner of Azkaban (2004).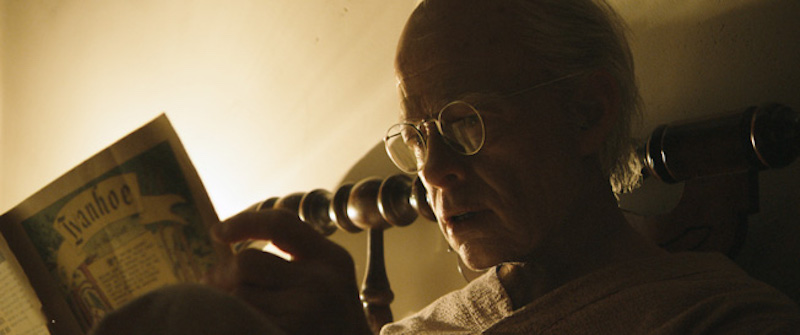 Benjamin reads Walter Scott's Ivanhoe in The Curious Case of Benjamin Button (2008).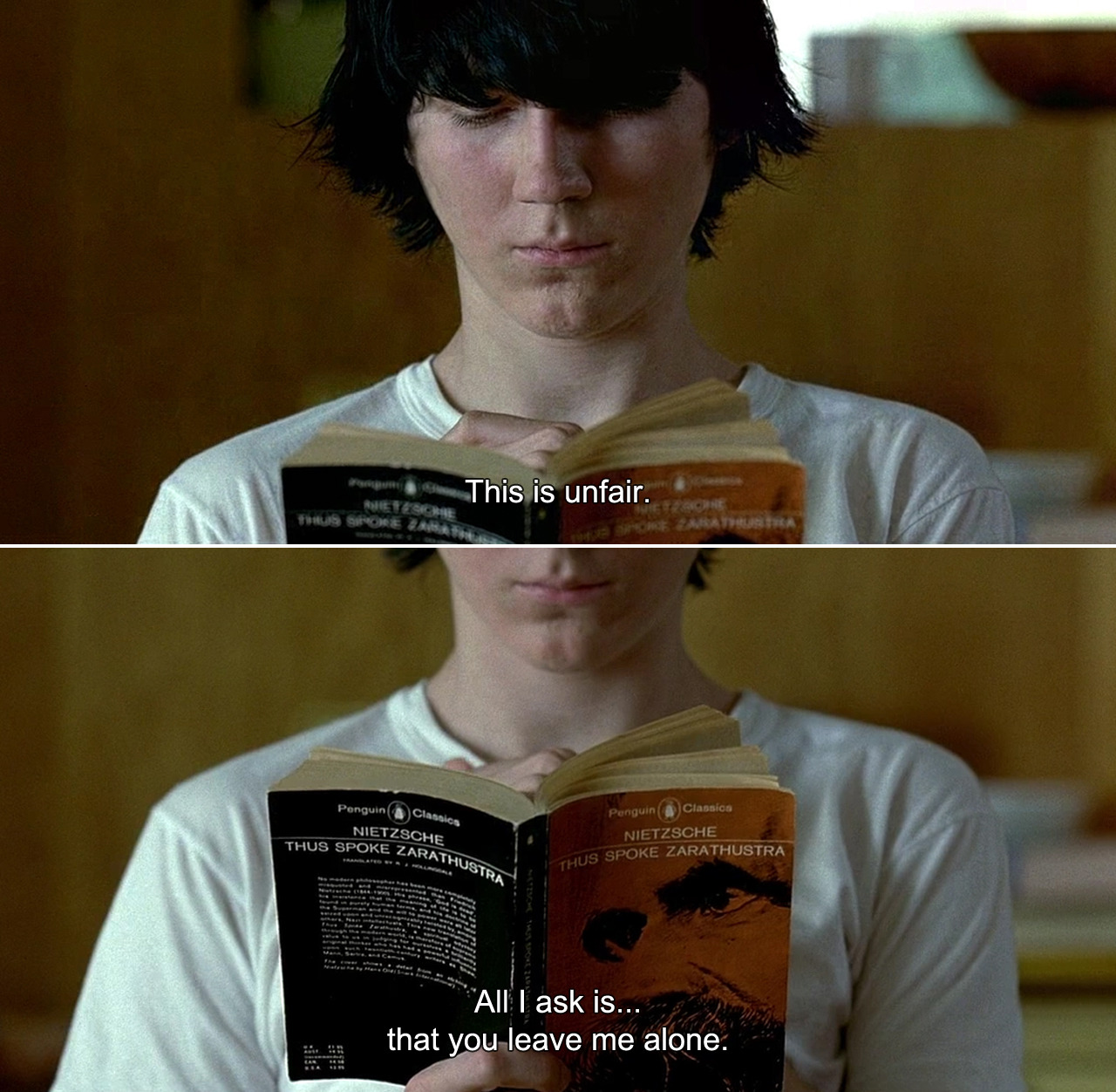 Dwayne (Paul Dano) reads Thus Spoke Zarathustra: A Book for All and None to indicate his internal darkness in Little Miss Sunshine (2006).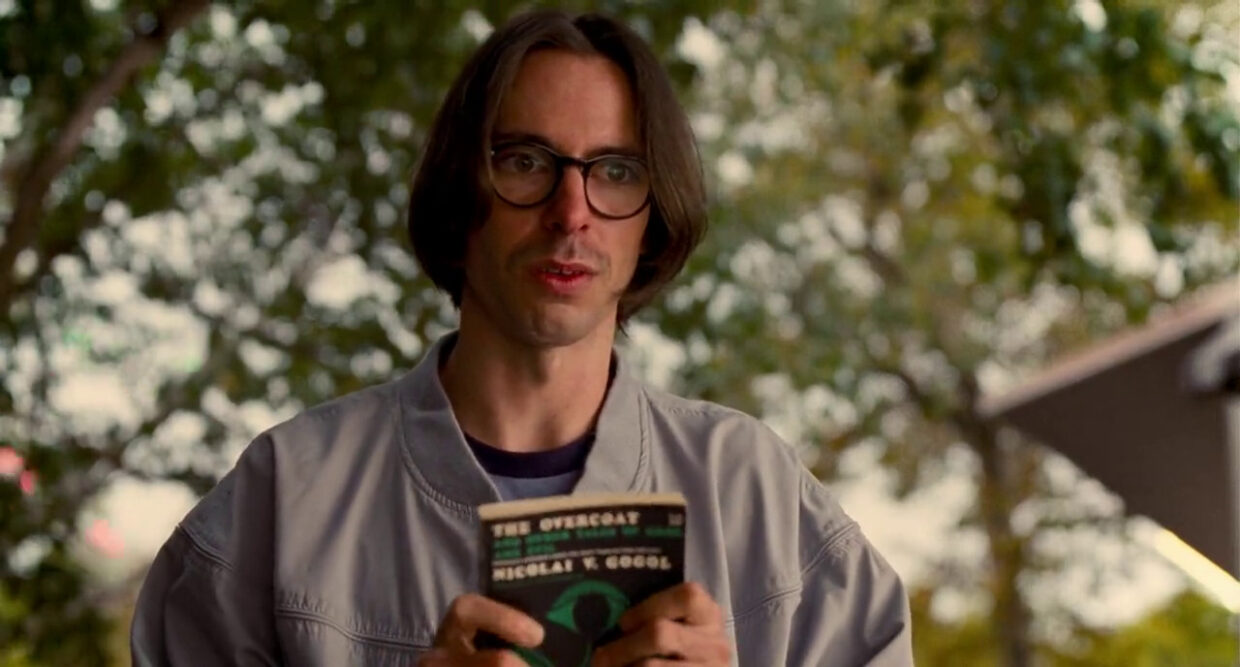 Joel (Martin Starr), a college student majoring in Russian Literature (a degree that he says will prepare him for a job as a "cabbie, hot dog vendor, or marijuana delivery guy," is a fan of Gogol's The Overcoat in Adventureland (2009) . . .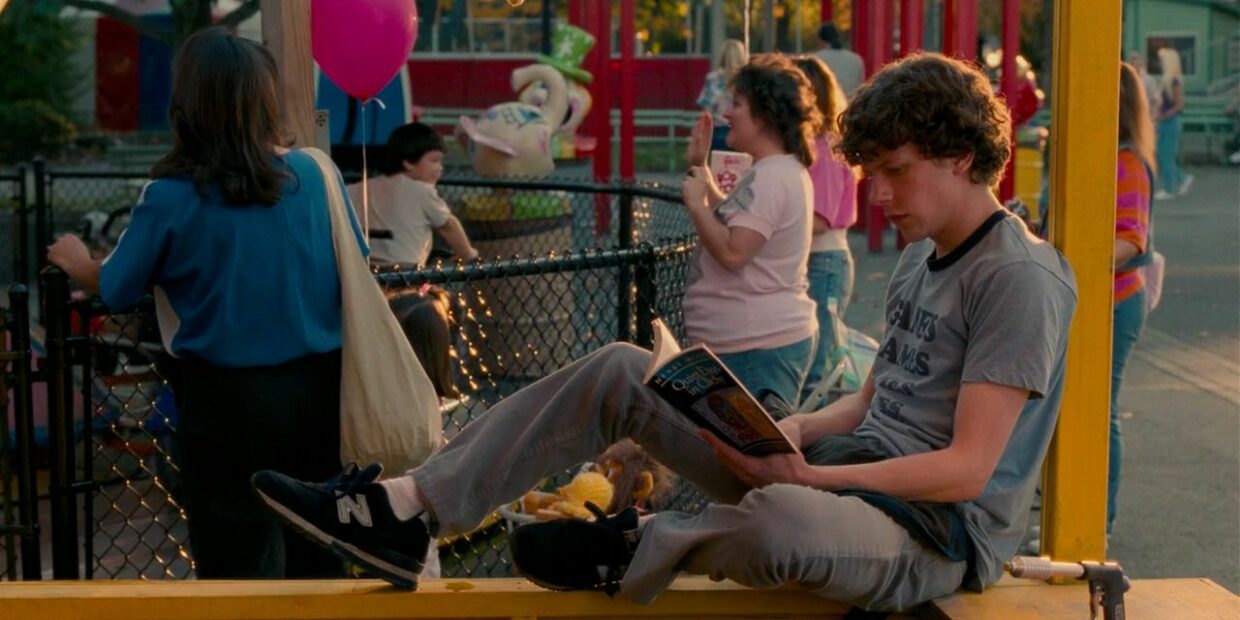 While wannabe journalist James (Jesse Eisenberg) prefers the minor Henry Miller novella Quiet Days in Clichy.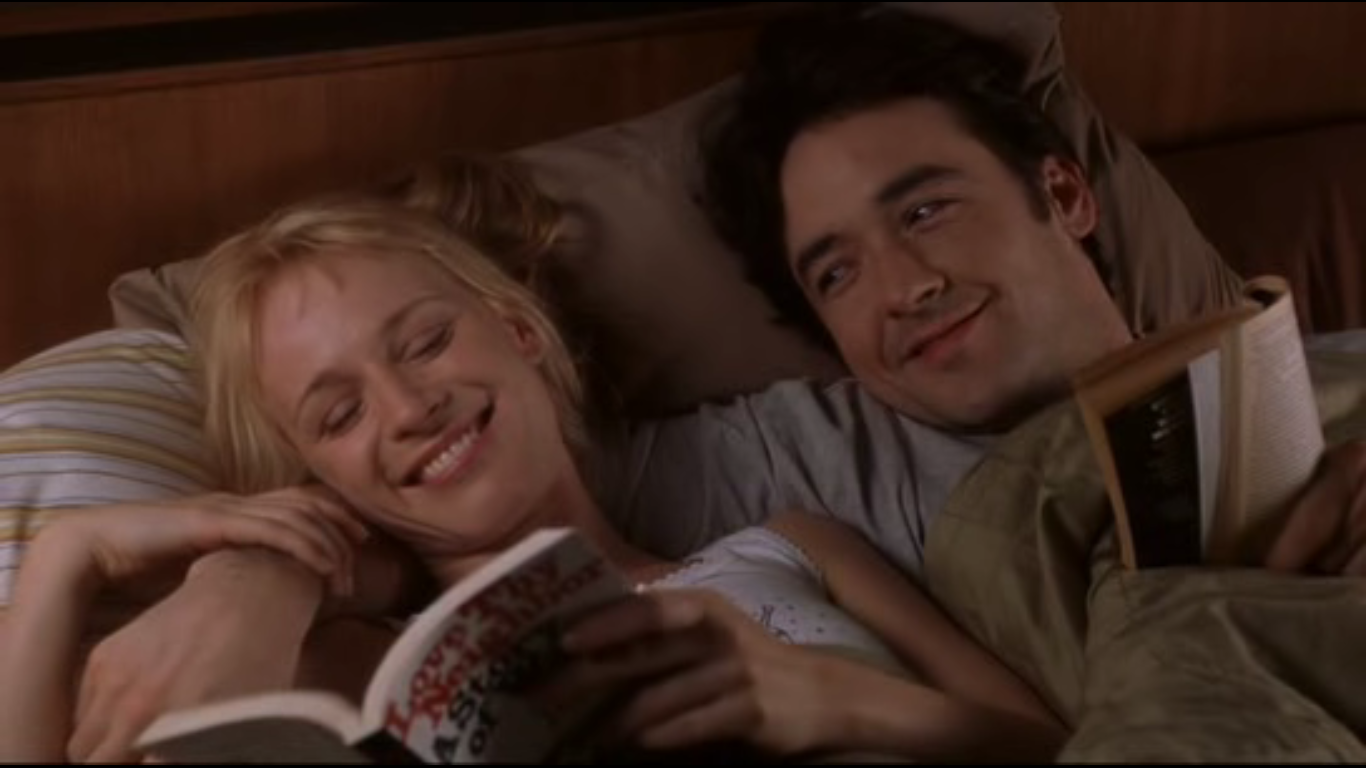 In High Fidelity (2000), as Rob and Laura listen to their neighbors having sex, Laura is reading Love Thy Neighbor: A Story of War by Peter Masas. But what is Rob reading?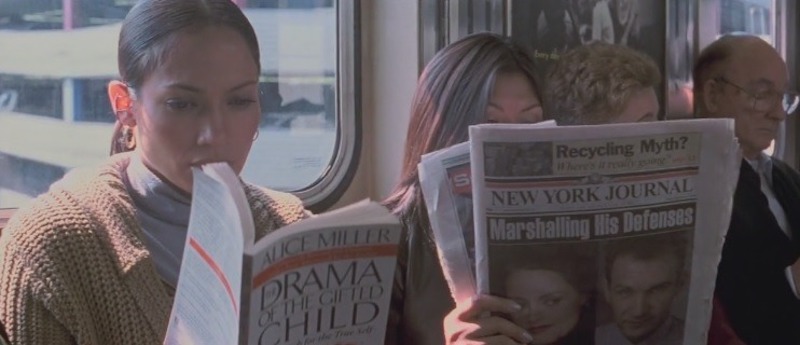 Marisa (Jennifer Lopez) eschews the tabloids for Alice Miller's The Drama of the Gifted Child in Maid in Manhattan (2002).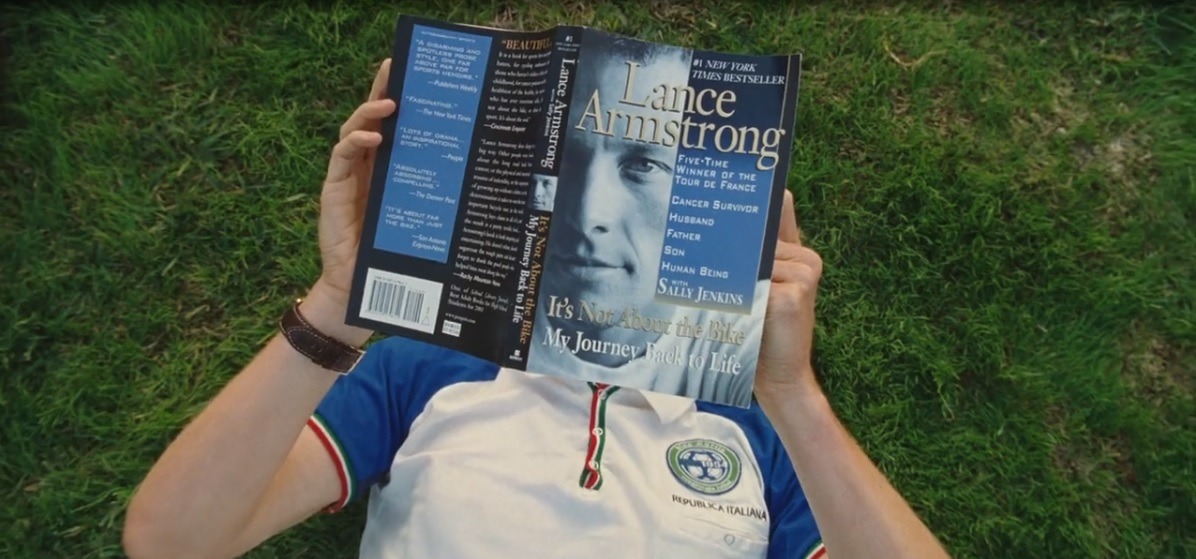 The carless Dupree (Owen Wilson) does Book Face with Lance Armstrong's It's Not About the Bike in You, Me, and Dupree (2006).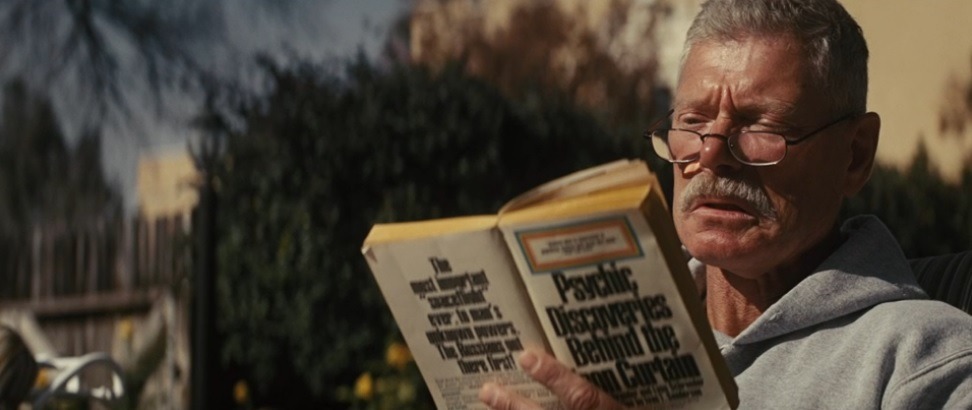 Major General Dean Hopgood (Stephen Lang), who is pretty sure that people can walk through walls, reads Psychic Discoveries Behind the Iron Curtain in The Men Who Stare at Goats (2009).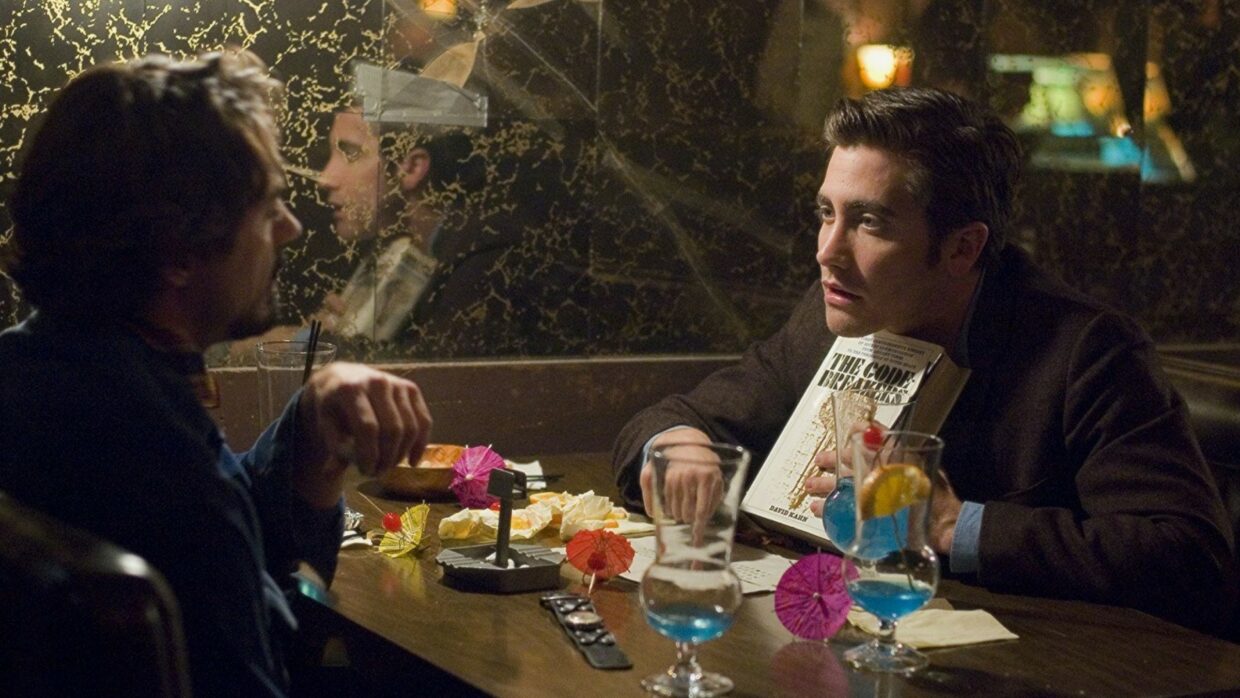 Of course Graysmith (Jake Gyllenhaal) studies The Code Breakers and Codes and Ciphers in Zodiac (And they're library books, too (although as at least one intrepid librarian has pointed out, they're missing their call numbers).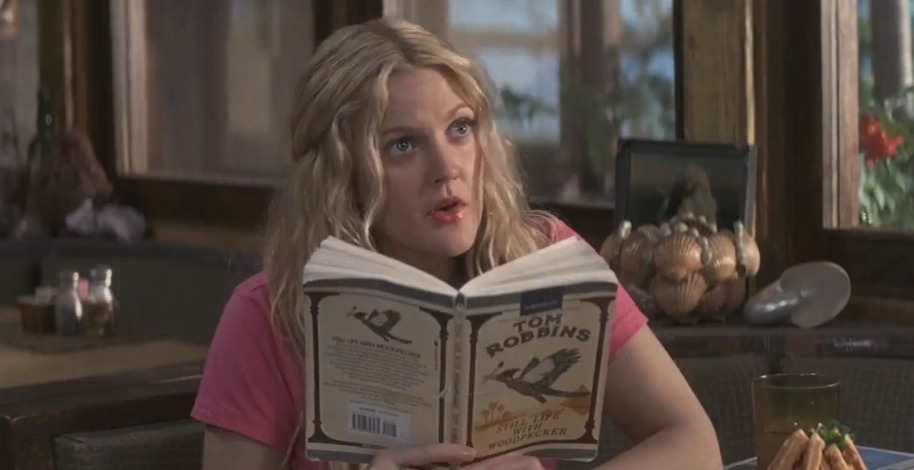 Every morning in 50 First Dates (2004), Lucy Whitmore (Drew Barrymore) makes waffle sculptures and reads Still Life with Woodpecker. Sometimes she also meets Adam Sandler.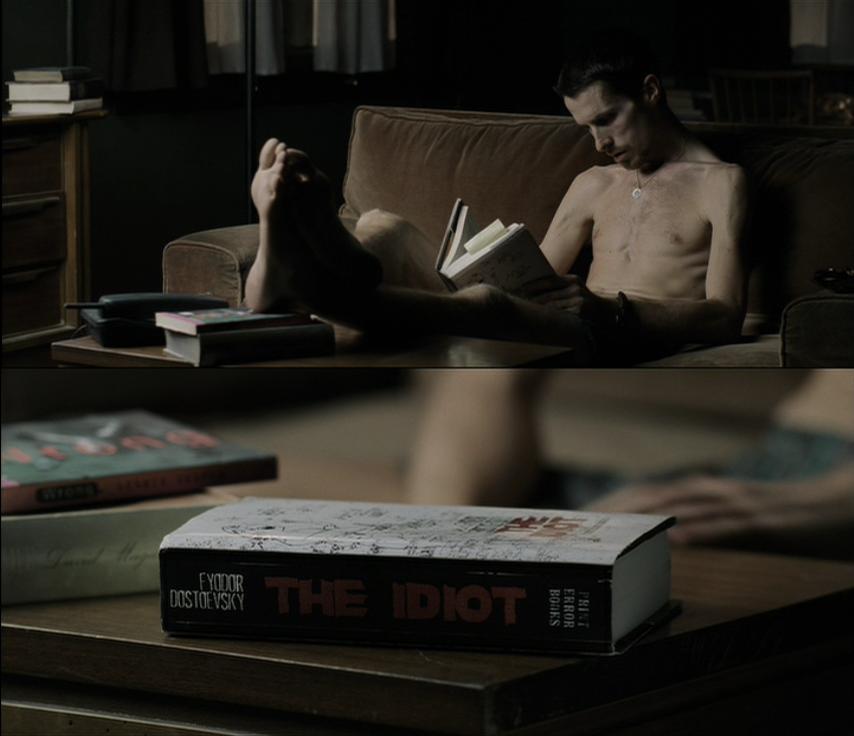 Trevor Reznik (a painfully thin Christian Bale) reads The Idiot at the beginning of The Machinist (2004), a film with quite a number of Dostoevsky references.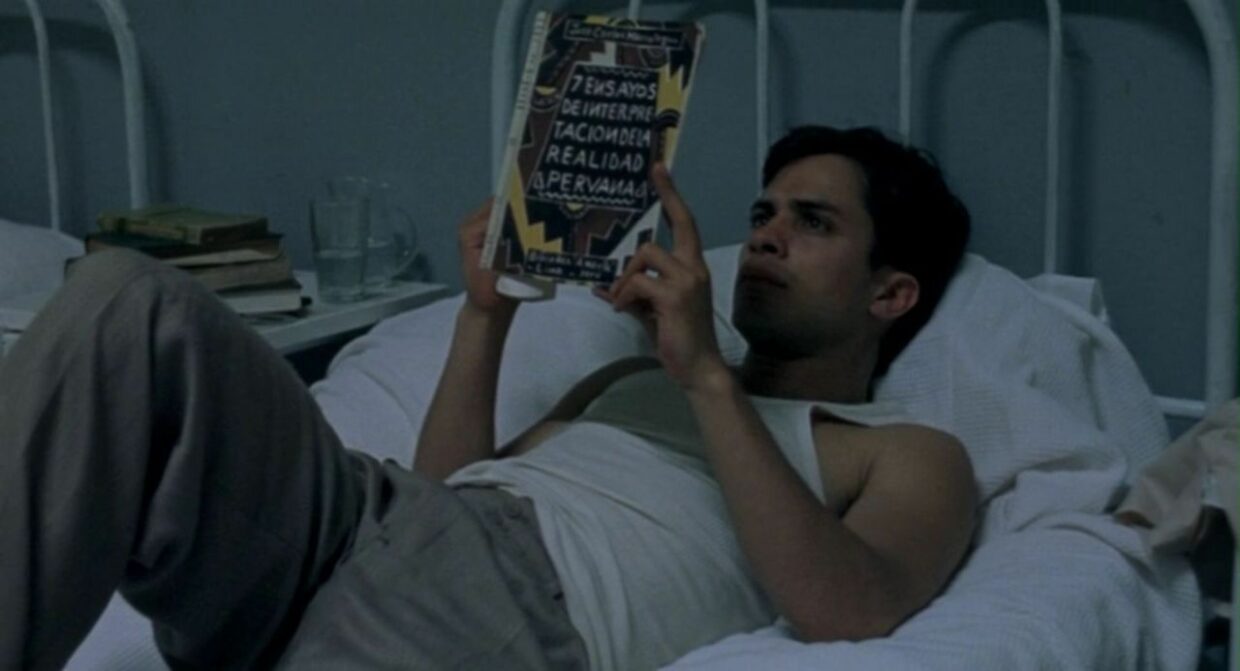 Ernesto Guevara de la Serna, aka Che Guevara (Gael García Bernal), reads Siete Ensayos de Interpretación de la Realidad Peruana (Seven Interpretive Essays on Peruvian Reality) in The Motorcycle Diaries (2004).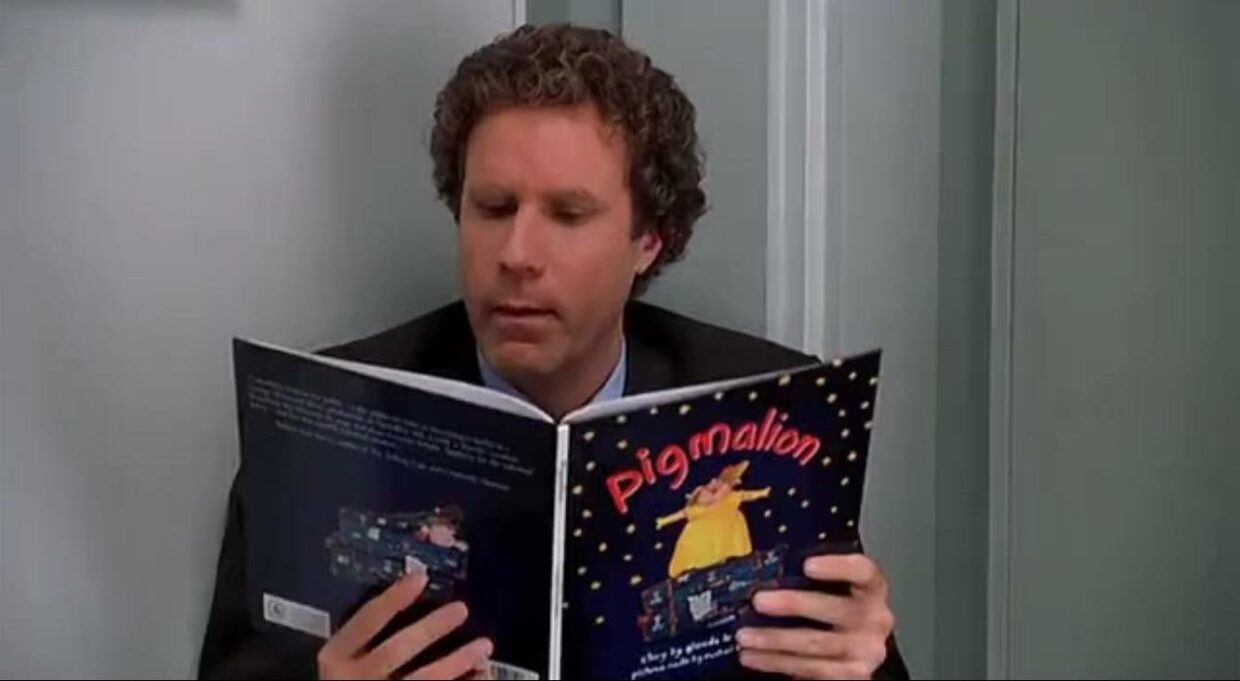 In Elf (2003), Buddy is simply fascinated by the story of Pigmalion.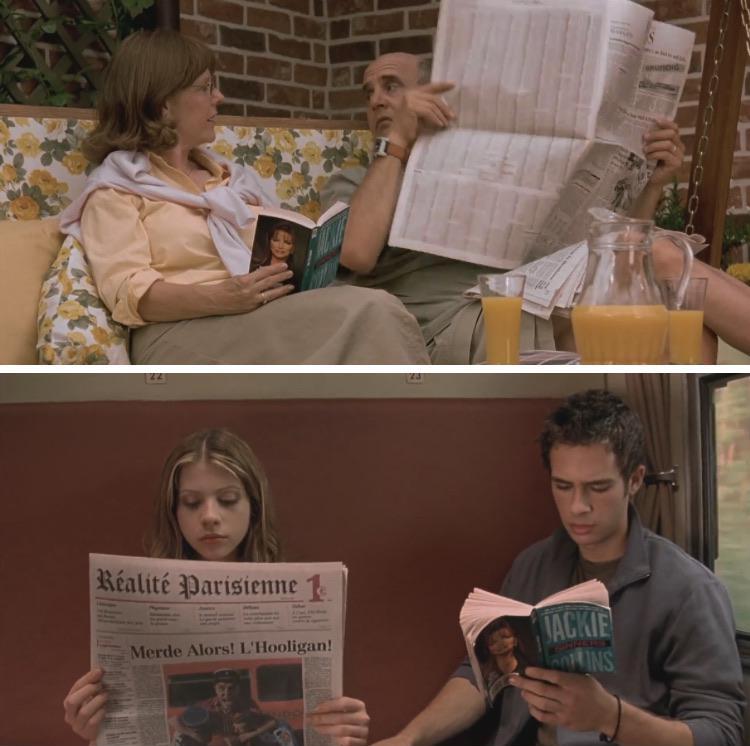 Both Scotty and his mother are reading Jackie Collins's Sinners in EuroTrip (2004)—apparently because that's the only book the producers could get cleared by legal.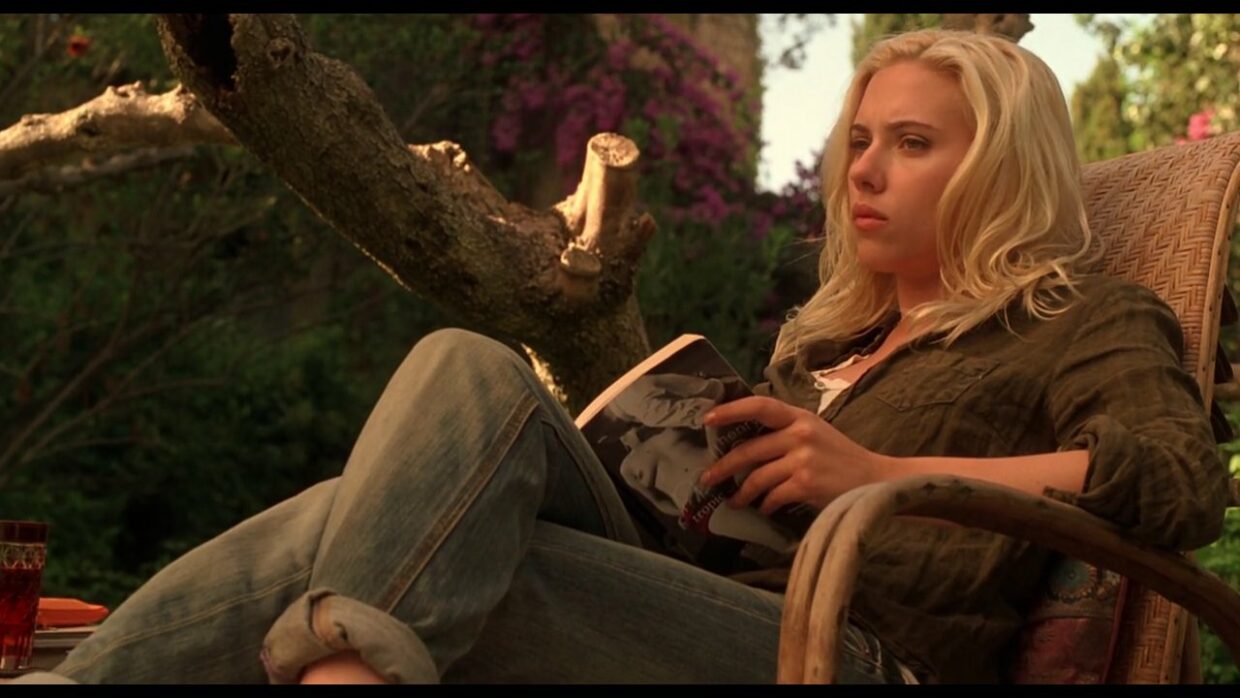 Cristina (Scarlett Johansson) reading Henry Miller's Tropic of Capricorn in Vicky Cristina Barcelona (2008) . . . of course.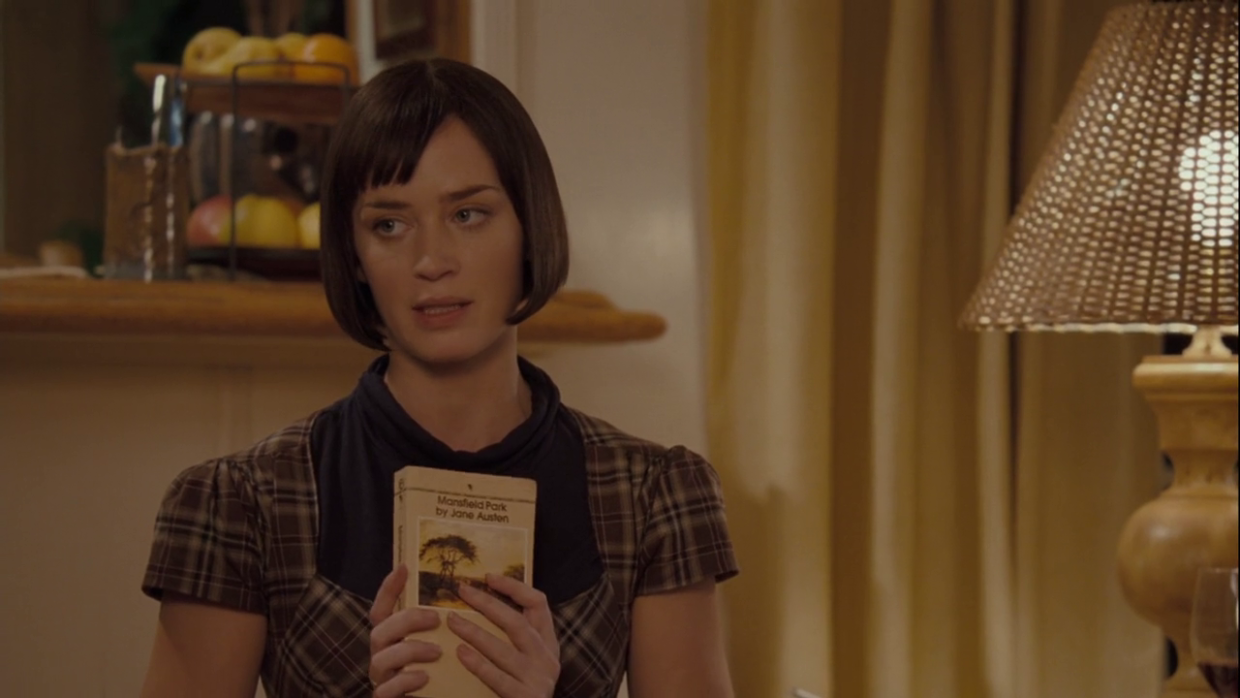 As you might imagine, a number of Jane Austen's novels appear in The Jane Austen Book Club (2007), so here's a picture of Prudie (Emily Blunt) holding a copy of Mansfield Park.
---