75 Books for the Next Four Years
Writers Recommend Necessary Reading for Inauguration Day and Beyond
In the last weeks as I've found myself rereading George Orwell's classic dystopian novel 1984, a work I never took to in high school yet felt even then, all the same, that the context of how the work was being taught had eluded the experiment of my sophomore English class. Orwell's gray fantasia had been reduced to a Cold War allegory (if even that) about the joys and necessities of unlimited self-expression. In short, what happened in the world before or outside America in the late 1990s. This time round, more than 15 years later, after three presidents and two imperialist wars and so very much else, Orwell's text strikes me less as science fiction or totalitarian parable. It describes a world I know, today, intimately. It renders the temperature of our corporatized media and the destabilizing rhetoric of the incoming administration under President-elect Trump.
On page 101, Winston wanders into a shop in the prole district forbidden to all Party members such as himself, in part to revisit the scene of his great crime some 50 pages earlier where he purchased a blank diary with the intent of recording language freed from the trappings of ubiquitous Newspeak. Orwell writes:
There was a small bookcase in the other corner, and Winston had already gravitated towards it. It contained nothing but rubbish. The hunting-down and destruction of books had been done with the same thoroughness in the prole quarters as everywhere else. It was very unlikely that there existed anywhere in Oceania a copy of a book printed before 1960.
This ever-eerie image of the destruction of knowledge compresses and resonances with so much of imperialist, colonialist, genocidal and fascist history: The book burning by the Nazis in May 1933 and then even further back to the criminalization of literacy for African slaves and indigenous peoples in colonial America. As Paula Gunn Allen reminds us: "The root of oppression is the loss of memory."
Today's inauguration signals the emboldened resurgence of fascism and white supremacy under the banner of global populism. I am chilled by yesterday's news of how the Trump administration plans to completely gut and cut the National Endowment for the Arts as well as the National Endowment for the Humanities. In response, I asked a few dozens writers over text and email to respond to the following question.
"What book is necessary reading in the face of today's inauguration?" 
I am thankful for their generosity and fortitude, hopeful for the renewed commitment to staying informed as well as informing others. Perhaps such a task is the principle service upon which all of teaching, literature, the arts—not to mention our democracy and civil rights—relies. May we take root in these voices and texts, may we honor their differences, end the persistence of the distinct oppressions they point to and are drawn from, be ever vigilant to preserve the rites of their memories.
Respondents:
Kaveh Akbar · Jen Benka · Lauren Berlant · Anselm Berrigan · Jericho Brown · Lee Ann Brown · Lauren Cerand · Alexander Chee · CAConrad · Natalie Diaz · jayy dodd · R. Erica Doyle · Andrew Durbin · Farnoosh Fathi · Ariel Goldberg · Tom Healy · Paul Holdengraber · Patricia Spear Jones · Porochista Khakpour · Kevin Killian · Amy King · Tashi Ko · Josh Lam · Rickey Laurentiis · Kiese Laymon · Janice Lee · Rachel Levitsky · Ada Limón · David Tomas Martinez · Mauren M. McLane · Ange Mlinko · Ricardo Maldonado · Eileen Myles · Alice Notley · Geoffrey G. O'Brien · Michael Palmer · Morgan Parker · Robert Polito · Khadijah Queen · Katie Raissian · Metta Sáma · Nicole Sealey · Sarah Schulman · Charif Shanahan · Solmaz Sharif · Evie Shockley · Rebecca Solnit · Christopher Soto · Carmen Giménez Smith · Tess Taylor · TC Tolbert · Vanessa Angélica Villarreal · Ocean Vuong · xtian w. · Susan Wheeler · Dara Wier · Kate Zambreno · Hari Ziyad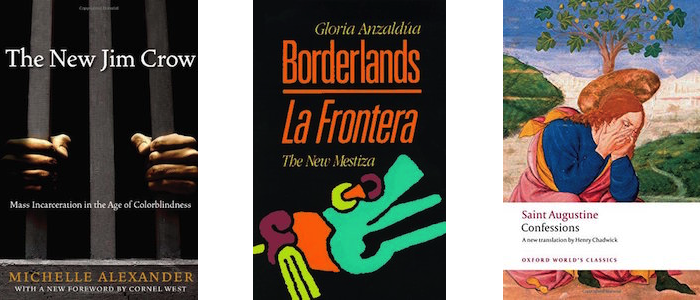 The New Jim Crow: Mass Incarceration in the Age of Colorblindness by Michelle Alexander · Borderlands/La Frontera: The New Mestiza by Gloria Anzaldua · Confessions by St. Augustine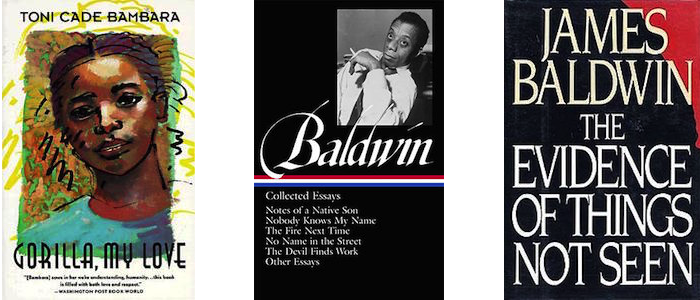 Gorilla, My Love by Toni Cade Bambara · Collected Essays by James Baldwin · The Evidence of Things Not Seen by James Baldwin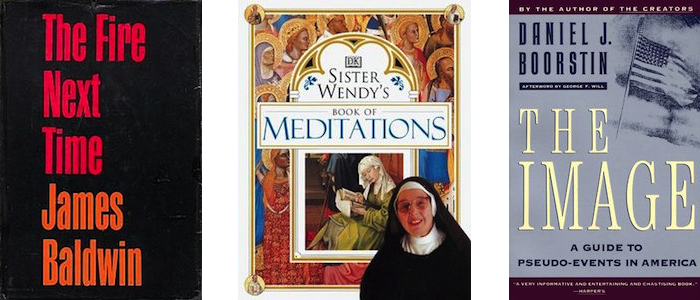 The Fire Next Time by James Baldwin · Meditations by Sister Wendy Beckett · The Image: A Guide to Pseudo-Events in America by Daniel Boorstin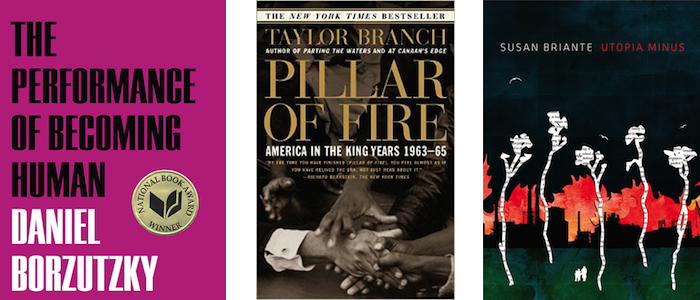 The Performance of Being Human by Daniel Borzutsky · Pillar of Fire: America and the King Years by Taylor Branch · Utopia Minus by Susan Briante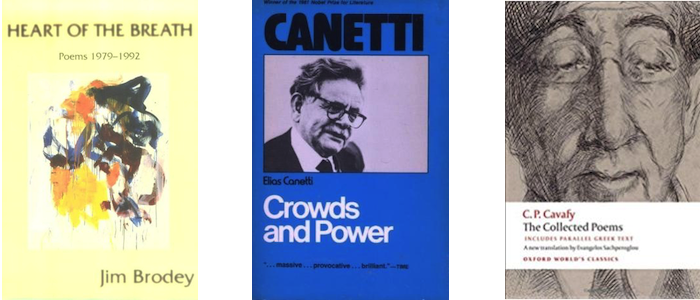 Heart of the Breath by Jim Brodey · Crowds and Power by Elias Canetti · Collected Poems by C.P. Cavafy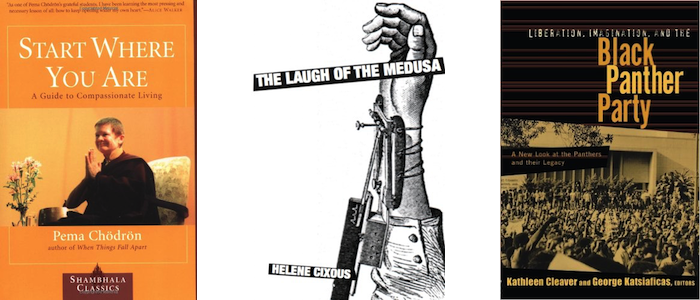 Start Where You Are by Pema Chodron · The Laugh of the Medusa by Hélène Cixous · Liberation Imagination and the Black Panther Party: A New Look At the Panthers and Their Legacy edited by Kathleen Cleaver and George N. Katsiaficas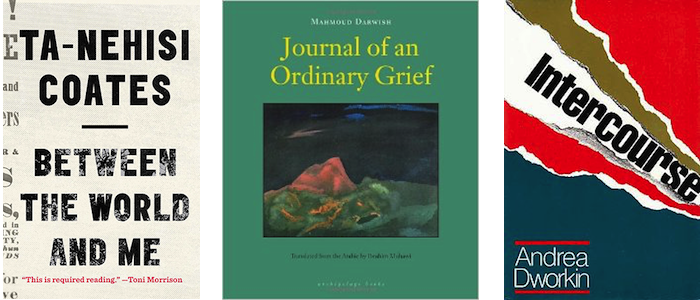 Between the World and Me by Ta-Nehisi Coates · Journal of an Ordinary Grief by Mahmoud Darwish · Intercourse by Andrea Dworkin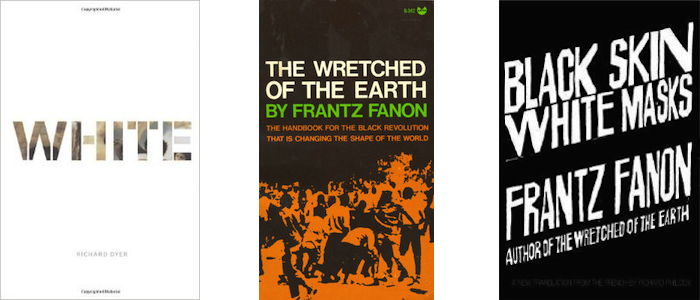 White by Richard Dyer · The Wretched of the Earth by Frantz Fanon · Black Skin, White Masks by Frantz Fanon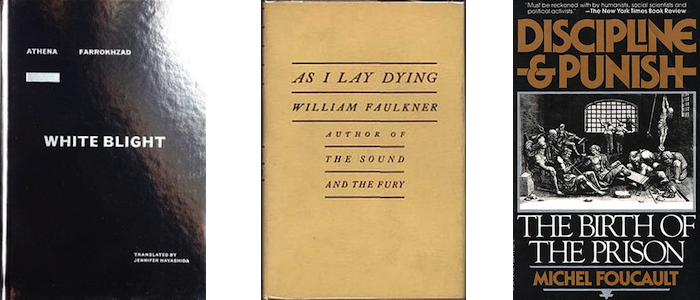 White Blight by Athena Farrokhzad · As I Lay Dying by William Faulkner · Discipline & Punish by Michel Foucault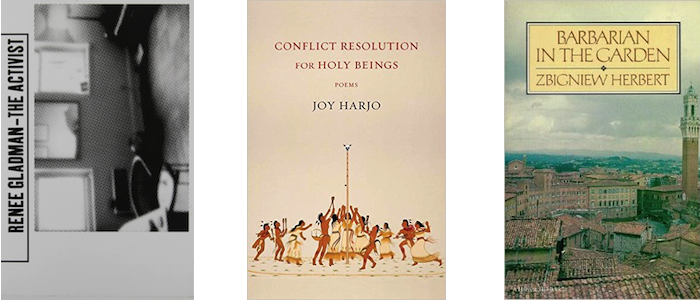 The Activist by Renee Gladman · Conflict Resolution for Holy Beings by Joy Harjo · Barbarian in the Garden by Zbigniew Herbert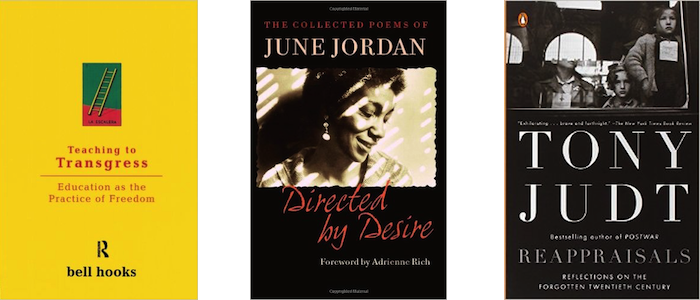 Teaching to Transgress by bell hooks · Collected Poems by June Jordan · Reappraisals by Tony Judt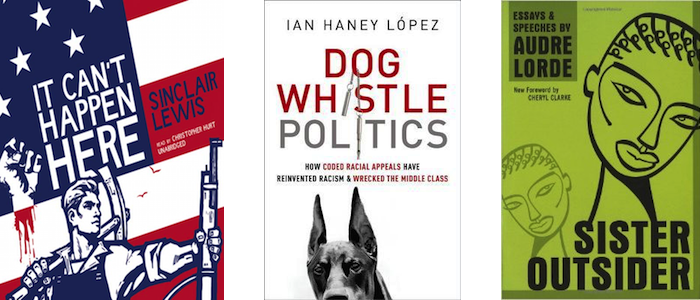 It Can't Happen Here by Sinclair Lewis · Dog Whistle Politics: How Coded Racial Appeals Have Reinvented Racism and Wrecked the Middle Class by Ian Haney López · Sister Outsider by Audre Lorde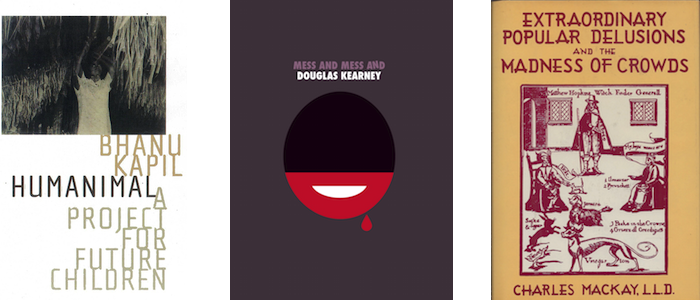 Humanimal: A Project for Future Children by Bhanu Kapil · Mess and Mess and by Douglas Kearney · Extraordinary Popular Delusions and the Madness of Crowds by Charles Mackay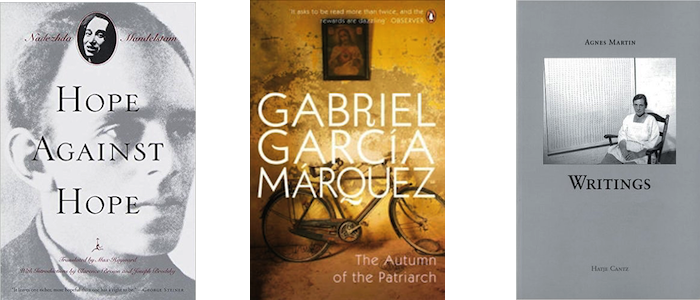 Hope Against Hope by Nadezhda Mandelstam · Autumn of the Patriarch by Gabriel García Márquez · Selected Writings by Agnes Martin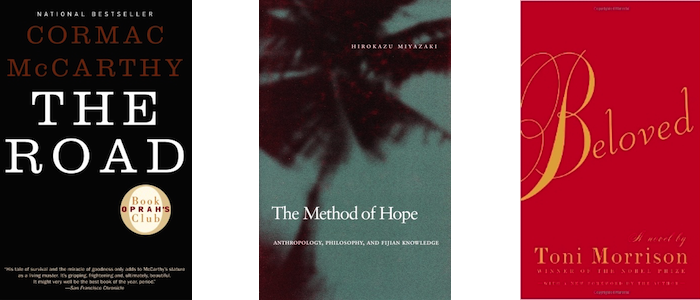 The Road by Cormac McCarthy · The Method of Hope by Hirokazu Miyazaki · Beloved by Toni Morrison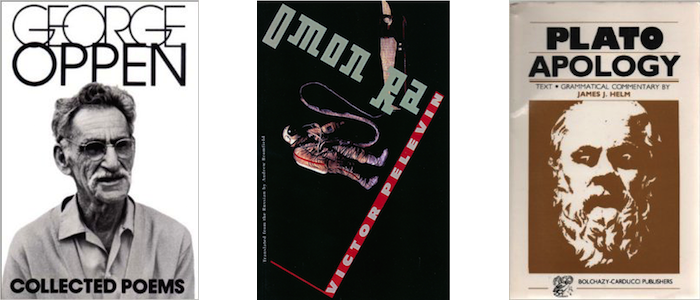 Collected Poems by George Oppen · Omon Ra by Victor Pelevin · Apology by Plato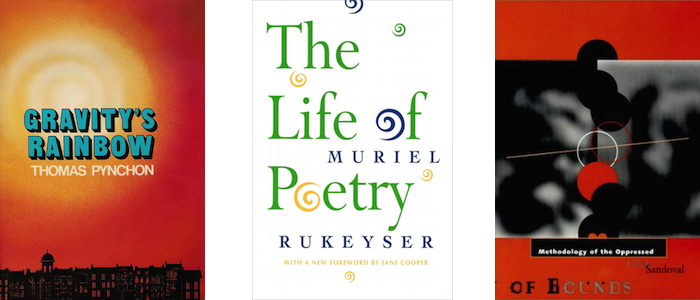 Gravity's Rainbow by Thomas Pynchon · The Life of Poetry by Muriel Rukeyser · Methodology of the Oppressed by Chela Sandoval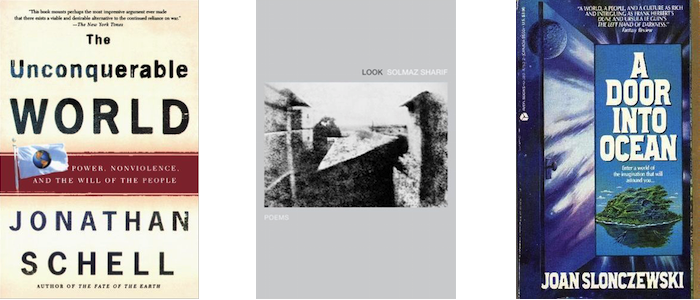 The Unconquerable World: Power, Nonviolence and the Will of the People by Jonathan Schell · Look by Solmaz Sharif · A Door Into Ocean by Joan Sloczewski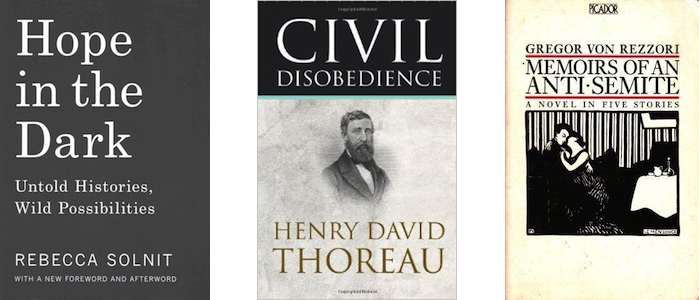 Hope in the Dark: Untold Stories, Wild Possibilities by Rebecca Solnit · Civil Disobedience by Henry David Thoreau · Memoirs of an Anti-Semite by Gregor Von Rezzori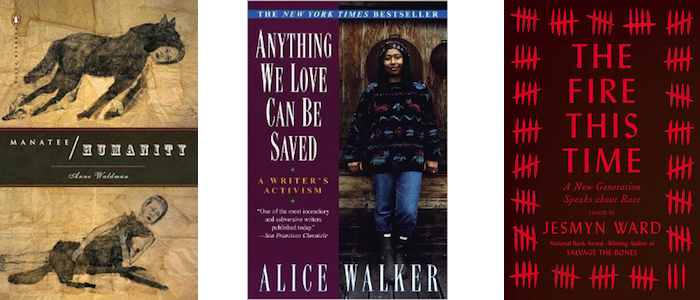 Manatee/Humanity by Anne Waldman · Anything We Love Can Be Saved by Alice Walker · The Fire This Time edited by Jesmyn Ward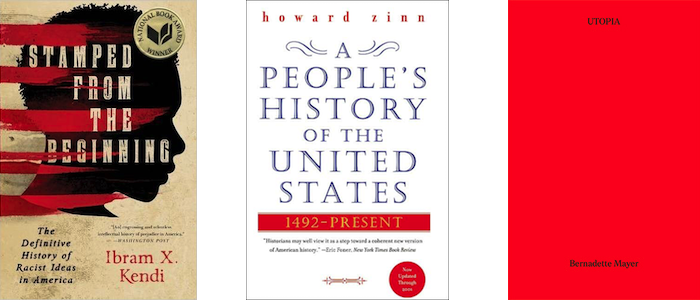 Stamped From the Beginning: The Definitive History of Racist Ideas in America by Ibram X · A People's History of the United States by Howard Zinn · Utopia by Bernadette Mayer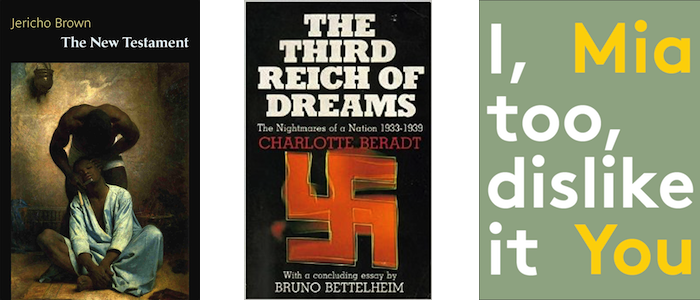 The New Testament by Jericho Brown · The Third Reich of Dreams by Charlotte Beradt · I, Too, Dislike It by Mia You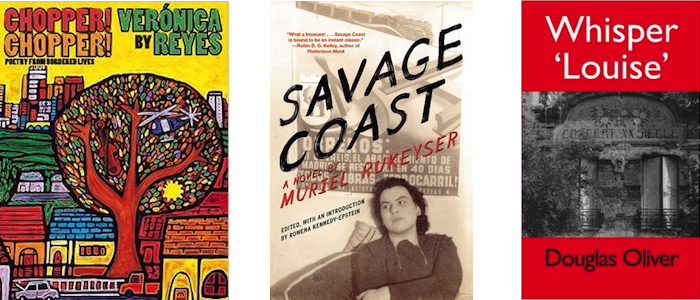 CHOPPER! CHOPPER!: Poetry from Bordered Lives by Verónica Reyes · Savage Coast by Muriel Rukeyser · Whisper Louise by Douglas Oliver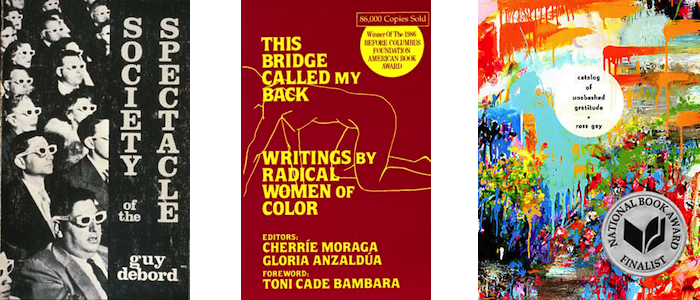 The Society of the Spectacle by Guy Debord · This Bridge Called My Back edited by Gloria Anzaldúa and Cherrie Moraga · Catalog of Unabashed Gratitude by Ross Gay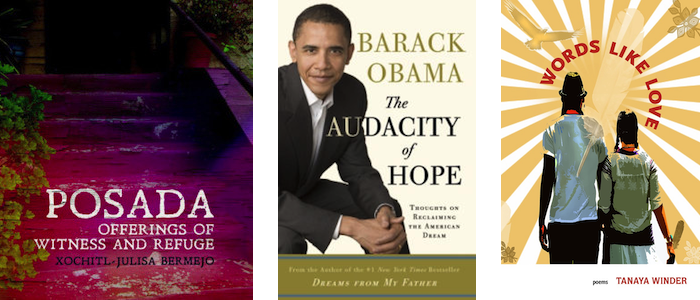 Posada by Xochitl-Julisa Bermejo · The Audacity of Hope by Barack Obama · Words Like Love by Tanaya Winder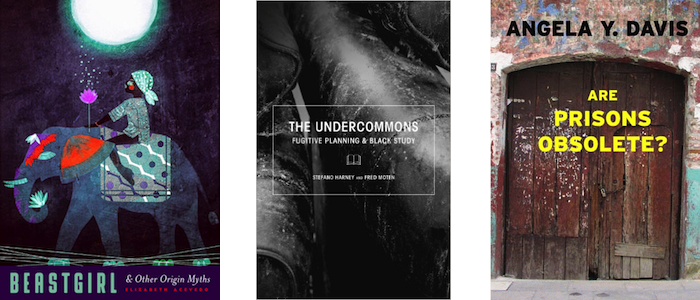 Beastgirl & Other Origin Myths by Elizabeth Acevedo · The Undercommons by Stefano Harney and Fred Moten · Are Prisons Obsolete? by Angela Davis
---