5 Reasons a Writer Should
Move to London
No, Not the Small City in Southern Ontario
There's a big, voracious elephant in the room when I encourage writers to live in London: finances. Yes, this is a pricey city that's getting pricier, as people on lower and less stable incomes get pushed further out from the city center.
I don't have the major expenses of either kids or illness, and the UK's beloved National Health Service means that I don't have to fear bankruptcy with every health scare. I'm able to cycle and walk just about everywhere, so I spend almost nothing on transport. And I work a lot, admittedly, including holding down a two-day-a-week office job that pays London wages; employers generally apply a London weighting to salaries in recognition of the high cost of living in the capital.
Because my work is flexible, I'm able to enjoy lots of cultural and recreational offerings during off-peak times, so I don't have to battle crowds to see a free exhibit or pay to use a public tennis court. The math doesn't work for all freelance writers, but many of the following aspects are accessible to those on even tighter budgets than myself.
I.
Access to Every Publication
The primary reason for a writer to live in London has to be the British Library. I'm there so often that I see its security staff more than I see my friends. I still find it staggering that this storied building houses all documents published on British soil—so it's a treasure trove of research, from the latest comics and academic textbooks to rare centuries-old manuscripts. I've saved so much money, and gained access to so much knowledge, because of my free British Library reader's pass. All you need is a proof of address and personal identification to sign up for your own reader's pass. Just wrap up warm: the place is always freezing, due to the need to preserve the collection.
II.
Proximity to Cool Shit
The city is chock-full of world-leading researchers, artists, and other people doing interesting things, so the local interview and event possibilities are tremendous. In the last month, I've been to a conference on women and climate change featuring Margaret Atwood, a talk on reducing urban air pollution, and a meeting with a German travel board. All were free, and all gave me ideas for articles to pitch.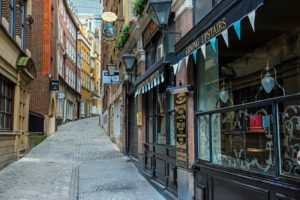 There's also plenty of stimulating cross-pollination between fields: geneticists doing stand-up comedy, historians giving pub talks, humanitarian aid workers introducing films, authors leading walks, and parliamentarians racing with pancakes. The array of cultural and educational offerings can feel dizzying, and London can breed professional envy of relentlessly cool high-achievers. But that envy is also an impetus for creativity.
III.
Literary Heritage
There's so much inspiring literary history in London's neighborhoods, from the Bloomsbury of Virginia Woolf to the Willesden of Zadie Smith.
And London's literary heritage isn't just preserved in aspic, as Brits might say. There's a clear connection between visionary Londoners like Woolf and today's London-based literary institutions, like Persephone Books, a publisher and bookshop of underappreciated women's fiction. Or between George Orwell and the Free Word Centre, which highlights freedom of expression and literary translation.
Yes, it's a fun game to wander around a neighborhood and spot the blue plaques marking a writer's link to a particular building. But it's equally exciting to sniff out new places and happenings connected to this city's love of literature. These can be as niche as you want, from a wealth of left-leaning bookstores to book clubs themed around erotica or graphic novels.
IV.
A Travel Hub
As a major travel hub, London is fantastic for low-cost flights and, well, higher-cost trains and boats to other parts of Europe and the world. A £30 flight from London to Berlin isn't unheard of. This makes London a useful home base for conferences, reporting trips, and location-based inspiration.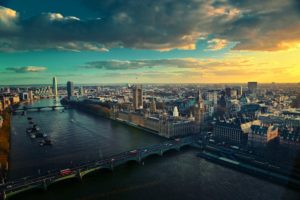 Of course, travel isn't accessible or affordable to everyone. But even for those who are more tied to a single location, London is a useful base because so many people pass through it: old friends on their honeymoon, retired relatives revisiting the haunts of their youth, former colleagues scoping out the work possibilities. A London-based writer may be called on frequently to host visitors and play tour guide, but hey, it's interesting to see your city through someone else's eyes. 
V.
The World in a City
As other writers in this series have mentioned, diversity is a big draw when seeking out a place to live and work. London is one of the most multicultural cities in the world, with 37 percent of its residents born in a different country. This multiculturalism has engendered a ton of great writing grappling with identity, like Harare North, set in Brixton, and Brick Lane, set in Whitechapel. And the abundance of international cuisines, festivals, and businesses means that a Londoner can travel the world without leaving the city.
London punches above its weight in part because of the legacy of British colonial influence and oppression. It's benefitted from the labor of people across the far-flung empire, and exported many cultural products (from the English language to Enid Blyton) that have ensured its global cultural primacy. So for reasons both sobering and celebratory, London is a center of influence—which is stimulating for writers to be around and reflect on.
---