5 Great Books You May Have Missed in September
From Kitchen Romance in the Ottoman Empire to the Life of Leonora Carrington
In some months, I know exactly which five books to choose. In other months, like this one, it's really tough—I considered a dozen before selecting this "short list" of books you may have missed in September. Which means once you finish these five, you can head to your nearest indie and ask a bookseller about other overlooked books. Win-win!
As always, these titles as presented alphabetical order by author last name.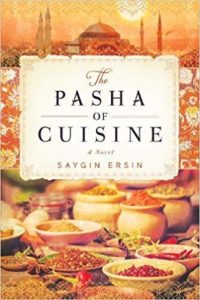 Saygin Ersin, The Pasha of Cuisine
Most of the books I select are straight-up lit fic, but here is a little bow to my love for foodie commercial novels: Turkish author Saygin Ersin's The Pasha of Cuisine (Arcade). Set during the Ottoman Empire, the plot centers on a young and handsome cook who is also cool as a cucumber and clever as a fox. If that sounds as cloying as a dish of his trademark halva, rest assured it's not. The humor and rich historical detail Ersin uses mean that the cook's pursuit of a beautiful dancing girl feels more like a lost epic and less like a sedate "historical novel." Even if you've just finished a heavy meal when you begin reading, by the end you'll be salivating for spiced eggplant, roasted fowl, honeyladen sweetmeats.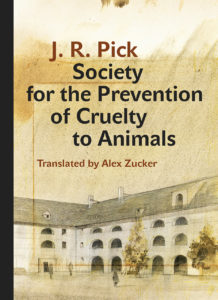 J.R. Pick, Society for the Prevention of Cruelty to Animals [trans. Alex Zucker]
Now here's a subtitle. J.R. Pick's novel is Society for the Prevention of Cruelty to Animals: A Humorous—Insofar as That Is Possible—Novella From The Ghetto (Karolinum Press). Part of the Modern Czech Classics series from Charles University, translated by Alex Zucker, Society covers well-trodden Holocaust ground in surprising ways, including "humorous," insofar as that is possible. It's 1943, and tuberculosis-ridden teenaged Tony has been deported from Nazi-occupied Prague to the Terezin ghetto. From his hospital bed he decides to start his SPCA, and convinces his friends and mother to support his care for a mouse he names Helga—the only living creature available. In 1944, the Nazis begin sending Terezin "residents" to Auschwitz. Yes, things get darker. So does Pick's humor, which is based on his own teen years in Terezin. Although the author died in 1983, his sister Zuzana helped Zucker with details. Highly recommend.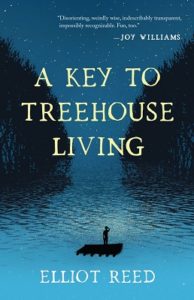 Elliot Reed, A Key To Treehouse Living
A Key to Treehouse Living (Tin House) is supposed to appeal to "readers of Mark Haddon, Tony Earley, and Jonathan Safran Foer," but the author I kept thinking about as I read it was the late, great Amy Krouse Rosenthal. Krouse Rosenthal's Encyclopedia of Me, as well as her Textbook Amy Krouse Rosenthal, are literary predecessors of the fictional young William Tyce's efforts to "create a reference volume specific to his existence." In other words: it's not just "novels of boyhood" and their creators who are interested in this stuff, dudes. I hope many adolescent girls are steered towards Reed's lovely novel—and I hope many adolescent girls get their future novels of youth published and lifted up onto prime bookstore shelf space. Meanwhile, reading William's entries will delight you and remind you that not everyone thinks in a linear manner. Not everyone understands in a linear manner. Sometimes you have to create your own mental cabinet of curiosities to get from one point in life to the next.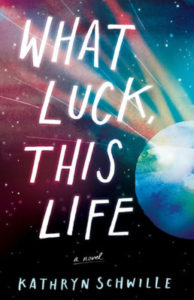 Kathryn Schwille, What Luck, This Life
East Texas, 2003. A space shuttle has crashed in the Piney Woods. The US is about to invade Iraq. What will happen to the good and not-so-good people of Kiser, Texas when the world shows up in their backyard? Kirkus Reviews called What Luck, This Life (Hub City Press) "a modern-day Winesburg, Ohio" and while that's not wrong, anyone who hasn't read Sherwood Anderson's classic should be clued in to the fact that Schwille doesn't skip over social class and its discontents. One of the toughest things about living in a place like Kiser is not being able to imagine a place unlike Kiser, and the author shows that's true for characters from truck drivers to caterers to military officers and yes, to yoga instructors. As Kiser wakes up to the 21st century, readers will empathize with its citizens.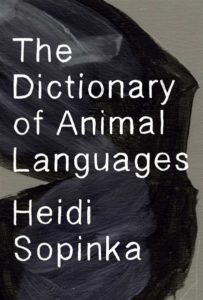 Heidi Sopinka, The Dictionary of Animal Languages
The Dictionary of Animal Languages (Scribe US) is a book you might easily miss because its publisher is small—but don't. Just don't! Because then you'd miss meeting Ivory Frame, a nonagenarian whose adventures and great works are equally compelling. She's no Miss Marple. Her language is sharp, her mind even more so. But even a rebel and an iconoclast can be caught out, as Ivory is when she discovers she has a grandchild. Since she has no children, how can this be? But her odd and equally sharp research assistant/amanuensis, Skeet, says "Maybe it's her. . ." and we're off, ready to follow Sopinka down whichever rabbit hole she likes. Loosely based on the life of Bloomsbury member Leonora Carrington, Ivory Frame's tale enchants as it instructs. What could be better?
---