5 Great Books You May Have Missed in May… Perfect for Vacation Immersion
Bethanne Patrick Recommends Bo-young Kim, Anjali Enjeti, and More
Many people seek light literature for vacation reading. But I don't, and if you're a regular reader of this column, I'd venture you don't, either. To me, the word "vacation" means I have time for more books, not necessarily happier ones. My choices this month illuminate corners of the earth and corners of the mind, occasionally with humor, always with honesty, often through darkness. What better place to read something difficult than a vacation spot while you're otherwise utterly safe and relaxed? Well, that's the way we true literature lovers think, anyway.
*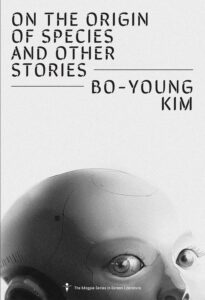 Bo-young Kim (trans. Sora Kim-Russell and Joungmin Lee Comfort), On the Origin of the Species
(Kaya Press)
This spring we were gifted with not one but two newly translated books by Bo-young Kim: I'm Waiting for You and Other Stories and On the Origin of the Species. Though this Korean cult favorite writes science fiction utterly unlike any you've read before, she still manages to uphold the highest qualities of that genre with rigor and delight. Not only has Bo-young Kim won several big awards in her home country, she consulted on Bong Joon-ho's Snowpiercer and has earned the respect of readers around the world for her work. Read these stories before you dive into the novellas of I'm Waiting for You.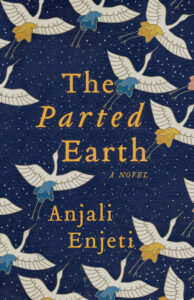 Anjali Enjeti, The Parted Earth
(Hub City Press)
Combining stories of a teenager in 1947 New Delhi and a middle-aged woman in present-day Atlanta, Anjali Enjeti evokes the pain of political partition in the very structure of her debut. Deepa and Shanthi are grandmother and granddaughter, but their lives are as different as Pakistan and India. As Deepa watched Pakistan's formation, she lost her secret boyfriend, whose family fled to Lahore. Shanthi ("Shan") is 41, has lost a baby and her job—and might be about to lose her husband, too. Although her father, Vijay, is dead, she hopes that by finding her grandparents, she'll find a new purpose for her life. Not that Deepa, long estranged from her family, will make any "finding" easy for Shan. As she makes her way to various continents and cities, Shan discovers stories of how Partition affected other families—and in a time when fewer people who lived through it survive, this deep respect given to an event few Westerners truly understand is important.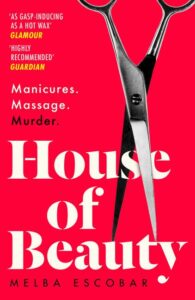 Melba Escobar (trans. Elizabeth Bryer), House of Beauty
(Fourth Estate)
"No matter where I've travelled, I've always been someplace else," says the half-French Claire, who lives in Bogotá, but at 59 has wearied of her city. When she meets Karen, a masseuse at The House of Beauty in Bogotá's exclusive Zona Rosa neighborhood, she becomes fascinated by the younger woman's story—which at first encompasses them both in their views of Colombian standards of femininity and beauty. Soon, Claire hears about how much Karen and the other technicians at The House of Beauty (which one Doña Fina has run for 45 years) know about their clients. Not just who has hair extensions or a set of moles, but who is cheating on their spouses, who has money troubles, and much more. When Karen becomes the last person to see a teenaged girl who winds up murdered, more than waxed skin comes under scrutiny. This international bestseller is worth its hype, a gutwrenching look into a country teeming with corruption, but also with humanity.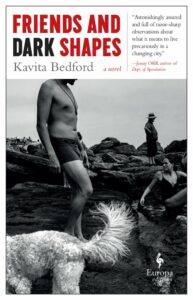 Kavita Bedford, Friends and Dark Shapes
(Europa Editions)
Debut novelist Bedford is half Indian, with a gimlet-eyed perspective on Sydney, one of Australia's less diverse cities. But things are changing, as we see in Friends and Dark Shapes, a book that is as much about the gig economy as it is about Down Under. Narrated by an unnamed 29-year-old woman, it follows her during a down time in which she sees that trying to build a life on what is, essentially, modern "piece work" won't provide her with a living, let alone a meaningful life. "Here, people gravitate mostly towards friends of friends, because that's how you get anything," the narrator tells us, and at first, she believes in that system of community and bartership. She has moved into an apartment with three friends after her father's death, but she hasn't accepted that loss or her current circumstances. Will she eventually bow to status quo reality? Or will she eventually create her own way of life? It's a story that works especially well in a New World nation like Australia, where less tradition hangs over all citizens (even the bullying types who attempt to make their flag into something ugly).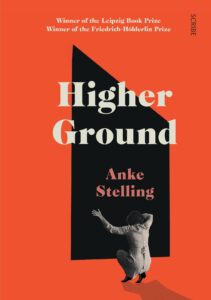 Anke Stelling (trans. Lucy Jones), Higher Ground
(Scribe)
Protagonist Resi lives in a Berlin co-op building, its residents her friends, and one of them her landlord. After she publishes a scathing critique of their upperclass lives, Resi and her family are evicted, and settle in a much-less grand apartment. She writes her novel-length screed to her eldest daughter, Bea, and her bitterness jumps from the page like spatters of Unterberg: "Do we all realise halfway through life how much we've failed to understand even though it was staring us in the face?" But no matter how many insults Resi casts at the establishment, her peers, and her current estate, what she's really attempting through writing is an apologia pro vita mea to try and make Bea love her more, or at least disdain her less. "Want to hear any more pearls of wisdom, Bea?" she writes. "Networks are fragile—I should know, I used to be part of one." Ultimately, this sad, angry, and occasionally funny book works as a portrait of modern Germany and its social mores, Resi its Eeyore-like Cassandra who pays too much attention to details like household furnishings and expensive clothing, and not enough to her own growth and evolution. The last lines say it all: "I decide to give up smoking. I light a cigarette."
---