5 Crime Must-Reads to Devour Coming This March
Lisa Levy Recommends Leah Carroll, Amy Engel, and Others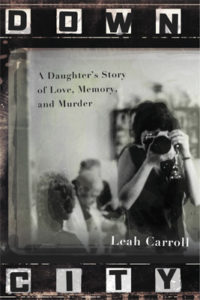 Leah Carroll, Down City
Carroll's mother, a drug addict and sometime sex worker as well as a gifted photographer, was murdered by two drug dealers with mafia connections when Leah was four years old. Her father, who mainly raised her, was an alcoholic and manic depressive who was dead by the time Leah was 18. In this memoir, told in vignettes, Carroll investigates her family history in police records and interviews with mafia members, using her own memory to create immediacy and public records to ensure the brutal, horrific facts are straight.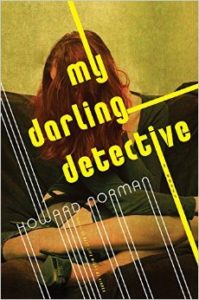 Howard Norman, My Darling Detective
National Book Award nominee Norman writes an homage to noir that's by turns sexy and cerebral in Detective. Protagonist Jacob Rigolet is at an art auction in Halifax when his mother, the former head librarian at the Halifax Free Library but now an in-patient at the Nova Scotia Rest Hospital, appears out of nowhere and throws black ink at a photograph by Robert Capa called "Death on a Leipzig Balcony." Jacob's detective fiancee, Martha, is assigned to investigate the case, which opens up the secret of Jacob's paternity: his father was not war hero Bernard Rigolet but Robert Emil, a disgraced police officer on the run for murdering two Jewish police officers in 1945. His mother's outburst is connected to this secret, but Martha and Jacob must resolve the sticky mystery of Jacob's birth to solve the case.
Nicolás Obregón, Blue Light Yokohama
This debut from British-Spanish national Obregón is told from the point of view of police Inspector Iwata. When the novel opens Iwata is transferred to a station in Tokyo where his superiors do not want him and the partner he's assigned, Noriko Sakai, would rather work with anyone else. Worse, they are given a brutal case: the murder of an entire family with no clear motive or killer, and a crime scene with ritualistic details, including a large black sun. Iwata becomes haunted by the case—which becomes connected with other killings, and the killer known as the Black Sun killer—so much so that he can't sleep, and a song, "Blue Light Yokohama," keeps running through his troubled mind.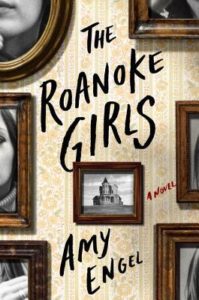 Amy Engel, The Roanoke Girls
The Roanoke Girls has nothing to do with Virginia but everything to do with missing girls, as the females in the Roanoke family, who live in a tiny town in rural Kansas not worth naming, are rich, beautiful, and generally short-lived. Engel's book focuses on 15-year-old Lane Roanoke, sent to live with her grandparents and cousin, Allegra, on the family farm after her mother's suicide. The farmhouse, which is "equal parts horrifying and mesmerizing," is a perfect setting for a gothic mystery full of small-town secrets, lies, and guilt.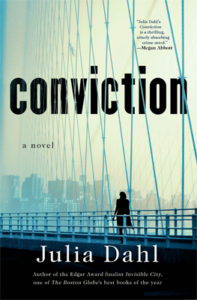 Julia Dahl, Conviction
"I didn't do it." Four words scrawled on a piece of paper by a man serving a life sentence make their way into the hands of reporter Rebekah Roberts and a novel is born. Conviction is the third in Dahl's series centered around young reporter Roberts but it's a great leap forward in style, pacing, characterization, and plot. The point of view shifts, as does the time frame from when the murders were committed to the present. Dahl's confidence in writing about the Hasidim and other Jewish sects in Brooklyn has gotten notably stronger: she describes their lives with authority and compassion, and her Jewish characters are also more complex. Conviction boasts a long list of complex and interesting characters of all walks of life, from the put upon Jewish sects in Crown Heights who feel oppressed by violence and shortchanged by the horrible conditions of their apartments to their African-American neighbors, who don't understand the dress and the customs of their new neighbors. Dahl has written the novel about the Crown Heights conflict, and in these times when it takes so little to turn a neighborhood conflict into something bigger, it's worth studying how she thinks it might have been averted.
---