5 Books You May Have Missed this March
From Neo-Noir to Genre-Defying Prose Poetry
There's no rhyme or reason to which books get reviewed where each month; it's a complicated alchemy of early attention, critics' availability, editors' interest, authorial reputation, and eye of newt . . . What this means is dozens of worthy titles get less attention than they should, and I'm here to help you discover a handful of those, using my own critical acumen and a sprinkling of crushed wolfsbane.
That is to say: Please share the books you think were overlooked in March 2017 by the bookish press in the comments. Some of those hidden treasures might become this year's award winners, because getting That Big Review is no longer necessarily a herald of fame and fortune. NB: As usual, I am listing these books alphabetically by author.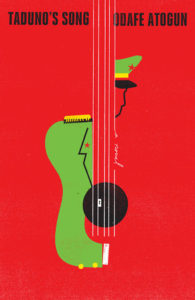 Odafe Atogun, Taduno's Song
In Taduno's Song by Odafe Atogun, those of us who have not read anything about Nigeria since Achebe will be schooled in that country's modern dilemma: Do you fight the power or raise up the people? Taduno, a superstar musician who has been living in exile, must confront his own demons when his great love Lela writes and awakens his yearning for home. While Atogun's book is post-colonial dystopia, not based on historical reality, his writing is reminiscent of Coetzee's South African dystopian novels like Waiting for the Barbarians, with more than a touch of magical realism. When Taduno returns, not one person remembers him; the dictatorial president has power over Lela, who is in prison, and before long, these characters will clash, and clash badly. A must-read.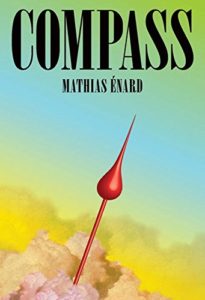 Mathias Énard, Compass
Compass by Mathias Énard won the 2015 Prix Goncourt, and is deserving of more readers on this side of the pond, because it's a novel that bridges Orient and Occident in a way I've never seen, using the restless sleep of a very ill Viennese musicologist named Franz Ritter as the medium for a mash-up of intersecting European and Islamic cultures. It's not a book for the faint of heart—some of its sentences are more Joycean than Joyce—and it's not a book for the plot-driven, lacking one almost entirely. But it is a book for readers who understand that dreams are sometimes the only way to make sense of difference, that one culture's dreams of another's may form a connection that cannot be found in any other way.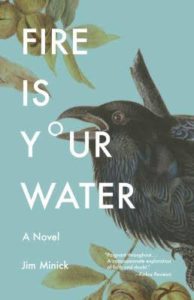 Jim Minick, Fire Is Your Water
Jim Minick first came to my attention after he published his well-received The Blueberry Years, a memoir of his time as an organic blueberry farmer that read like Michael Pollan with principles but without priggishness. In Fire Is Your Water Minick proves that he's an excellent fiction writer, too. Ada Franklin is a chantrix, a woman who can, in 1953 Pennsylvania, heal any manner of maladies through her sacred chants. After a devastating fire changes Ada and robs her of her faith-healing abilities, she meets a man named Will Burk who has a pet raven named Cicero, and slowly begins to find healing for herself. It's a remarkable book in which human compassion for animals is woven through the plot with a gossamer touch.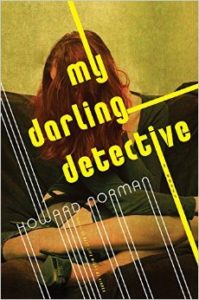 Howard Norman, My Darling Detective
If you've not read Howard Norman before, please oh please pick up My Darling Detective. I've been waiting for his next book since 2014's Next Life Might Be Kinder, and I had to wait for four years after What Is Left the Daughter for that one! Detective picks up the noir-ish tone of Next Life and spills black ink on it—literally. Jacob Rigolet, the protagonist, watches his mother fling an open jar of the stuff onto a famous photographer's masterwork. While Jacob tries to figure out why his librarian mother would do such a thing, his detective fiancée Martha Crauchet actually figures out why his mother would do such a thing, and the effect of radio serials on their self-conceptions adds a witty context to the couple's 1970s hijinks.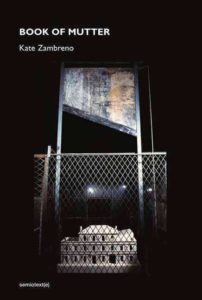 Kate Zambreno, Book of Mutter
Like many books from Semiotext(e), Book of Mutter by Kate Zambreno cannot be easily classified. It's a meditation, a memoir, a disquisition. It's poetry, it's narrative, it's criticism. It's a way for Zambreno to cope with her mother's difficult death from cancer. Finally, it's a way for Zambreno to bring her formidable mind and talents to examining The Mother, her mother, our mothers, mothers in all of their guises. Her use of prose, verse, photography, scholarship, anecdote—all of these require some work from the reader, which may be why the book hasn't gained the audience it deserves. She's included observations from other great minds, too: Barthes, Bourgeois, Woolf, Handke. Every woman and most men will thrill to Zambreno's tautly tuned elegy for her mother.
---