5 Books You May Have
Missed in July
New Literature in Translation to Pick Up
The other day I began a tweet with the words "I don't say this often enough," and it occurs to me that something I don't say often enough here is that we should all read more literature in translation. If you read this column more than once you'll know that I love to feature literature in translation, but I don't think I've said so in a while. All five of this month's picks are translated—from Kannada (a South Asian language spoken by 45 million people), from French, from Italian. In other months my picks have included books translated from Korean, Icelandic, Italian, Latvian, Arabic, Spanish, and so many others.
Yes, the quality of the translation matters; it matters a great deal. That's why Ann Goldstein's work on Elena Ferrante's novels has been celebrated. It's also why I always include the translator's name after the author's name. However, the best translations have a seamless quality that allows the author's voice to shine, and so, when I choose a work in translation to feature here, I know that if it grabbed me without a hitch, it was well translated, and will probably show me something new. We can translate other languages, but we can't plagiarize the individual consciousness behind the words.
*
Esther Kinsky, Grove: A Field Novel
(trans. Caroline Schmidt, Transit Books)
Esther Kinsky is herself a noted translator from English, and Polish, into German. While that doesn't mean she necessarily had to translate her own novel (which won the 2018 Leipzig Book Prize) into English from German, I wonder if her reason for not doing so might be partly personal: Kinsky's husband Martin Chalmers died in 2014, and her (unnamed) protagonist in Grove is on a journey through Italy's Po Valley after the loss of her own spouse. The narrator takes long, ambling walks and describes everything from flora and fauna to weather patterns and even garbage and decay, so much description that impatient readers will miss the point entirely, which is that this woman immured in grief has to make a decision about engaging with the world again.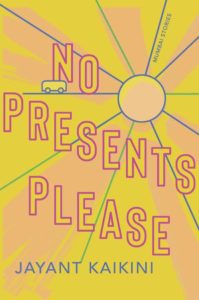 Jayant Kaikini, No Presents Please: Mumbai Stories
(trans. Tejaswini Niranjana, HarperPerennial)
No Presents Please won the DSC Prize for South Asian Literature, as well as the Atta-Galatta Bangalore Literature Festival Book Prize, and with good reason. Kaikini's tales of everyday life that open like windows onto universal truths may even demonstrate purpose through the author's language, as an afterword from the translator explains. Kaikini writes in his native language, but not with a native's perspective; rather, he uses the cadences most familiar to him as a means of observing an India more modern than any ancient tongue. The title story follows a couple whose lunchtime meeting to choose a wedding invitation should be happy, but falls into confusion and sorrow as the man and woman realize names conceal caste differences. In "Mogri's World," a young woman accepts from childhood the reality that her father has another family in a nearby city, and Kaikini quietly shows how this leads her to a life of mistakes based on male expectations of women. Highly recommend.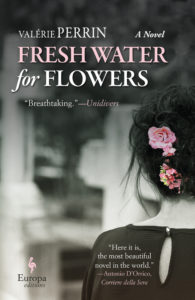 Valerie Perrin, Fresh Water for Flowers
(trans. Hildergarde Serle, Europa Editions)
Fresh Water for Flowers has been a huge bestseller in France, and received excellent advance reviews here in the US—but I haven't seen readers talking about it online the way I expected. Here's your chance to dip into the story of Violette Toussaint, cemetery caretaker whose little lodge is a regular stop for mourners, gravediggers, and any visitor who wants a cup of coffee and a kind shoulder. But when local police chief Julian Soule insists on scattering his mother's ashes on a stranger's grave, Violette's compassion is strained. The two of them will discover some connections that surprise them.  Violette, who says she doesn't have the taste for unhappiness, must figure out a path to happiness more complicated than her formerly simple pleasures (a thimble of port after dinner, e.g.) allowed. Serle as translator has retained the energy of protagonist Violette's first-person narration, allowing readers to hear the life in a woman who most people might overlook in a market queue. Romantic, yes; light, yes; meaningless, no.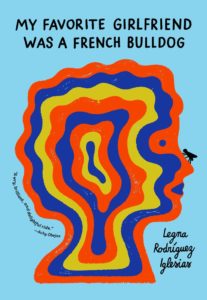 Legna Rodriguez Iglesias, My Favorite Girlfriend Was a French Bulldog
(trans. Megan McDowell, McSweeney's Publishing)
The author's many prizes for her plays, poetry, novels, and children's books have led to her being known as "El tsunami Legna" at home; maybe, with this new translated work readers of English will see her force, too. The same protagonist, a man born in 1919, tells 15 linked stories that provide an almost topographical metaphysicality of Cuba. What might be most extraordinary about Rodriguez Igelsias's fiction is that, although political events and actions show up, the writing has little to do with politics, and everything to do with humanity and a human soul. How does a person retain his truth through decades of government falsehoods? And, Megan McDowell, how does a translator manage to retain one person's voice through so many different eras? Superb.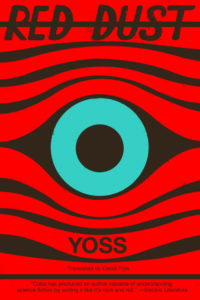 Yoss, Red Dust
(trans. David Frye, Restless Books)
Another Cuban novel, but entirely different: Red Dust is a space opera that pays homage to Raymond Chandler. Interested yet? You should be. The author, otherwise known as José Miguel Sánchez Gómez, has been writing award-winning science fiction since 1988. In his latest, the intergalactic trading station William S. Burroughs supports a profit-based economy in which earthlings bow to alien Grodos, who look a bit like praying mantises and have a limited sense of humor. Raymond, a positronic robot detective, is part of the android police force. But nothing in his "centuries of experience" could prepare him for Makrow 34, "a fugitive Cetian perp with psi powers" that mean he can make it rain indoors or turn a gun pointed at him back at his foe. Experienced translator Frye goes with the flow beautifully in a book that code-switches between languages, cultures, literary eras, and genres. An absolute joy to read.
---