5 Books Making News This Week: Politics, Poets, and Performers
Joshua Green, Karin Roffman, Shawn Wen, and More
A tectonic shift in the book world arrives via tweets Thursday morning. Vanity Fair's Joe Pompeo breaks the news that Pulitzer prize winning New York Times book critic Michiko Kakutani is stepping down after 38 years, "moving on to focus on longer pieces about politics and culture, though I will always love and write about books." (Why is this not a surprise? Remember her review of Hitler: Ascent 1889-1939?). New York Times Book Review editor Pamela Paul and books editorial director Radhika Jones confirm the change and add: Parul Sehgal will be shifting from her spot as senior editor and columnist at the New York Times Book Review to become a daily critic. Twitter cheers.
Colson Whitehead has yet another good week, sweeping up the Arthur C. Clarke Award for science fiction for The Underground Railroad, and joining the Man Booker longlist, which also includes George Saunders's Lincoln in the Bardo, Kamila Shamsie's Home Fire, Zadie Smith's Swing Time and Jon McGregor's Reservoir 13. A first novel by a Nigerian protégée of Chimamanda Ngozi Adichie and Margaret Atwood earns a spot in literary history as the last book Kakutani reviewed before stepping down, plus an "addictive" look at the White House duo Steve Bannon and Donald Trump by Joshua Green, the reporter who brought us "This Man Is the Most Dangerous Political Operative in America" in October 2015, an "incisive, groundbreaking" look at the early life of poet John Ashbery, a "whimsical ode" to Marcel Marceau, and a memoir by "our Virgil into the world of the untouchables."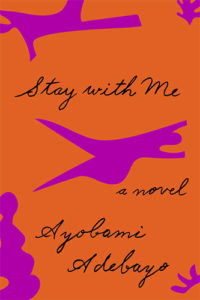 Ayobami Adebayo, Stay With Me
This first novel by Nigerian author Adebayo began as a short story she wrote at 19 in Chimamanda Ngozi Adichie's writing workshop, and continued as she studied with Margaret Atwood at the University of East Anglia, she tells The National's Ben East. Stay With Me has been longlisted for the Bailey's Women's Prize for Fiction, and already has a place in literary history: Michiko Kakutani devoted her last daily review to a rave for the novel, which is due out August 22.
"Stay With Me—a beautifully produced book with a Matisse-inspired jacket that felicitously captures the spirit of the author's writing—has a remarkable emotional resonance and depth of field," writes Michiko Kakutani (New York Times). "It is, at once, a gothic parable about pride and betrayal; a thoroughly contemporary—and deeply moving—portrait of a marriage; and a novel, in the lineage of great works by Chinua Achebe and Chimamanda Ngozi Adichie, that explores the pull in Nigeria between tradition and modernity, old definitions of masculinity and femininity, and newer imperatives of self-definition and identity."
Diana Evans (The Guardian) notes that Adebayo "has a thoroughly contemporary style that is all her own. Her clever and funny take on domestic life and Nigerian society is a welcome addition to her country's burgeoning literary scene. Despite the intense sadness of her subject matter, she has produced a bright, big-hearted demonstration of female spirit, as well as the damage done by the boundlessness of male pride."
Francesca Angelini (The Sunday Times) writes, "Much like Chigozie Obioma's Man Booker-shortlisted The Fishermen (2015), her debut novel focuses on a family breakdown in her politically tumultuous homeland. But where Obioma is more obviously looking to assume the mantle of African literature with his extravagant style, Adebayo keeps her vision taut and her writing concise. Stay with Me . . . is all the more affecting and powerful for it."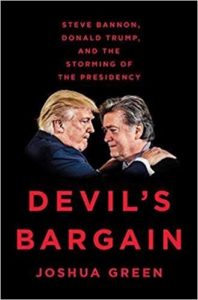 Joshua Green, Devil's Bargain
Bloomberg Businessweek's Green, who wrote a ground-breaking article about Steve Bannon in October 2015, builds his case. The appointment of Bannon to head the Trump campaign was a turning point in the election, he tells NPR's Terry Gross. "[Trump] was headed toward a pretty serious loss, and Bannon brought his wealth of anti-Clinton knowledge into the campaign and managed to keep Trump focused on a target."
"Devil's Bargain argues that Trumpism is best understood through his partnership with Stephen K. Bannon, now the president's chief political strategist," writes Sam Tanenhaus (New York Review of Books). "Green . . . has been writing about conservatives since the George W. Bush years. It is a testament to his adroit intertwining of Bannon's story with Trump's that we're not certain which of the two figures has sold the bigger part of himself to the other. In the broader sense, they are coauthors of our moment's tabloid conservatism."
Marc Fisher (Washington Post) notes, "Bannon in this book is a much richer character than Trump, presented less as the mad genius of the nationalist right and more as a hungry, ambitious searcher, an intellectual wanderer who craves greatness but has trouble sticking with any single path. The portrayal of Trump offers a straightforward recitation of how the candidate consistently outfoxed and out-punched the opposition."
Alexander Nazaryan (Newsweek) concludes:
In due time, the Age of Trump will find its Hunter S. Thompson, but it might be years before anyone has the necessary distance to capture the competing currents that daily buffet the political landscape like furious storms over the face of Mars. Devil's Bargain is not that book, yet it is addictive. Think of it, then, as a not especially healthful handful of deep-fried morsels. You could do much worse, and if you're on social media, you almost certainly have. Snack away.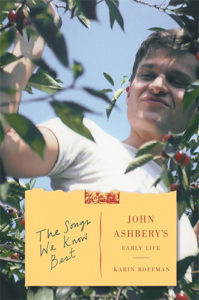 Karin Roffman, The Songs We Know Best: John Ashbery's Early Life
A first look at the early years of a legendary poet. The starred Kirkus is glowing: "This incisive, groundbreaking portrait of the enigmatic and influential poet will be indispensable to all future biographical work."
Matthew Bevis (Harper's) writes:
"What does it mean?????????????" John Ashbery wrote more than 50 years ago in The Tennis Court Oath, his second book of poems. The very exuberance of the punctuation may have sounded a note of caution for any readers who were looking for quick answers. (Perhaps 13 question marks were an unlucky omen.) Since then, though, his work has been translated into 25 languages, and many would claim that a typical Ashbery poem speaks 25 languages.
Mark Ford (The Guardian) notes, "The strange mixture of telling and not telling, of open secrets never explicitly mentioned, that is fundamental to the hypnotic, riddling appeal of Ashbery's poetry, surely evolved out of his fraught and guilt-ridden need to conceal his sexuality from his parents, a need complicated by a counter-longing to disclose all."
Evan Kindley  (The New Republic) points out:
A writer like Ashbery is, in one way, a scholar's dream. His work is full of cross-references to be tracked down and mysteries to be decoded, and it is in consistent dialogue with both its contemporary historical moment and with the literary canon (however eccentrically that canon is defined). On the other hand, a sense of privacy and inscrutability is intrinsic to the experience of reading him: An Ashbery whose work had been fully explicated wouldn't be Ashbery at all. The Songs We Know Best lets us see, clearer than ever before, how the poet's mind works, and how it developed. Still, you can't help remaining a little nostalgic for the mystery.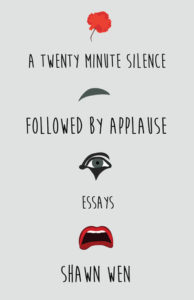 Shawn Wen, A Twenty-Minute Silence Followed By Applause
In her first book, radio producer Wen explores the life of French mime Marcel Marceau in an idiosyncratic and fitting manner. She takes her title from a record Marceau produced, which consisted of 20 minutes of silence . . . then applause.
"Wen's whimsical ode to mime Marcel Marceau showcases the performer's determination to 'fill the blank spaces' with a silence that stirs," writes Taylor Lannamann (Oprah).
Brandon Wu (San Francisco Chronicle) notes, "Her lyric essays observe the life of Marceau from slanted angles: traces of performance scenes, brief excerpts of his views drawn from interviews, lists of Marceau's gleaming collections of worldly possessions whose accumulation reflects an emptiness. The terse, often poetic vignettes leave a quality of hauntedness appropriate to someone like Marceau."
"Wen uses videos of Marceau's performances, as well as interviews with him, to pay tribute to the enigmatic actor and Holocaust survivor," points out Michael Schaub (Men's Journal).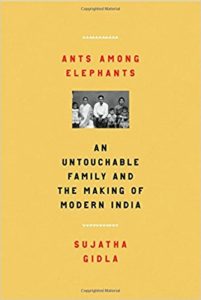 Sujatha Gidla, Ants Among Elephants
This memoir by a woman born into the middle class but considered  "untouchable" because her family was Christian illuminates India's caste system. "Christians, untouchables—it came to the same thing," she writes. "All Christians in India were untouchable . . . I knew no Christian who did not turn servile in the presence of a Hindu. I knew no Hindu who did not look right through a Christian man. I accepted this. No questions asked."
"With her luminous command of fine details, Gidla manages a difficult and admirable task," writes James Norton (Christian Science Monitor). "She takes a tremendously personal memoir and renders it with such clarity that it tells the broader story of a place and an era. In her anecdotes of discrimination, malnourishment, and extra-judicial executions, she brings readers into a world of discrimination and upheaval."
Michiko Kakutani (New York Times) calls Ants Among Elephants a "unsentimental, deeply poignant book."
Peter Lewis (Minneapolis Star-Tribune) concludes:
Gidla is our Virgil into the world of the untouchables and their acts of defiance; not just as an observer, but as a participant. She is bitten by the revolutionary bug, and bitten hard: arrested by the Indian authorities, tortured, left to rot, released. She has been party to the heights and the depths of living a revolution. Today she resides in New York City, and after a period of working in software applications, she decided to become a train conductor in the city subway system, the first Indian woman to so serve. Still a revolutionary.
---