When Antoine de Saint-Exupéry Disappeared
Life Imitated Art for the Author of The Little Prince
When the Allies landed in Africa at the end of 1942, and France's liberation had been set in motion, Antoine de Saint-Exupéry was living in New York, writing, delivering lectures, and—thanks to his public presence and his books—playing an influential role in improving the American public's perception of France. At 42 years of age, after having already fought courageously and risked his life doing so, it might seem that this sort of intellectual engagement should have been honorable and sufficient. So many would have been satisfied with that, and they said so, loudly and clearly. But not him. He wanted to rejoin his comrades, to be once again at the controls of an aircraft, to act, to push his commitment to the limits—and that implied facing death. This sense of moral obligation, which may have had to do with the "noblesse oblige" instilled in him by his aristocratic upbringing, was a part of his very being. Already in 1938, in an article published by the now-defunct French daily newspaper Paris-Soir, he had written, "Don't you understand that self-sacrifice, risk, loyalty unto death, these are behaviors that have contributed greatly to establishing man's nobility?"
And yet no one wanted him to go. He was too old to pilot the new combat aircraft, which had evolved considerably since his last time at the controls; he was in poor health; he suffered from the sequelae of multiple accidents; and his morale was at its lowest point. His friends attempted to convince him that he would be more useful in the United States than in a war zone. His "woman friends" were sorry to see him go away, and feared for his life, while his spouse, the capricious Consuelo, was worried about maintaining her way of life on an officer's modest salary. As for the Gaullists, with whom he was in open conflict, they had no desire to see him return to a combat unit, since that would reinforce the prestige of General Giraud, who was then competing with de Gaulle to be the leader of Free France.
Saint-Exupéry called on his connections—both American, including General Doolittle, the commander of the Twelfth Air Force in North Africa, and French, including those closely connected with Giraud's advisors. His efforts paid off. In February of 1943, he was reinstated in the French army, and in April he left for Algiers to rejoin his comrades from the II/33 Aerial Group, which had become a part of the Allied air forces.
On June 25, he was promoted to major and began training on a P-38 Lightning, with which the squadron had just been equipped. Only pilots under 30 were authorized to take command of this aircraft, which boasted state-of-the-art technology and remarkable performance but required perfect mastery of the controls. Once again, the 42-year-old Saint-Exupéry obtained an exemption from the regulation; on July 21, over the course of 5 hours and 50 minutes, he undertook his first mission in a P-38, photographing southern France. His second mission, on August 1, went very badly: engine trouble forced him to turn around after 40 minutes in the air. During the landing, he forgot to pressurize the hydraulic brakes, and the plane ended up in an olive grove, putting it permanently out of commission.
The American commander, who had been jealously guarding his marvelous P-38s, was all the more furious that Saint-Ex had demonstrated a certain amateurishness during his training: on one occasion, he had flown at 23,000 feet—instead of the 6,500 called for—without an oxygen mask, because he had misinterpreted the navigational instruments. In another training exercise, he had poorly prepared for landing and descended too quickly, causing damage to the aircraft's wings. The truth is that he had trouble with the plane's sophisticated instrumentation and hadn't taken enough time to completely master the machine.
For some time, the Americans had been concerned about the pilot's idiosyncrasies, especially since his first mission over Provence, when he hadn't been able to resist the urge to photograph the château in Agay where his sister lived, a landmark of dubious strategic interest. The destruction of the P-38 after this latest mission was one incident too many. Saint-Ex was grounded. He made an attempt to seduce Colonel Dunn and Lieutenant Colonel Gray, the flight commander, by treating them to a Pantagruelian meal in an Algerian restaurant, in the hope they might reconsider. To better persuade them, he even spoke English, which was unusual for him: I want to die for France. . . . One of them replied with a categorical no, and the other responded that he may very well "die for France," if he felt so passionate about it, but not on board an American aircraft.
It was thanks to John Phillips, a Life magazine photographer, that Saint-Ex finally got what he wanted. In exchange for his writing several pages to accompany an upcoming photo essay, the magazine promised to pressure the authorities to restore Saint-Ex to his unit. He received authorization for five missions. His flights were peppered with incidents, some more serious than others, and many of which were attributable to distraction or his whims. His second mission, on June 6, was cut short by an engine fire. On the 15th, his fourth mission was ended by a problem with his oxygen mask. On the 23rd, on his fifth—and in principle, his last—authorized mission, he barely evaded a German fighter plane.
With the tacit permission of the squadron's commander, he carried out a sixth mission on the 29th, the day of his 44th birthday. Engine trouble forced him to return at low altitude over Italy. Since the German air defense and fighter pilots couldn't believe an Allied plane might be flying overhead with such insouciance, Saint-Ex wasn't attacked, but he wasn't able to reach his base in Sardinia and landed instead in Corsica—in Borgo, where the II/33 group would relocate several days later. His seventh mission, over the Alps, was on July 11. On the 14th, his eighth was over Annecy. On the 18th, his ninth was over the Alps.
The squadron commander, Captain René Gavoille, consulted with General Chambe: they believed it was now imperative to keep Saint-Ex on the ground. High-altitude missions were exhausting for a man who freely described himself as "the most senior combat pilot in the world" and who was in poor health besides. But they dragged their feet, and Saint-Ex obtained a tenth mission on July 31.
On the evening of the 30th, he left his quarters and went out to eat with several new friends, in the village of Miomo, near Bastia, in a little restaurant right on the beach. He was quite cheerful, performing card tricks and telling funny stories. He left relatively early, around 23:30. What did he do next? No one knows, but he hadn't returned to his room by 1:30. Noting his absence, the operations officer, Jean Leleu, started to worry, as pilots scheduled for a mission were supposed to go to bed early the night before. He designated Captain Siegler as Saint-Ex's replacement.
Early on the morning of the 31st, while Siegler was having breakfast and prepping for his flight with Lieutenant Duriez, Saint-Ex suddenly appeared in the mess hall. Spotting Siegler, he realized he'd been replaced and became angry. Under his furious gaze, Siegler made no objection and left. Saint-Ex climbed into Lieutenant Duriez's jeep, which took him to the field where the P-38 Lightning F-5B N223 awaited him.
*
For 54 years, no one knew what happened next. Every possible hypothesis was proposed, including the most fanciful, until in October 1998 a fisherman from Marseille, Jean-Claude Bianco, recovered the pilot's silver identification bracelet in his nets from the waters of a rocky inlet on the Mediterranean coast. Subsequent searches in the vicinity led to a diver named Luc Vanrell discovering the wreckage of the Lightning on May 24, 2000, nine hundred twenty feet below the surface, not too far from the island of Riou. Among the pieces were an undercarriage, a portion of the cabin, and a turbo-compressor. They were brought to the surface at the end of 2003, and experts attested that they were indeed part of the plane that Saint-Ex had flown on July 31, 1944. They were then presented to the Air and Space Museum in Le Bourget, a commune just northeast of Paris.
*
At the time of his disappearance, Saint-Ex had just published his last book, The Little Prince, which came out on April 6, 1943, seven days before his departure for Algeria. Four works had preceded it: Southern Mail in 1929, Night Flight in 1931, Wind, Sand and Stars in 1939, and Flight to Arras in 1942. One book, The Wisdom of the Sands, or Citadelle ("citadel") in French, would be published posthumously in 1948. The first four were directly inspired by his experience as a pilot. In a certain sense, they have an element of journalism, even though their literary quality elevates them to something much more prestigious. The Wisdom of the Sands, on the other hand, with its 219 chapters, is a longer work than all of the others combined, and can be considered a sort of "philosophical chant" that lends itself to three different readings: legendary, cultural, and spiritual, taking on a Biblical tonality.
Among all of Saint-Ex's writings, The Little Prince is unique: a dreamlike story presented as a "tale for children," a work in which the author's text and illustrations are inextricable. Another of this book's peculiarities: Saint-Exupéry apparently took great pleasure in writing it, which seems to have been fairly unusual for him. It is all the more unusual given that at the time, during his American exile, he was in a bad state psychologically, socially, and domestically. His biographer, Stacy de La Bruyère, writes that Silvia Hamilton-Reinhardt, a friend of Saint-Ex's at whose place in New York he would frequently spend time to write, reported that "she often heard him chuckle with pleasure while writing his story." By setting aside the text's obvious charm and poetry and analyzing it "coldly," from a distance, it can be observed that all of the themes and even the characters of The Little Prince can be found scattered, here and there, throughout Saint-Exupéry's earlier writings. It is as though Saint-Ex, deliberately and consciously—or perhaps not—brought together in this little story the essential part of the message that he had wanted to deliver through the rest of his opus: as though this tale explains the very essence of the author, and condensed his substance.
And what if The Little Prince were a culmination?
What if, when he was ensconced in Silvia Hamilton-Reinhardt's living room to write and draw, he "chuckled with pleasure" because he had finally found himself again, because he was finally overcoming his exile—his self-exile—because he was finally reunited with his "beginnings," his childhood? "And so, I seem to have come to the end of a long pilgrimage. I have discovered nothing, but as though waking from sleep, I simply see again what I was no longer looking at," he wrote in Flight to Arras. And what if the "teachings" of The Little Prince were to be found here: in this reunion, this rediscovery of a childhood that everyone vaguely yearns for, to put their scattered days back together again and experience their life's meaning, to become who they truly are?
__________________________________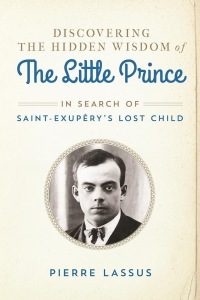 Adapted from DISCOVERING THE HIDDEN WISDOM OF THE LITTLE PRINCE: IN SEARCH OF SAIN-EXUPERY'S LOST CHILD, by Pierre Lassus, translated from the French by Gretchen Schmid. Copyright © 2014 by Éditions Albin Michel. English-language translation copyright © 2017 by Skyhorse Publishing, Inc. Reprinted by permission of Skyhorse Publishing, Inc.
---